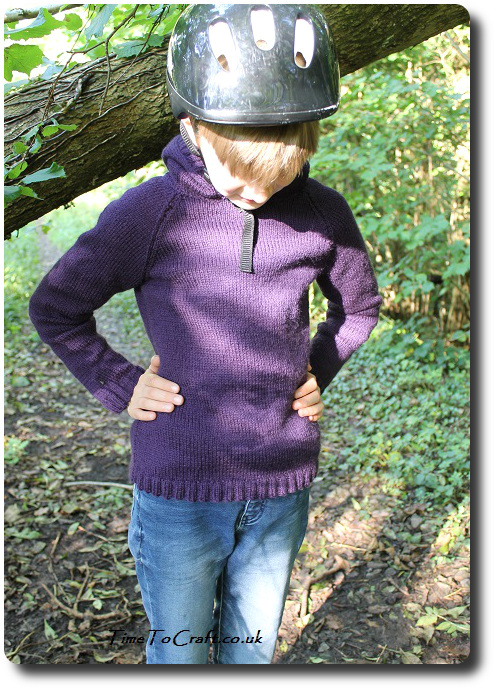 When my children were little, I knitted them jumpers and cardigans a plenty. The cutest designs that just made me want to hug and cuddle them even more. Certainly I felt a sense of satisfaction, as I kept them warm in something knitted by my own hands.
Then, round about the time they started school, it began to change. It was no longer cool to wear hand knitted clothes. Over the next few years, there was still an underlining desire for me to knit for them, but not to make it obvious. Not in front of friends. Same goes for hand holding. No kissing either. Ruffling hair was acceptable, so long as they could pretend they were just putting up with it.
It's OK. I knew it would happen.
I got away with knitting hats, mittens and gloves. Somehow, they were acceptable in a way I never quite fathomed. Best not to question. Just go for it.
Then last month, the stars aligned. Maybe a blueish coloured moon was bobbing around too. I don't know, Continue reading →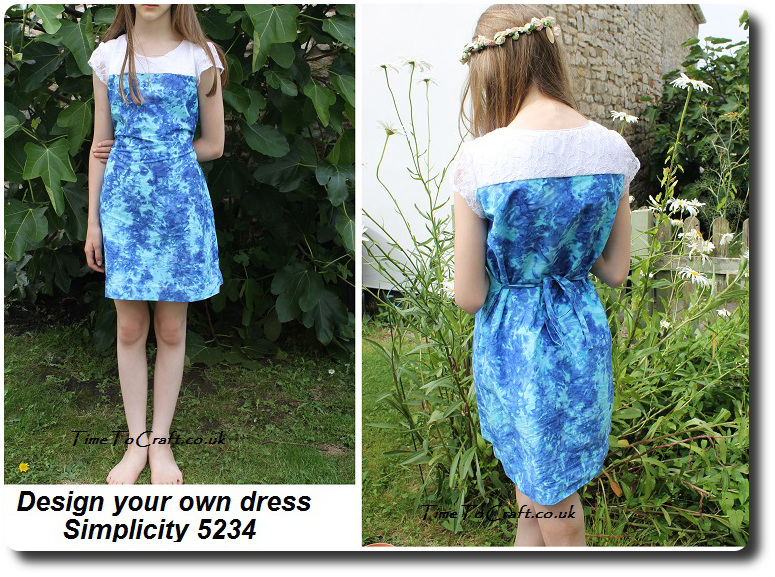 We sat on her bed, looking at the contents of her wardrobe. After flicking through the rail, I finally agreed with her. All her dresses were not suitable for a near-teen. It didn't help that since last summer she has stretched. I mean really stretched. Dresses were now tunics and the rest were too young.
More dresses were definitely required. (Music to a mother's ears, who likes to sew.)
It was a Saturday morning. The fabric shop would be open. Heading downstairs, I selecting a few possible patterns from my collection and let her choose.
Being a near-teen, she has clear ideas about what she likes. It is a fearless state of mind. She doesn't seem to compromise and worry about what her friends will think. She knows what she likes and what suits her. I hope she never loses that clarity.
The making of the dress
She opted for Simplicity 5234. A simple dress, that gave a variety of combinations. Different options for the neckline, yoke fabric and sleeves, while the dress stayed the same, simple shape. She could design her own dress. How good is that? She was decisive and went for view B. She wanted a lace overlay, with cap sleeves.
Fearless, I tell you.
Next stop, the fabric shop.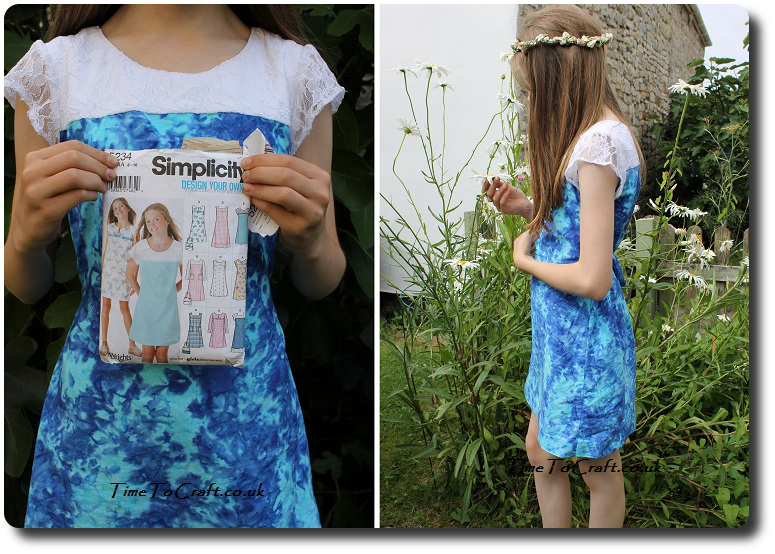 It didn't take her long to spot the perfect watery-blue. We looked at several laces and background fabrics, finally settling for a white, soft lace against white fabric.
Secretly, I was pleased she chose this dress pattern. I knew it would be quick to make and perfect for a wedding we were all going to this weekend. The dress is a pullover. No zips or buttons. A simple shape with a tie at the back.
I've not worked with lace before. The sleeves needed gathering at the top to ease them into the armhole. I found the combination of lace and gathering fiddly, but got there in the end.
Originally, she wanted the long version of the dress, but once fitted, she realised that the hem would work better for her as the short version. I cut off a couple of inches. If she changes her mind, I can easily add it back on.
The pattern was quick to make and no advanced tailoring. A great choice if you're starting out on your dressmaking journey. The instructions are straightforward. If I was to make it again, I think it would take me an afternoon.
Why it matters that she designed it
She loves her new dress. The dress she designed. She's not one to ask for lots of things, but when I prompted her, she did say she'd love another using the same pattern. I think I can manage that.
I'm glad we took this route. Yes. I could have let her loose in any number of clothes shops, with a purse full of money. I daresay, she would have found an outfit she liked. Maybe it would have been a compromised choice as closing time neared. This dress should last her a while (especially if I add the length back on). Unlike a shop bought outfit, it will not look easily dated. Eventually she will grow out of it, but it's not destined to be thrown away in a matter of weeks/months as so much of our fashion goods are in this country. As the fashion passes.
It may seem like a small thing, but I love that I was able to give her control of the design.
I try to bring my children up not to be sheep. Following others blindly, without a thought. They may roll their eyes, but they're also the first to point out when they see others following for the sake of following. I can also see in their actions that they understand. My daughter loves to draw. She loves to design. Doing it this way meant she could take her skill and transfer it to something she could wear. She led rather than being led by others. She designed it. She did it. Confidence boosted a notch or two more.
She wore her dress to the wedding and had a great time. She said it was an easy dress to wear.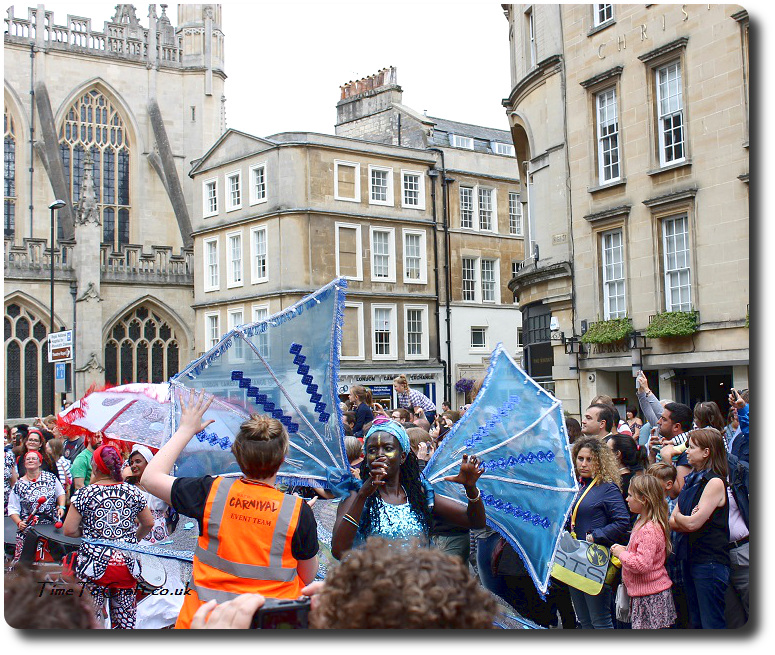 Bizarrely, after the wedding, in a way that no one could ever have co-ordinated the timing so perfectly, we stepped out on to the pavement, and straight into the Bath carnival.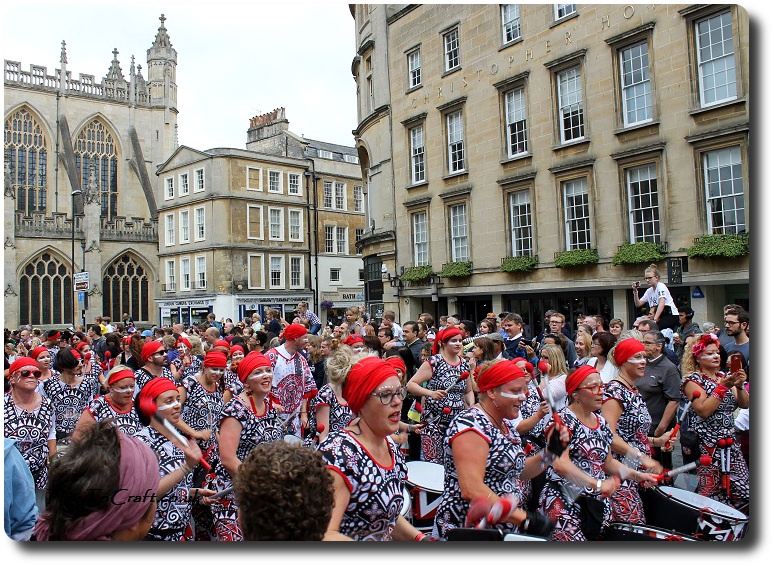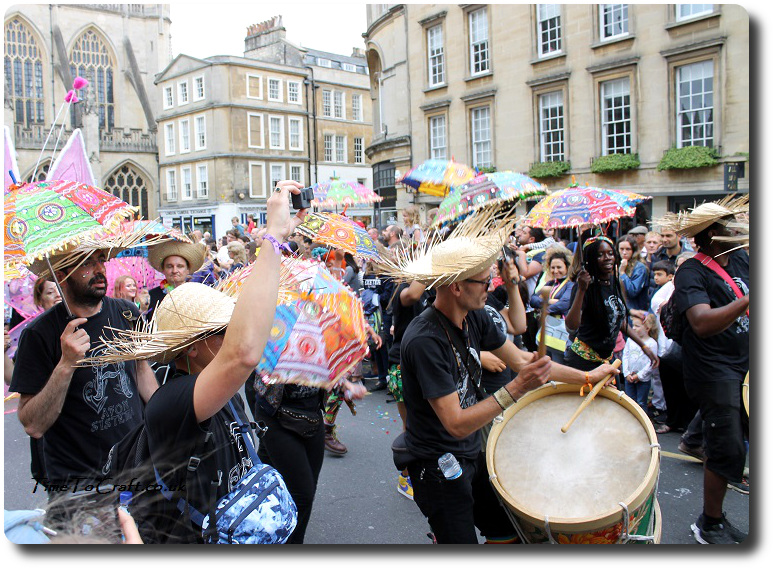 The music and dancing swept us all away. I had wondered if my dress (and this blue one) might be too bright for a wedding. Apparently not this wedding. Not with a carnival to finish off the proceedings.
Linking up with Crafting On and …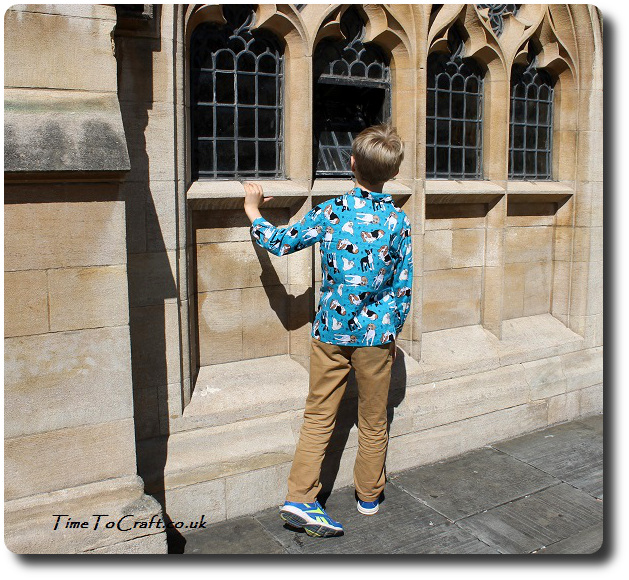 Seeing as it's the summer, I offered to make the Boy a shirt. It's the one time of the year that I can sew something for him, that isn't going to spend most of its time hidden under layers of warm clothes. I love sewing for him. He always choses such fun prints for his fabric and has just as much fun wearing them.
I'm a big believer that boy's clothes don't have to the boring. When his older sisters were little, I used to feel sorry for the boys' clothes sections in shops. They always seemed to be full of muddy, green coloured clothes, as if they already anticipated the colour the garments would turn after a day outside on the back of an adventurous boy. What did they think washing machines were for? Also, why the girls weren't supposed to join in, I really don't know. Judging by the colours in their clothes sections, their world was brighter and cleaner.
Then the Boy arrived in our lives and I found myself searching out brighter colours. He wore a lot of red and brighter blues. He has his share of darker clothes, but he has a sense of fun, so why shouldn't his clothes reflect it? Least when I sew, I can add that in.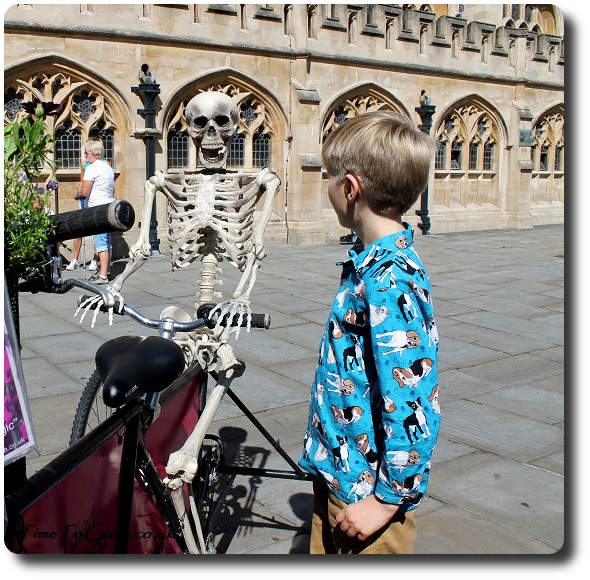 Back to this summer's shirt.
He suggested a long sleeve shirt this time round.
Gulp. That means a pattern with both a collar and two cuffs. At the same time. OK. Time to get the big scissors out.
He chose a dog print. We have big dogs so of course he adores small dogs. His ultimate favourite are dachshunds. It's the paws and the way they walk. Everything, really.
We couldn't find a dacksy print in cotton, but we did find one with Boston Terriers, Beagles, Basset Hounds and Pugs on it. Close enough.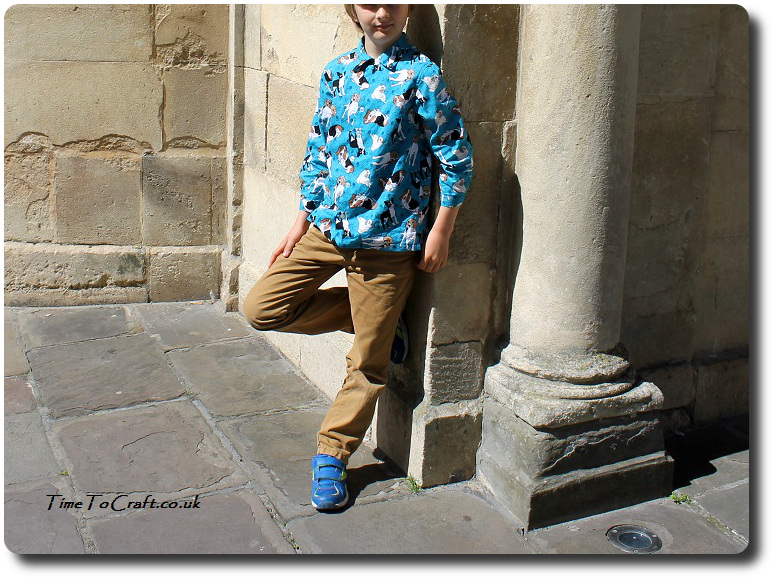 I love that blue.
Turns out the cuffs weren't as hard as I thought. The instructions walked me through it without a problem. Only two niggly points. I thought the cuff would be bigger. More like a grown-up shirt covering more of the wrist. Next time, I'll cut them out twice as big. The other problem is that somehow the sleeves are a bit too short. I thought I'd measured. I think this is my error and not to do with the pattern.
He loves the sleeve length. I can see how it stops them draping in paint and food, which is a good thing, but I am really tempted to cut out bigger cuffs and swap them for the smaller attached version. It wouldn't take too long and it would mean he could wear this shirt next year.
We'll see.
I added buttons to the cuffs that look like cufflinks and he is as pleased as punch that they look like his father's, without being as fiddly.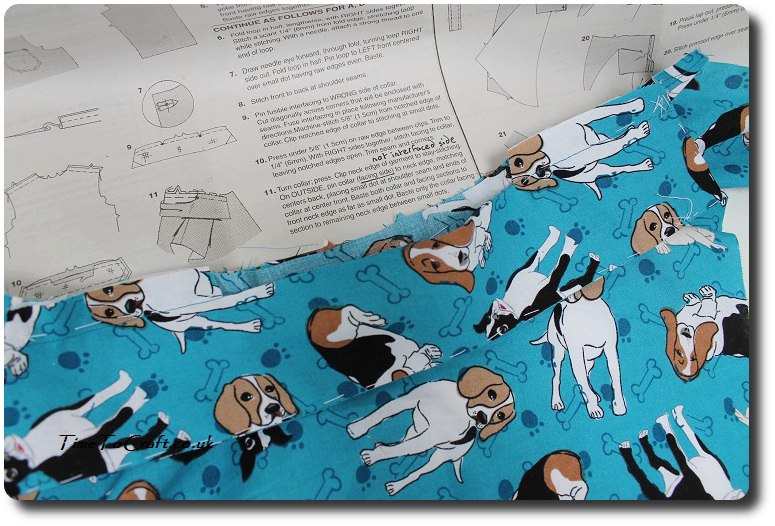 The collar wasn't too different from the usual shirt pattern I make for him. I still paused. Misunderstood. Understood. Added notes to the pattern for next time and moved on. Am I the only one that adds notes? I do it in recipe books too. Amazing how I manage to forget in between and then am glad of my scribblings.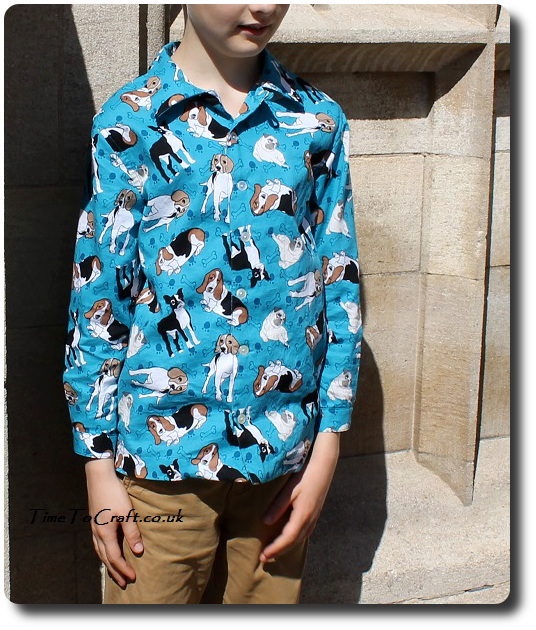 As always I like a matching front. It would have looked weird to have dogs cut in half in the centre of the shirt. I really think it is worth taking time at the cutting out stage to get this right. I took the advice of the fabric shop on how much extra to order, to allow for the repeat of the pattern, so it would match. I wasn't keen to repeat the same mistake as last time.
I did manage to sew all the buttons on in the wrong place, as I did it late at night. Out came the unpicker and they were sewn on again. When will I learn!
The buttons are simple, half inch shirt buttons. I have my Grandmother's collection of buttons. Bringing up four sons, she was a resourceful lady. I have a tube of these buttons which show signs of being cut off other garments. Presumably once the shirts were worn out, they were turned into dusters or rags, while the buttons were saved for another shirt. Nothing was wasted.
So the shirt is made and being worn. The Boy could not be happier. I took the children into Bath for a bit of back to school shopping and a hair cut for the Boy. It's the height of tourist season, although that is pretty much all year round for Bath.
I don't usually take my camera on shopping trips, but this time it was too good an opportunity to take some photos of the Boy in his new shirt. Bath is a fabulous setting.
I thought I'd fit right in with my camera, while we did our shopping. Its true. You cannot walk anywhere without dodging a good number of people holding a phone or camera. One person even walked straight into me as she filmed her whole trip around Bath. She will have captured the moment when she startled an English woman. Weighed down with shopping bags and a camera.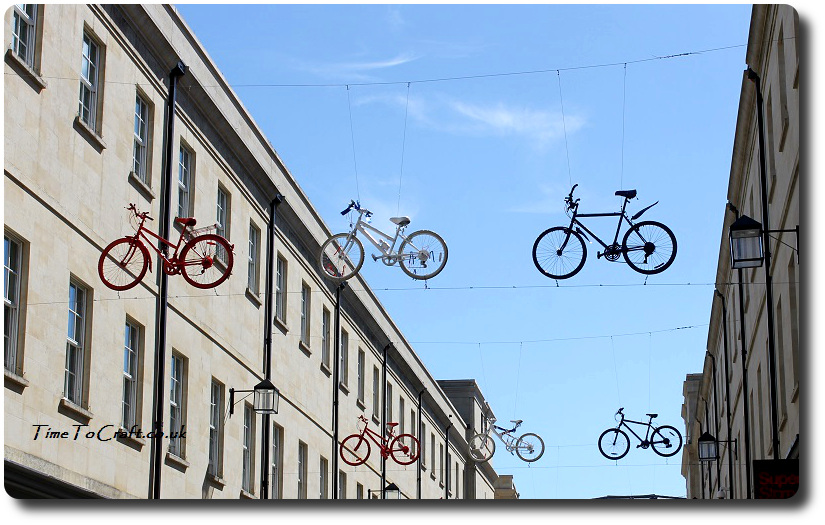 My daughter was less than pleased when I stood in the middle of the shopping area and snapped the flying bikes. Why not? There was a bunch of tourists doing it. Why not a local too? I could hardly resist flying bikes now could I?
Anyway, the sewing details….
Details
Pattern: Simplicity 4760
Fabric: Dog Print cotton Poplin in Teal
Notes and alterations to the pattern
I made view A in size M. I added a bit of length to the shirt as the Boy is tall, but slender. He is age 9.
I liked the folded pleats where the sleeve meets the cuff. It adds interest and also a bit of room in the sleeve. There is also a little loop and button at the top of the front, which closes the top of the shirt. Presumably useful when wearing a tie, although I don't think the Boy will use it.
I would add length to the sleeves next time.
The repeat is big. To match the pattern, I was adviced to add an extra 30cm. This turned out to be plenty.
I used french seams, instead of the suggested ones, as I think they give a better finish.
Would I make it again? Yes.
---
Disclosure: Minerva Crafts supplied me with the fabric and pattern, in return for a review. All opinions and words are my own, and honest.
Photos
There have been cases when people lifted my photos and words, and used them without credit to me or asking permission first. Using them for their own commercial gain. I have now added a level of security to deter people from doing this. Apologies to people who do play nicely. If you would like to use any of my photos, please contact me.
Copyright notice:
All my words and photos are copyrighted to me. They cannot be used for commercial benefit by anyone else. If you would like to use any of them, then please ask me first and don't just take. Written permission only. Don't pass my words, photos or ideas off as your own. It's not nice.
Cookie Policy
Our web pages do not use cookies however this website uses Google Analytics, a web analytics service provided by Google, Inc. Google Analytics uses cookies to help us analyse how people use our site. The use of cookies by Google Analytics is subject to change.