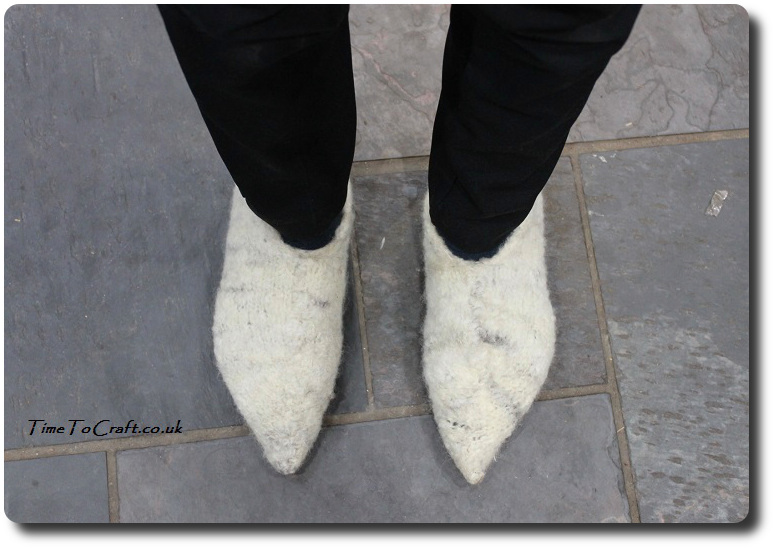 First craft project of the year is complete. It's a simple one, made more complex by its numerous stages. For the sake of sanity, this process was fortunately spread out over successive years of near inactivity. Slow crafting at its best. Allowing plenty of thinking time.
Do and leave. Repeat till done.
Some projects seem to mature with time. This was one of them. Let me tell you its story.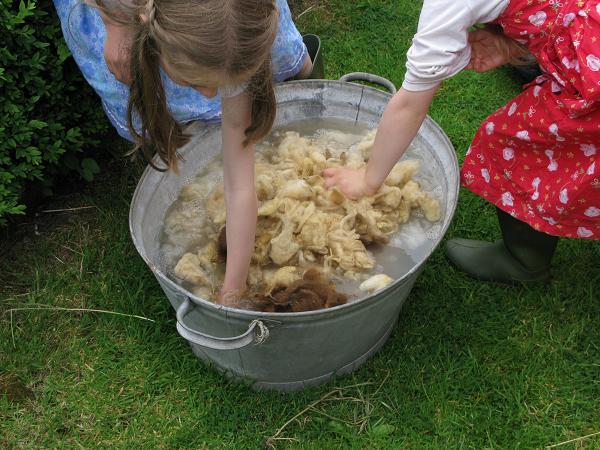 The beginnings of this project arrived in our kitchen in the form of a bag of sheep's fleece. Excess to a friend's requirements. Did I want it? Otherwise it would be wasted.
The photo above dates back to summer 2010. A year that lent itself to washing and drying fleece. Making the most of the gentle breeze and warming sun.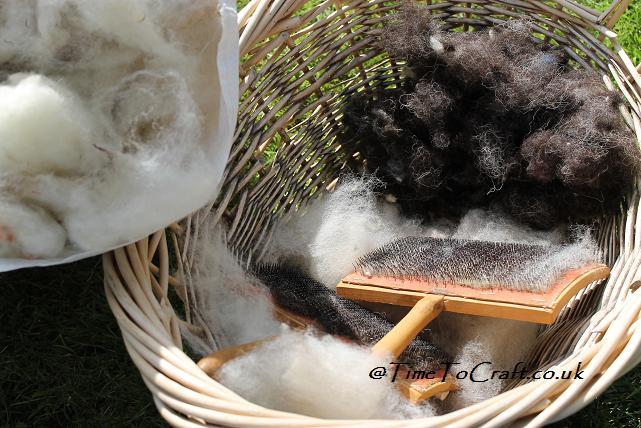 Roll on two years. (I said it was slow). On a warm spring day, out in the garden, the clean fleece was carded and sorted. Then hid in sacks ready to use, another day.
It stayed hidden for another three years. Until, one evening, I spun it up into balls of yarn. Returning it into hiding, in a drawer, until the time was right to use it. The photo is from January 2015.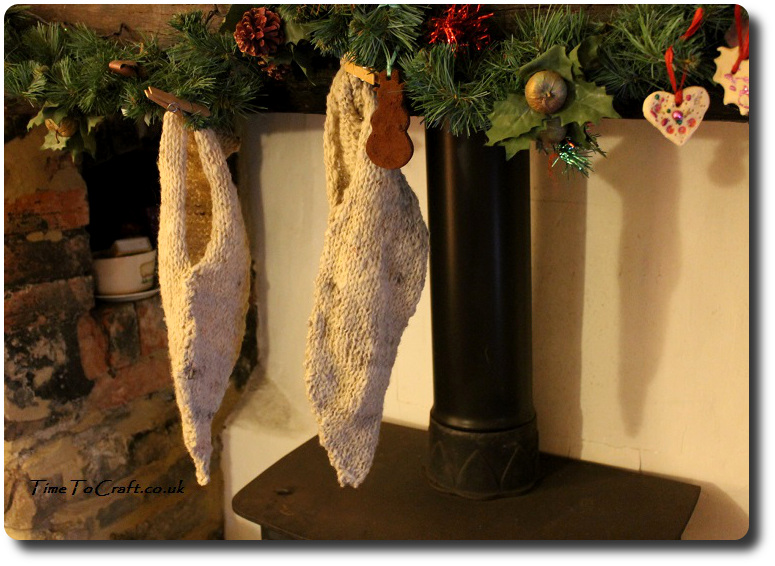 Until finally, this month, this year, it's ready to use. The fleece can finally be transformed, by knitting (and a need and an idea).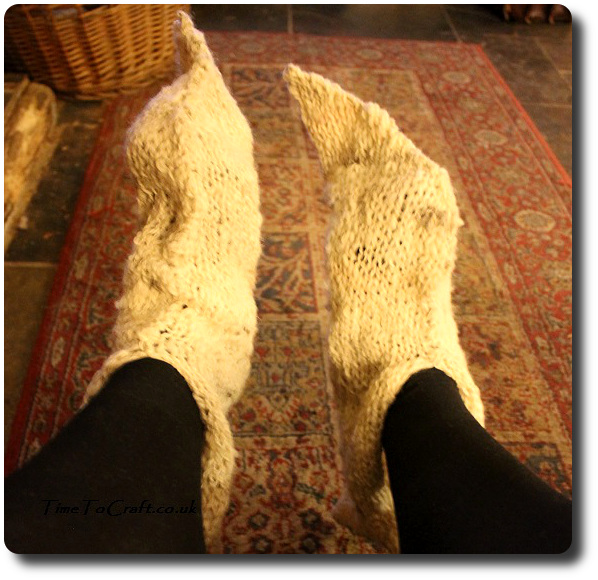 The story is not yet ended. They are now two, not one. Still not ready. They need one last stage before my work is done, but a pre-felting photo is compulsory. Right?
One day later, they are finally transformed into something useful. After time tumbling in the washing machine, with towels and jeans, they have taken shape. Slippers. Fun slippers. Ready for my middle girl. Once they are dry.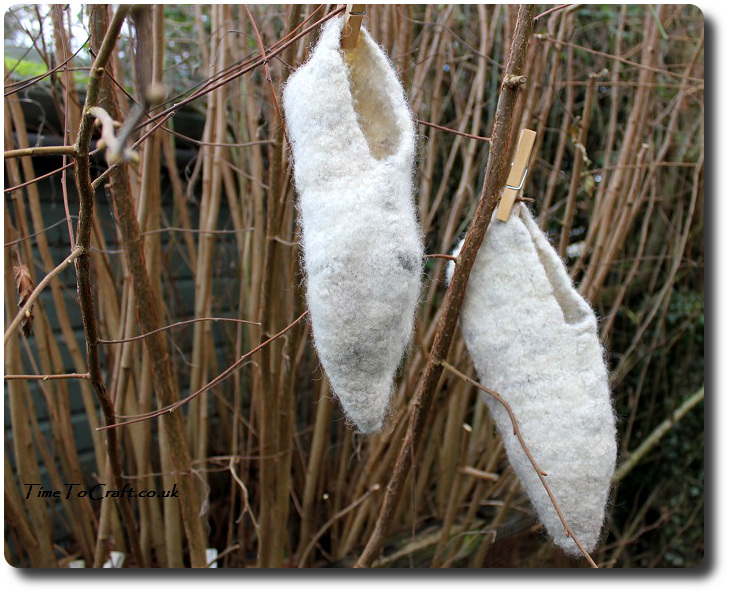 But, wait, there is something I did not intend. Something that magically happened long ago in one of the early stages. Not corrected at any of the other moments of making. Do you see it? The flecks of brown? Streaking across the felted slippers.
As if the slippers were made from the bark of a silver birch. Not fleece at all.
The fleece is from a Jacob sheep. Brown and white. When we separated out the colours, some small flecks of brown must have sneaked into the cream mix.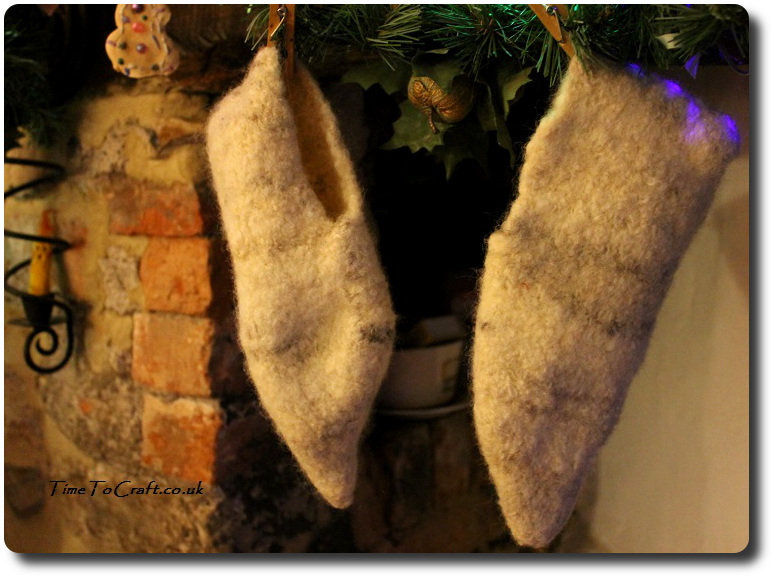 I'm sure six and a half years ago, when she helped me wash the fleece (she's the one in the red dress in the photo at the top), my girl did not imagine that it would turn into slippers aspiring to be patterned tree bark.
Or did she?
I like them. I like that they turned out not as I imagined. An unintended twist. Maybe an endorsement that some of the best things take time to grow and should not be hurried. Childhood, trees and, now, felted slippers included.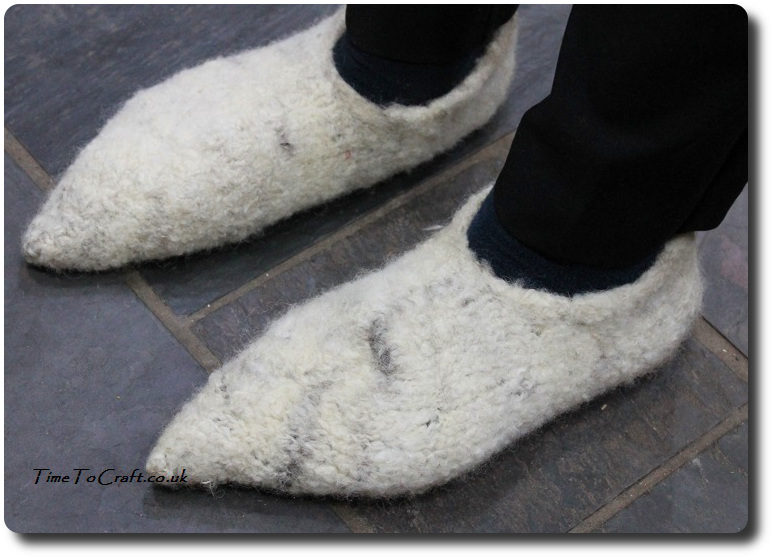 My job is done. Over to the new owner. The magic of handmade felted slippers is that the final transformation takes place on the intended feet. They begin to adapt to the shape of the feet. Working and stretching to fit perfectly, until they would suit no other.
Probably a good time to mention, that my girl hasn't got pointed toes. That is my added fun to the slippers. I was contemplating turning them up and adding a bell. Maybe next time.
First stash busting project complete. Right time to start another pair. Let's see if I can beat my six years record.
Linking up to #Trash2Treasure and Made By You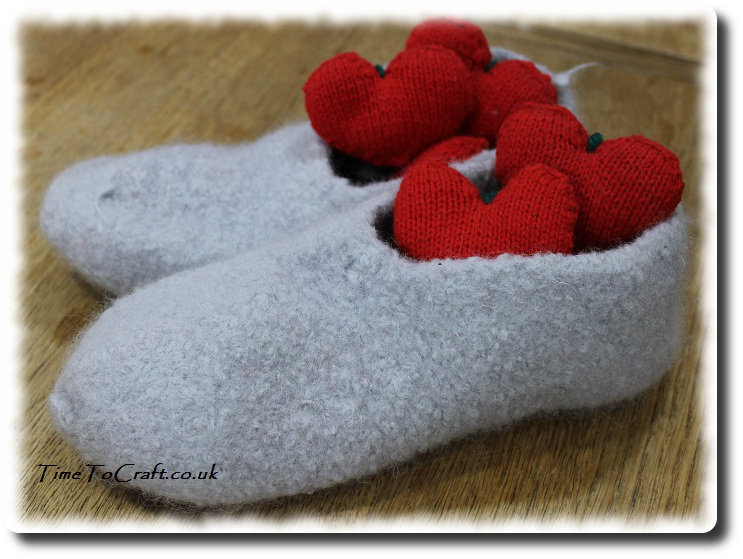 As I live and breathe, I made these slippers. They were a bit of an experiment for me. I used recycled yarn from my stash and two of my evenings. It really didn't matter too much if they succeeded or not, but I so wanted them to. They really didn't let me down.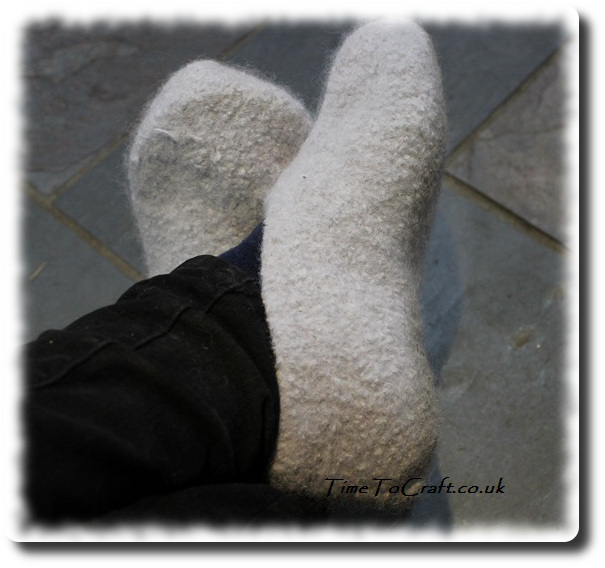 To be honest, not everything turns out matching the picture in my head. Imagination is a wonderful thing. But these did. They really did. Maybe it's because they're so simple. Not many steps (pun not intended), so less chance of mistakes.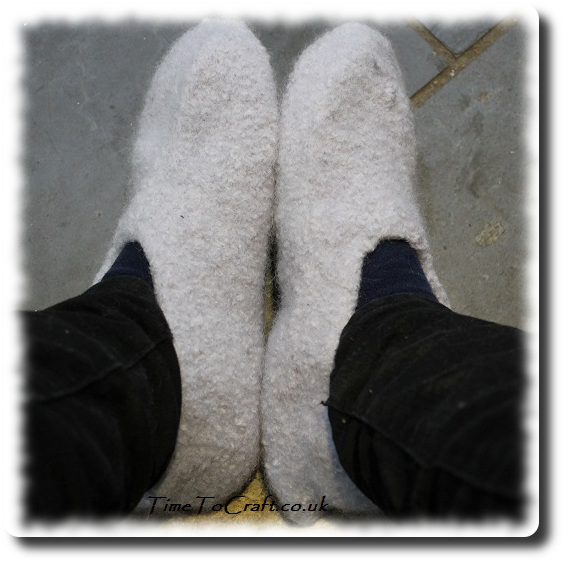 It's the first time I've knitted something into the desired shape and then felted it. Totally appeals to the instant-reward side of my nature. Press a button (washing machine, in this case), and it does the rest. (Of course, ignoring the hours spent knitting.)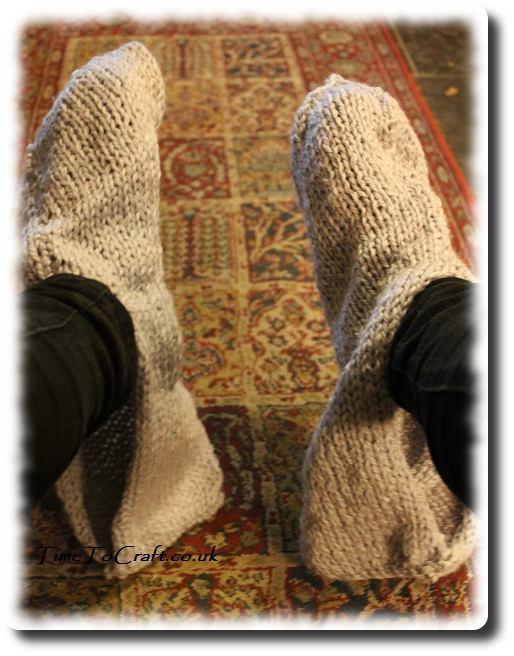 Slippers pre-felting
I used this pattern. I didn't have the required 8mm dpn (double pointed needles), on hand, so 9mm straight ones had to do. I sewed up the front join over the top of the foot. It doesn't show. Well I don't think it does!
They are still wet and need a bit of shaping. I'll be able to throw them back in the wash if they start to bag or get dirty. They are thick felt and pure wool, so they're going to keep my feet wonderfully warm. Not sure if I'll add a leather sole to them, but will be adding non-slip stuff to improve the grip. I may never buy slippers again.
This pattern is really easy. If you can knit, then you shouldn't have a problem.
When I took them out of the first wash this morning, the children were intrigued. I can imagine making a pair for each member of the family.
Adding to my Becoming a greener me in 100 steps project. Making my own footwear from my craft stash.
Photos
There have been cases when people lifted my photos and words, and used them without credit to me or asking permission first. Using them for their own commercial gain. I have now added a level of security to deter people from doing this. Apologies to people who do play nicely. If you would like to use any of my photos, please contact me.
Copyright notice:
All my words and photos are copyrighted to me. They cannot be used for commercial benefit by anyone else. If you would like to use any of them, then please ask me first and don't just take. Written permission only. Don't pass my words, photos or ideas off as your own. It's not nice.
Cookie Policy
Our web pages do not use cookies however this website uses Google Analytics, a web analytics service provided by Google, Inc. Google Analytics uses cookies to help us analyse how people use our site. The use of cookies by Google Analytics is subject to change.