Dear Daughter
Another block complete to add to your Dear Daughter quilt. This one is called Periwinkle. I like the name, although the pattern reminds me more of the compasses found on old maps. The ones where only the North is labelled.
With 111 quilt blocks to choose from the book, sometimes it's difficult to settle on which one I'd like to do next. (Between you and me, sometimes I just like the name of the quilt block!)
The decision process can take a while. *twiddles thumbs*  Add in the time taken to choose the fabric, and I can deliberate over the choice longer than it takes to stitch the pieces together.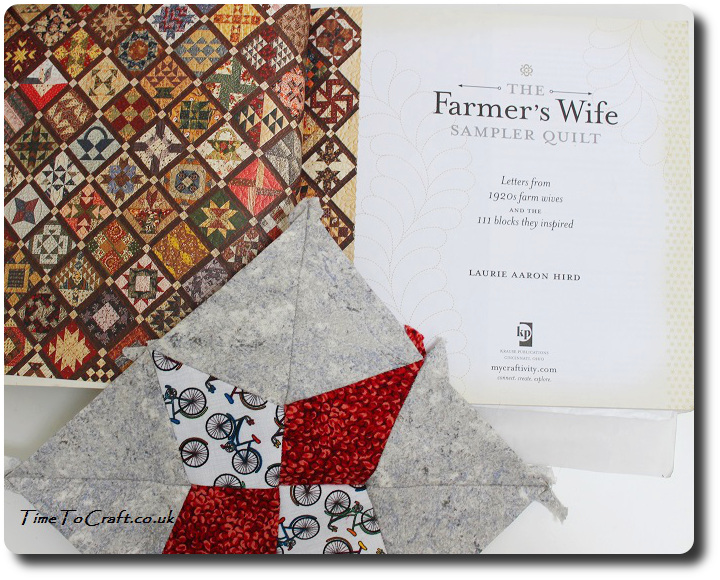 I usually lay out all the blocks I've completed. Fourteen this time. Rearranging. Wondering about the colour I'll use to separate them all eventually. Making sure my fabric choices this time, work with my general theme. Oh, the choices.
Making choices and seeing the way forward has been a recurring topic of conversation between us recently. We've spent a lot of time discussing your options at school. I've admired the way you have analysed the possibilities. Laying them out. Rearranging them. Checking they fit in with the bigger picture. Not unlike my sewing decision. Continue reading →
Photos
There have been cases when people lifted my photos and words, and used them without credit to me or asking permission first. Using them for their own commercial gain. I have now added a level of security to deter people from doing this. Apologies to people who do play nicely. If you would like to use any of my photos, please contact me.
Copyright notice:
All my words and photos are copyrighted to me. They cannot be used for commercial benefit by anyone else. If you would like to use any of them, then please ask me first and don't just take. Written permission only. Don't pass my words, photos or ideas off as your own. It's not nice.
Cookie Policy
Our web pages do not use cookies however this website uses Google Analytics, a web analytics service provided by Google, Inc. Google Analytics uses cookies to help us analyse how people use our site. The use of cookies by Google Analytics is subject to change.