Yarn-Along – bit distracted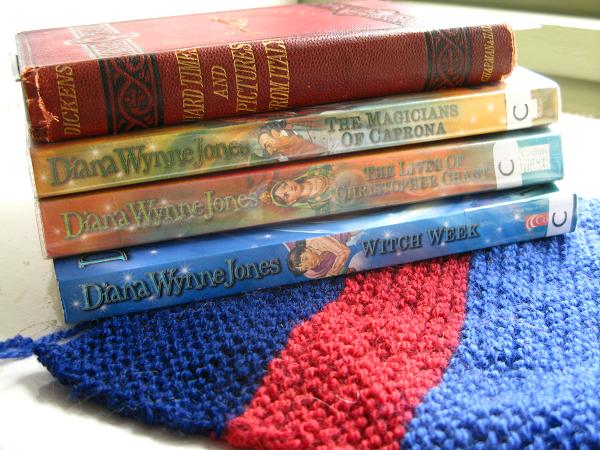 Its Wednesday. It must be Ginny's  Yarn-Along.
What's on my needles? Well, I've finished one of my squares for my patchwork knitted blanket….. and then I somehow got distracted and started on a pair of socks for AJ. I'm using my favourite two needle sock pattern. Its so quick. I'm using left over yarn from my wool stash.  As I'm not sure how far the wool will go, I opted to knit the two socks at the same time and stripes. I couldn't resist adding a bit of fairisle into a couple of the strips. Just for fun.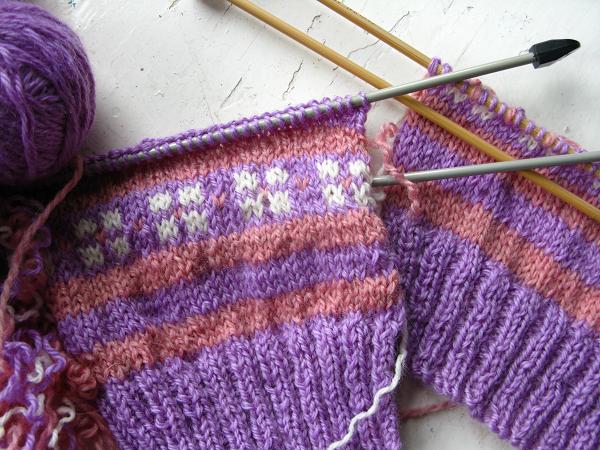 There are going to be so many ends to sew in before these sweet socks can be worn. Not my favourite job, but I think the finished socks will make it worthwhile.
And books? I've made in roads into Dicken's Hard Times. Originally each chapter would have appeared in a weekly magazine, which means that each chapter is an easy bitesize and tempts me to read the next chapter. Before I realise it, I'm sucked into the story.Very clever writing.
In reading too, I've been distracted. I squeezed in three Diana Wynne Jones books that I had ordered from the library….for AJ. Not me. I've ordered the next ones in the series for AJ, too.  Oh, who am I kidding! I'm loving them too!
edited: The two needle sock pattern is for sale via Ravelry. Four different styles in five sizes.