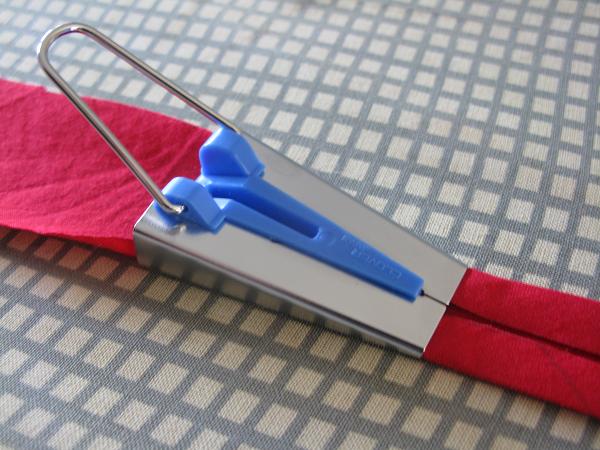 I like gadgets. Simple gadgets. The ones that work, because they are a simple solution. Often the beauty is how the metal is folded in such a way that the end product is easily achieved, every time. A good example is the wonderful apple peeler and corer that I bought back in the autumn. Still a big hit in our household.
Last year, when I visited our local quilt shop, I picked up a bias tape maker. I had already realised that I wasn't going to easily find 100% cotton bias tape that coordinated with my hexagon patchwork quilt. Also I was using 100% fabric from my stash for the quilt, so it made sense to carry that on to the binding as well. I found some gorgeous bright red fabric in my cupboard.
The one and only time that I had made bias binding, was at school. No gizmos to help, which meant my finger tips were mighty close to a very hot iron. Hardly surprising that I opted for buying ready-made bias binding after that.
To prepare the fabric, I used the continuous bias binding tutorial over at No Big Dill. (Katy produces the most wonderful outfits for her six children. She is truly inspirational and is always up beat.) My post-flu brain turned the final instructions into gibberish, so I decided to cut my losses and be happy with 11 extra long tapes. In the middle of the night, my brain did catch up and I figured out what she meant, but too late for this project. Next time.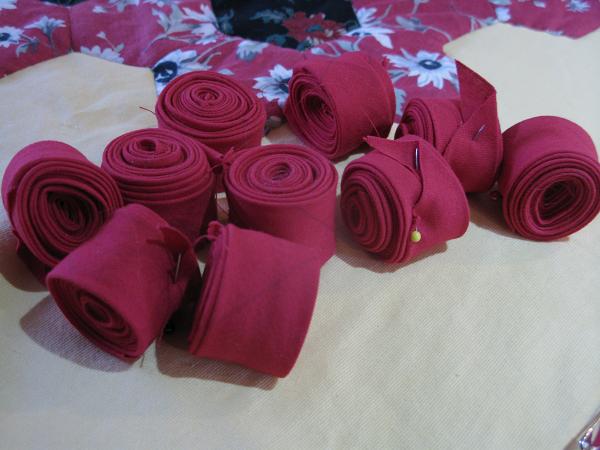 Anyway, I whizzed the strips through the miniture lawn mower bias tape maker, without once burning my fingers. Thanks to the handle at the back. It is more of a case that the gadget moves along the fabric rather than the fabric being pulled through it. As the beautifully folded fabric emerges, the iron is used to crease the folds. Then roll up. Store or use.
I think a sure indication that a gadget is a winner, is when I start looking around for other projects that I can use it for. Already I'm picturing in my over active imagination, other sewing sessions where I have to make colour co-ordinated bias binding.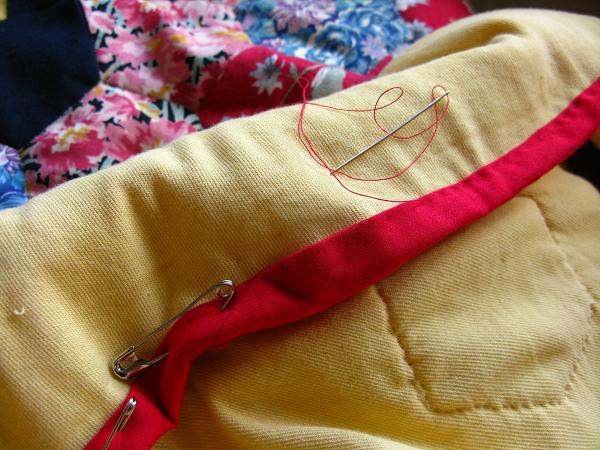 Nothing to stop me now…. final stage of my hexagon patchwork quilt begins. I've attached two strips already. So nearly there. Yeh!