I finished two felt bags, last night. These are for my two big nieces. They may look like simple zippered bags, but they represent months of pondering and indecision. The felt I used was made by shrinking unfinished knitting. It is from my collection of legacy knitting, handed on to me.  This piece felted to about half its original size (and three times as thick), which flummoxed me as I wanted to use it to make two objects. One for each of my big nieces. The finished objects needed to be small.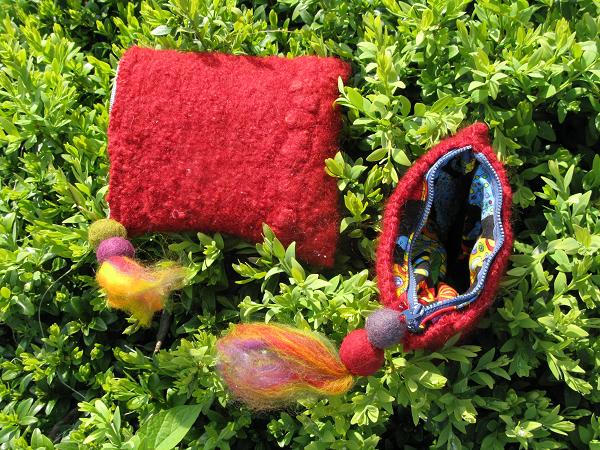 In the end, I decided to go for a lined, zippered purse. Once the decision was made, the actual purses could not have been simpler to make. My sewing machine did not like the thick felt. So I made an inside out zippered purse out of the lining and then hand sewed the felt around the bag. My machine's refusal to touch the felt, actually forced me to devise a simpler method.
I wanted the purses to be about the felt, in this case. The bumpy part at the bottom of the purses is the felted cable stitches. I love the effect, but with a purse closed, it still left the whole piece looking glaringly plain. To add a bit of interest, and without distracting from the felt, I added a couple of felt balls and a wisp of rainbow wool roving.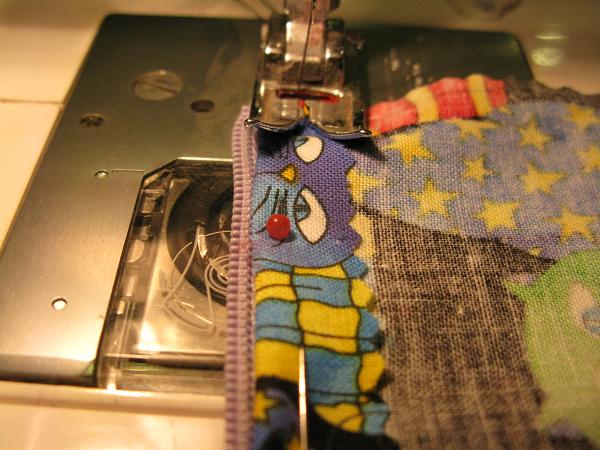 I love the fabric I used for the lining. Look at the cat's eyes as the sewing machine needle heads its way.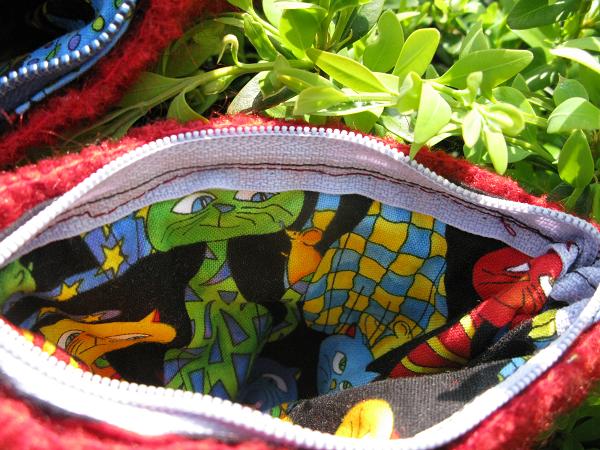 (Oh that wobbly line. My machine did not like the felt!) The lining is sweet. I adore the little mouse chatting to the cat. I'm going to make one for me. It would make me smile to open up my purse and find a whole gaggle of mice and cats chatting away about who knows what.
So the purses are finished and given. I am so glad the felt is no longer sitting in my cupboard, crying out to be used. I watched one of my nieces unconsciously twist the roving around her finger again and again. Irresistible. I'm glad I added it.