Granola and those darker mornings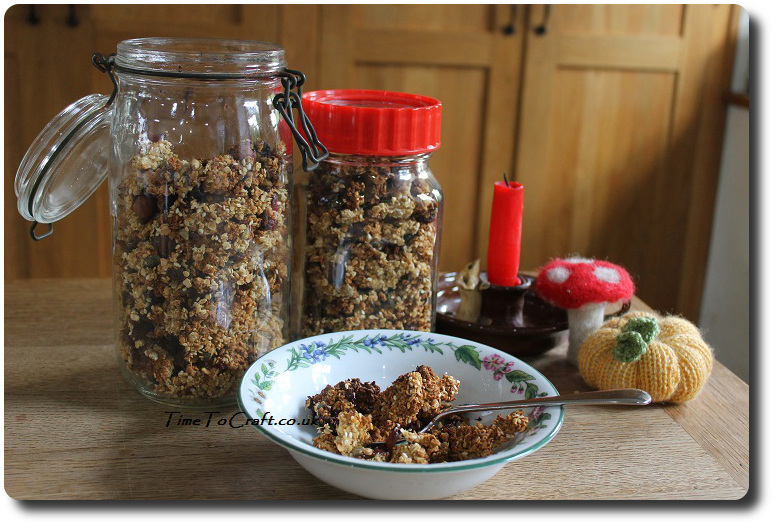 There are times I envy the hound. She wakes up, stretches and is ready to go, whatever the day promises to bring. All she needs is her collar and she can head on out. She's even happy to skip the collar part. It's an easy start to the day. Whatever the season.
Contrast to her human pack. It's the time of year when we're waking up in the dark again. Same time, but no daylight. The radio alarm goes off, catching a Radio 4 presenter mid-sentence as they bring us up to date with the overnight news events. Always mid sentence. I seriously question if it's a good way to start the morning. In an instant state of bewilderment. Left wondering who they are talking about, or where. Knowing I'll have to wait for the news to cycle through again before the mystery is solved.
To add to this state, there is no daylight. I know I mentioned that part, but being in the countryside, we have no street lights either to ease the darkness. Even a self confessed morning person like me, finds it a bit more of a struggle to make it out from under the covers, when the sun hasn't made it over the horizon. To add to the fun, the Teen has turned eco-manic about electricity. All lights are now turned off overnight. Before the gentle glow of the landing light would reach along the corridor and help with navigation. No more. It is pitch dark. I spring out of bed and then quickly remember to tread carefully in case the hound has managed to sneak up overnight, and is laid out, occupying the floor.
And so my morning starts.
Sigh.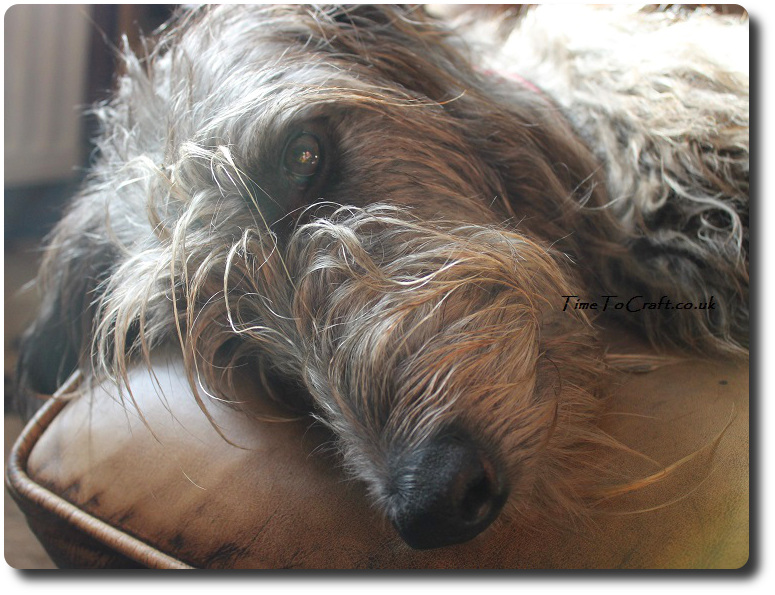 (Sporting the wind swept look after her morning walk. She does have the advantage of being able to go straight back to bed. Unimpressed by lens in her face.)
I am a morning person. I can overcome all these obstacles, but it's also good to have a little help along the way. Pick me ups, so to speak. Brief moments to breath in and enjoy. To ground me. In between the calls for PE kits, missing geography books and "are we out of milk?" (No, we are not)
Here are six of my morning pick-me-ups:
1. Pamper. I love pick-me-up fragrances in my morning shower. I wouldn't care if the water is cold/luke-warm/hot, so long as I have the right scent to wake me up. It can seriously get me through a lot. I can cope with the last minute requests for a roman costume for that day or cooking ingredients for school, if I can still catch a hint of my grapefruit shower gel. Big favourite is the Body Shop range.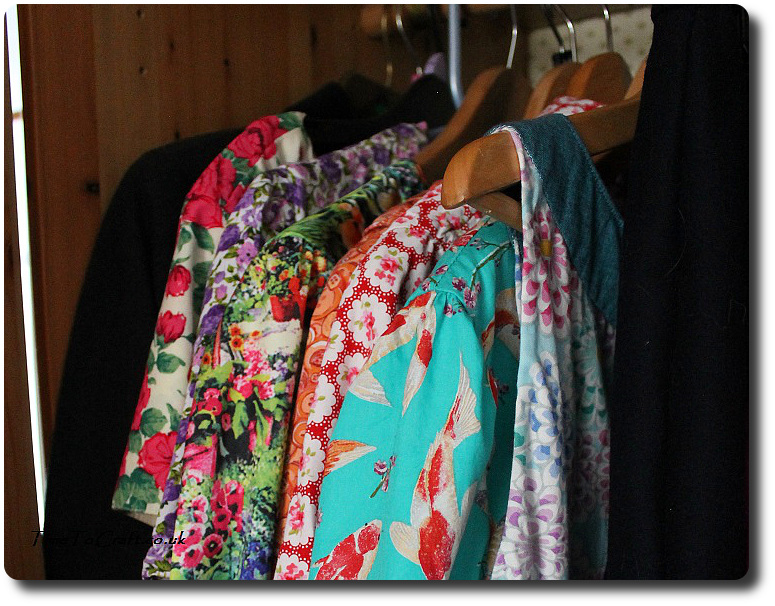 2 Handmade wardrobe. I love my wardrobe. I smile every time I open the door. Handmade makes me happy, as do the colours. I know I can pick anything to suit my mood, or the mood I'd like, and pop it on. It will fit, because I made it specially for me. Squeal. Like a gift from a past me. "Here you go. Have this one. Oh no, the pleasure is all mine." I no longer look at a full wardrobe of clothes and find nothing to wear.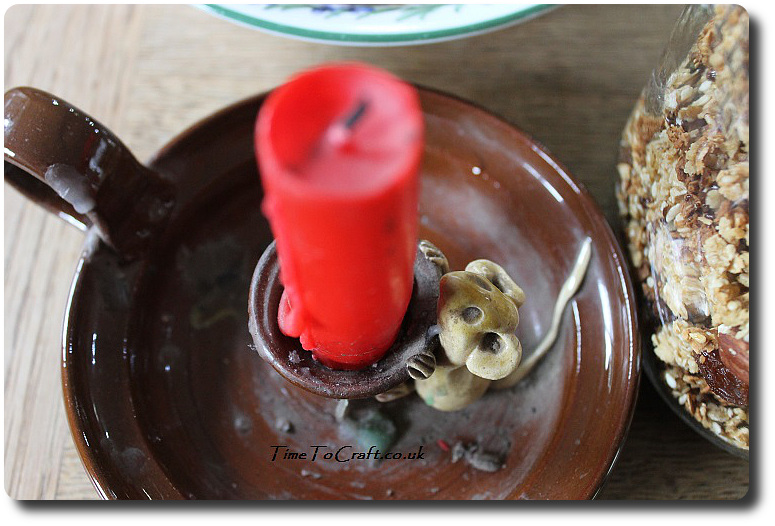 3. Downstairs, we are back to putting a candle on the breakfast table. There are other lights on. The Teen has not moved us off-grid yet. The gentle glow of the candle feels natural and a focus for us all. As people come down, they sit at the table eating breakfast. It really is a favourite with the children. I'm turning a blind eye, at this point, to the panic homework going on at the other end of the table. Hopefully the candle is still sharing its calmness.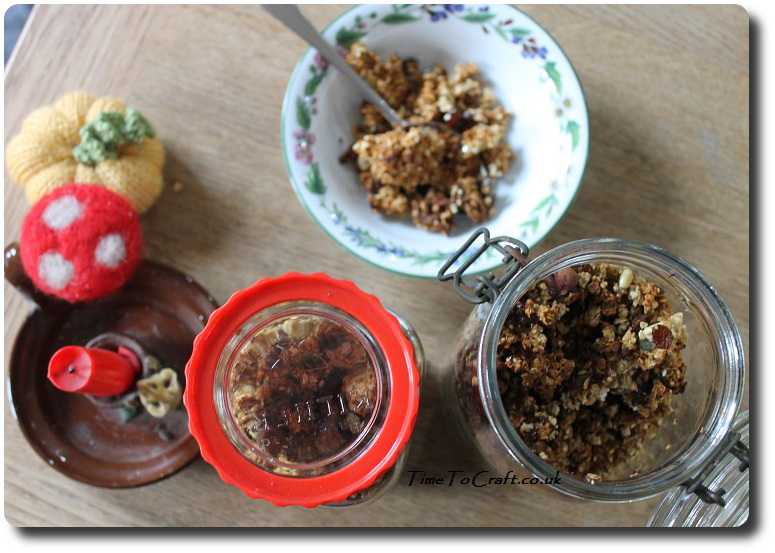 4. Homemade granola. Just the best. I love starting the morning with this one. A silent thank you to myself for finding time, the day or two before, to make it. (recipe at end)
5. Coffee. I used to be a tea drinker. No more. Unless it's herbal or fruit tea. Nowadays, I have to have an Italian coffee first thing. Lavazza is our favourite. The first cup of the day is the best. No denying. As hard as I try, I just can't replicate it, until the next day.
6. Don't sweat the small. So, I forgot to put the grapes in the Boy's lunch bag yesterday and, yes, I didn't wash the PE kits again. Let's not talk about the phone call I forgot to make. They will survive. The world will not end with one less perfect person in its midst.
Soon it is only the Boy, the hound and me left in the house. Once he is ready for school, I test him on his times tables or current spelling list, and then he tends to drift off to do his own thing until it's time for school. Boots on and we're off.
Just a hint of grapefruit.
As promised, here's the granola recipe. Very easy to change around the fruit and nuts to make it different each time. Also, the vanilla essence can be replaced with cinnamon, ginger or any other flavour that takes your fancy.
Granola
Ingredients
300g porridge oats
125g maple either maple syrup or golden syrup, or a blend of the two syrups
2 tbsp of honey
2tbsp vegetable oil
2 tsp of vanilla essence
150g seeds and nuts (eg sesame/almond/pumpkin/hazelnut)
150g dried fruit
20g- 50g chocolate chip
Method
1. Mix syrup, honey, essence and oil in a bowl.
2. Add in the rest of the ingredients apart from the dried fruit and chocolate chips. Mix thoroughly.
3. Spread the mixture thinly on a lined baking sheet and bake for 10-15 mins at 150c (fourth shelf of baking oven, for a two oven Aga.)
4. Take out of the oven and mix in the dried fruit. Use a fish slice to turn the mixture over, so that it all gets a chance to brown. Spread the mixture out on sheet again.
5. Put the baking sheet back in oven and bake for a further 5-15 mins until golden brown.
6. Remove from oven and lift mixture out of the tray using the lined paper. Set to rest on a cool surface.
7. Sprinkle chocolate chips on granola while still hot.
Once cool, the granola should be stored in an airtight container. I love the clusters of oaty yumminess, with this recipe. Serve with milk or yoghurt, or just eat it as it is.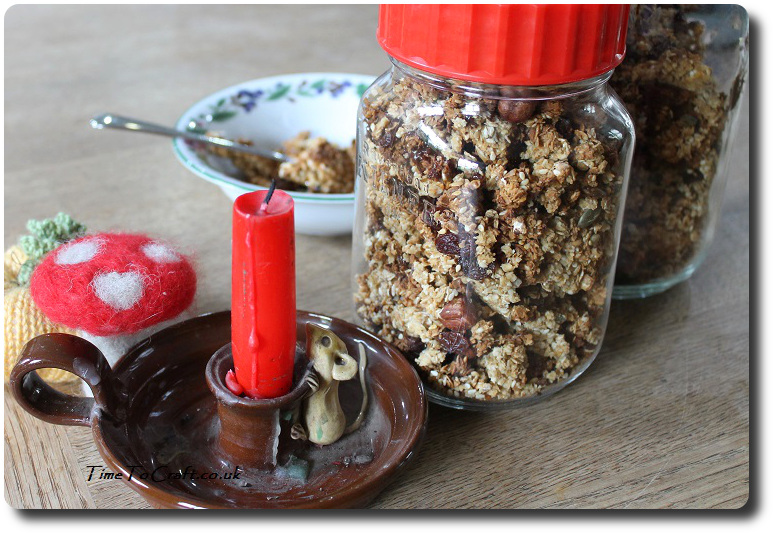 How about you? What do you need to get you up and out of the house in the morning?