English Garden Blouse – McCalls M7094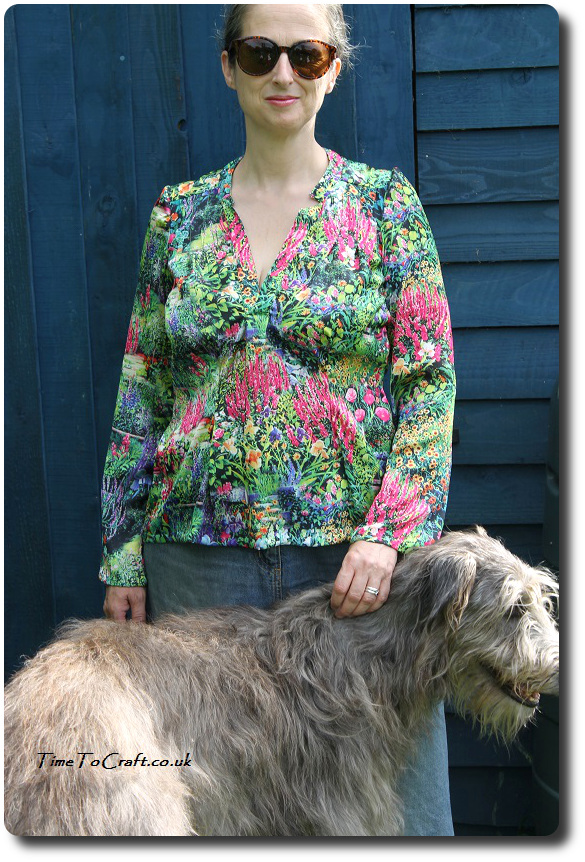 I've finished my latest sewing project. A blouse, this time.
After sewing so many dresses this summer, I needed a new challenge. Also, I needed a blouse. I can easily get stuck in a rut, if I'm not careful. Dresses may be one thing but, I tend to opt for sewing with cotton, especially poplin. It behaves and is easy to sew, but it doesn't drape effortlessly and it needs ironing. I'm not an ironer.
Yes, a bit of a rut. In need of a change.
To shake it up, the solution was to try a different fabric. One that I have never used, as far as I can remember. I decided on a silky satin fabric, which drapes like a dream, in the most amazing, vibrant print. I can only describe it as an English cottage garden. The kind that I dream of growing in front of our cottage. I'm working on the garden, but in the meantime, I could wear it, right?
The dress pattern took longer to settle on. I read up on working with slippy fabric and decided I'd be best going for something not too complicated for my first attempt. Nothing fiddly. No cuffs or complex collars. Loose, free flowing and no fastenings. McCalls M7094 seemed to fit the bill. Designed to be shrugged on.
The pattern came with Love Sewing magazine. They had a few pages, in the magazine, dedicated to made up versions and useful tips. I also searched for other bloggers who had made it. First tip seemed to be, make it smaller than you imagine. The ease on this top is about 10″. I know. That is a lot.
So I made it in the medium size.
Even so, once made up, I still found it a bit ….tent like. I'm curvy. The drape went from the top part of me to my hips, missing my waist completely. The result was rectangular, rather than the subtle draping effect I was after.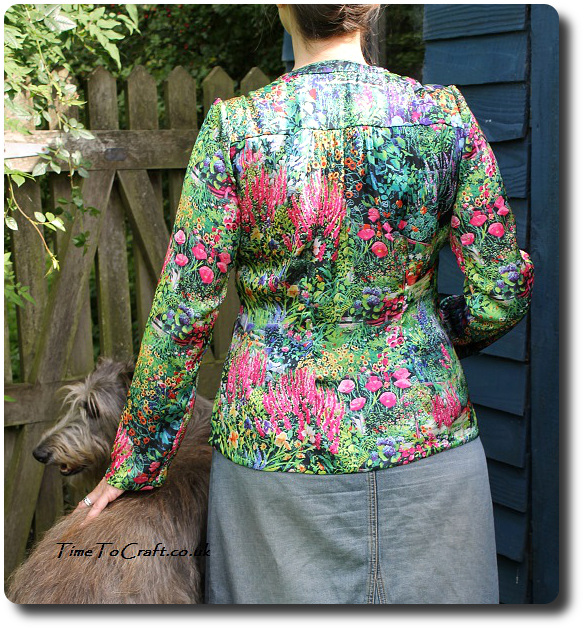 So, I added darts front and back, and took it in at the side seams. I sewed the front top pleats down about 3 inches to tame the billowy effect. Despite all my messing around alterations, the ease is still enough to slip it on without even a remote struggle, which is perfect. The difference between a blouse I could wear and one…that never sees the light of day. This one will see daylight. Plus it no longer skips my waist. I have shape again.
Next time I make the blouse, I would be tempted to add a tie at the back to reduce the bagginess around the tummy area. Or abandon the front darts and sew down the front pleat. It would be worth it as I like the neck opening and the top part of this blouse. Not the bottom half. Doesn't work for me.
Here I am pretending I'm in the South of France beside a sunflower field. I'm not. I'm no further than my own patch of sunflowers in the garden.
Somewhere along the journey, I came to a conclusion. I wasn't ready for free flowing. Not a wild child, after all. Either that or I'm deluded when it comes to my size and I am a lot smaller than I think. Or both. Probably both.
Not that any of that matters. I'm really pleased with my new blouse. I would make it again. I love the fabric. It's not see through. It is soft and yummy to wear. The children love giving me extra hugs when I'm wearing it. A recommendation in its own right.
I now have a blouse that I don't need to iron and drapes the way I wanted it to.
Mission accomplished.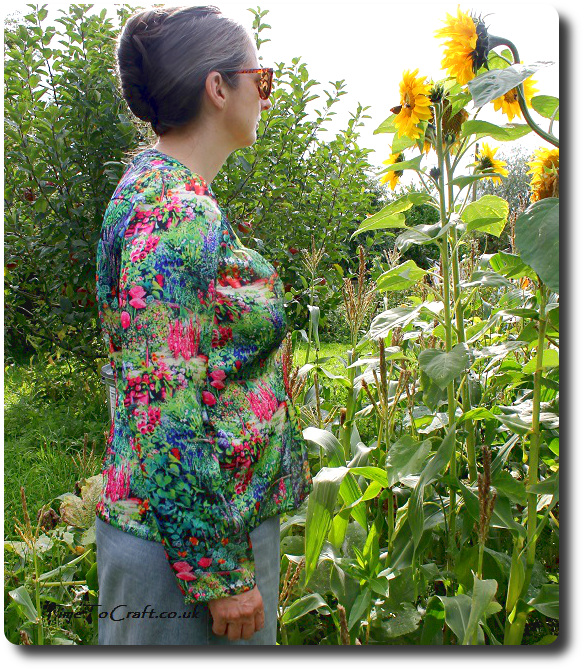 I thought it might be a good idea to note down a few tips I picked up for sewing with slippy fabric, before I forget. It might help someone else, but I know I'll find it useful next time.
– New project, new needle. No skimping
– Use a fine machine needle size (10) and sewing needle
– use lots of pins
– apply stay stitching to stop necklines, etc from stretching
– pin beginning and end, then the middle, then the middle of middle, etc
– cut notches to stick out to help prevent fraying near the seam line
– change foot tension
– don't use very small stitches
– neaten seams as you go along, to prevent fraying
Big thank you to Middle daughter for taking the photos this time, to the Boy for directing (and creating humorous outtakes), and Blue the Hound for being a far keener model than me. Again.