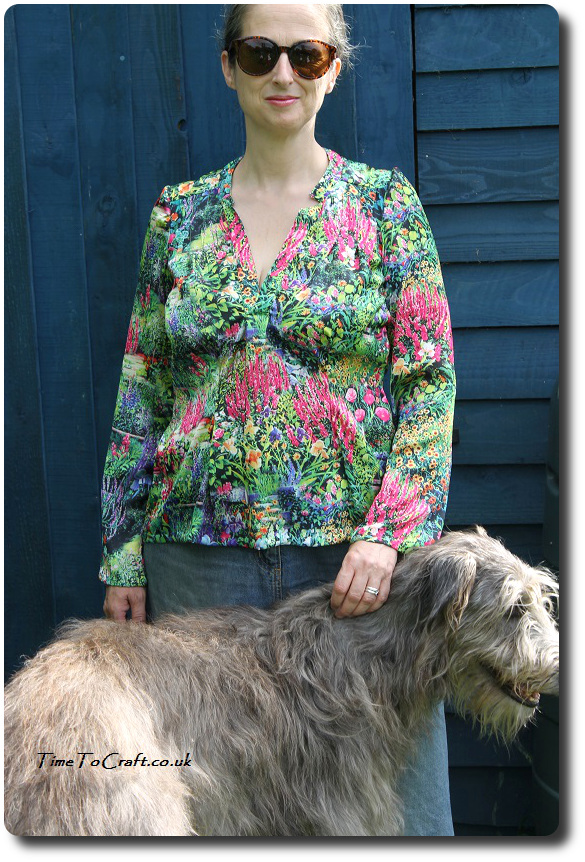 I've finished my latest sewing project. A blouse, this time.
After sewing so many dresses this summer, I needed a new challenge. Also, I needed a blouse. I can easily get stuck in a rut, if I'm not careful. Dresses may be one thing but, I tend to opt for sewing with cotton, especially poplin. It behaves and is easy to sew, but it doesn't drape effortlessly and it needs ironing. I'm not an ironer.
Yes, a bit of a rut. In need of a change.
To shake it up, the solution was to try a different fabric. One that I have never used, as far as I can remember. I decided on a silky satin fabric, which drapes like a dream, in the most amazing, vibrant print. I can only describe it as an English cottage garden. The kind that I dream of growing in front of our cottage. I'm working on the garden, but in the meantime, I could wear it, right?
The dress pattern took longer to settle on. I read up on working with slippy fabric and decided I'd be best going for something not too complicated for my first attempt. Nothing fiddly. No cuffs or complex collars. Loose, free flowing and no fastenings. McCalls M7094 seemed to fit the bill. Designed to be shrugged on.
The pattern came with Love Sewing magazine. They had a few pages, in the magazine, dedicated to made up versions and useful tips. I also searched for other bloggers who had made it. First tip seemed to be, make it smaller than you imagine. The ease on this top is about 10″. I know. That is a lot.
So I made it in the medium size.
Even so, once made up, I still found it a bit ….tent like. I'm curvy. The drape went from the top part of me to my hips, missing my waist completely. The result was rectangular, rather than the subtle draping effect I was after.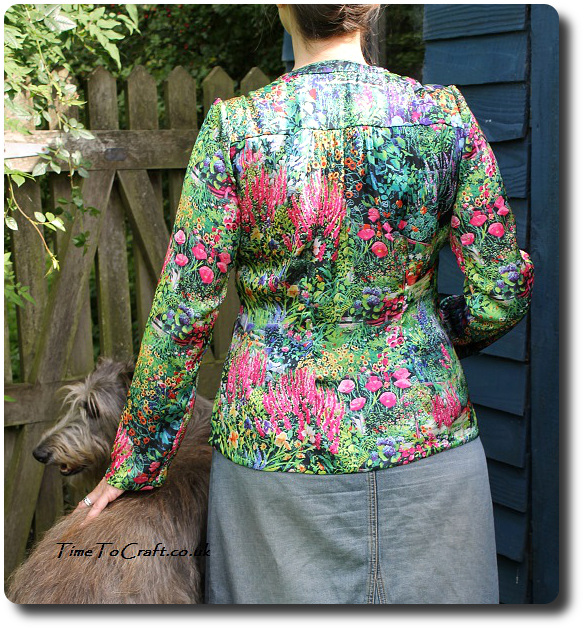 So, I added darts front and back, and took it in at the side seams. I sewed the front top pleats down about 3 inches to tame the billowy effect. Despite all my messing around alterations, the ease is still enough to slip it on without even a remote struggle, which is perfect. The difference between a blouse I could wear and one…that never sees the light of day. This one will see daylight. Plus it no longer skips my waist. I have shape again.
Next time I make the blouse, I would be tempted to add a tie at the back to reduce the bagginess around the tummy area. Or abandon the front darts and sew down the front pleat. It would be worth it as I like the neck opening and the top part of this blouse. Not the bottom half. Doesn't work for me.
Here I am pretending I'm in the South of France beside a sunflower field. I'm not. I'm no further than my own patch of sunflowers in the garden.
Somewhere along the journey, I came to a conclusion. I wasn't ready for free flowing. Not a wild child, after all. Either that or I'm deluded when it comes to my size and I am a lot smaller than I think. Or both. Probably both.
Not that any of that matters. I'm really pleased with my new blouse. I would make it again. I love the fabric. It's not see through. It is soft and yummy to wear. The children love giving me extra hugs when I'm wearing it. A recommendation in its own right.
I now have a blouse that I don't need to iron and drapes the way I wanted it to.
Mission accomplished.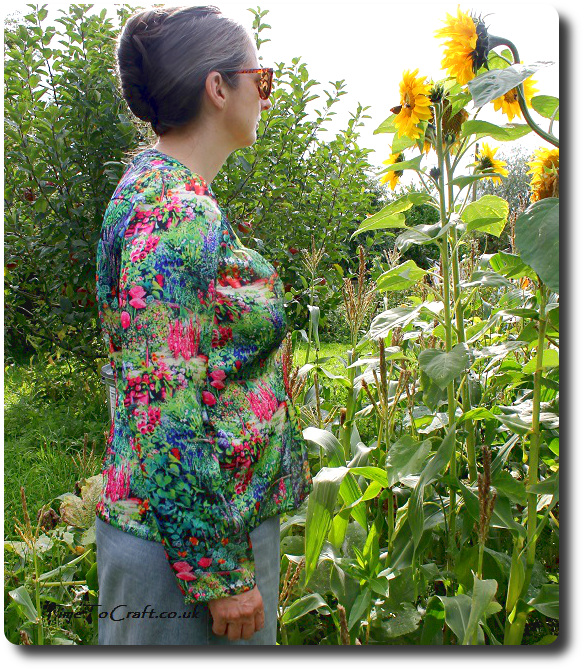 I thought it might be a good idea to note down a few tips I picked up for sewing with slippy fabric, before I forget. It might help someone else, but I know I'll find it useful next time.
– New project, new needle. No skimping
– Use a fine machine needle size (10) and sewing needle
– use lots of pins
– apply stay stitching to stop necklines, etc from stretching
– pin beginning and end, then the middle, then the middle of middle, etc
– cut notches to stick out to help prevent fraying near the seam line
– change foot tension
– don't use very small stitches
– neaten seams as you go along, to prevent fraying
Big thank you to Middle daughter for taking the photos this time, to the Boy for directing (and creating humorous outtakes), and Blue the Hound for being a far keener model than me. Again.
Before I start, this post is about a dress. A dress I made. Looking at the photos, you might be forgiven for thinking it is about Blue the Deerhound. It isn't. It seems that she has recently discovered that she likes having her photo taken. Camera comes out and she is straight there. As splendid as she is, she had absolutely nothing to do with the manufacture of the dress.
I'm glad we've sorted that one out.
Now on to the dress.
I picked up the fabric last year at a discounted price (£1.99 per metre – I'm sure it must have been a typo!), from Minerva Crafts. They no longer stock it. It's an embroidered, stretch needlecord and a gorgeous colour. Orangey-brown with a black cord twisted and turned on the surface of the fabric.
The only problem I had with the fabric was that some of the black cord started to undo. A quick anchoring stitch or two sorted it out. I suspect it will happen again, but I absolutely love the pattern the embroidered cord makes, so I'm not put off.
In the same order, I selected Butterick 4386 pattern (Butterick patterns). I was after work outfits and this pattern offered six combinations, which would give me a good choice. Plus more, if the sleeves are swapped around. Also, any pattern that says "Fast & Easy" on the front and "very easy" on the back suggests that the first dress I make stands a good chance of not putting me off whisking up another.
I went for view C without the sash.
The pattern instructions are straightforward, with not too many steps. I like my sewing patterns the same as recipes. Short and sweet, so I can add my own variations in.
The only part I would change is the zip stage. It's sewn in after the side seams are stitched up, which left me fitting the zip in a tube rather than on the flat.  It would have been easier to sew the zip in and then stitch the sides.  The zip is 22″ (55cm) long, which makes the dress wonderful to step into when I'm dressing, but made matters worse when it came to fitting it to the dress.
Next time, I'll fit the zip and then stitch the side seams.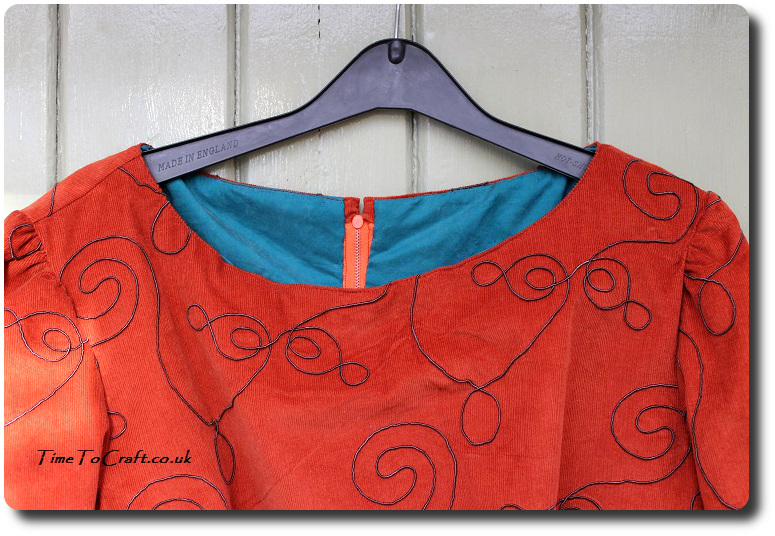 Only other change I made is that I used silk from a recycled silk shirt to face the neck line, instead of the needlecord fabric. (I've already mentioned this in an earlier post. Forgive me for repeating). It meant I avoided the black cord thread  rubbing against my neck, which would have irritated. I love the touch of green and it still does the designed job.
I am very happy with the finished dress. Super comfortable to wear and a great choice when I visit work clients. The dress is intended for the autumn. I can see myself wearing it with shoes or boots for a different look. Maybe a scarf to ring the changes. I suspect that come the cooler months, I'll be taking the side seams in, as it is already feeling too loose and I'm determined to get fitter.
So on to the next project. I'm working on the next version of this pattern. A more summery version.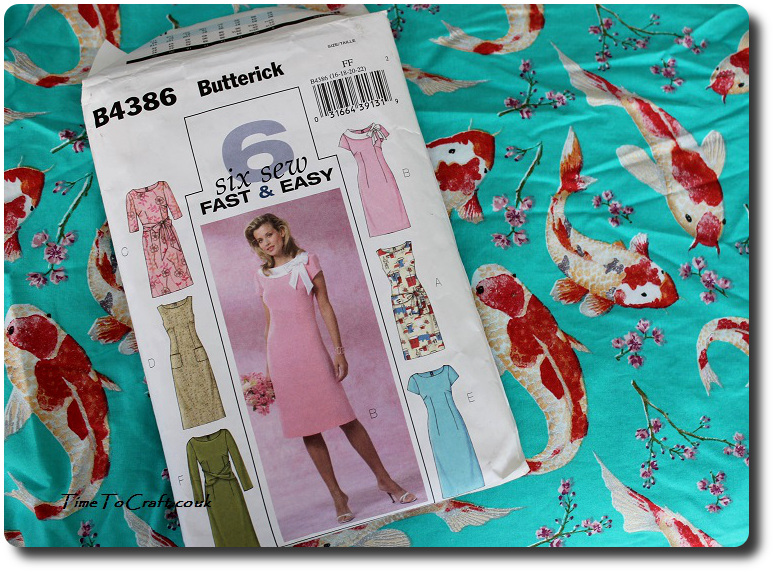 Thank you to the Teen who took the photos and her sister who tried to control Blue. It proved to be a difficult job when a young deerhound is determined to have her photo taken, but you both did well.
You can be honest. She stole the show, didn't she?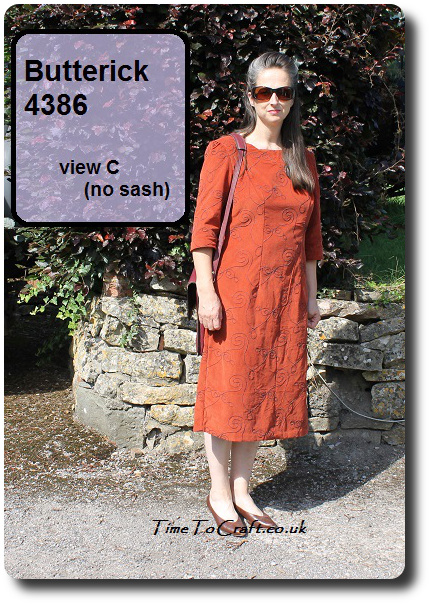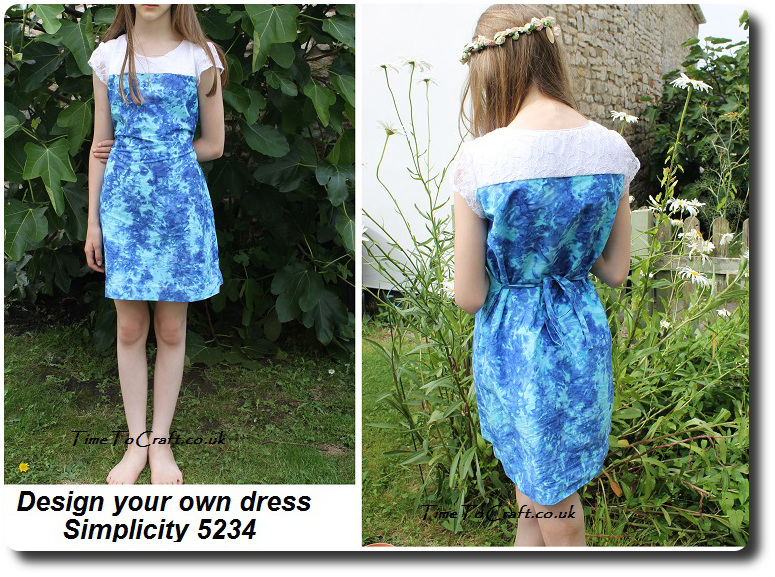 We sat on her bed, looking at the contents of her wardrobe. After flicking through the rail, I finally agreed with her. All her dresses were not suitable for a near-teen. It didn't help that since last summer she has stretched. I mean really stretched. Dresses were now tunics and the rest were too young.
More dresses were definitely required. (Music to a mother's ears, who likes to sew.)
It was a Saturday morning. The fabric shop would be open. Heading downstairs, I selecting a few possible patterns from my collection and let her choose.
Being a near-teen, she has clear ideas about what she likes. It is a fearless state of mind. She doesn't seem to compromise and worry about what her friends will think. She knows what she likes and what suits her. I hope she never loses that clarity.
The making of the dress
She opted for Simplicity 5234. A simple dress, that gave a variety of combinations. Different options for the neckline, yoke fabric and sleeves, while the dress stayed the same, simple shape. She could design her own dress. How good is that? She was decisive and went for view B. She wanted a lace overlay, with cap sleeves.
Fearless, I tell you.
Next stop, the fabric shop.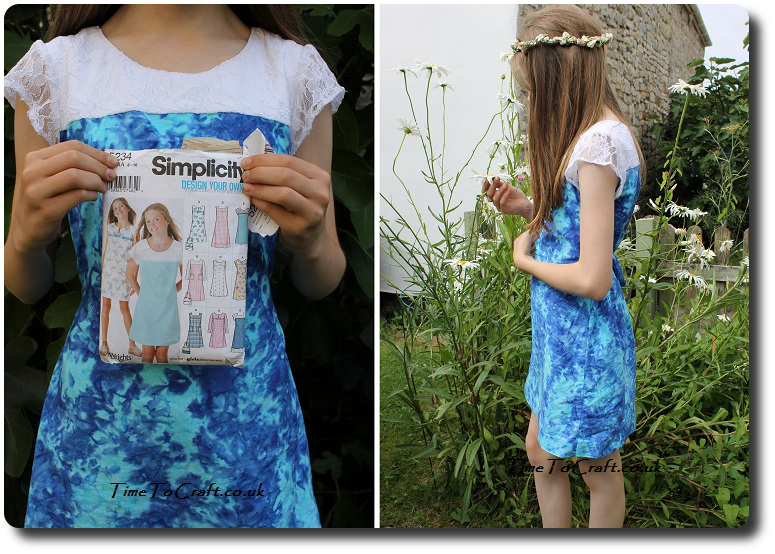 It didn't take her long to spot the perfect watery-blue. We looked at several laces and background fabrics, finally settling for a white, soft lace against white fabric.
Secretly, I was pleased she chose this dress pattern. I knew it would be quick to make and perfect for a wedding we were all going to this weekend. The dress is a pullover. No zips or buttons. A simple shape with a tie at the back.
I've not worked with lace before. The sleeves needed gathering at the top to ease them into the armhole. I found the combination of lace and gathering fiddly, but got there in the end.
Originally, she wanted the long version of the dress, but once fitted, she realised that the hem would work better for her as the short version. I cut off a couple of inches. If she changes her mind, I can easily add it back on.
The pattern was quick to make and no advanced tailoring. A great choice if you're starting out on your dressmaking journey. The instructions are straightforward. If I was to make it again, I think it would take me an afternoon.
Why it matters that she designed it
She loves her new dress. The dress she designed. She's not one to ask for lots of things, but when I prompted her, she did say she'd love another using the same pattern. I think I can manage that.
I'm glad we took this route. Yes. I could have let her loose in any number of clothes shops, with a purse full of money. I daresay, she would have found an outfit she liked. Maybe it would have been a compromised choice as closing time neared. This dress should last her a while (especially if I add the length back on). Unlike a shop bought outfit, it will not look easily dated. Eventually she will grow out of it, but it's not destined to be thrown away in a matter of weeks/months as so much of our fashion goods are in this country. As the fashion passes.
It may seem like a small thing, but I love that I was able to give her control of the design.
I try to bring my children up not to be sheep. Following others blindly, without a thought. They may roll their eyes, but they're also the first to point out when they see others following for the sake of following. I can also see in their actions that they understand. My daughter loves to draw. She loves to design. Doing it this way meant she could take her skill and transfer it to something she could wear. She led rather than being led by others. She designed it. She did it. Confidence boosted a notch or two more.
She wore her dress to the wedding and had a great time. She said it was an easy dress to wear.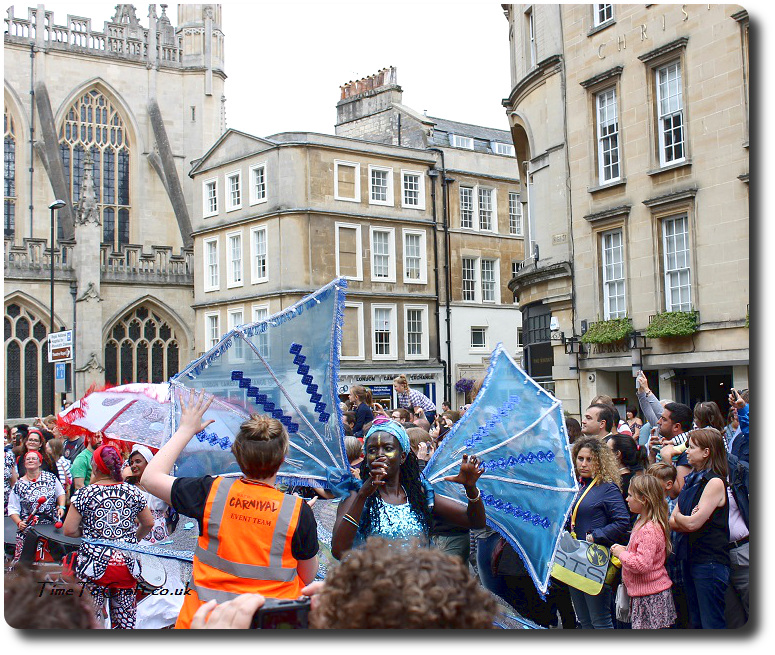 Bizarrely, after the wedding, in a way that no one could ever have co-ordinated the timing so perfectly, we stepped out on to the pavement, and straight into the Bath carnival.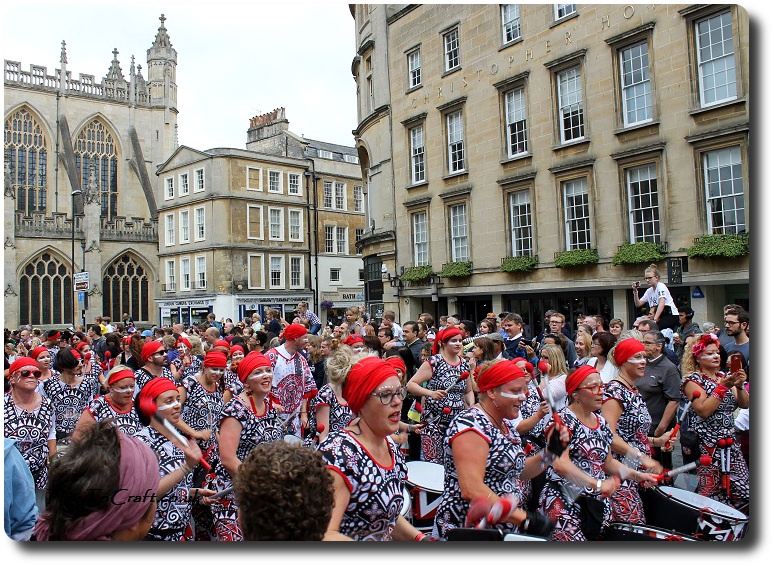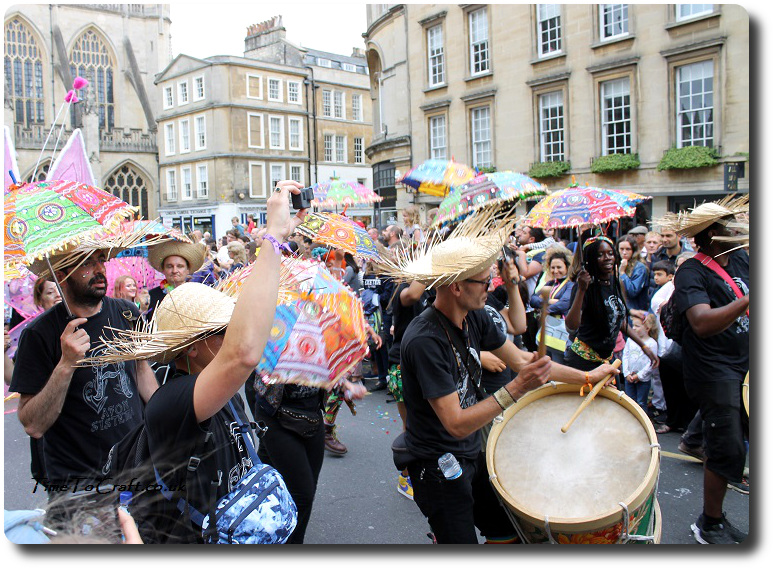 The music and dancing swept us all away. I had wondered if my dress (and this blue one) might be too bright for a wedding. Apparently not this wedding. Not with a carnival to finish off the proceedings.
Linking up with Crafting On and …
Photos
There have been cases when people lifted my photos and words, and used them without credit to me or asking permission first. Using them for their own commercial gain. I have now added a level of security to deter people from doing this. Apologies to people who do play nicely. If you would like to use any of my photos, please contact me.
Copyright notice:
All my words and photos are copyrighted to me. They cannot be used for commercial benefit by anyone else. If you would like to use any of them, then please ask me first and don't just take. Written permission only. Don't pass my words, photos or ideas off as your own. It's not nice.
Cookie Policy
Our web pages do not use cookies however this website uses Google Analytics, a web analytics service provided by Google, Inc. Google Analytics uses cookies to help us analyse how people use our site. The use of cookies by Google Analytics is subject to change.