Butterick 4386 and the Hound
Before I start, this post is about a dress. A dress I made. Looking at the photos, you might be forgiven for thinking it is about Blue the Deerhound. It isn't. It seems that she has recently discovered that she likes having her photo taken. Camera comes out and she is straight there. As splendid as she is, she had absolutely nothing to do with the manufacture of the dress.
I'm glad we've sorted that one out.
Now on to the dress.
I picked up the fabric last year at a discounted price (£1.99 per metre – I'm sure it must have been a typo!), from Minerva Crafts. They no longer stock it. It's an embroidered, stretch needlecord and a gorgeous colour. Orangey-brown with a black cord twisted and turned on the surface of the fabric.
The only problem I had with the fabric was that some of the black cord started to undo. A quick anchoring stitch or two sorted it out. I suspect it will happen again, but I absolutely love the pattern the embroidered cord makes, so I'm not put off.
In the same order, I selected Butterick 4386 pattern (Butterick patterns). I was after work outfits and this pattern offered six combinations, which would give me a good choice. Plus more, if the sleeves are swapped around. Also, any pattern that says "Fast & Easy" on the front and "very easy" on the back suggests that the first dress I make stands a good chance of not putting me off whisking up another.
I went for view C without the sash.
The pattern instructions are straightforward, with not too many steps. I like my sewing patterns the same as recipes. Short and sweet, so I can add my own variations in.
The only part I would change is the zip stage. It's sewn in after the side seams are stitched up, which left me fitting the zip in a tube rather than on the flat.  It would have been easier to sew the zip in and then stitch the sides.  The zip is 22″ (55cm) long, which makes the dress wonderful to step into when I'm dressing, but made matters worse when it came to fitting it to the dress.
Next time, I'll fit the zip and then stitch the side seams.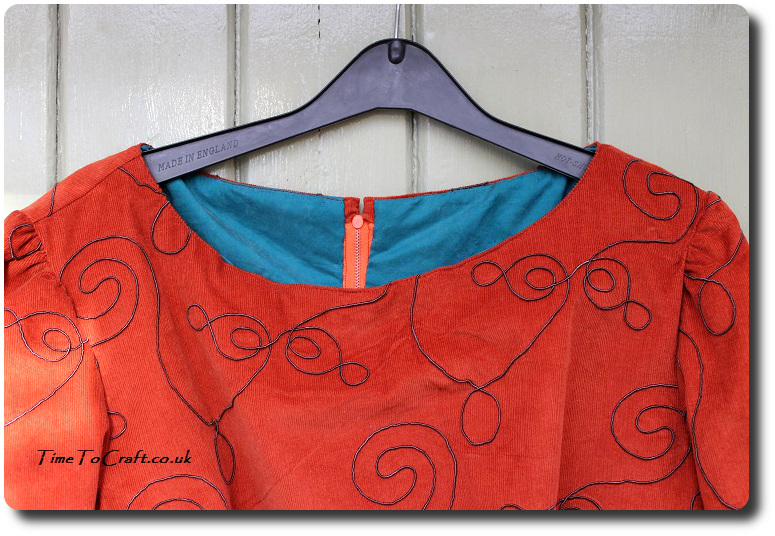 Only other change I made is that I used silk from a recycled silk shirt to face the neck line, instead of the needlecord fabric. (I've already mentioned this in an earlier post. Forgive me for repeating). It meant I avoided the black cord thread  rubbing against my neck, which would have irritated. I love the touch of green and it still does the designed job.
I am very happy with the finished dress. Super comfortable to wear and a great choice when I visit work clients. The dress is intended for the autumn. I can see myself wearing it with shoes or boots for a different look. Maybe a scarf to ring the changes. I suspect that come the cooler months, I'll be taking the side seams in, as it is already feeling too loose and I'm determined to get fitter.
So on to the next project. I'm working on the next version of this pattern. A more summery version.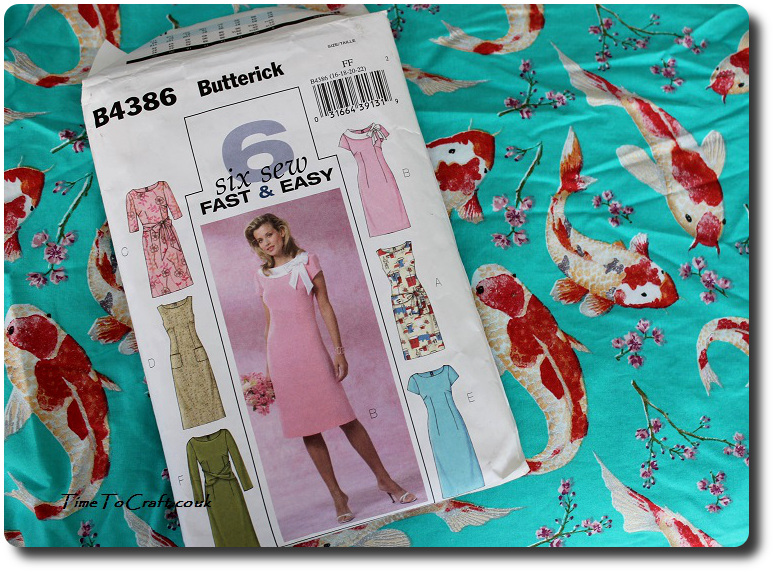 Thank you to the Teen who took the photos and her sister who tried to control Blue. It proved to be a difficult job when a young deerhound is determined to have her photo taken, but you both did well.
You can be honest. She stole the show, didn't she?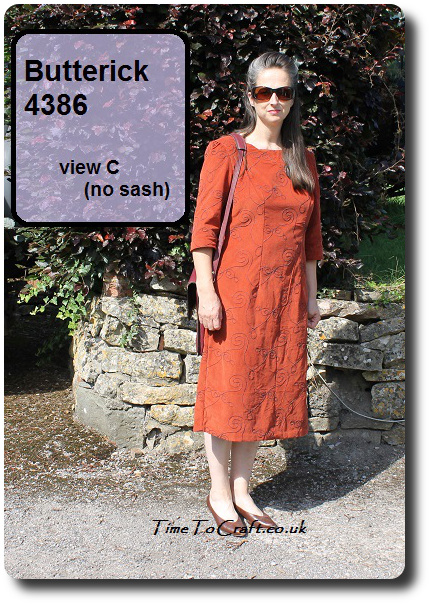 8 Responses to Butterick 4386 and the Hound
There have been cases when people lifted my photos and words, and used them without credit to me or asking permission first. Using them for their own commercial gain. I have now added a level of security to deter people from doing this. Apologies to people who do play nicely. If you would like to use any of my photos, please contact me.
All my words and photos are copyrighted to me. They cannot be used for commercial benefit by anyone else. If you would like to use any of them, then please ask me first and don't just take. Written permission only. Don't pass my words, photos or ideas off as your own. It's not nice.
Cookie Policy
Our web pages do not use cookies however this website uses Google Analytics, a web analytics service provided by Google, Inc. Google Analytics uses cookies to help us analyse how people use our site. The use of cookies by Google Analytics is subject to change.