Just-because-I-can garden bunting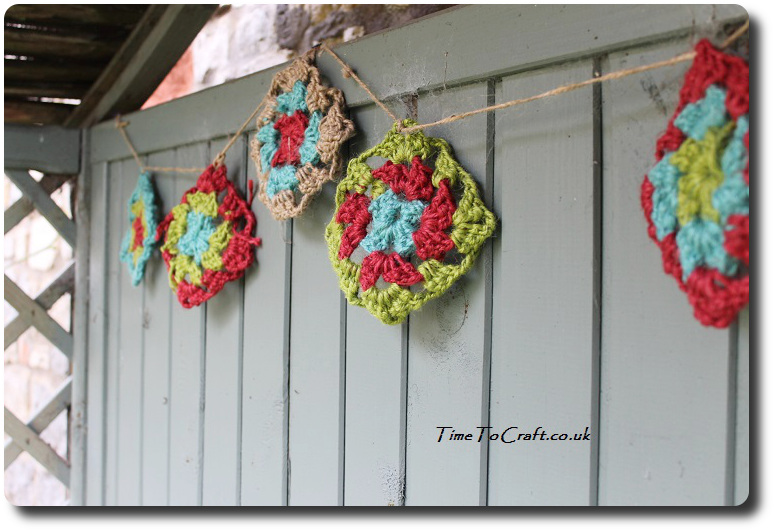 I like a crafting challenge. I really do. I'm up for trying something I've not attempted craft-wise before. Or done before, but maybe with a twist this time. It usually results in creative, problem solving, which I absolutely adore.
I would put my just-because-I-can garden bunting firmly into this category. I've made plenty of granny squares, but never out of garden twine.
Back last year Ali, over on Instagram, shared a photo of her inspirational garden bunting, crocheted with twine. Garden twine? Whoah! I never thought of using that before. I mean, I've knitted with plastic bag yarn for outdoors use, but why had I not thought of twine? I didn't realise that it came in so many different, lovely colours. My brain went into over-drive, contemplating how well it would work out in the garden.
When you think about it, and I'm quite sure it doesn't takes up much of most people's pondering time, twine is designed to survive outside, isn't it? In fact, it is robust and weathers well. Otherwise why would generations of gardeners have paid over good money and purchased a reel of the stuff, for holding up bean poles and tying up over ambitious vines, that threatened to take over? I, for one, have bought enough twine over the years to know how tough it is.
Added to that, it looks like yarn. The perfect medium to crochet garden bunting.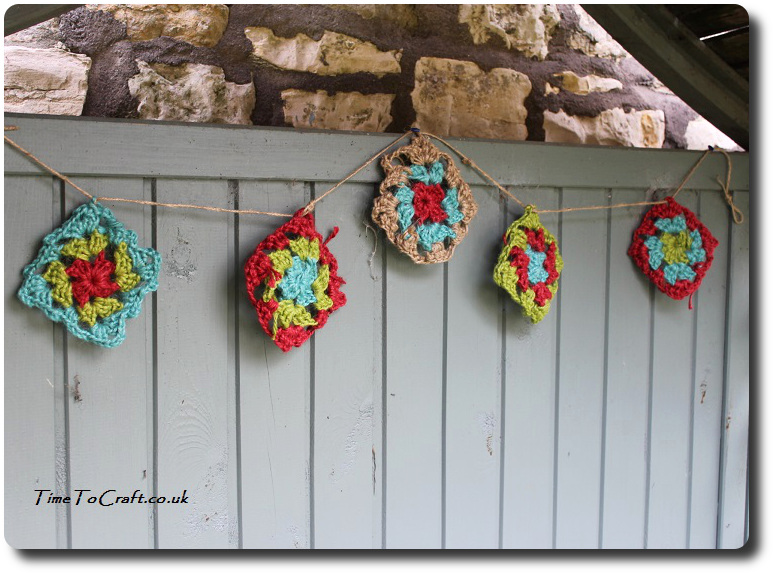 It seemed that the stars were aligned and in my favour, because soon after, I found a clutch of colourful garden twice for sale in a craft shop. It was meant to be.
I started my first square, but soon realised that it wasn't going to give up without a fight. It turns out that twine would prefer gentle curves. The type of curve that you see around bean poles or branches. Not hairpin turns, where it has to keep turning sharply left all the time. Twine is not very flexible. My hands soon ached from trying to wrestle the twine into a shape that it wasn't the right structure to take.
Luckily, Ali came to the rescue and suggested a larger crochet hook. I'm pretty new to crocheting. My collection of hooks is limited. I could go down sizes, but not up. If we were talking knitting needles, then no problem. A pair for every occasion, but crochet hooks? No. The brakes were put on the project until I next went to a craft shop.
At this point, the stars dispersed and my garden bunting skulked in the bottom of my work basket. Replaced with more desirable and flexible craft choices. Can you blame me? I did find a larger crochet hook over the winter. Not an inspiring time to make anything for the garden. It wasn't until a week or two ago that I picked up the stubborn squares again.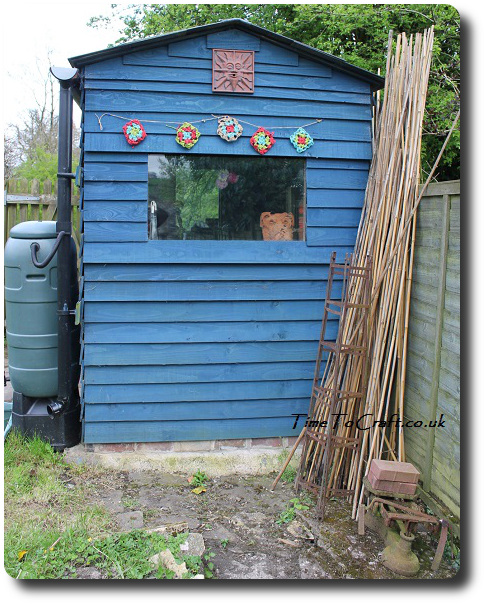 I made a square. It was easier, but it looked like it was made of loops. Loose loops. If I was going to finish this project, I needed to return to the original hook again.
So I did.
The twine ran out after four and a half squares. I raided my potting shed and used my run of the mill twine to finish off the last square. I now had five squares and hands that would rather lie flat too.
Despite all the aches these squares caused, I am really rather pleased with them. They add a bit of fun to the garden. I was deciding between draping them on the potting shed or the covered bench, but decided on the bench in the end. I think. I may still change my mind and put them somewhere totally different.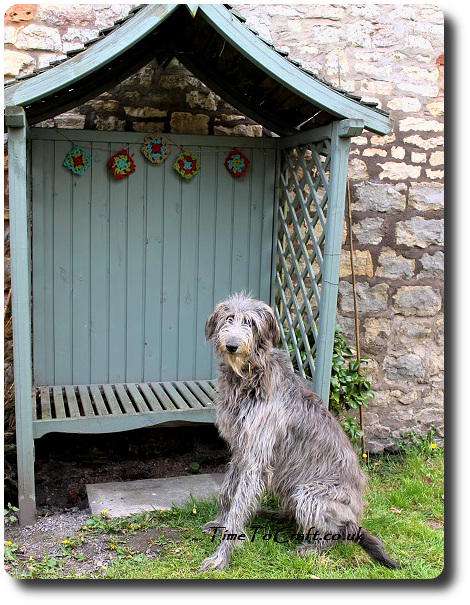 The Pup gives them her seal of approval. Although I wouldn't be surprised if she repositions them, by the morning. She has very definite ideas, does the Pup. I haven't forgotten about my newly planted lavender that was meant to line the front path. I had images of brushing the scented foliage and flowers as I walked to the front door. Enjoying the fragrance.
There is still one lavender plant that survived, as a constant reminder of one evening's work for her, when she declared I had planted them in the wrong place. Silly human.
Breathe.
Back to the bunting. I'm happy to have tried the project. I like the way it turned out. I'm pretty sure I won't be making any more, any time soon. Might just use all subsequent garden twine to tie up my runner beans. It does a remarkably good job at holding up beans.