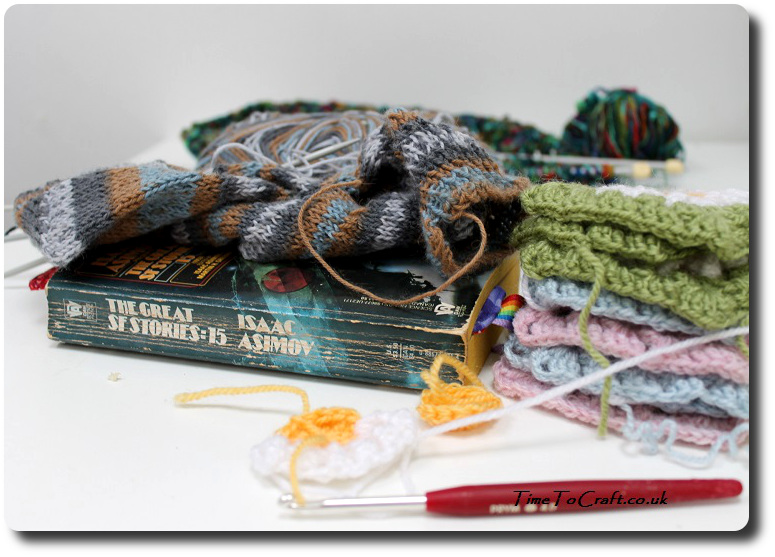 Quick update on yarn projects and books. New project to share.
Knitting
I've made progress with my sock knitting. Nearing the toes, so hopefully a finished sock by next week and, fingers crossed, the second one starting.
My harlequin shawl has grown my 10 rows. It's lurking in the back on my photo, just so I don't forget it. It may be some time before a ta-da on that one.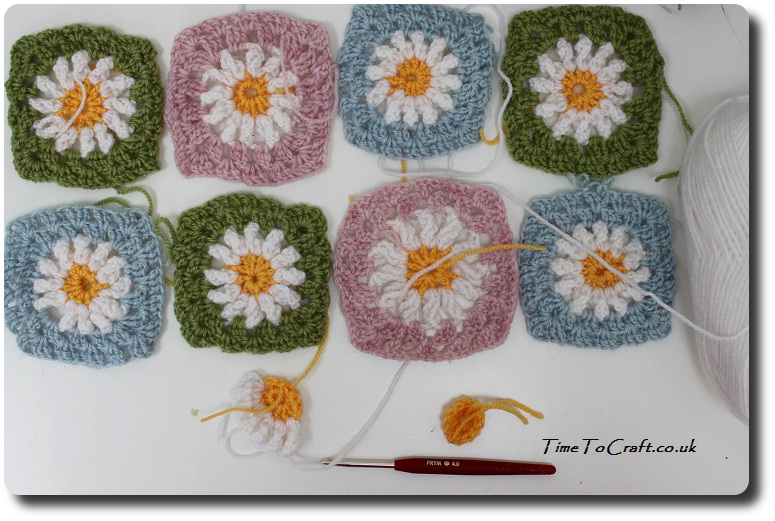 Crochet
I started a new crochet project. An Easter cushion. Technically, I'd already made three of these squares, which were leftover from my daisy blanket. I love these colours together. They remind me of spring. I thought the combination of daisies and spring colours would be perfect for an Easter cushion cover. Also, I needed to work with some brighter colours!
It is a fairly easy pattern, so I can crochet and be sociable at the same time, unlike my knitting. Great for car journeys. I never feel confident knitting in the car, with pointy needles.
Book
I'm reading the Asimov collection of sci-fi stories. Each story is written by a different person. As a teen, I read bookshelves of sci-fi and then moved on to sci-fi/fantasy. I had forgotten how good sci-fi, by itself, can be. I find myself wondering what happened next, or how would I have dealt with it.
Escapism? Yes, but also thought-provoking. I can't help thinking that it gives the author a chance to put human life in a test tube and alter an element or two, to see what happens. While preserving the laws of physics and human nature. Being short stories, I can limit myself to one story at a time, and squeeze in more reading time, which works perfectly.
So what are you reading and yarning up, at the moment? No yarn along to join in with anymore, but I thought I'd post one all the same. Linking up with Nicole over at Frontier Dream. #KCCO
---