Search Results for:
raspberries please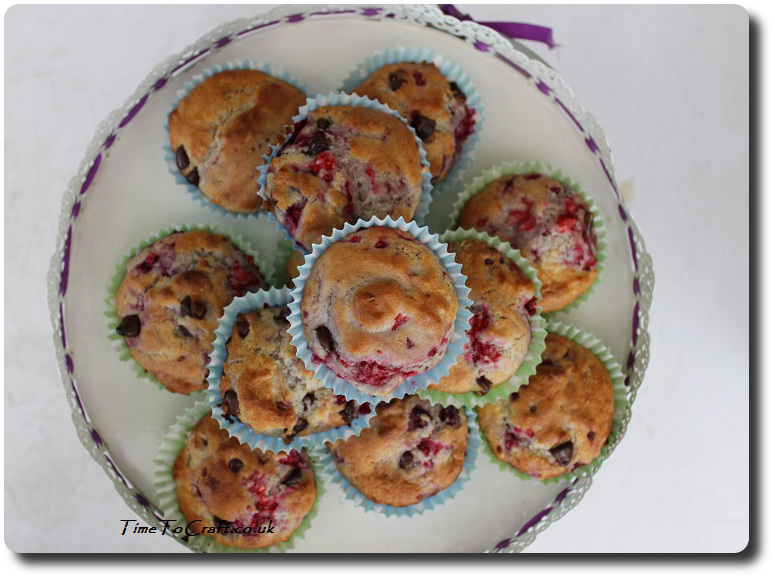 There has been an alarming increase in the height of my children recently. It always happens in the spring. They seem to shoot up, as soon as the sun hits. The Teen is near enough my height now, and her sister seems able to look me in the eye a little bit more easily, than I'd care to admit.
And as for the Boy, well he is taking on the appearance of someone who has begun to stretch. Looking just as willowy as his sisters. Watch any of them for long enough, and I swear you can see them growing.
Now, they are not managing this on meal times alone.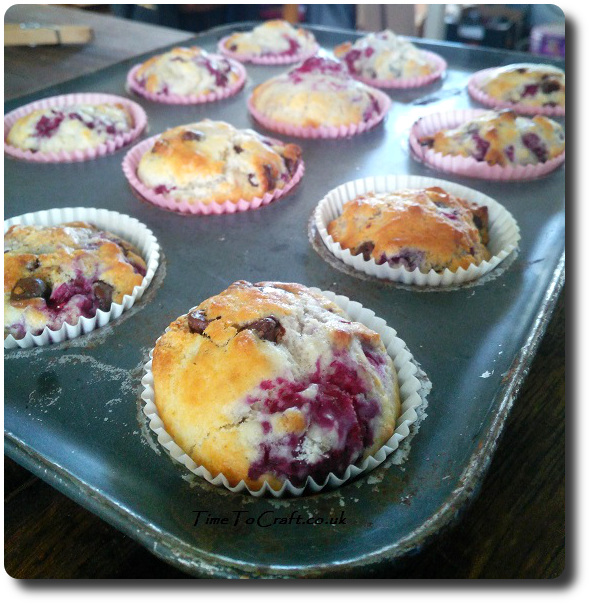 The most likely form of extra nourishment, are the homemade goodies I make. The theory is that if I make them, I can keep the snacks on the healthy side. Also there is a limit to how much I can bake/grate/chop.
A big favourite at the moment is raspberry and chocolate chip muffins. Each muffin is practically half raspberries, half muffin. Not overly sweet. Rather yummy, if I say so myself. Our supply of homegrown raspberries has long since run out, so I often find "frozen raspberries" written on my shopping list. Not in my handwriting. A subtle hint to make more.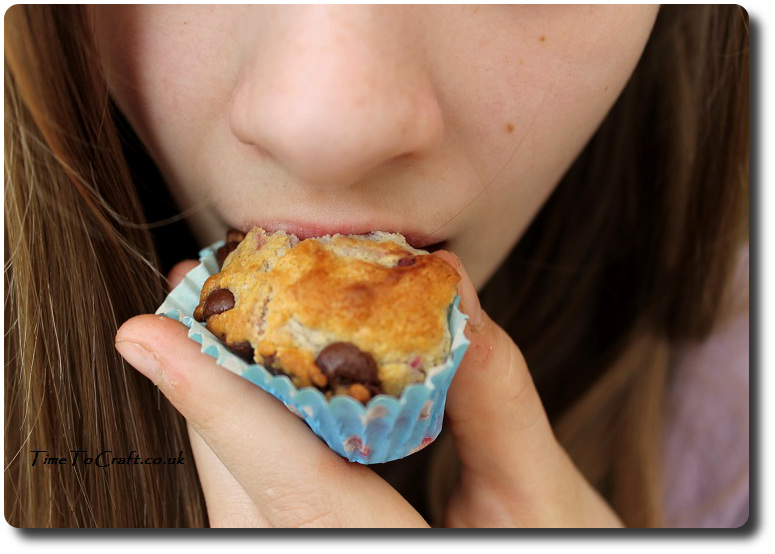 The good news is that they are incredibly quick to make and bake. I have my muffin making kit piled up ready in the cupboard. I use a cup measure as it's so much quicker to scoop the ingredients. Speed is of the essence. Especially when you have three children who take it in turns to check if the muffins are ready yet. (Seriously, do they have a rota for who goes in next to scout for muffins?)
Apart from the milk and raspberries, the rest of the ingredients are near by in another cupboard. I reckon I can have these muffins ready to eat within 20 minutes, if not less. I win "best Mama" points if they can smell them baking as they walk up the drive after school. You cannot beat a warm muffin after a hard day chatting with your friends studying.
So here's how we make them (when I say we, I mean me):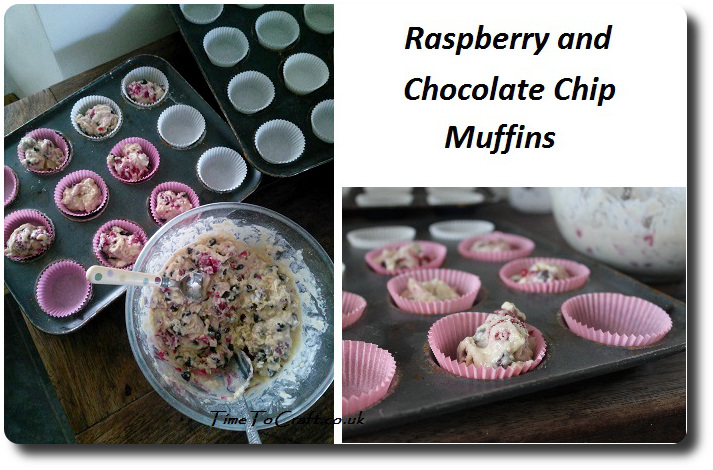 Ingredients
In first bowl, mix the:
2 cups of self-raising flour
1 tsp baking powder
1/2 cup of caster sugar
1 cup of frozen raspberries
1/2 cup of semi-sweetened chocolate chips
In second bowl, mix the:
100ml oil
200ml milk
2 tsp of vanilla essence or lemon extract
Also need a muffin tin, lined with 12 paper muffin cases
What to do:
1. Pour the contents of the second bowl into the first, until it is just mixed. Do not over mix.
2. Divide the combined mixture between the 12 muffin cases.
3. For a 2 oven Aga, bake on the third shelf down in the top oven, for about 12-15 minutes, turning the muffin tray around halfway through. For other ovens, bake at 200°c/400°f/ Gas 6 for 15-20 minutes. The muffins are ready when they are golden brown and risen.
4. Take out of the oven. Move the muffins from the tray onto a wire rack to cool.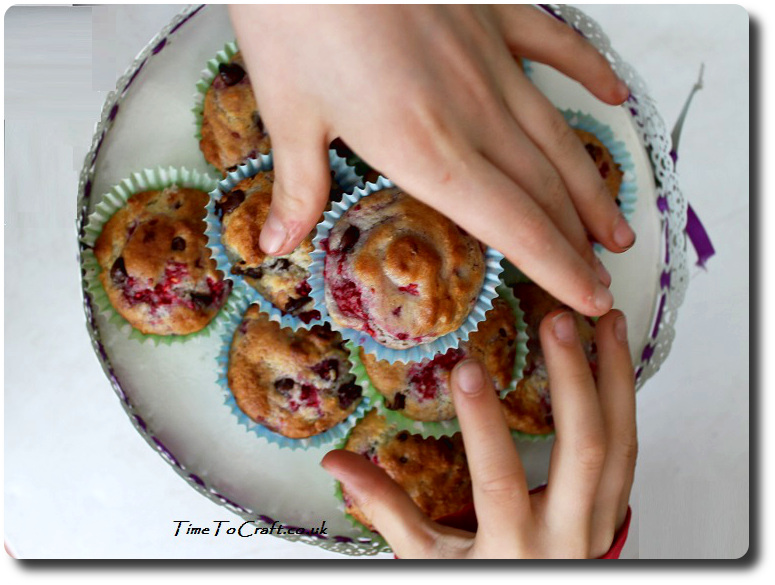 These muffins never make it beyond the day they are made. I live in hope of putting a batch in the freezer for another day. In all fairness, they are so quick to make, that it's not a big problem.
More of a challenge is having enough raspberries available, which explains the added request for frozen raspberries to my shopping lists.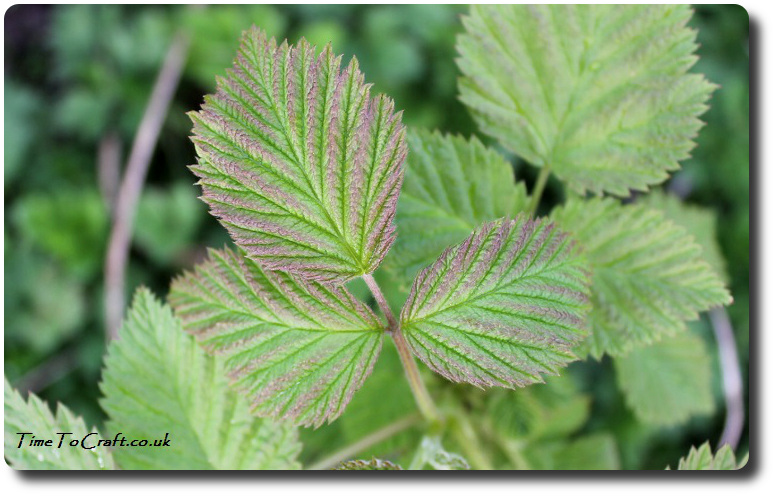 My solution is to plant more raspberry canes. I'm aiming to have a row of raspberries this summer. I miss my fruit cage and may have to make a new one. When the Teen was a toddler she used to be pushed disappear in there, after meals,  and feast on all the soft fruit. No need to serve up a pudding. Nothing beats fruit straight from the plant.
Yes. I need to work on my raspberry production.
Grow little raspberry plant. Grow. I have three children waiting for muffins.
I hang the last sock on the line to dry and take a moment to check the kitchen garden. It's coming along nicely. I need to take the hoe out at lunchtime to sort out the weed seedlings which are beginning to appear among the sweetcorn. Let the heat of midday dry them out on the surface.
The summer raspberries are doing well. I've left three thistles to grow among them. The purple mop head flowers are in full bloom, attracting the soldier beetles. That's one diving into the purple petals. I lose count of how many beetles are among the spiky leaves and blossom. Both the larvae and adults will eat aphids. I never need to spray the garden.
I've used the three sister method of growing as usual. Sweetcorn, squash and beans. All working together. It also tickles me, as I'm one of four and the youngest of the three sisters. I wonder which plant I would be? I'd go for the sweetcorn. I love to walk among them, as they grow almost to my height.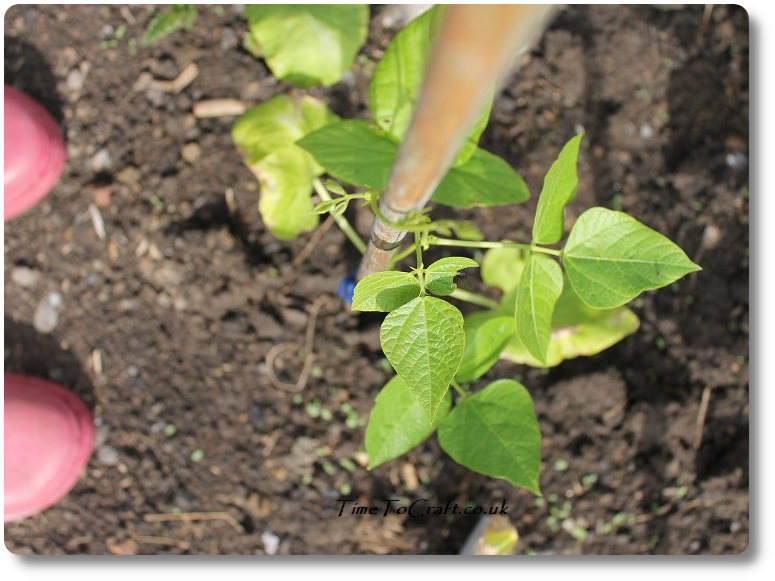 The garden is slightly behind. I was slow to plant out, but it will be what it will be.
Picking up my laundry basket, I take the long route back to the house, via the greenhouse. Passing the hazelnut trees, I can see the nuts are almost ready. Not that I'll see any, as the squirrels are faster off the mark than me, every year.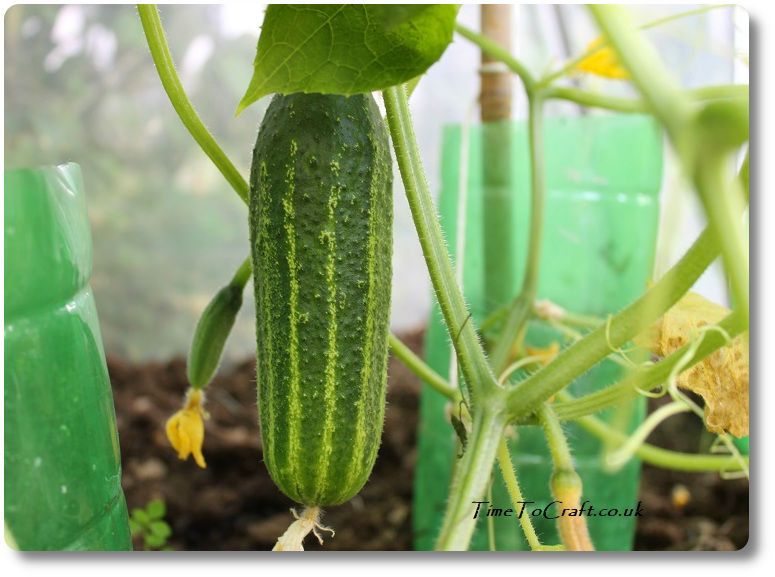 I'm pleased with the greenhouse. I've planted it well. Everything is planted in the borders. Not too many weeds, as I'm using my collection of cut off plastic bottles to water the roots and below the surface. Run off is minimalized. I grow small cucumbers. Half sized. The first one is ready to eat.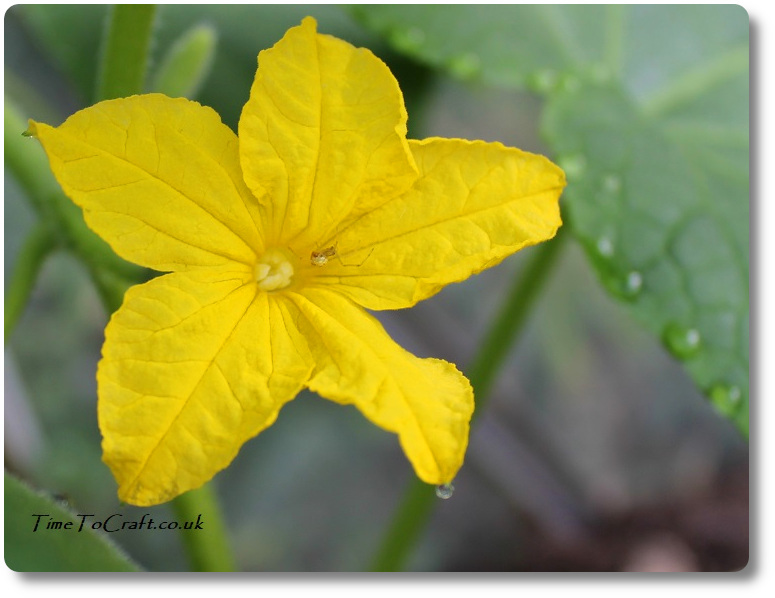 No spraying in the greenhouse either. I encourage my friendly mini beasts to visit with nasturtiums, and the cucumbers do their bit too. A spider almost hidden in a cucumber flower.
Bit of a mystery. Last time I was in the greenhouse, I noticed a dead hornet being dragged by an ant. It was fascinating. Such a small creature moving another many times its size. Like a caveman pulling a hairy mammoth, as I told my husband that night. Today I notice the hornet is in an empty seed tray, I left on the greenhouse path. Did the ant drag the hornet up and over into the tray, and if so why? Was it removing it from near the ant's nest to stop other hornets turning up?
I like to work with nature. It doesn't mean I always understand it.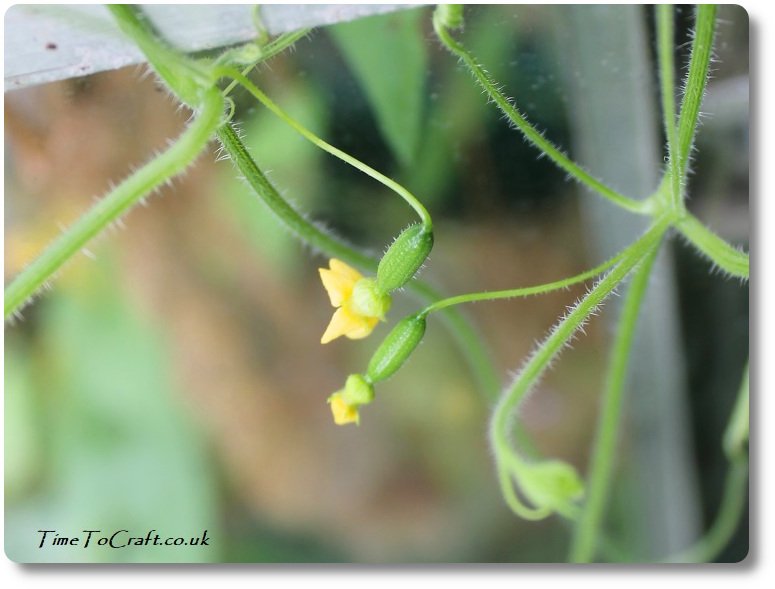 Also in the greenhouse, is one of my cucamelon plants. A new one for me. The fruit tastes of a cross between melon and cucumbers, just as the name suggests. Its vines are beginning to find their way up the wall of the greenhouse. I spot the beginnings of the fruiting bodies. The length of my little finger's nail. Maybe a week or more till we can try them.
Peppers are swelling too. The tomatoes and basil plants are bushing up.
I leave the greenhouse door open, but block it with a tray to stop the rabbits getting in.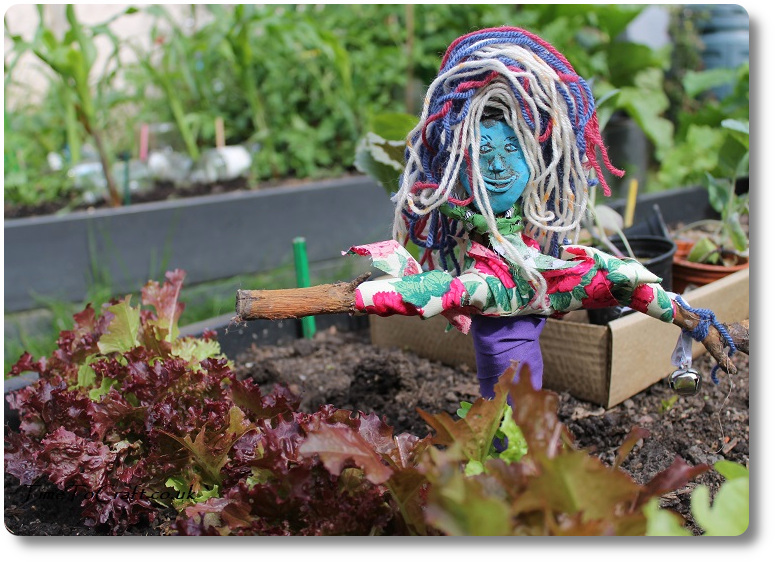 Final stop, before I go in. The raised salad beds. Guarded by two fences which keep the rabbits and their nibbling tendency away from my salad. One bed is full of lettuce, turnips and tomatoes. The other popcorn, courgette and tomatoes. Some rows have failed, but the rest is thriving.
My double fence doesn't keep the sparrows off. Oh my goodness, we have so many sparrows and they like to nibble my lettuce. No problem with slugs or snails this year, but the marauding sparrows make up for it. Brought out our last surviving garden goddess at the weekend and gave her a new outfit. She now scowls at the sparrows and shakes a bell. Go find something else to eat.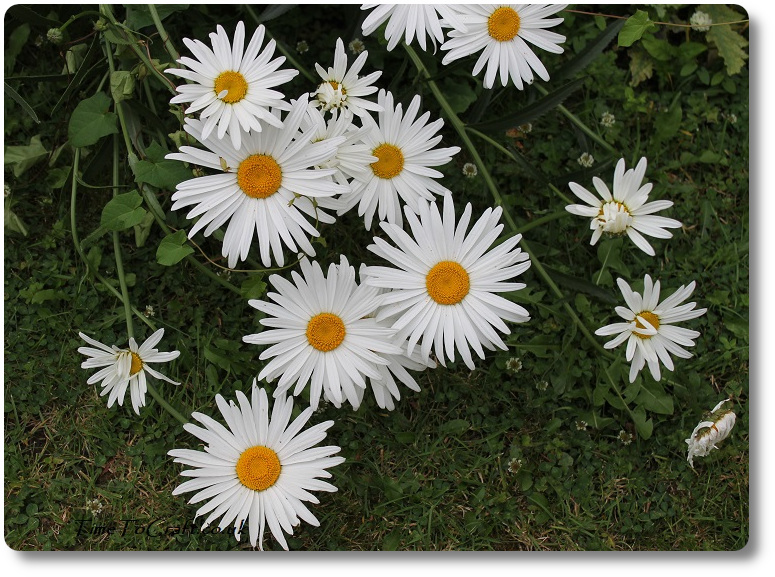 Finally back in the house. Next load of washing is ready for the line. Time to go out again. Might take the shorter route back to the house this time. It seems I'm so easily distracted. Although I didn't check the blackcurrants. I could just pick a few. Maybe take a few kitchen scraps to the hen house, while I'm there.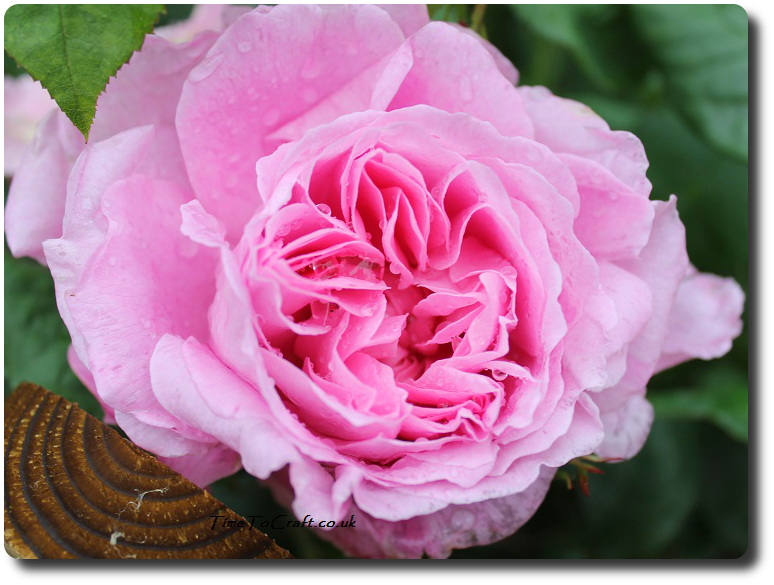 "OK, this seems fine. Where do I sign?"
"You don't. I'm over 16."
Oh. What? Really? That's different. Notes from school usually have a "please sign" section, and a regular "hand over your money". This one is about a medical trial. Slightly more important than most, and I don't have to sign?
I catch my breath and look out at the garden. I need a moment to process this.
I find my eyes hopping from one area to another in the garden. The autumn raspberries are ready for picking and the pumpkins are swelling nicely. I planted them too late, but they should still make a good size for carving in October. The windfall apples are littering the ground under the trees, taunting me to make apple pies. I see the oak tree starting to glow as leaves turn gold. Just in patches at the moment, but soon it will cover the tree and be the first thing to grab my eye when I glance out. It's autumn in a few days.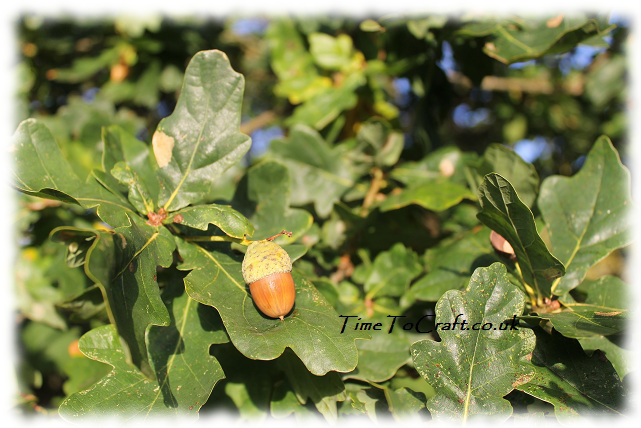 Yes, the world is striding on as usual. I can sense the rhythm of the year, as the season changes. Yet, there is a series of different notes being played. Every now and again. They catch my attention. Each time. Touching a nerve and bringing me up short. It's different.
The children have been back at school for over two weeks now. This term was always going to feel like a jolt, with two of the three children entering new eras. One starting secondary school and the other 6th form. It's a bigger jump than we've experienced before.
I looked back at a post I wrote a few years ago about the start of our day when they were all still at primary school. I had packed lunches and four long, French plaits to braid, as well as breakfasts, uniforms and bags to organize, before we all erupted out of the door. It was a juggling act, that was fine tuned over the years.
Now there is no school run for me. All of that routine has evaporated.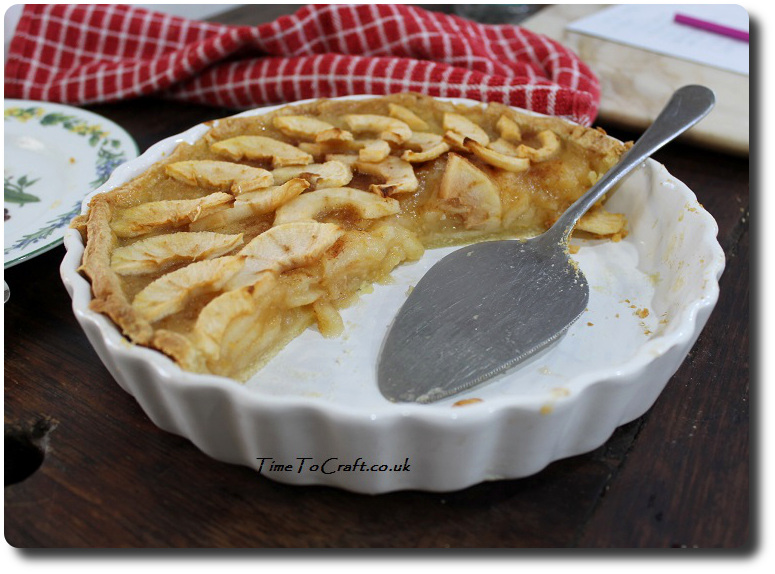 Not totally true to say it's all gone. More accurately, the need for me to do it has gone. Oh, and the French plaits. I strangely miss them the most.
I still wake the children up and fuss over whether they've had anything for breakfast, while I sip my coffee. I act as referee, if one child winds up another, and also as a slightly, redundant memory jogger limping along. Echoing the past, but at the end of its useful life. Have they got their homework, planner, pencil case, etc? My voice fading away against the bustle of their routine.
This week, I even acted as a subject for a science test as part of a homework, while munching my morning toast. Short term memory. Not the best time, being tested in a busy kitchen as four individuals get ready for the day and an over large puppy does his best to entice them to stay. With the added irony of me burning the next round of toast.
Then they've gone. Leaving me to clear away the breakfast things and calm down the pup.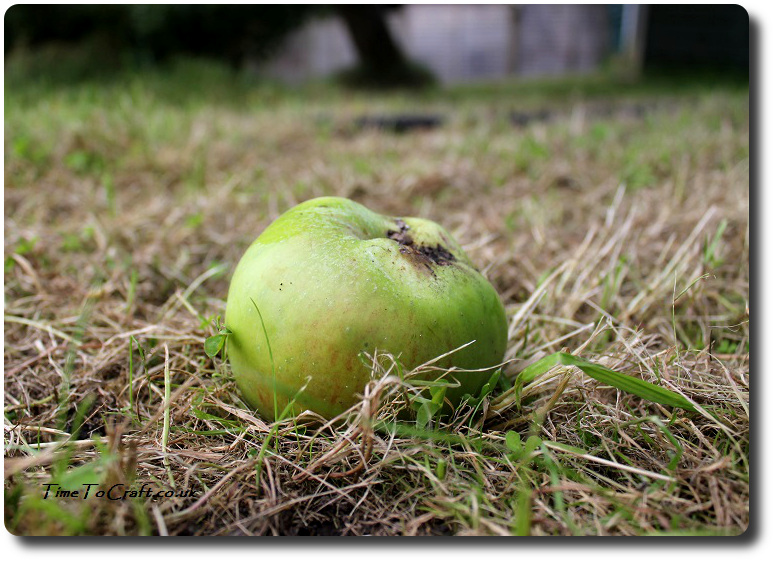 I feel like I've entered a new stage of parenting. Please, don't get me wrong. I'm not sad. I'm mighty glad I can see it. I want to mark it in my memory as part of my parenting journey, as these three amazing beings sweep past another milestone.
When I look back, it has been creeping up for a while. In patches, like the oak tree's leaves. Eventually it too will be more part of them than not. In the last few weeks, the children's independence has been highlighted more often. They still need me, but in a different way. I listen to them and advice where I can, but like the note from school, they no longer need my signature.
Joining in with my #wotw "different". What would your word of the week be?
Photos
There have been cases when people lifted my photos and words, and used them without credit to me or asking permission first. Using them for their own commercial gain. I have now added a level of security to deter people from doing this. Apologies to people who do play nicely. If you would like to use any of my photos, please contact me.
Copyright notice:
All my words and photos are copyrighted to me. They cannot be used for commercial benefit by anyone else. If you would like to use any of them, then please ask me first and don't just take. Written permission only. Don't pass my words, photos or ideas off as your own. It's not nice.
Cookie Policy
Our web pages do not use cookies however this website uses Google Analytics, a web analytics service provided by Google, Inc. Google Analytics uses cookies to help us analyse how people use our site. The use of cookies by Google Analytics is subject to change.