Yarn Along- almost a nest of birds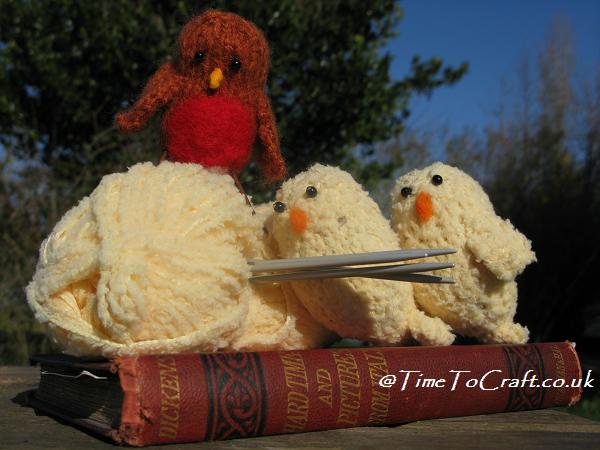 A quick post for yarn-along this Wednesday. Busy clearing my desk before the children break up from school on Friday for two weeks. I love joining in and hopping over to see what everyone else is reading and knitting, on a Wednesday evening.
I finished the little robin. He has twigs for legs, beads for eyes and I needle felted the red and white on his tummy.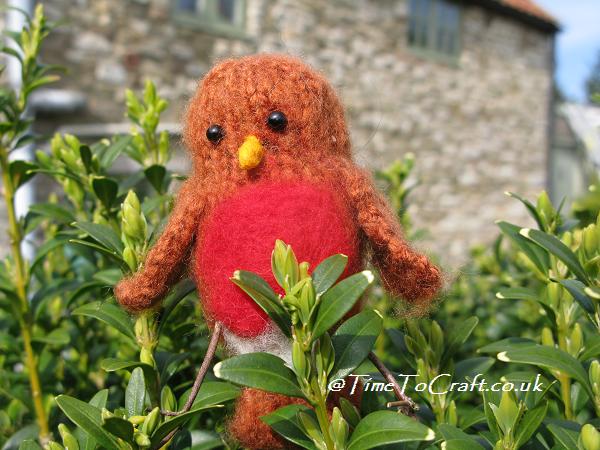 I'm surprised how well he is balanced, as he prefers to sit rather than fall on his beak. More the result of luck than my amazing talent for making knitted things that stand up. I love how the needle felted tummy turned out.
Now knitting yellow chicks using Sirdair Snowflake. The combination of slippy needles, unforgiving yarn and a fiddly, small pattern is not good, but they do knit up surprisingly quickly. Good job as these are heading for the children's Easter baskets, so I need three. I'm planning on adding feather markings with needle felting again. Umming and ahhing about whether to use twigs or pipe cleaners for the legs.
Just one book on the go this week, which means I've read more of Hard Times. I'm dreaming of sitting in the garden this holiday, reading my book while the children play quietly. Hmm. We'll see!
If you're looking for fresh knitting/crocheting and book inspiration, why not check out Ginny's yarn along. Save me a seat. I'll be along later, once I've cleared my desk some more…..
Edited: the pattern for the robin and the chicks can be found here.