Yarn Along – Stripey Socks
Joining in Ginny's Yarn Along this week. I can't believe how fast it comes round.
After finishing my Gansey Socks, I decided to pick up a WIP sock project. I put this project down a year or two ago. Partly because 4 ply was just taking too long. I love the colours which are more vibrant than the photo suggests. It is so long that I'm not sure if this is a second sock or if I need to search around for the other ball of wool. I've reached the heel flap stage, which means only two dpns at the moment, but I am knitting the sock on dpns. This project is just to fill a gap while I wait for the postman to bring some more wool for my new project, so the socks will be going back on to my WIP pile soon.
I picked up a copy of "The Help" after reading Debbie raving about it. I'm enjoying it  (Thanks Debbie). I'm sure I'm missing some of the nuances. I'm reading the part written by the maid and it is written as she would talk. What with reading BFG by Roald Dalh to BL at night and reading this, my language is taking on a whole new vocab and set of  grammar. Hope I still make sense.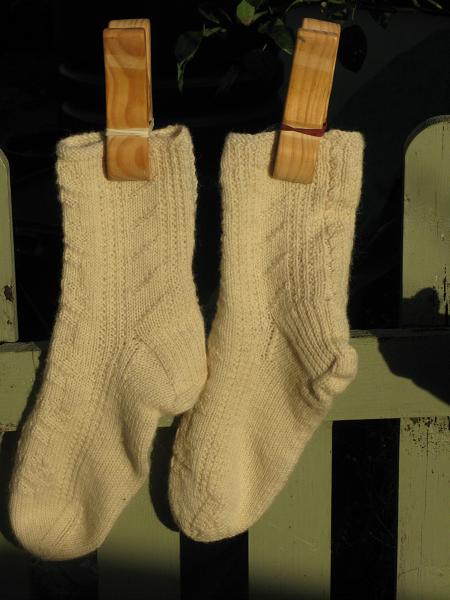 As a side note, I am really enjoying everyone's comments on my giveaway. I'm not commenting on there as it makes the counting easier later and I don't want to accidentally choose myself! It is open to all, which includes our friends over in the US and its OK if the winner keeps them for themselves. Why not? I would be honoured. The giveaway is still open, so if you'd like a chance to receive these socks, leave a comment on the giveaway post here.
Don't forget to check out all the other book recommendations and knitting projects with those over at Ginny's who may just be a little more committed to their current knitting project than me.