I'll admit, it's been a while since I've knitted something quite so small for someone to wear. A baby cardigan is tiny and quick to knit. Choosing which one to make is fun too. I spent a happy evening looking through my collection of patterns, reminiscing over past projects, and then decided to go for something new.
It feels strange talking about knitwear when it's so hot today. Who wants to think about clothes to keep you warm in the colder weather, when all you want is a cold drink? I have fresh admiration for people putting together winter editions of magazines in the height of summer, when seasonal decorations and hot mulled drinks are the last thing you want to be thinking about. Just pass me an ice cream. I'm wilting,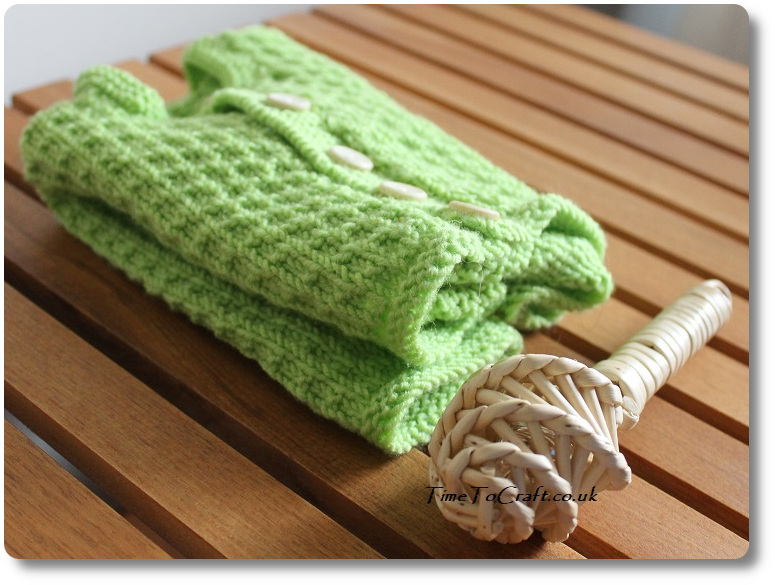 Details
Anyway, details. This cardigan pattern is Sirdar (5241). I loved the textured finish, which is almost like woven diamonds. The lime yarn is Peter Pan Merino DK from Wool Warehouse. I used three balls. A bold move to knit in 100% wool for a baby, as the last thing a new mother wants to do is hand wash, but this yarn washes well in the washing machine using the wool care setting. You just need to make sure it doesn't get mixed up with the rest of the washing.
The advantage is that merino is super soft, breathable and not itchy. It wicks moisture away from the skin making it more comfortable for the little one to wear. Also with no manmade fibres, you avoid introducing more micro plastics into the environment, including into the water system.
The buttons are from my grandmother's button collection.
This cardigan is now with my niece's new baby girl, along with a Somerset willow rattle. I've cast on the next size up, as I'm sure she'll grow out of this one very quickly.
Two needle socks
More warm weather apparel. This time socks. I used double knit wool to make a chunkier pair of socks for my father. As I was knitting this pair on the go, I didn't want to travel with a full set of double pointed needles, so I opted for my favourite two needle pattern. It's knitted flat and sewn up on either side of the foot and up the back seam of the sock.
I used three balls of Fyberspates CoopKnits Socks Yeah! DK in the colour Anemoi. It is super soft again and a joy to knit. A bit of a compromise with this one. It 75% wool and 25% nylon. Socks take a fair amount of battering, so they do benefit with a little nylon, but I'd prefer it to be all natural fibre.
Not my knitting
Last but not least is a piece that I've not knitted. Bit of a back story with this one. When my sister died twenty years ago, as the only other crafter in the family, I inherited her wool and fabric collection. It included several almost finished pieces. Always a quandary about what to do with them (I've written about another piece that I refashioned). Most of it has been given away or used in the meantime, but I had one unfinished project which was a baby jacket. She had finished all the knitting, but stopped before sewing on the sleeves. Why, we will probably never know.
Anyway, this has been sitting in my craft area ever since. Just as I recognise my sibling's handwriting, I can also spot her style of knitting stitches.
I've loved seeing it and reminds me of wool shopping with my sister. We'd occasionally meet up at lunchtime in John Lewis, when the store was still in the middle of Bristol, and compare future knitting projects. Always coming away with a ball of yarn or two. Ahem. Maybe more.
With a new baby on the way, I knew my niece would like an original piece from an unlikely source, so I attached the sleeves and surprised her with it. She now has a baby jacket knitted by her mother that no-one else has worn. I haven't added buttons as that would have changed the look of the jacket and I wanted it to be my sister's work not mine. I hope my niece finds it useful.
Still on the roll with my knitting. I've already cast on the next project. Another baby cardigan in the lilac yarn above. Slightly bigger than the last. Hopefully it should be quick to finish.