Outdoor Challenge in the City
We spend a lot of time outside, but this is usually in the countryside and not the city. My children know their borage from their basil and, not only do they know where eggs come from, but they can discuss the different breeds of hens. They are not used to the city. We are not great shoppers, so an afternoon in the city is pretty exciting.
We went to see the Lions in Bath, …..which is in Bath (UK)….. mainly. There are 100 lions which have been sponsored by locals, and local artists have weaved their magic on them.
They are on display around Bath until September. In October they will be auctioned off, raising money for local charities.
The designs and techniques used are varied and all of them are fun. Even though we had a map and a mobile phone layer map, the children eagerly searched for the next lion.
This one was covered in QR code, which appealed to my dh's IT side. It probably says something about me that I think QR codes are such a neat idea and should be everywhere.
We must have walked miles. I think the children were so interested in the Lions and the city surroundings that they had no idea about how far they had gone. They all went to sleep quickly tonight.
This one was on the roof of a fudge shop. Doesn't he look good enough to eat? We all love fudge, so we had to indulge and buy a bag of fudge. Chocolate chip and chocolate orange. Yum!
This was TF's favourite. When I asked him his very favourite, he knew straight away.
By this stage of the walk, my camera battery was almost out. I couldn't resist this one as it reminded me of my own lion tamer. Spot our very own tree hugger in the background. You can take the girl out of the countryside, but….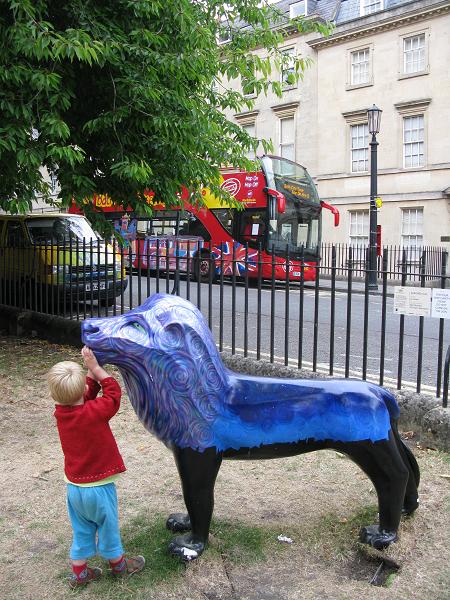 I love that the children could go up and investigate these statues. The city has experienced some vandalism to a lion and I think in 2008 last year, when they had pigs, one pig went walkabouts. So hats off to the city for doing this again.
Finally, (breathe a sigh of relief), this one is my favourite. I would love to do something like this one day. It is so appealing. I wish I could claim, I had lined up this photo to include the person on the lion's nose, and the people jumping down his mane. Sometimes it is just luck!
We loved all the lions we saw. We did drive round and see some of the more out-flung ones around Bath. I took loads more photos, but I've only shared our favourite ones. The craftmanship and artistic skill that have gone into these sculptures is fantastic to see. The original sculpture is amazing. If you are in the Bath area this summer, it is worth a visit.
We had a great outdoor day. I'm linking this up to 5 Orange Potatoes Monday Outdoor Challenge. It was different than our usual country outings. We all went home happy and tired.
For more info, here is the official site. I'd love to go to the auction in October, but I'm not sure where I would put a lion, so I may just settle for a T-shirt.