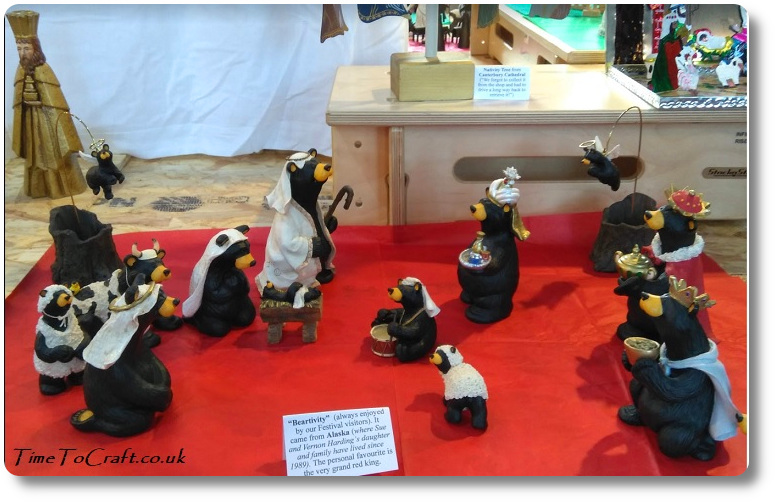 (Bear nativity scene from Alaska)
We went to St Cuthbert's church in Wells today, to see the Nativity Crib Festival. Over 200 nativity scenes from all around the world. All loaned to the church, for this weekend only, by their owners, to fill the church.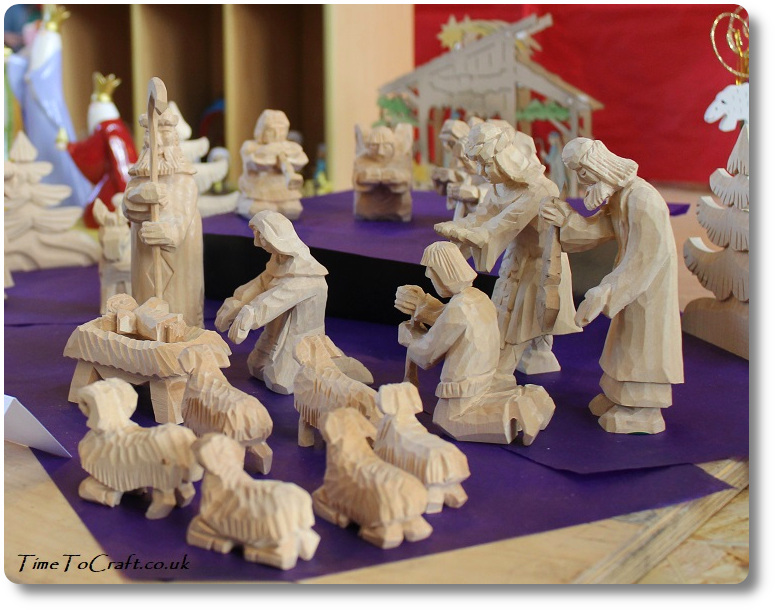 (Handcarved wooden nativity scene from Poland)
There were scenes made from wood, soapstone, paper, wool, soda cans, fudge, metal, fabric, china, shells, clay, even cheese. Too many to mention. Honestly bowled over by the variety. So many different styles. I saw the smallest crib scenes I have ever seen too. Another rescued from a bombed out school in Belguim/Holland, by a British soldier, during the second World War.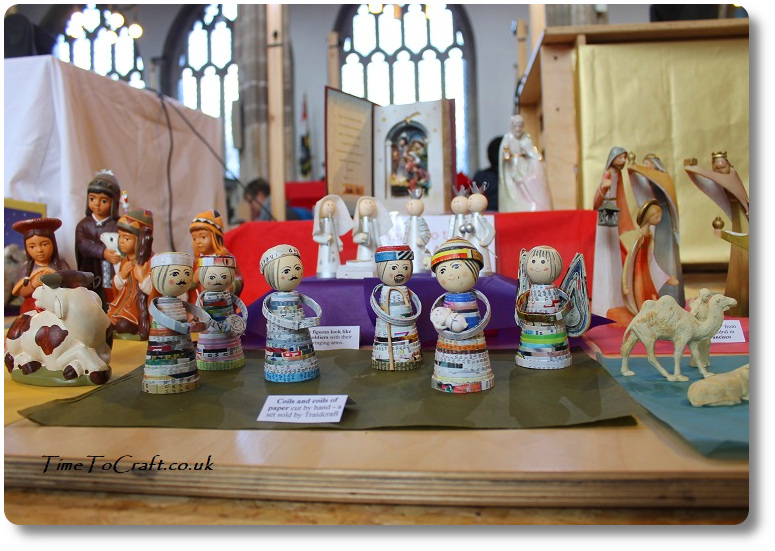 (Recycled paper nativity scene via Traidcraft)
Each scene had a handwritten note beside them, letting us know where they came from, how they were found and a number of lovely stories, such as over-enthusiastic dogs that had slightly mauled the scenes over the years.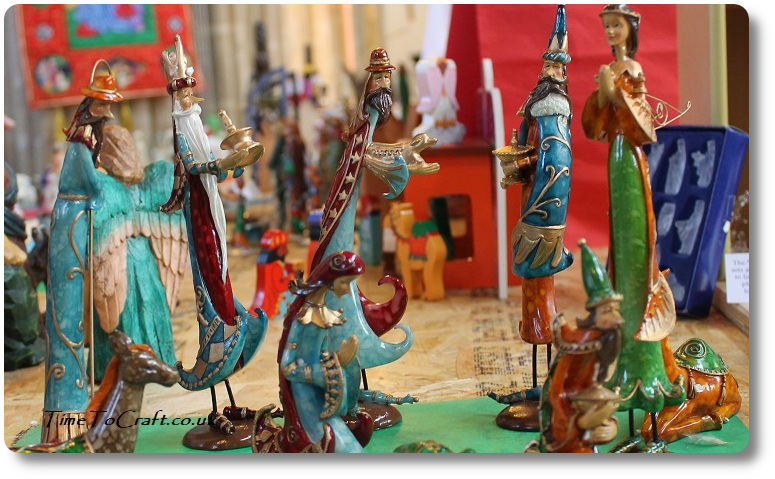 (Turkish nativity scene)
We all loved the festival. Everyone had their favourites. It reminded me of walking around the Presepe shop fronts in the centre of Naples, at this time of year. So much to look at. The creativity and passion put into each piece. Also a lovely antidote to the hustle and bustle of Christmas shopping going on in the street outside.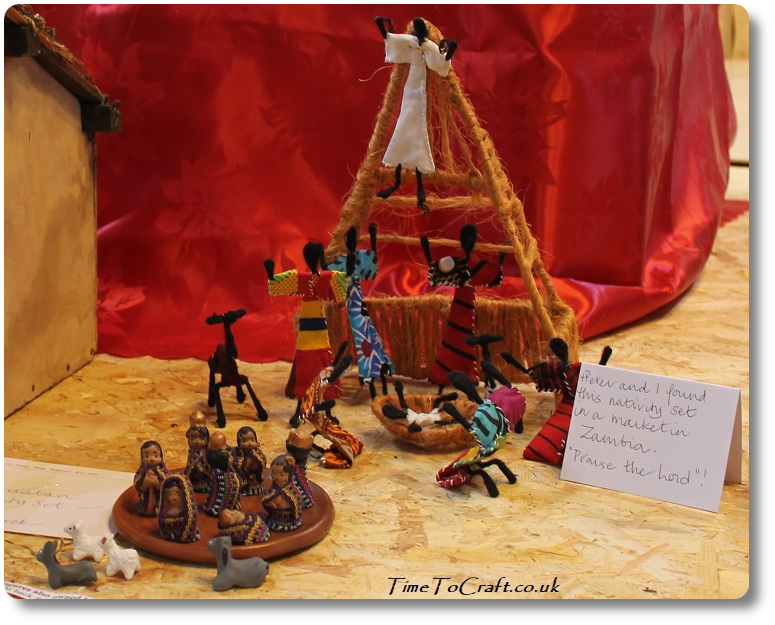 (Nativity scene from Zambia)
I am definitely feeling the mixture of festive vibes and peace. This was a fabulous display and I hope it is on again next year. Thank you, St Cuthbert's.
(P.S. If any of you have seen the movie Hot Fuzz, you might recognize the church, which was used for the fete scenes.)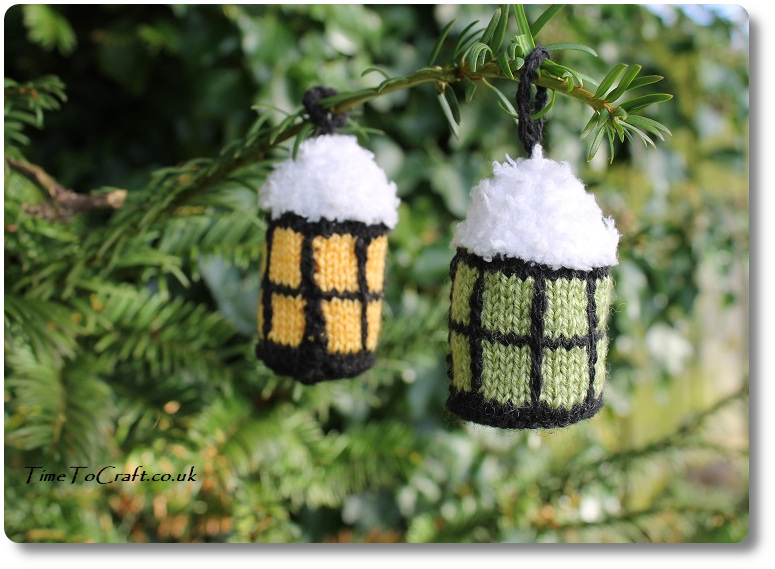 (This is not an ad, in any form)
We went to the theatre, this weekend. It was truly magical. A Christmas Carol at the Bristol Old Vic. I'll admit that when I booked the tickets, part of me just wanted to see the refurbishment of the theatre.
I'd popped in during the summer, to pick up Eldest teen from a theatre trip. The foyer looked amazing. They have opened it up, into one large, open space. The old, stone wall is exposed for all the floors and, as we stood waiting to take our seats, they used it as a backdrop for a light show, with the doors opening dramatically at the end. My goodness, it grabbed our attention.
The play was brilliant too. A Christmas Carol was the first Charles Dickens book I read. I love the story. This adaption was entertaining and put me in a festive mood. I'd forgotten how clever theatre productions can be. Without cgi, they used screens and lights, plus sheets of paper and puppets, to bring the unseen to life. A small cast in number and they made good use of the stage. I loved their use of sign language, or as Scrooge put it, wavy language. Making it part of the performance rather than an awkward add on.
A good trip and one I'd thoroughly recommend. I looked along the row to my family watching, at one point. Faces lit up by the stage lights. They were all transfixed and smiling. Being teens, the children are way too old for Father Christmas visits and no longer enamoured by a Pantomime, this was a perfect festive evening out.
I'm glad we went.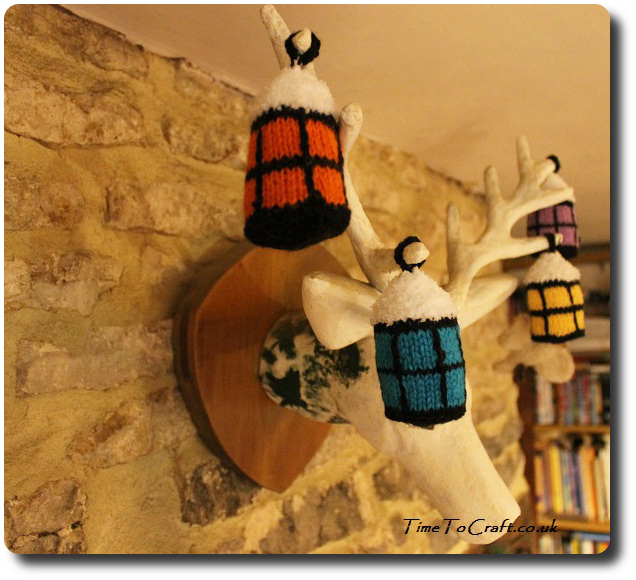 (Adding to my collection of knitted snow lanterns. Knitting one lantern at a time!)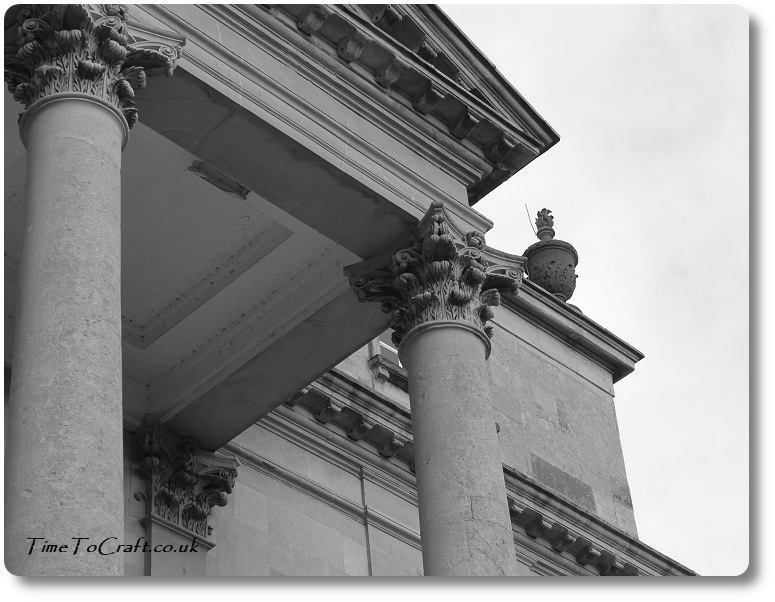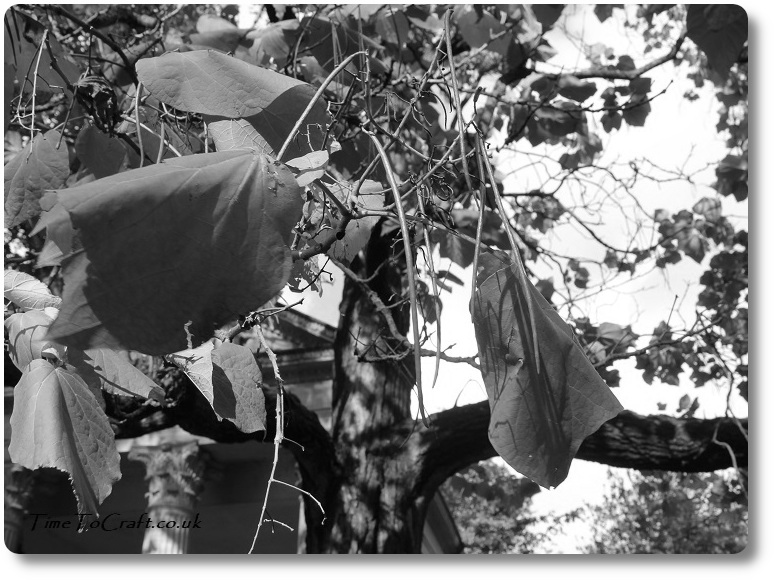 We went to the Holburne Museum in Bath today, to see the Matisse and Rembrandt in Print temporary exhibitions. Also an exhibition by Candace Bahouth. All the exhibitions are there until January next year. Quite a contrast of black and white (first two) and colour (last one). Family was divided on which they liked the most.
We walked back through Sydney Gardens, which was a favourite of Jane Austen. She lived next to it. It is one of the few 18th century pleasure gardens left in Britain. I'd like to go back when the flowers are out.
Today was wet, followed by blue sky and wind. Contrast of dull and bright again.
Photos
There have been cases when people lifted my photos and words, and used them without credit to me or asking permission first. Using them for their own commercial gain. I have now added a level of security to deter people from doing this. Apologies to people who do play nicely. If you would like to use any of my photos, please contact me.
Copyright notice:
All my words and photos are copyrighted to me. They cannot be used for commercial benefit by anyone else. If you would like to use any of them, then please ask me first and don't just take. Written permission only. Don't pass my words, photos or ideas off as your own. It's not nice.
Cookie Policy
Our web pages do not use cookies however this website uses Google Analytics, a web analytics service provided by Google, Inc. Google Analytics uses cookies to help us analyse how people use our site. The use of cookies by Google Analytics is subject to change.