A little leather coin purse
Here's a confession. My purse is held together with a hairband. I keep meaning to do something about it. The purse is pretty perfect for my needs, with just the right number of pockets and zips. It holds my cards, notes, receipts and pennies. All that I need. Only problem is that the twiddly fastener thingy, that's meant to keep it tight closed, snapped off soon after I bought it. Now I use a hairband, which is also handy as an emergency hair tie.
Why do I put up with it? It is a Boden purse, which cost me £2 from a charity shop, a few years ago. No great shakes. I'm sure I must get a few looks from the cashiers, as I fumble to remove the hair band, when I pay for anything. I really don't care. It works for me.
The reason I still soldier on with it is that I'd like to design my own. I don't like the design of the card area. Potentially, the cards could fall out the top. I've thought about the features that make for a perfect purse and I'd like to sew it. I just needed to find the right materials to make it.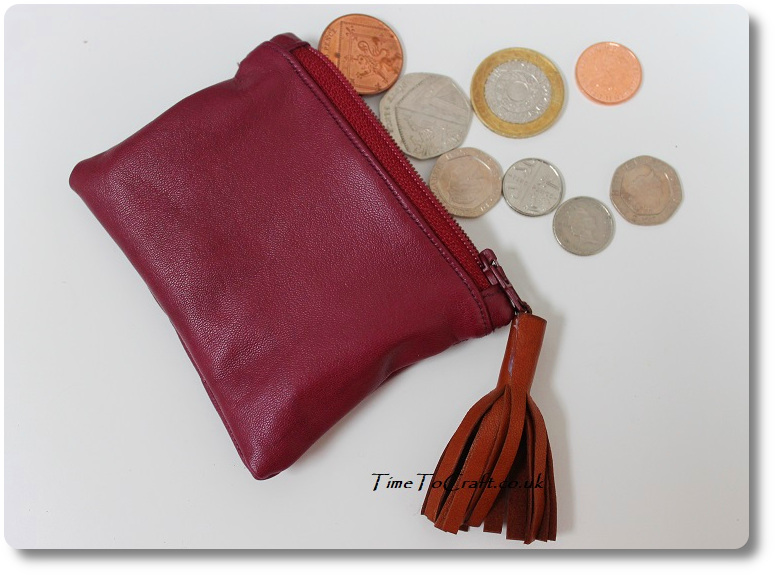 This holiday, my brother gave me a couple of bags filled with leather off cuts. Factory discards. Not big enough for them to use, but perfect for a home crafter like me. Different colours, thicknesses and texture effects.
I've not worked with leather before. I researched and found that I needed a different needle for my sewing machine. Also longer stitches and a way of pinning the layers together without using pins. Once you make a hole in leather, it stays a hole.  I used my old hand cranked Singer sewing machine, as I've read that they're good with leather.
I needed a straightforward project. I'm not ready to make my all singing, all dancing purse yet, so I settled for a simple coin purse. Fortunately, I had the small zip in my cupboard, which worked well with one of the pieces of leather.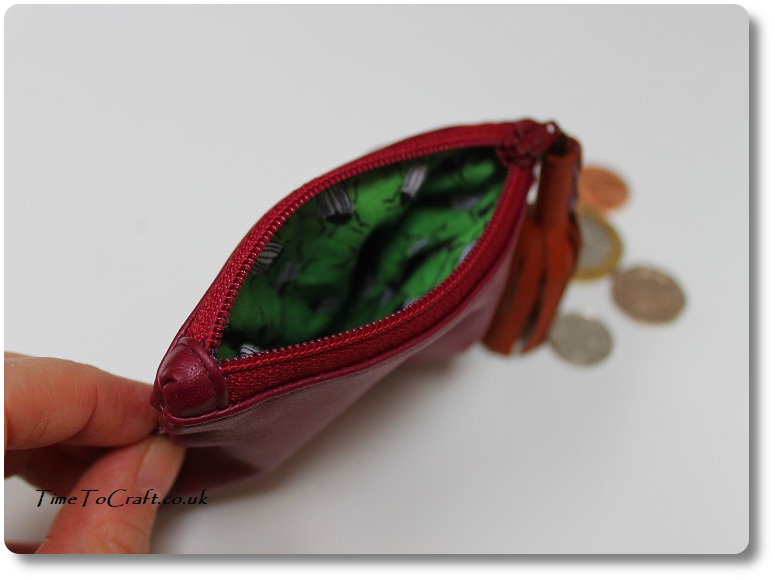 I lined the purse with a remnant of beetle fabric, which added a degree of complexity. I probably didn't need anything extra when learning a new skill, but that's me. It needed a lining, so I went for it.
I added tabs at each end of the zip, to give it a neater finish. The Singer coped effortlessly sewing over the extra bulk of the leather and the zip at the same time. They really do deserve their reputation as a work horse for home sewing.
Final touch is a leather tassel. I used my glue gun to stick it together.
So one coin purse finished. It's not perfect. Not bad for a first try. I will use it. More importantly, I've learnt a lot along the way.
I know working with leather is not everyone's choice. I did pause, but I reckon that this leather counts as a waste product. Potentially destined to be thrown. I have a couple of friends that will only eat meat if it's roadkill. Waste not, want not, is their mantra.
It may take me a bit of time to work out how to make my purse. I'm going to try and make a pencil case next for one of the children, to practise. In the meantime, I'm going to feel quite pleased, with myself, bringing out my little purse at the till, next time I go shopping.