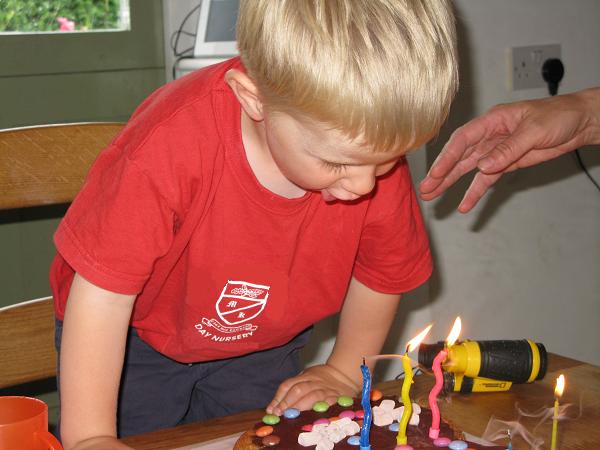 It was this little chap's birthday. TF is 3. He was so pleased that it was his special day. I think he had a smile on his face most of the day.
He skipped into nursery, in the morning, with a bag of cakes to share with his friends. He is a very independent and practical chap, who knows his own mind. When I asked him what he would like for his birthday supper, he requested sausages and strawberries, without a moments hesitation. He has spent most of the day reinventing his new mecano set as a tool box. His outside toys have all been mended, several times, thanks to the new tool box.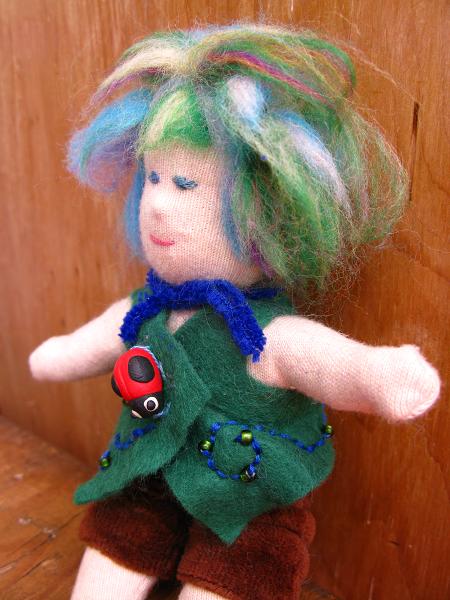 I couldn't let a birthday go by without a little homemade gift. I found this doll really hard to make. I usually make girl dolls and for some reason I find it difficult to make my dolls boy-like. The hair proved challenging. I unpicked two other hairstyles before I went with wool roving and made it tufty. Even then, I couldn't get the right hair shape. I thought of taking it down to school, at pick up time, and asking one of my friends, who is a hairdresser, if she would give the doll a quick hair cut. The hair took so long, that I had less time to make the clothes. I wish I had made the head slightly shorter as I think he is a little bit jowly, but that is a lesson I've learnt. Next time, next time….
I made the ladybird out of fimo and it covers over the popper for the waistcoat.
TF listened so intently while I explained that the doll was called Fixing Pixie and he was so full of magic that the magic spilt out into his hair and made it multicoloured. The ladybird is his companion, like a pet, called Lily-Puddle Two Spot. If TF would take good care of Fixing Pixie then he will hear about the magical adventures that he goes on. TF nodded his head. We'll see. I know two girls that are itching to get their hands on their brother's doll.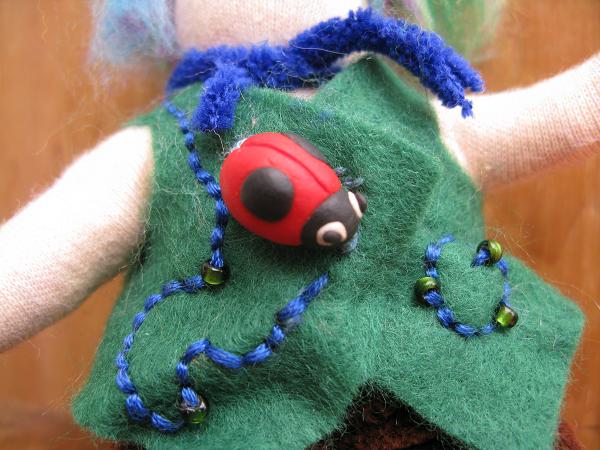 Happy Birthday, my little one. We all love you so much.