Snow covered lanterns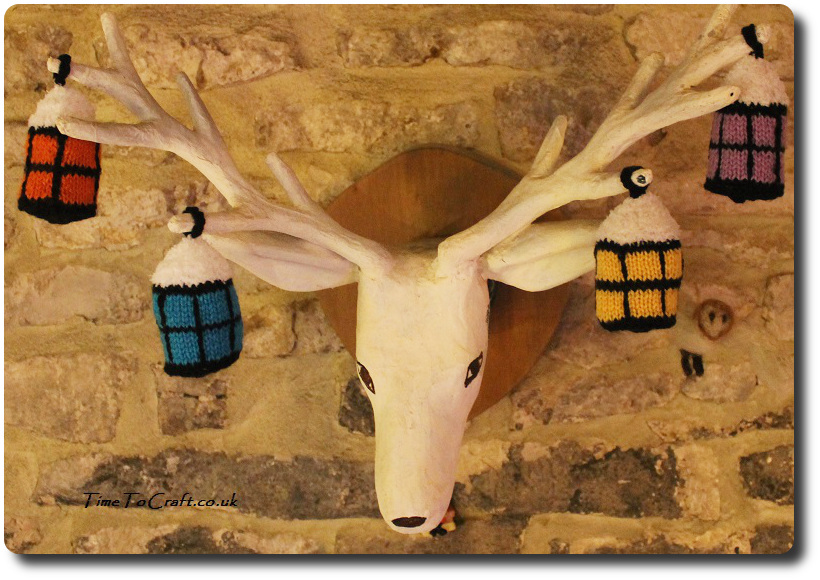 This time of year, we usually take a trip around one of the local towns to see all the Christmas lights. Some properties use the lights sparingly to great effect. Others cram their front garden, and the walls of the house, with every kind of light display, and put on a really jolly show. Every one of them adding to the happy feeling of passer-bys.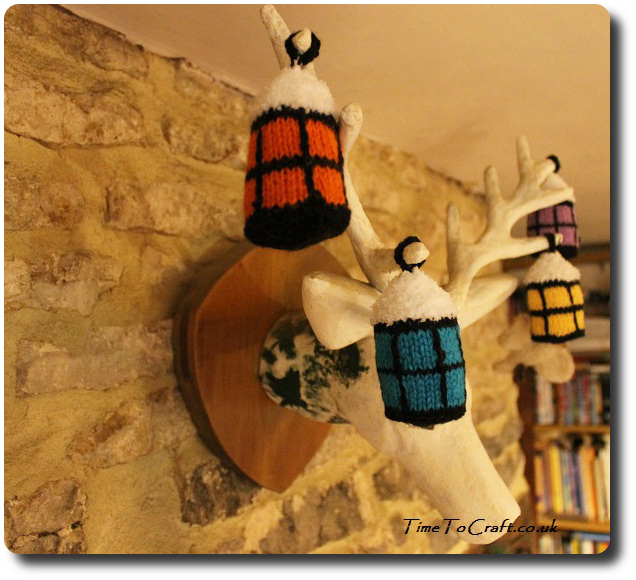 We have no road frontage. If we did put lights up, only the postman and the mikman would be likely to see them. Both visiting at times when lights wouldn't be turned on, in any case. There is no point putting lights up. My parents used to have a string of lights along their drive which were lanterns. Different colour lanterns, that made a welcome sight. If I had a place to put them, that is the sort I'd go for.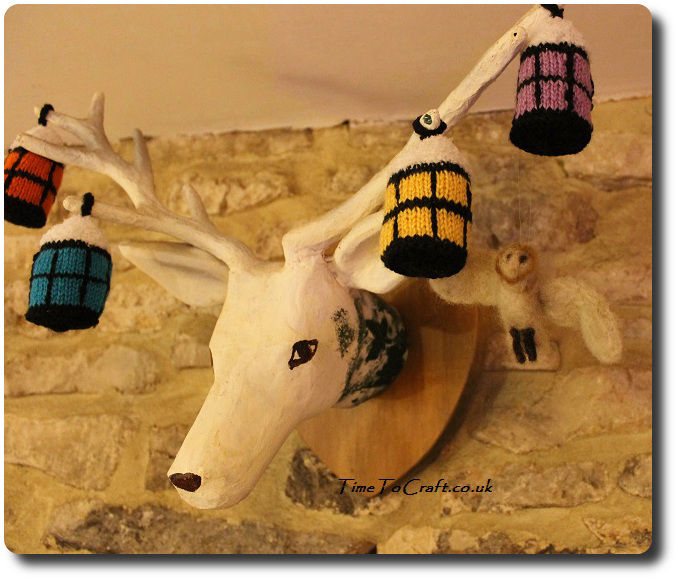 In the meantime, I couldn't resist knitting up a few coloured lanterns of my own. I can't remember if the original lanterns were ever covered in snow. Probably. Why not? I remember several years when the drive was snow covered. I'd like to make more lanterns and make a string, but at the moment I'm out of snow. The woolly kind.
I may not be able to add to the community lights, but can hang these lanterns for all our vistors to see. Day or night.
What do you think?
4 Responses to Snow covered lanterns
There have been cases when people lifted my photos and words, and used them without credit to me or asking permission first. Using them for their own commercial gain. I have now added a level of security to deter people from doing this. Apologies to people who do play nicely. If you would like to use any of my photos, please contact me.
All my words and photos are copyrighted to me. They cannot be used for commercial benefit by anyone else. If you would like to use any of them, then please ask me first and don't just take. Written permission only. Don't pass my words, photos or ideas off as your own. It's not nice.
Cookie Policy
Our web pages do not use cookies however this website uses Google Analytics, a web analytics service provided by Google, Inc. Google Analytics uses cookies to help us analyse how people use our site. The use of cookies by Google Analytics is subject to change.