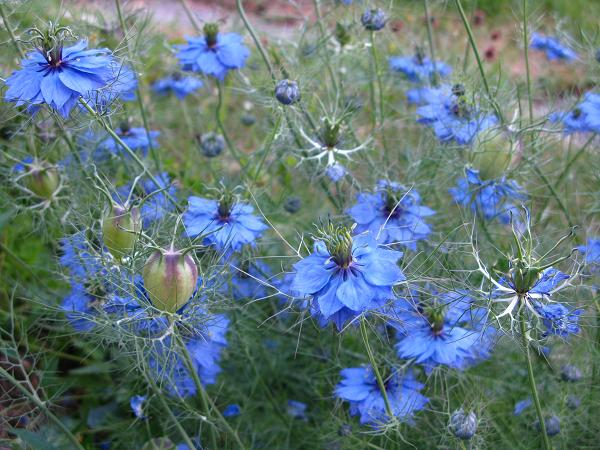 As I've been to-ing and fro-ing today, I kept passing this patch of love in the mist. My eye was really caught by the beautiful blue which is so soft on the eye. I've tried to catch the colour, so that I can remember it when the garden is back to shades of green. TF took some flowers and a seed head in to nursery for show and tell. The seed head rattles gently. I love these flowers. The shapes of the flowers and leaves are fascinating.
On Christina's suggestion, I decided to try elderflower tea over the weekend. I think it is now my favourite tea. It is smooth, gentle and smells flowery. While I sat drinking this today, it occurred to me that I don't tend to use the flowers in my garden, as much as the fruit, herbs and vegetables.  I think this is an oversight, which I'm going to put right. For instance, I spread the seeds from love in the mist, but I never think to cook with them. Its the same with the nasturtiums. I plant them for colour and as companion plants in the kitchen garden, but I don't use the seeds or the flowers in the kitchen. I do use the chive flowers and borage.
I think this year should be year of the flower for me. I'm going to check out what is in the garden and see what I would like to use.
Incidentally, if you want to try elderflower tea. I just put a fresh sprig of elderflower in my cup, poured in boiling water and left for 4 or 5 minutes. Then pulled out the sprig.  Any loose flowers fall to the bottom of the cup, so there is no real need to strain. Just sit back and enjoy.