A wintery centre piece for our table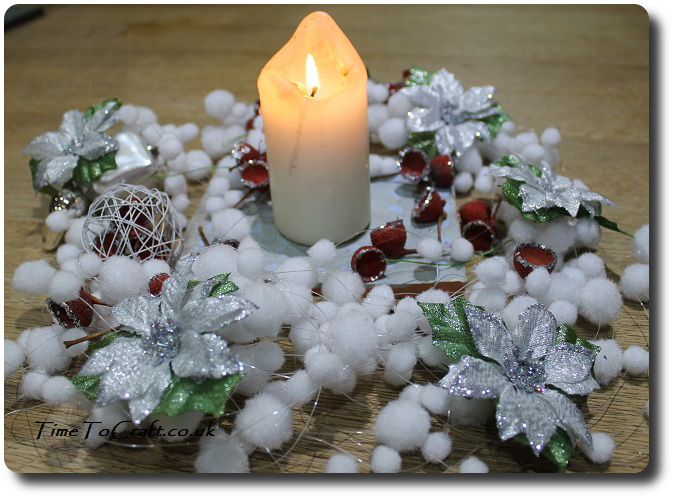 The house is decorated. Bits and pieces of homemade fun are added on a daily basis. Except our kitchen table remains bare. The kitchen is the heart of our home. We eat at the table, complete homework, and craft there too. It is constantly being cleared and then covered again. Alas, nothing stays still. I needed something special.
I was lucky to hear about the Country Basket's Festive Face-off competition. I was sent a selection of crafting bits and pieces to inspire. I love the combination of white and green. Reminds me of the snow on trees. And I am sucker for snow scenes!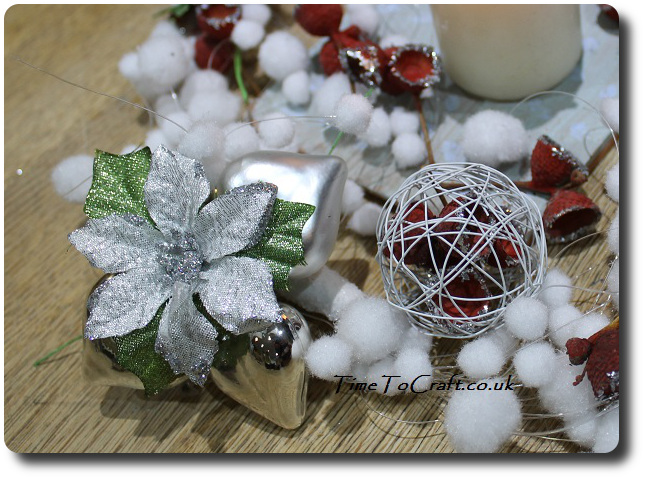 I love the little wire balls. They can be carefully opened to add things into . I thought it would be fun to add some of my festive acorn caps, I've been working on. Also by threading the silvery hearts onto to the wire flower stem, I could make a slightly different flower. And this is what I particularly like about a centre piece. It should make you look twice. Maybe ponder but I really like not making it matchy-matchy. A more organic arrangement.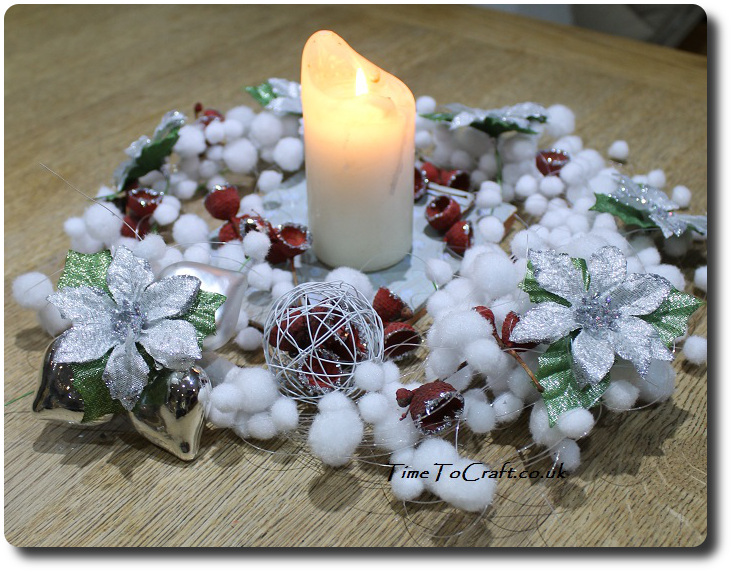 So here is the wintery centre piece that will be gracing our table this winter.
Disclaimer: Country Baskets sent me (thank you) a selection of festive decorations free of charge, in order to enter the competition.
2 Responses to A wintery centre piece for our table
There have been cases when people lifted my photos and words, and used them without credit to me or asking permission first. Using them for their own commercial gain. I have now added a level of security to deter people from doing this. Apologies to people who do play nicely. If you would like to use any of my photos, please contact me.
All my words and photos are copyrighted to me. They cannot be used for commercial benefit by anyone else. If you would like to use any of them, then please ask me first and don't just take. Written permission only. Don't pass my words, photos or ideas off as your own. It's not nice.
Cookie Policy
Our web pages do not use cookies however this website uses Google Analytics, a web analytics service provided by Google, Inc. Google Analytics uses cookies to help us analyse how people use our site. The use of cookies by Google Analytics is subject to change.