The joys of tacking thread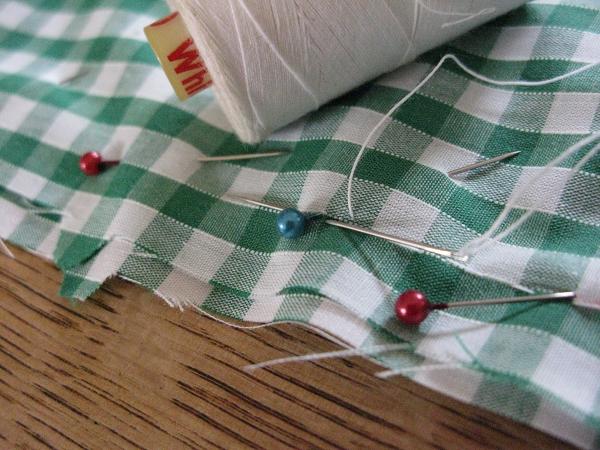 I have rediscovered the joys of tacking thread and sewing with it.  I used to tack all clothes together when dressmaking, but I have become lazy. No, maybe I should write that I started taking short cuts to speed up production. Using pins and the sewing machine I could make a whole article in a very short time, which is/was very tempting. Once I discovered that I could skip the tacking stage, I also started using the machine where before I would have sewn by hand. Faster production, but poorer quality, as it turned out. Maybe some people are talented enough to pull off these short cuts, but unfortunately I'm not one of them.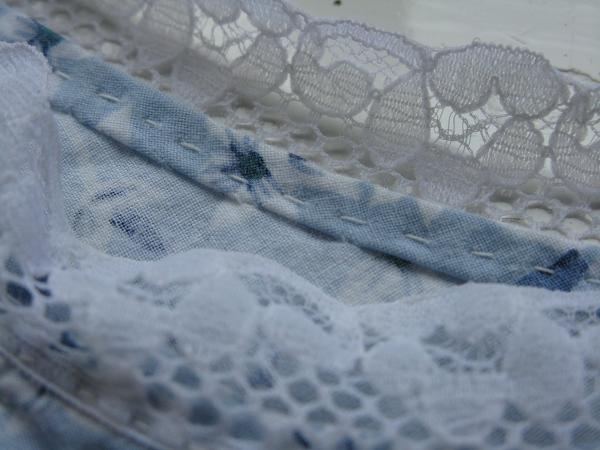 I have no real excuse. I know enough about dressmaking to know the techniques and why I should use them. I know how to make the inside of the garment look as neat as the right side. I know the difference between a fitted garment and a fudged one. Yet, one by one I've let all these techniques slip. I even remember the moment when I used my trusty machine to sew the hem of the skirt instead of carefully hand sewing it. Who would notice and who would care?
Why the change now? (And what is tacking?) I'd best start from the beginning. Four years ago, my eldest was in her first year at school and it was the start of the summer term. In the UK, children, on the whole, wear uniforms to school. The style is dictated by the school governors, but left for the parents to source. For our school, there is an option for the girls to wear gingham dresses in the summer, widely available from supermarkets or other national outlets.
Four years ago, I was 7 months pregnant and all my hormone controlled emotions told me that I could not send my daughter to school wearing a school summer dress potentially made by another child who was working rather than going to school herself. Whether I was right or wrong, I firmly blame this dressmaking decision on my hormones!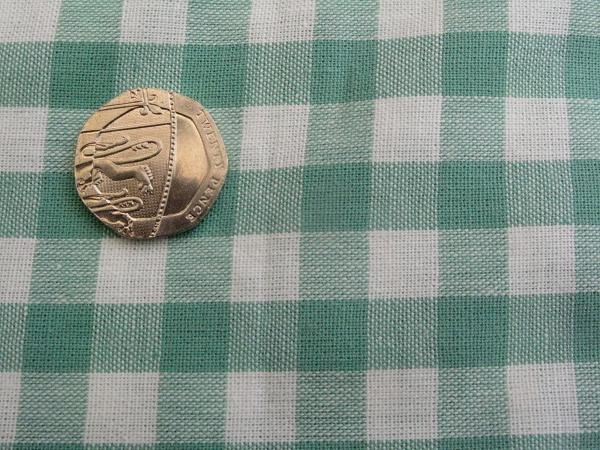 The only cotton gingham fabric that I could find was a slightly bigger check (3/8th of an inch) than most, but the regulations did not specify the size, so I went ahead. I made two dresses. They fitted, and daughter was happy, but each day I took her in, I noticed the little mistakes in the way that I had put the dresses together. Maybe a non-dressmaker would not notice. I had taken care with the matching the lines, but I wish I had lined up the colours of the squares better, so that the pattern flowed from one section of the garment into the next. I knew the machine stitch tension on one of the shoulders was loose. I wish I had added a lining into the top to hide the seam finishes. Little things, but they niggled.
One day, I passed a friend as we dropped off our children at school. She asked if I had made the dress my daughter was wearing. It was a fleeting question, and we were both swept away in the general flow of dropping children off at different classes, so I had no chance to enquire what made her ask. (Hormones raging and I brooded over the question.)
Roll on four years. This school term, I cut out new versions of the dresses, as both girls have now outgrown those first dresses. Practicality rather than pregnancy hormones meant I had to make the dresses. I couldn't find 100% cotton dresses in gingham and I really don't like the straight dress design that can be bought in the supermarket. Try sitting cross legged, on the floor, in one of those without needing to wear a pair of shorts underneath to defend your modesty. Hmm. Another two dresses to make. The last two dresses are not good enough to pass on to someone else, as I'd be too embarrassed by the finish. There will be no niggles with these new dresses as I'm going to make them right. I guess the final test will be if I'm willing to pass them on afterwards.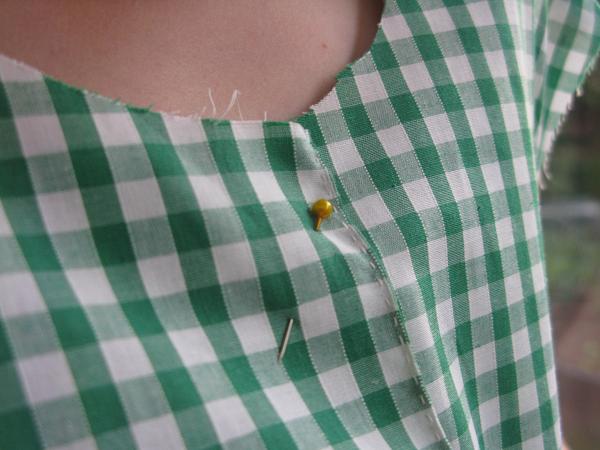 As for the question from my friend. It turns out that I read too much into it. It was the larger than usual squared gingham and slightly paler green that she had noticed on the original dresses. Not the errors, but the appearance of the gingham check. Obvious really!
For the record, I am lining up the colours in the checks and the lines this time. Does it matter? Oh yes! To me it does and seeing as I'm the one looking at the dresses every day, I think it does matter. Almost forgot the tacking part. Basically temporary stitches that help to line it all up, enables the first fitting of garment and makes it possible for me to make a dress that I am happy with. If only I had used it four years ago.
Updated: for more sewing technique snip-its have a look at my handsewing and cutting posts
10 Responses to The joys of tacking thread
There have been cases when people lifted my photos and words, and used them without credit to me or asking permission first. Using them for their own commercial gain. I have now added a level of security to deter people from doing this. Apologies to people who do play nicely. If you would like to use any of my photos, please contact me.
All my words and photos are copyrighted to me. They cannot be used for commercial benefit by anyone else. If you would like to use any of them, then please ask me first and don't just take. Written permission only. Don't pass my words, photos or ideas off as your own. It's not nice.
Cookie Policy
Our web pages do not use cookies however this website uses Google Analytics, a web analytics service provided by Google, Inc. Google Analytics uses cookies to help us analyse how people use our site. The use of cookies by Google Analytics is subject to change.