Rediscovering hand sewing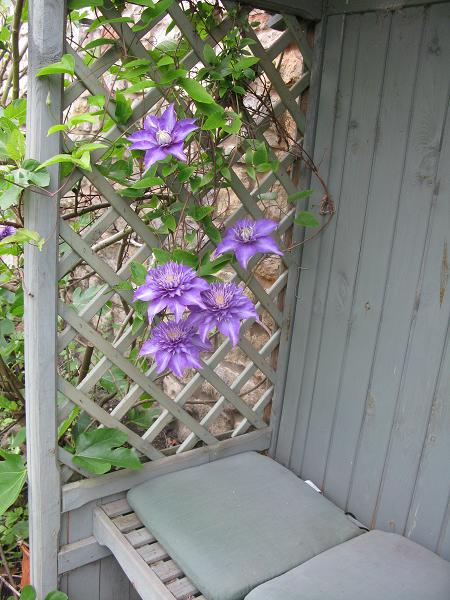 I've been sitting (hiding) in our clematis covered bench recently. It is perfect for grabbing a quiet moment. I can hear, and catch glimpses of the children as they play in the garden, but they seldom seem to spot me. Even when they walk along the path just 2 metres away. They are so focused on where the path takes them that they don't look over to the bench. It is the most perfect hidey hole.
This gives me time to read my latest obsession. I've recently been revitalizing my dress making skills. I have made lots of garments over the years for the children. Looking back, I can identify which items I like the most. It's not just the pretty fabric but the construction that I value in them. My sewing knowledge is pretty good. I am more than capable of doing different clothing construction techniques, but I have just become a bit slap dash.
So to breathe some life into my skills, I picked up a book. I love this book. Already made use of it to help make myself the nightie in the photo. The book has reminded me of lots, but also it has opened my eyes to a whole new level. Inspiring in its approach. Its one of those books that I can't help telling my very patient husband about bits that I have discovered. He now knows a whole lot more about haute couture and design houses than I think he ever wanted to know, but that doesn't stop me. I'm sure he sighs a little every time I lower the book and start with a "Did you know…"
Limiting myself to list of just 5 things I never knew:
There is a lifetime guarantee from some design houses for the garments they create, even if the client changes their mind about the colour. Of course, the price tag is not inconsiderable. ("But I got home and it does not match my geraniums!")
They will run thread through beeswax and iron it (!) to prevent it fraying for certain techniques.
Design houses will commission fabric and then reengineer it if they need the stripes in another order or they need it to zig zag rather than run as stripes.
Seams don't always run straight or gently curve. They can intricately go round predominant features in the fabric print, so that the join is almost invisible. No headless horses or flowerless bouquets at seam edges to potentially traumatize the client.
Instead of sewing darts in wool fabric, it can be shrunk with water and a hot iron, in just the right places. (I fear my journey to dressmaking nerdiness has been reached!)
This is a whole different league, but it doesn't mean that I can't pick up some useful hints for my home sewing, without going overboard.
Five things that I had forgotten and I'll more than likely be posting about over the next few months:
Thread the needle before you cut the length from the reel. The direction of the twist helps to stop thread knotting while you are hand sewing. If you have already cut a length then you can find the right end by threading the end that is not starting to unravel.
Lining doesn't just hide the horrible seams, it helps strengthen the shape.
I need three lines of gathering when I hand sew, instead of the two lines when machine stitching.
Slip basting would be very handy when lining up stripes and gingham.
Invisible hemming using blind stitching
The book is a cross between a how-to and a coffee table tome. It is not for a beginner sewer, but does talk to the home seamstress. It has the most lovely clear drawings to explain the techniques. Maybe its me, but I find line drawings easier to follow than a photo with patterned cloth. I find the book inspiring and already I have put a few techniques into practise. It has also rekindled my search for a dressmaking dummy. One like this for me:

Lady Valet Dressmakers Dummy (Medium)
A girl can dream. And one for the children. They are none to keen about finding forgotten pins in the clothing when I forget to remove them before I do a fitting!
All this reading about design houses remind me of a book I absolutely loved as a teenager –  Mrs Harris Goes to Paris. If you've not discovered this gem of a book then, I can recommend it. It is about a cleaning lady who scrimps and saves to go to a Paris, to fulfill her dream to own a Dior dress. Wonderful characters and I still find myself thinking about the story, even though I've not read it for years.
In case you may be concerned that, with all this sewing and reading, that the children may now be well dressed but exceeding hungry, the garden has started producing. We've had lots of salad from the garden and the hens are busy laying, so theoretically, I could sit back and read while the children go out in the garden to eat. Tempting, but I'd miss them.