Curtains to Cloaks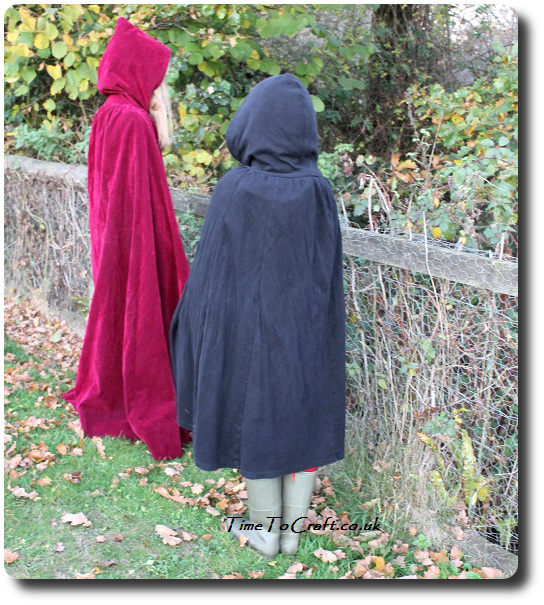 I'm not sure what my Grandmother would say, but I've cut up her curtains. The ones she used to put up in her front room in the winter. I've also cut up an old maternity dress of mine. I'm not going to use it again.
Why? Well I had requests for two cloaks. The curtains and the dress were the right colours and the right amount of fabric. Their time had come.
Snip, snip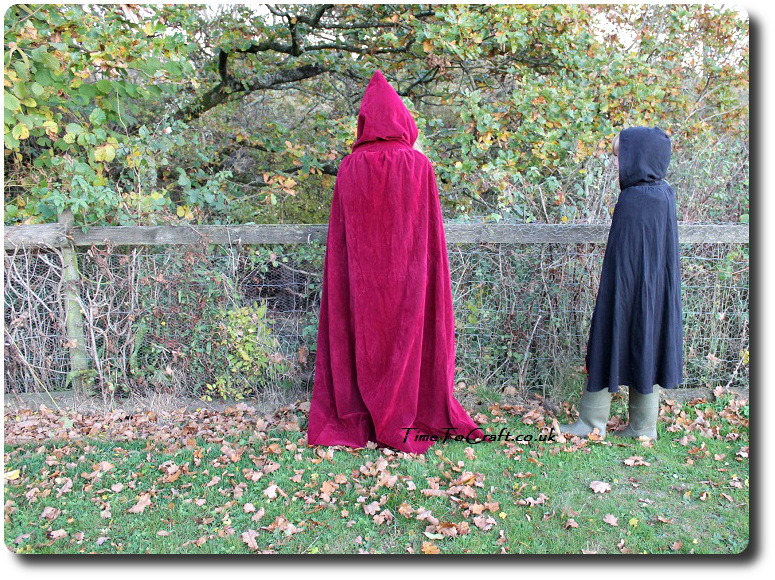 The two younger children had been invited to a Halloween party, which called for dressing up. It's the kind of dressing up that they don't object to. They were going trick or treating, as part of the party, so they were keen to wear cloaks.
As you can imagine, it is fairly easy to make a cloak out of a pair of curtains. If you do it carefully, you can use the existing hems as the bottom hem and the open front. Cuts down on the sewing required, which is my kind of upcycling.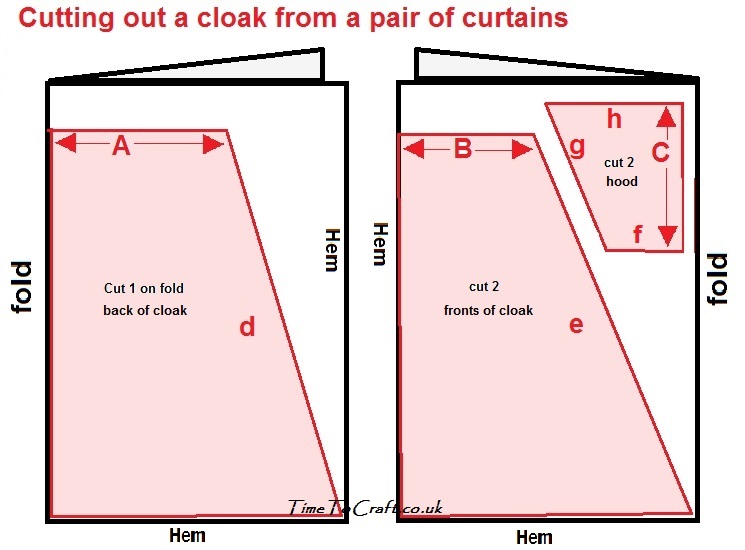 The exact measurements will depend on how big the curtains are and how big the finished cloak needs to be.
Rough guide to making a cloak from a pair of curtains
Cut off the top of the curtains to remove the curtain tape. Tempting to keep it, but it is too bulky.
Fold the curtains in half as shown, so the edges are together.
Cut out a trapezium shape on the fold of one curtain, as shown. (back of cloak)
Cut out 2 trapeziums, not on fold, from the other curtain, as shown (2 fronts of cloak)
Join sides e and d together, making sure bottom hems match up.
Join the two f sides of the hood together.
Fold over edges h

,

separately, and stitch to neaten the edge of the hood around the face.
Handstitch a gathering stitch along the new edge made by A and B.
Gather this edge so that it will match the edge C of the hood.
Stitch edge C to the gathered cloak edge (

A+B

). Twice. Remove the handstitched gathering stitch.
Stitch g edges together.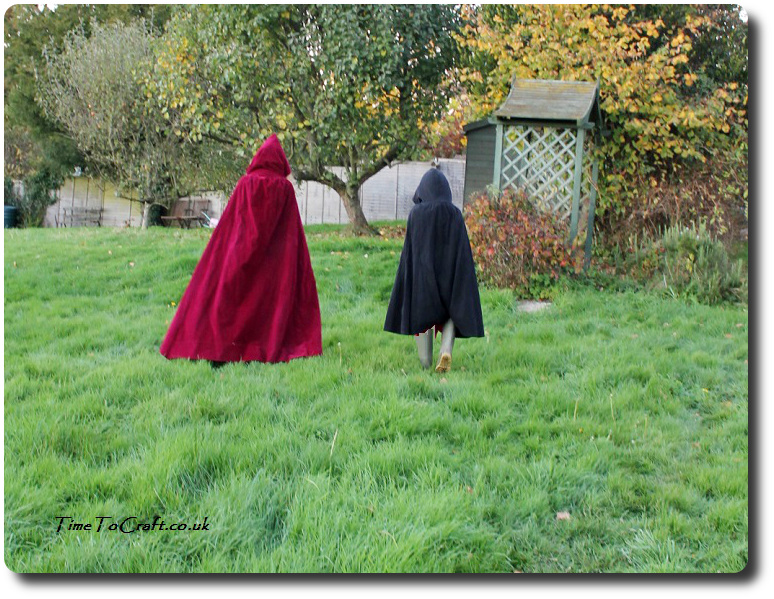 The cloak is now finished and ready to wear. We added a brooch to fasten the cloak. Believe me, it is a lot more straightforward to make than to write down the instructions. Let me know if I've left anything out.
The hood could be extended into a longer point, or rounded like the black cloak.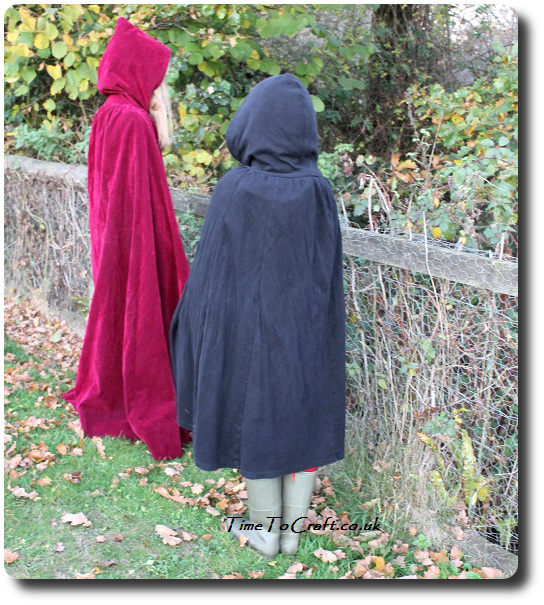 The black cloak is made out of my old maternity dress. The skirt was cut off at the waist, cut down the front and gathered.
The hood was made from the sleeves. I cut the sleeves off the dress and down the seams. There is a lot of fabric in sleeves.
Next I drew round the side view of the hood from one of his hoodies, adding a generous couple of inches all round before cutting out the two sides.  Finally stitching it all up.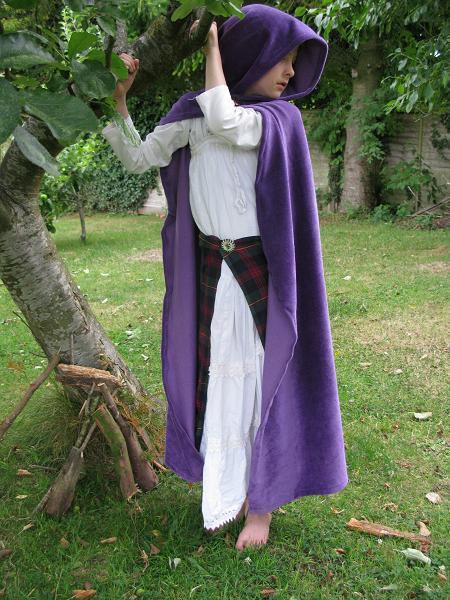 Now each of the children have a cloak. I made the purple one years ago and it has been used more times than I can remember. I suspect these new cloaks will be brought out just as much.
They are so easy to make. Perfect for school dressing up days, Halloween, or a Christmas gift.
Oh. I should just point out that using curtains that are already in use as curtains, may not be the best plan. Nor would it be good to remove them from elderly relation's houses without them knowing.
I'd like to think my Grandma would approve of the new cloaks, but I suspect she'd still tell me off for cutting up her curtains!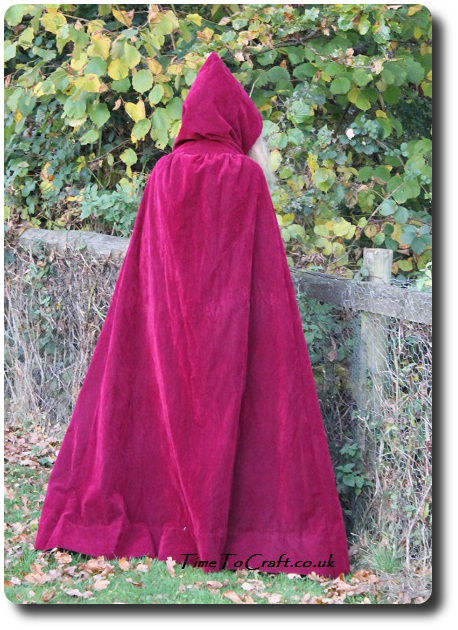 Linking up with:
Fiona's Trash 2 Treasure linky
Skip to my Lou's Made by You
13 Responses to Curtains to Cloaks
There have been cases when people lifted my photos and words, and used them without credit to me or asking permission first. Using them for their own commercial gain. I have now added a level of security to deter people from doing this. Apologies to people who do play nicely. If you would like to use any of my photos, please contact me.
All my words and photos are copyrighted to me. They cannot be used for commercial benefit by anyone else. If you would like to use any of them, then please ask me first and don't just take. Written permission only. Don't pass my words, photos or ideas off as your own. It's not nice.
Cookie Policy
Our web pages do not use cookies however this website uses Google Analytics, a web analytics service provided by Google, Inc. Google Analytics uses cookies to help us analyse how people use our site. The use of cookies by Google Analytics is subject to change.