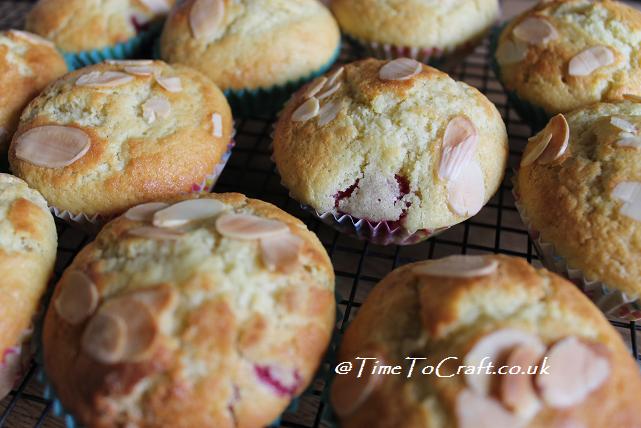 I have a new favourite muffin. Or maybe I should call it a small cake. Whichever, it is my newest favourite. Move over blueberry muffins, there is a new little cake in town.
Today was one of those baking sessions when I had not quite the right ingredients, so I improvised. A few days ago, I saw Rattling On's raspberry and almond cake. I couldn't help wondering how I had forgotten the wonderful combination of almonds and raspberries. I thought about it enough to remember to pick up a small container of fresh raspberries whilst out shopping. I like buying local and in season produce, which these were not, but my urge to combine these two flavours was so strong.
Turns out that I didn't have nearly enough ground almonds or any vanilla extract, so I turned to my muffin recipes. Turned out I didn't have muffin cases, so I pulled out my little cake cases. I had no light oil, but I did have olive oil. I had raspberries and flaked almonds, so I was still on a roll. I even found a small bottle of almond extract.  The need for an extra shopping trip had been averted. Yeh! Baking commenced and these yummies turned out just fine.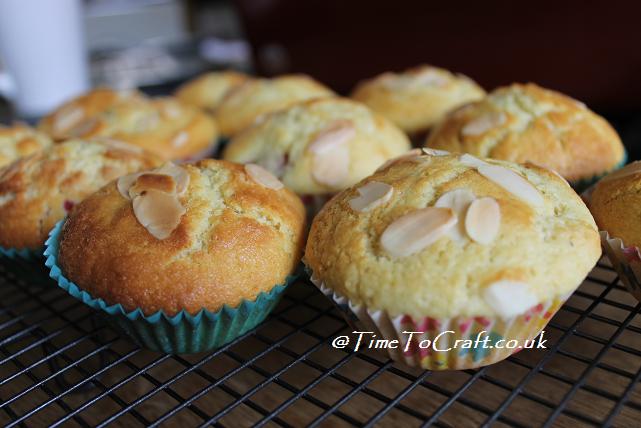 I'm sharing the recipe, in the spirit of friendship, and also it would be unfair, after all the Yehs! and Yummys!, to leave you dry. Also I have to share a little story from today. TF had taken his favourite book, of the moment, into school for show and tell. The teacher didn't have time to read it, but asked if it was OK if she kept it at school to read to the class tomorrow, as she liked it.
"Oh yes." My little son said. "My Mummy loves to share. She won't mind."
I was so surprised when he told me about this conversation. He was pleased with himself for saying it. He knew he had done good! I can't think of a better principle than sharing for my 4 year old to pick up on, but he has obviously taken it on board and understood.  I was genuinely amazed. There is hope for my parenting skills (shoe buying and haircuts aside)!
So, seeing as I apparently love to share, here is the recipe. Usual method of muffin making – dry ingredients in one bowl and wet stuff in another. This makes 24 small cakes or 12 muffins.
Mix in first bowl – 50g of ground almonds, 290g self raising flour, 1 tsp baking powder, 150g caster sugar
Mix in second bowl – 2 eggs, 225ml milk, 100ml olive oil, 1 tsp of almond extract
Add contents of second bowl to first and gently mix until just mixed. (Muffins refuse to rise if you over mix.)
Line or grease two 12 bun trays. Half fill each case with mixture. Pop in two or three raspberries and cover the raspberries with more mixture until the case is almost full.
Sprinkle flaked almonds on the top.
I popped it on to the third shelf down in the Aga baking oven for 10-15 mins, turning half way through. Based on similar recipes, it looks like 200c/400f/Gas 6 for 10-15 mins for other ovens, but please check. Cakes should be golden brown on top.
When ready remove from the oven and cool on a wire rack.
Yum! The smell is amazing. My cakes are ready for our Friday craft group get together tomorrow. I hope they like them.
While I'm sharing, I thought I'd show you my finished dragonflies from our house sign. I'm no painter or sign writer, so the sign is basic and fun. I'll leave the masterpieces to the artists among us.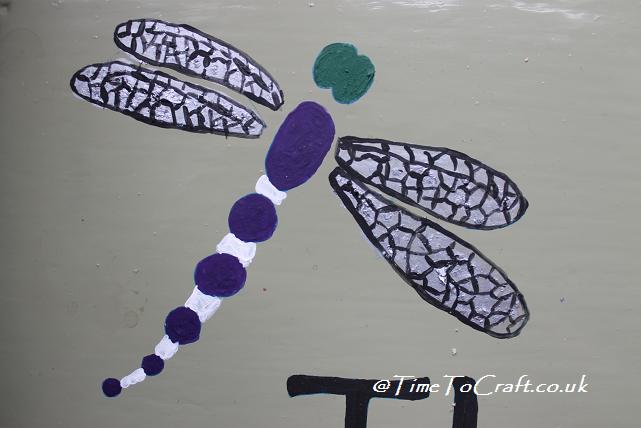 Difficult to see the glitter on the wings in these photos. I'm hoping it will come into its own when the car headlights shine on it at night or if the sunlight catches it. We'll see.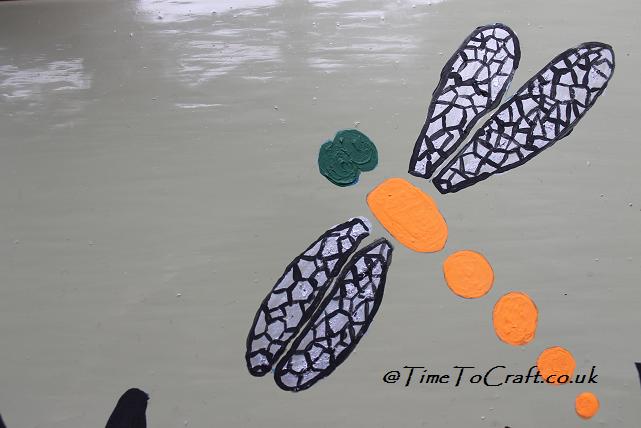 The name of the house is just below the three dragonflies and is the bit that people should see from the road. Hopefully the dragonflies will add interest as visitors open the gate.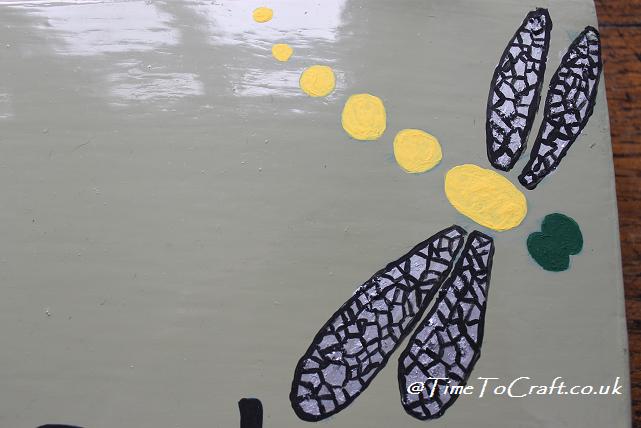 Can you tell that I had fun with the wings?
The sign is just waiting for a lull in the rain and it will be fixed in place. In the meantime, I think just one more of those cakes in celebration of an actual finished project. Yeh!