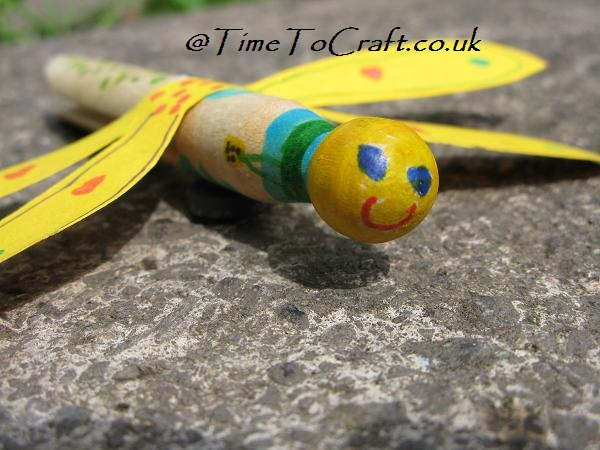 This weekend, we had a family get together. I woke up to the rain beating against the bedroom window. I knew that the children would not be  running around the garden of the house we were visiting, as I had envisaged. The house would be full of lovely people, but people whose daily lives do not include small children, with their delightful antics. I needed a plan. A good one. After all, I want to be invited back again. Some day.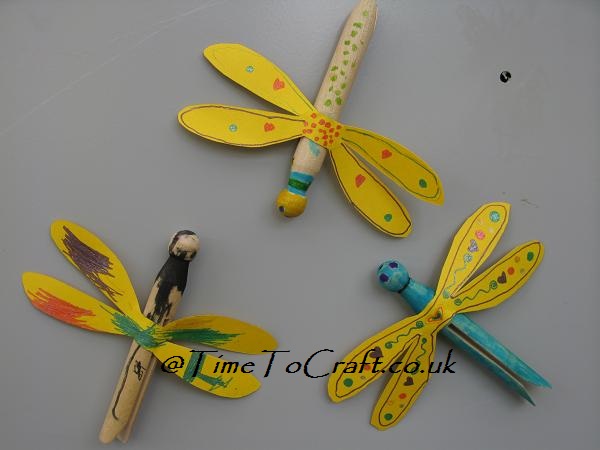 Armed with an old overnight suitcase, I crammed it full of crafting bits and pieces. In the end, we only did two projects. Out of the two, the magnetic dragonflies were the real winners. Really simple, but a useful, low mess crafting project that can be taken almost anywhere. This is a variation on the dragonflies that we made last year.
My children always love homemade crafting kits with all the materials and written instructions in one bag.  One of those moments when the older children natually help the younger non-reading ones. This is how I put it together.
Materials we used:
wooden clothes peg
felt tips or marker pens
glitter gel pens
stiff paper
magnets
glue
scissors
dragonfly wing template
Suggested how-to
Decorate the wooden pegs using the felt tips
Trace the wing shape onto the stiff paper and cut out
Use the felt tips and glitter gel pens to decorate the wings
Glue the wings on just above where the peg splits into two
Glue the magnet on the opposite side.
Leave to dry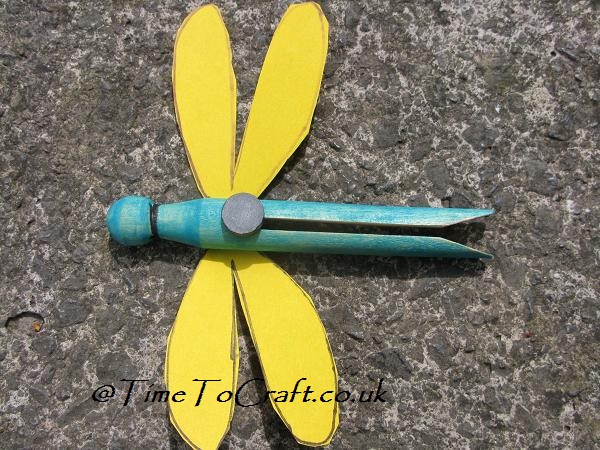 Last year's wool wings were pulled off by our garden sparrows and are probably insulating our roof, where they love to nest. Our new dragonflies are on the fridge and every time I shut the fridge door, the wings flutter, like a disturbed cluster of dragonflies.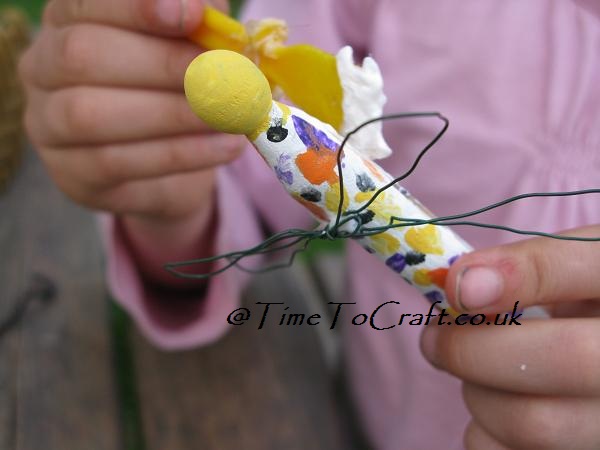 Last year's dragonfly before the wool was glued on.
I love crafts and activities that all three of my children want to do. Challenging when they have different capabilities at 3, 6 and 8 years old. A crafting project that appeals to both girls and boys. I feel motivated to put a few more similar kits together, ready for taking away on holiday or just for our rainy day box. I also love craft projects that decorate our home and make me smile. The smiling dragonfly (see top of this post) brightens up my day, everytime I go to the fridge. Some things you just can't plan!