The Children's Year book craftalong February
The end of February is fast approaching and my February Craft-Along project will be due soon.  This month we are  doing project 106 which is potato printing. Over the years, I have chopped and carved buckets of potatoes, apples, turnips and other vegetables, so that one or other of the children can produce their very own printed masterpieces. This time all of them were busy creating other things, so I had a chance to indulge my own creativity. (edited: AJ and BL would like to point out that they did stamp some of the trees and I cannot take all the glory!)
We have a family birthday coming up soon. Just perfect timing for printed wrapping paper. It's my darling husband's birthday and he loves trees and everything to do with woods. I decided on a tree and mushroom print.
I found a beautiful sheet of handmade paper that I had squirrelled away. Ever resourceful, I rescued the paper when it was discarded at a previous family birthday, so it's recycled as well.  It is absorbent enough to work well with the watercolour paints.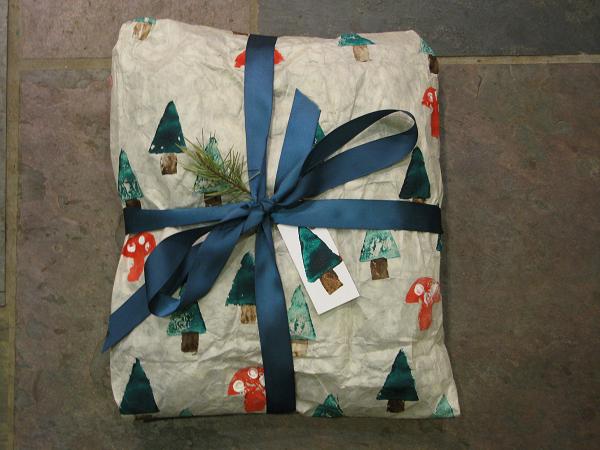 I printed a little gift tag to add to it. I had far too much fun printing. I think the children will be competing with me next time we do potato printing. Also I used no sticky tape when wrapping the parcel, so I am hoping to recycle it again. Maybe covering a book or folder!
Also finished another washcloth. That makes eight.