Knitting pattern – Hearts
In honour of Valentines day, I couldn't resist a heart pattern. This is the fourth square for my knitted blanket project. It is another pattern that uses knit and purls only. I used a darker red wool of DK  weight from my stash. It was recovered from a disastrous jumper and resulted in lots of short lengths of yarn tied together. There are more joins on this square than I wanted. Lesson learnt. I'll use only continuous lengths of wool to complete squares in future.
They are not the clearest heart shape. Try looking out of the corner of your eye or squinting. It reminded me of the Magic Eyes pictures that were all the rage back in the 90s. We used to have a Magic Eye book, but I have no idea what happened to it. Maybe if I relax my eyes, I'll spot it in the bookcase. Wasn't the trick to put the picture up to your nose and then move it back slowly? If you have no idea what I'm talking about, or just want to walk down memory lane, click on the link below and look inside the book. Pictures hidden inside others, that take on a 3D appearance.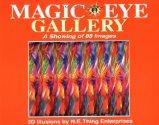 Magic eye
I may need to buy another copy. Anyway if you try the method with my heart pattern, you may just make out the hearts, although there is no 3D effect. Sorry!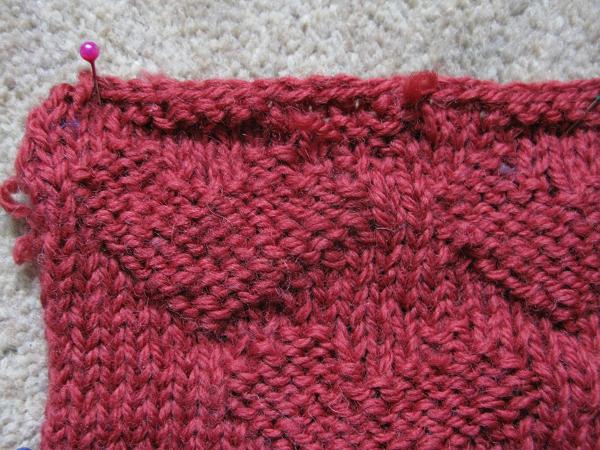 This might be fun on a jumper for the children. I would use a lighter, maybe brighter colour, so the hearts show up clearer.
Elusive Heart square
Cast on 41 stitches.
Abbreviation: P (purl), K (Knit)
repeat the stitches between the pair of *s until the end of the row or the last few stitches.
Row 1: Knit
Row 2: P7, *K1, P12,* K1, P7
Row 3: K6, *P3, K10,* P3, K6
Row 4: P5, *K5, P8,* K5, P5
Row 5: K4, *P7, K6,* P7, K4
Row 6: P3, *K9, P4,* K9, P3
Row 7: K2, *P11, K2,* P11, K2
Row 8: P2, *K11, P2,* K11, P2
Row 9: K2, *P5, K1, P5, K2,*
Row 10: P3, *K3, P3, K3, P4,* K3, P3, K3, P3
Row 11: K4, *P2, K3, P2, K6,* P2, K3, P2, K4
Row 12: P13, K1, P12, K1, P14,
Row 13: K13, P3, K10, P3, K12,
Row 14: P11, K5, P8, K5, P12
Row 15: K11, P7, K6, P7, K10
Row 16: P9, K9, P4, K9, P10
Row 17: K9, P11, K2, P11, K8
Row 18: P8, K11, P2, K11, P9
Row 19: K9, P5, K1, P5, K2, P5, K1, P5, K8
Row 20: P9, K3, P3, K3, P4, K3, P3, K3, P10
Row 21: K11, P2, K3, P2, K6, P2, K3, P2, K10
I repeated rows 2 to 21 two and a half times to make the square.
It might be fun to knit this pattern up as a cushion for a loved one. For Valentines Day. To make the hearts stand out more, try using two colours. Maybe red hearts on a white background. On a blanket, the back of the knitting shows, otherwise I might be tempted to knit it again in two or more colours.
I like this stitch. I might put this on my list for next year and make up three jumpers for the children, using the heart pattern. Although, as TF will be four by then and at school (eek!), he may start saying no to some of my ideas. I can see the girls liking it. What do you think?