Knitting stitches – Blue bell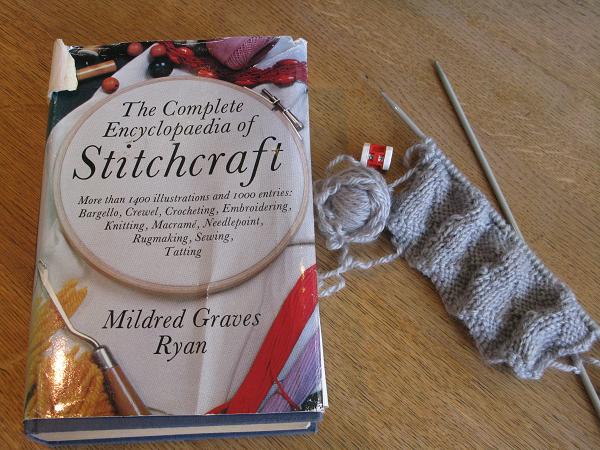 I mentioned in my last post that I've started a new project. It really started when I pulled a well-loved book out of the bookcase. I was given this book 27 years ago and I find it a brilliant reference. It covers sewing and knitting as well as crocheting, embroidering, macrame, tatting and rug making.
It lists 166 different knitting stitiches. That is about 160 more than I ever use, which got me thinking.  How can I try out these stitches? If I used some of these stitches to knit a jumper, then it would be too bulky to wear. Well, for me to wear. Maybe the children. Also, I'm not sure if I'd want to commit making a jumper using one of these stitches. I'd end up frogging it after a few rows once I realised that life is too short to knit that stitch.
Then I had an idea. I could knit a patchwork blanket. I used to have a knitted blanket when I was little, knitted by an ancient relation and I loved it. Now I could use a different stitch for each square. It would use up my stash of odd bits of wool, it would be a functional piece and give me the opportunity to try out new stitches.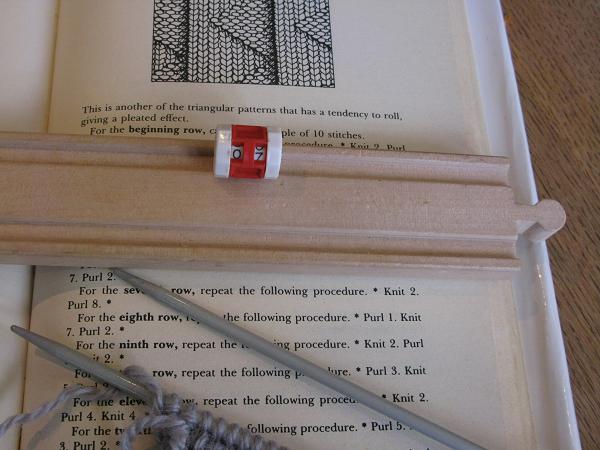 These stitches take concentration. The wooden train track keeps the book open and marks my place on the page. It also provides the perfect ridge for my row counter. I need all the help I can get.
I'm aiming to knit 49 squares. It is going to be a long term project, but I'm patient. I'm going to stick to DK (8ply) wool. Casting on 40 stitches and using size 4.5mm needles. By the end, I hope to find at least one stitch that I could use for  a jumper. I'll post each square up as I complete them, with the knitting notes and whether I ever want to knit it again.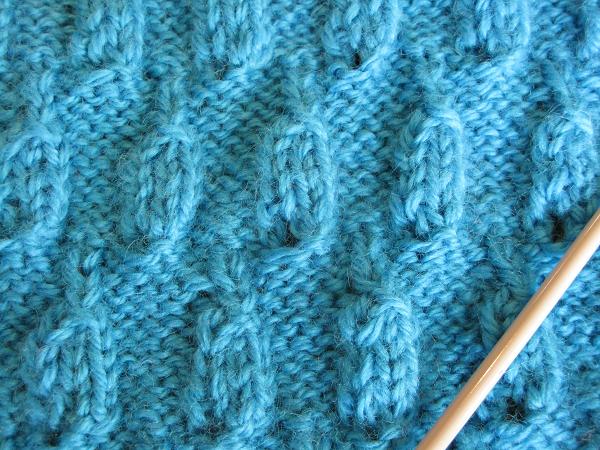 Here's the first square. It is called the bell pattern and it reminds me of blue bells. I liked knitting this one and it was medium easy to knit, but it really falls into the too bulky for a jumper category.
It is one that I would like to find another project to knit it eventually. Any ideas?
Blue Bell square
Cast on 41 stitches.
Abbreviation: P (purl), K (Knit), Yo ( yarn over), K2tog (knit 2 stitches together), psso (pass slipped stitch over the knitted stitch), s1s (slip one stitch)
repeat the stitches between the pair of *s until the end of the row or the last few stitches.
Row 1: P2, *K1, P5,* K1, P2
Row 2: K2, *P1, K5,* P1, K2
Row 3: P5, *Yo, K1, Yo, P5*
Row 4: K5, *P3, K5*
Row 5: p5, *K3, P5*
Row 6: repeat row 4
Row 7: repeat row 5
Row 8: repeat row 4
Row 9: P5, *s1s,  K2tog,  psso,  P5*
Row 10: K5, * P1, K5*
Row 11: P5, *K1, P5*
Row 12: repeat row 10
Row 13: P2 * Yo, K1, Yo, P5,* Yo, K1, Yo, P2
Row 14: K2, *P3, K5,* P3, K2
Row 15: P2, *K3, P5,* K3, P2
Row 16: repeat row 14
Row 17: repeat row 15
Row 18: repeat row 14
Row 19: P2, *s1s,  K2tog,  psso, P5* s1s, K2tog,  psso, P2
Row 20: repeat row 2
I repeated these twenty rows two and a half times to make the square.
Joining in with Natural Surburbia's Creative Friday. Pop over and have a look at the long list of creative ideas.