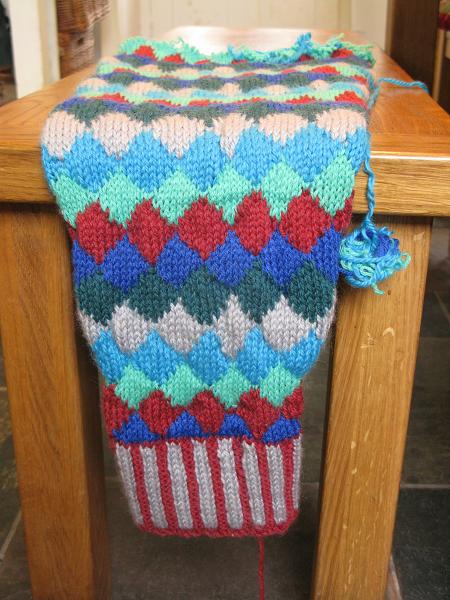 Years ago, when staying with a friend, I was given a bag of different  balls of wool. Being young and eager, I cast straight on and knitted, and knitted. I loved all the colours and paid little attention to the fact that I was mixing natural and man-made, 4 ply with aran weight. I only cared that I was knitting. By the time I got home, I had the body of the jumper and half a sleeve.  Earlier in the year, I had made the jumper with aran wool and it was perfect. I used the same number of stitches, but inspired (dazzled) by all the colours I chose to use them all. Diamonds rather than stripes and every colour was used. Over and over again. What can I say? I was enthusiastic and in the "Now". Once I finished the second sleeve, I sewed it all together, tried it on and …… felt like a teapot in a cozy. A chunky teapot cozy. Not my best moment.
The jumper has never been worn since. For years I have moved it from house to house with my wool stash. I was dazzled by the colours, every time it was disturbed from the depths of my mountain of wool. Uncertain of what to do with it. This week, with the help of AJ, I unravelled one of the sleeves. It was therapeutic to say the least. I was on a mission. I had a project for the wool. At last!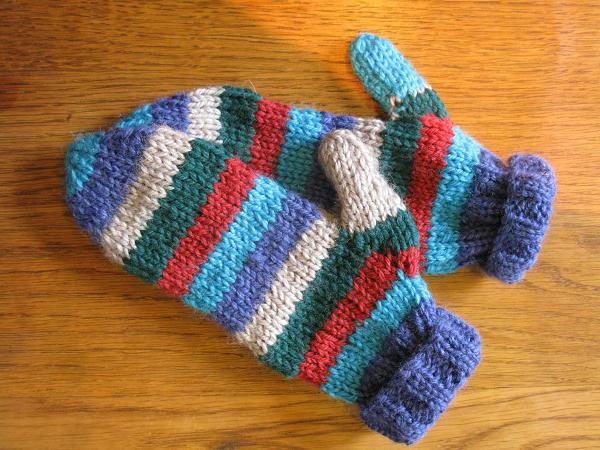 Last year, I made BL a pair of mittens. If you can see my banner at the top and you are not reading this  months later, then the mittens are up there. Lilac with the snow balls. Made with the softest merino wool. BL loved them. Then she lost one. On the last day of school. Hmmm! Usually I would just knit a replacement, but I had no more of that wool. Also I realised that, at 6 years old, the mittens would permanently be beige instead of lilac.
As we unravelled the teapot cozy/jumper wool and made little balls of each colour, I asked BL to choose which colour she would like for a new pair of mittens. Excited squeal from her. When I turned around again, she had chosen five balls and wanted stripes. Hmmm. At least it wasn't diamonds again.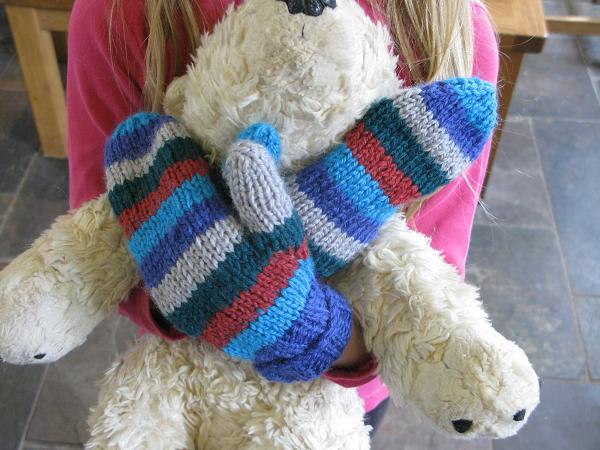 Perfect for wrangling pet polar bears. I'm sewing name tapes in these ones. Maybe even superglue-ing them on to her hands every morning.
The pattern I used was Easy-Knit mittens from Ravelry. I made a few adjustments. They turned out a bit more narrow than I would have liked, but BL is not complaining.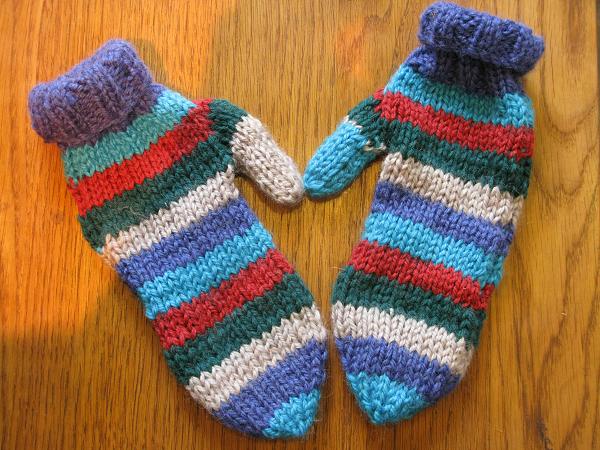 Now, I just need some more projects to use up the rest of the teapot cozy wool.
Any suggestions?