Pins and scissors are out again
It seems that the combination of spring and lockdown, this year, killed my crafting mojo. It just went. Even at the end of the day, when usually I'd have something keeping my fingers busy, there was diddly squat going on. Imagine tumbleweed. Actually scrub that. Imagine the dusty, deserted road without the tumbleweed tumbling. Nothing. I toyed with finishing my cardigan, but it really wasn't enough to ignite any sign of enthusiasm.
The garden is looking good and the family have found a good rhythm and are happy, so I'm not complaining. My energy and focus was elsewhere. Autopilot was off and I was flying manual for everyday tasks. Something had to give and it turned out crafting was the one.
It did feel like something was missing. An empty feeling.
Yesterday afternoon, I downed tools (or keyboard, to be more precise) and cut out a dress. I really need a new summer, everyday dress for hanging around the house. Especially with the glorious weather we have at the moment.  I've made a wardrobe of dresses, but mostly they fit into the work or going out categories. Formal. Not much call for that at the moment. If I dressed up in one of those, the neighbours might wonder what I was up to. Not my usual gardening gear.
A month ago, I picked up a couple of metres of cotton lawn. It is a light grey with small, intricate flowers. It's soft and drapey, which should be comfortable. I chose a pattern, that in retrospect, was probably influenced by all the VE day celebrations that were building up at the time. A tea dress of sorts. It is McCall's M7084 and I'm making the B version.
It was good spending the afternoon planning and plotting how to lay out the pattern pieces, as I didn't have quite enough fabric, according to the pattern envelope. I'm also counting this as exercise, as half way through cutting it out, I remembered the workout my back muscles get from bending over the table, while pinning and cutting.
I'm going to do this dress in stages. Maybe the odd hour. Just as I did with the last everyday, summer dress I made. I used the same type of fabric, but this time the pattern has a lower waist that should be more flattering.
I've also started a new knitting project, for the evenings. My pink cardigan has reached the stage of picking up stitches along the front borders, which is not easy late at night. I needed a basic, no-brainer knit to do on autopilot. Something like a scarf, but I really don't need one of those. Instead, I chose an ordinary jumper. Nothing fancy. It uses 4 ply wool, so will take ages to knit. The yarn is so thin and the needles match it. Progress will be slow, which is what I need. My fingers can be busy, while my brain is elsewhere.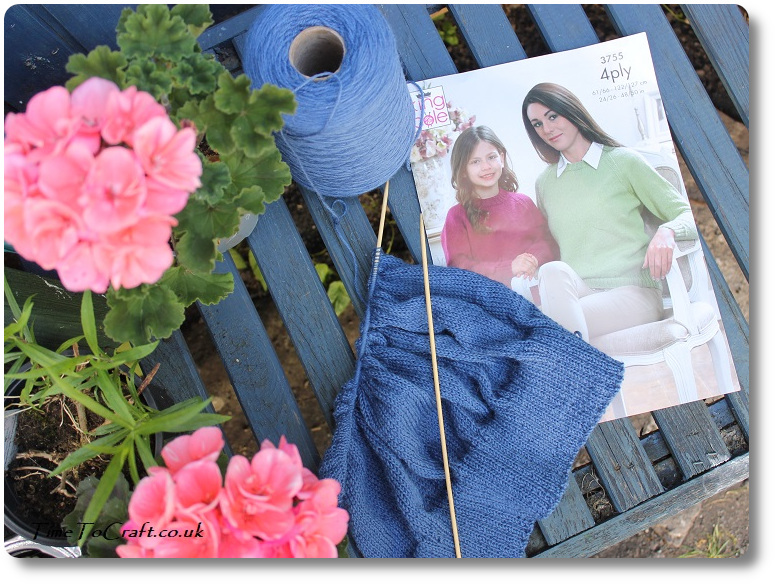 Although, this knitting is also good for picking up at other times too. Like sitting in the garden with cup of peppermint tea. Surrounded by geraniums.
I think I have a way forward. It does feel good to be working with textiles again. Hopefully I'll have a new handmade outfit, but really it's all about the journey and not the end point for me. Making pretty things is good for the soul.
I'm interested. Has anyone else found they've put their crafting aside in the last few months?