McCall 9251 – handmade summer dress for me
I may be speeding up with my sewing projects. It took me a week of squeezing an hour, here and there, in at the evenings and weekends. Going from the cutting out stage to wearing, in a trice. Of course, in that time, the weather has changed from glorious summer-dress-wearing to refreshingly showery, but I'm not blaming my dress. The sun will come out again. I will be ready.
I picked up the pattern from a charity shop. Peering in the envelope, I could see it was already cut out and fortunately, it seemed to be in my size.  I then had a quandry. Do I pull out all the piece and start arranging them on the shop floor, to check if they are there, or cross my fingers and hope all the pieces were included? Not surprisingly, I went for the latter. It was only 50p and for a good cause, so no great loss if I got it wrong.
The fabric is from a local shop. I bought it on a whim. I knew most of my dress patterns used about 3 metres. I'd figure out what to use it for later. Then I got home and pondered whether it would suit being a dress. It is a very busy print. The fabric sat in my cupboard for a few years. Beautiful and soft.
Last weekend, I tidied my sewing area. With the beautiful hot weather we were having, I needed a summer dress and I knew I'd stumble across a solution, while I sorted. And there was the fabric again. And the pattern too. Once decided, the dress was soon cut out. All the paper pieces were there and, somehow, being already cut out, it made it easier to get going on the project.
The bodice took longest and I was pleased at how well I put the collar together. It wasn't until I tried it on, that I realised the collar looked awful on me. As a blouse it would have worked. As a dress, it made me feel like my grandmother. It wasn't me So the collar went.
I suit a v neck. I already knew that.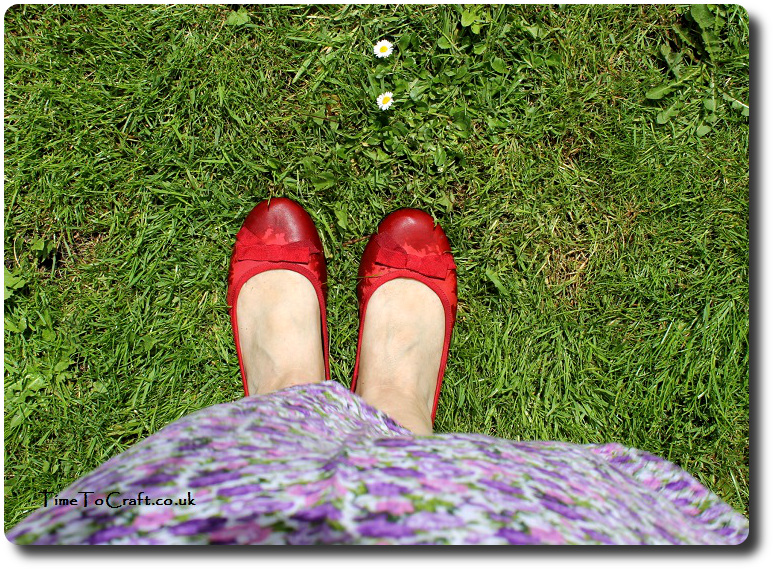 Anyway. I'm pleased with my new dress. It is loose and perfect for hot, sticky summer days. The fabric is floaty and it's easy to move in. I almost forget I'm wearing it. A nice change from my usual poplin cotton, which tends to be noisy and stiffer. I might drop the hem a little, after seeing these photos, but apart from that, I'm happy.
I used three buttons from my stash. Strangely, each of the children individually picked out the same buttons from my tin. I knew they were the right ones!
I sewed this dress using my old hand cranked Singer machine. It is a dream, especially with the top stitching. Although next time,  I might use my electric machine for the long seams. They seemed to take ages. Yawn. All french seams as the fabric is thin and prone to fraying. The other neatening and button holes I did by hand.
Almost forgot to say, thank you to middle daughter for taking the photos.
Right. On to the next sewing project. Might even go for another summer dress. Scissors at the ready!