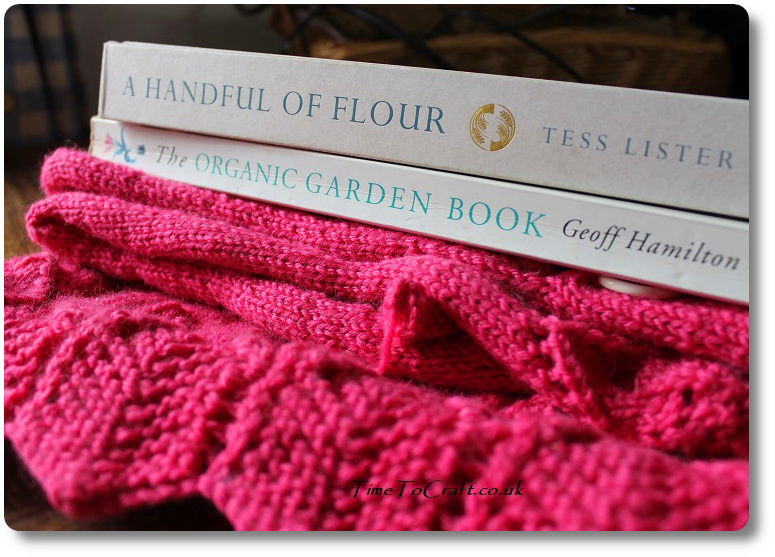 It's time for this month's Yarn Along. A moment to share my latest knit and book.
I have to admit, I didn't feel remotely creative last month. Certainly not in the sense of knitting or sewing. Not helped in the least, that I'd reached a tricky point in my knitting. I had to put in time to figure out how to put the finished pieces of my raspberry waistcoat together. Followed by picking up stitches to make borders, which is most definitely my least favourite part. So far, I've resisted the temptation to throw it to one side and start a new project. Something simple, requiring no thought.
So, my cardigan is semi finished. All the parts are knitted. They just need joining together.
Book wise, I've been reading my homesteading books. We've decided to dig up the old kitchen garden again and plant it up. We abandoned it a few years ago, as it was proving too much for me to do by myself. I'm also expanding the existing kitchen garden. Fingers crossed, I should have enough room for all the seeds I've bought. With the schools closed, until September possibly, it should be easier to keep on top of it all and, more importantly, feed us. I have captive work force, who are fortunately keen to help me.
We were hoping to buy a new greenhouse, before the lockdown, but I missed the moment. Instead, I'll make do with my existing one and the old glass corridor, at the side of the house, which we optimistically call a conservatory. It may be a race between the plants growing and taking over the two glass areas, and the movement restrictions being lifted. We'll either be drowning in fresh, green leaves or make it out in time to buy a second greenhouse. Only time will tell.
Fortunately, I seem to have reached a good place in my sourdough making journey. I can produce a good loaf which everyone enjoys. With all the family home, due to the lockdown, it is perfect timing.  They will happily nibble on it instead of the snacks they used to buy during the day, when they were out and about. I am definitely winning. Anyway, I'm enjoying planning my new variation, now I've figured out the basics, from A Handful of Flour book.
Hopefully by next Yarn Along I should have recaptured my knitting get-up-and-go, and finished the waistcoat. Am I the only one struggling to fit in knitting at the moment?