Knitted ghosts, or how I get my children up in the morning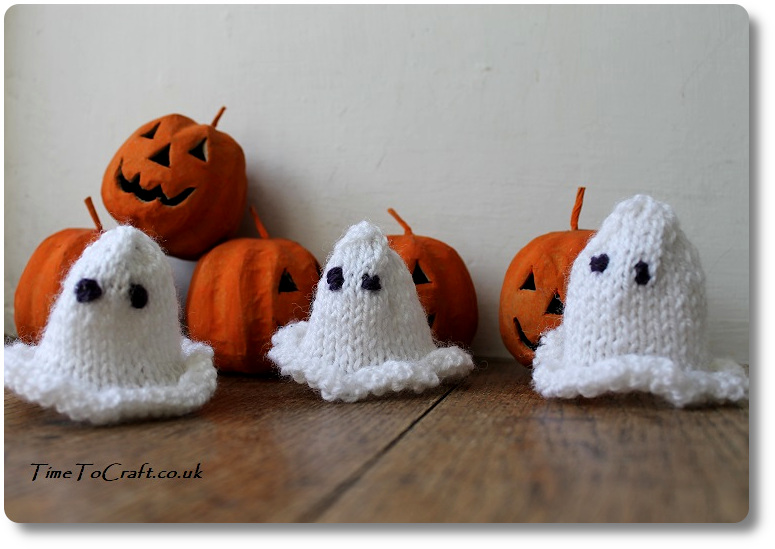 Instagram is full of smiling children posing with pumpkins in…. well, pumpkin fields. Blue sky and rosy cheeks. Absolutely gorgeous. Or slightly blurry photos of autumn leaves being kicked and waterfalling down around a small gaggle of giggling children. Dogs barking in the excitement. Oh can you hear it? The rustle and laughter. The autumn half term is in full swing for most children in the UK.
Or so it seems.
Running up to half term
There are still some children (about half in number) counting down the hours until their half term starts, next week. Tick, tick. Tired and unamused. Still stuck in class. Struggling to make it up in time for the school bus.
My three are counted in this group. Petty arguments blow in from nowhere. Jokes are taken as personal attacks. They are tired. Oh, so tired. I do pity the teachers who have to make the last week survivable for everyone, and I mean everyone.
Hmm. Time to wave my magic wand. Or pointy sticks, as the case may be this time.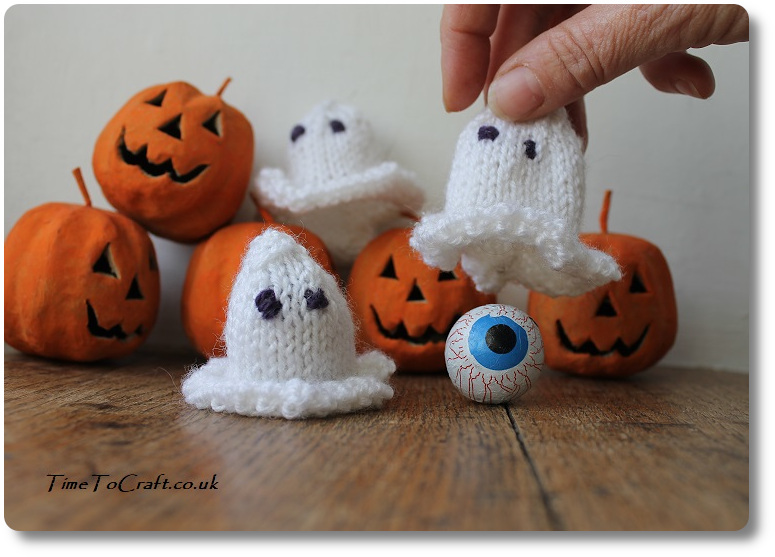 Now, I can't make time move faster. To be honest, I wouldn't even if I could. Wishing your life away is something I am not signed up for. Instead I can sugar coat it a bit. Add a smidgeon of nonsense. I'm good at that.
Cheering up the morning
So, this week, I knitted three ghosts.  Quick and easy. A bit of yarny fun at its best. Each morning, the ghosts have been waiting on the breakfast table. One for each. Under the knitted ghosts are a Halloween themed chocolate. Varies each time. The big eyeball had popping candy in it, which I somehow forgot to mention. Always a good way to make their eyes open wide first thing. Or any time, come to think of it.
This morning, Eldest teen reached for her ghost, and uttered that she was in need of chocolate, as her head hit the table again. I feel her pain. If these ghosts can help her morning go a bit sweeter, then I know I'm winning.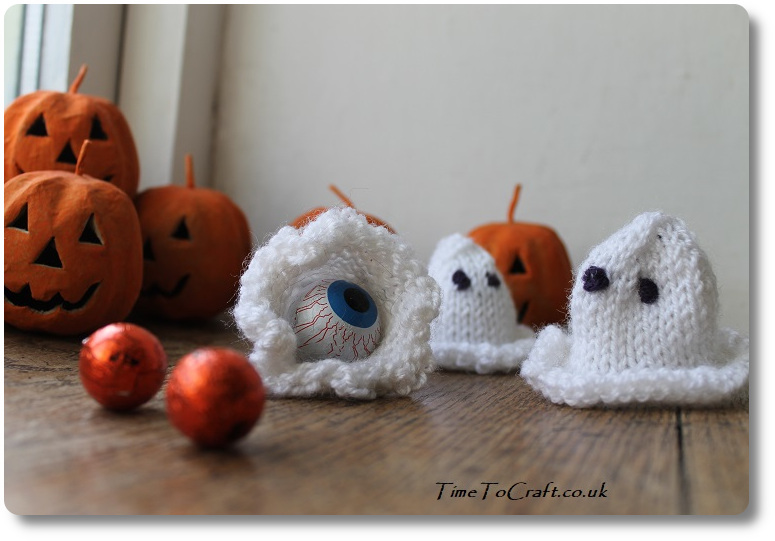 One of them did suggest that I should only put two ghosts on the table, instead of three. Like musical chairs but with ghosts. One less each day. Last one down misses out, but I think this might be a step too far. Also I have images of broken arms and black eyes as they endeavour to be the first down. Not really the result I am after. Definitely not. Harmony would be nice, but I just want them up in time in the morning.
Has it worked? Well, I think it has. They were all ready in time this morning. One to me then!
victory dance around the kitchen table
Now, in case you have children struggling to get up and would like to knit your own ghost, here are the instructions. Or just fancy making a few ghosts, of course. A bit of fun never goes amiss.
Knitted ghosts
a ball of dk wool, white
4mm needles
small amount of black yarn
cast on 50 stitches
knit 1 row
purl 1 row
knit 2 together, repeat to the end of the row (25 stitches)
stocking stitch 10 rows (knit 1 row, purl 1 row)
(knit 2 together, knit 3) repeat to end
purl 1 row
(knit 2 together, knit 2) repeat to end
(purl 2 together, purl 2) repeat to end, purl 1
(knit 2 together, knit 1) repeat to end, knit 2 together
(purl 2 together) repeat to end, purl 1
cut off yarn, leaving a couple of inches of yarn to sew with. Thread through the remaining 4 stitches and pull. Secure and sew up the seam of the ghost.
Use black wool to sew eyes
Finished, except for hiding the chocolate.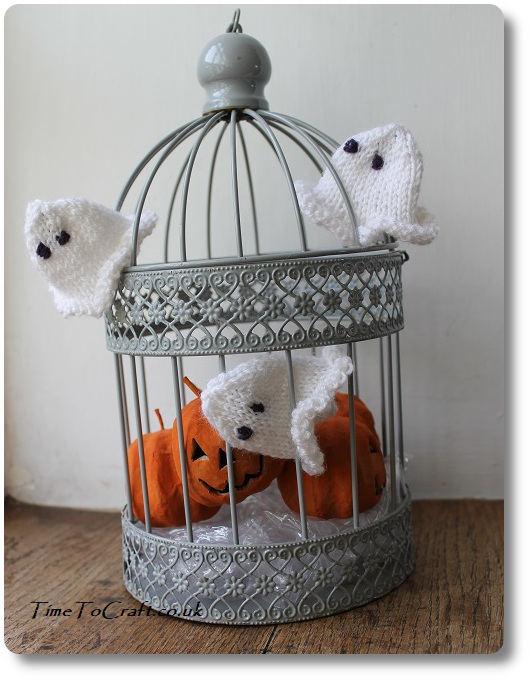 After that, I cannot be responsible for any mischief the ghosts get up to. I have my own work cut out, with these three.
For more autumn nature craft ideas check out these ideas: