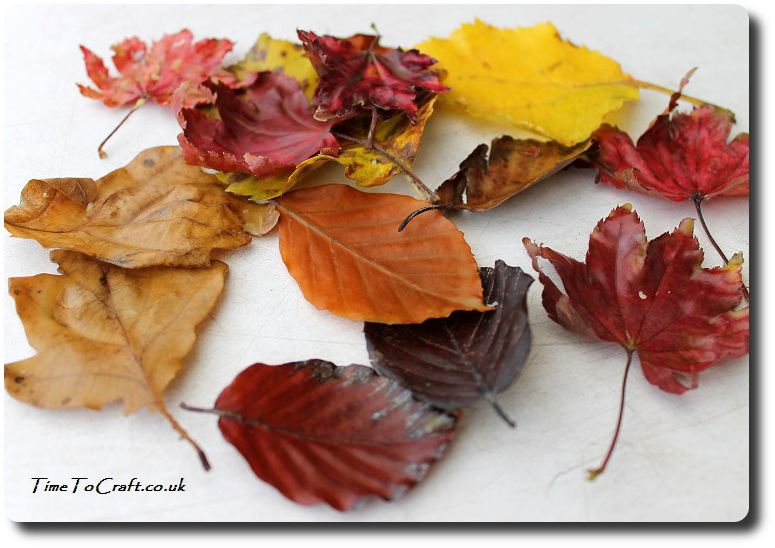 Yes, those are waxed leaves. Leaves covered in wax to preserve them.
I'll admit. Any craft that involves beeswax is probably a winner with me. The fragrance and smoothness. Add in nature finds and you have the makings for a lovely morning of crafting.
The wax helps to preserve the leaf by sealing it in. It keeps the colour, and prevents it drying out and disintegrating. Perfect if you want to use them in wreaths or as table settings, where they need to keep their appearance for a while.
Alternatively you can sandwich your leaves between sticky back plastic and cut around the shape of the leaf. They tend to be flatter, but there is no hot wax involved.
Want to know how to wax leaves?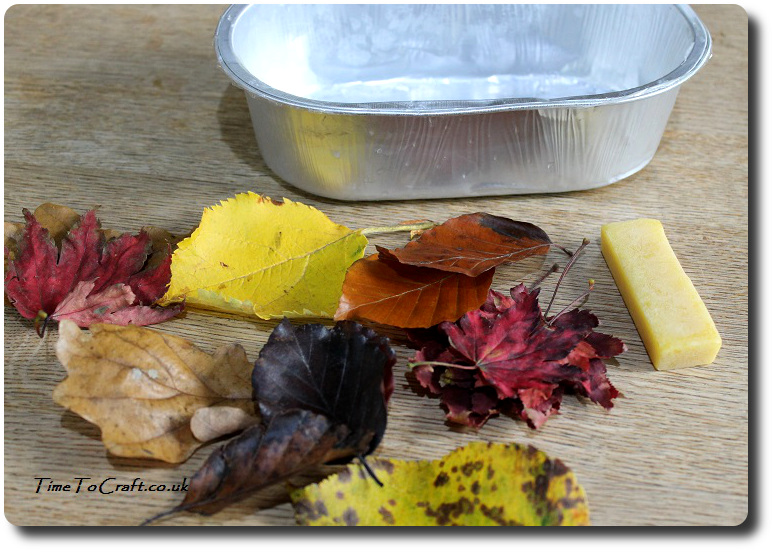 How to make waxed leaves
You need: fresh leaves, beeswax, ovenproof container, greaseproof paper and pegs (optional)
1. First collect interesting leaves. Different colours and shapes. With stalks. That is important. Pat dry in a tea towel or kitchen paper towel.
2. Melt the wax in your container. I pop it in the oven for 2 minutes, on a tray, at about 175 °c or 350 °f. Needless to say, melted wax is very hot, so please take care when working with it.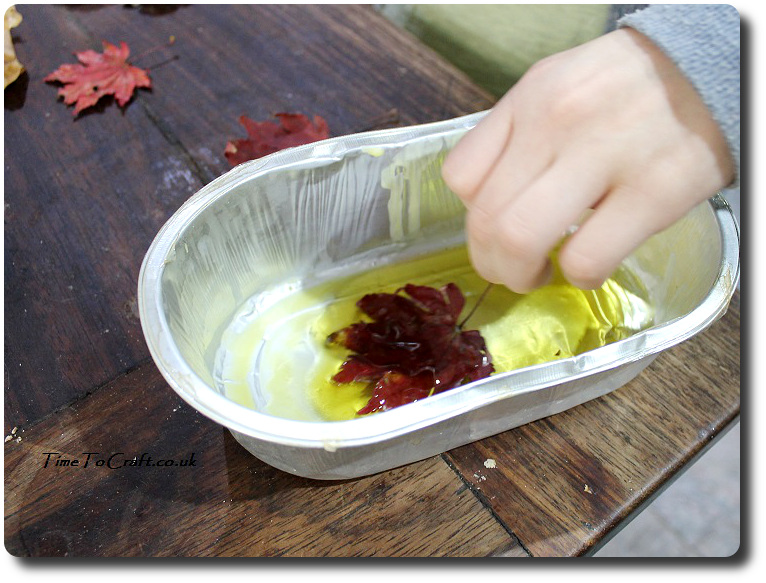 3. Holding the stalk, in one smooth movement sweep the leaf in the melted wax. You can use a clothes peg on the stalk, to keep little fingers even further away from the wax.
4. Repeat for the other side of the leaf.
5. If it is not totally covered, repeat. I use a wooden peg to push the leaf into the wax briefly.
6. Hold the leaf above the container, to allow excess wax to drip off the leaf. I give it a small shake to prevent the wax pooling on the leaf.
(whoops! a different leaf pictured. The wax does not change a red leaf into a yellow one. I just missed the dripping red leaf.)
7. Place the leaf on the greaseproof paper to set. Wrong side of the leaf down. Allow your leaf to set on the paper. It shouldn't take more than a minute or two.
And that is it. You now have a waxed leaf. Ready to use in another crafting project.  Repeat for all your leaves. As soon as the wax is showing signs of setting in the container, then melt it again, before waxing another leaf.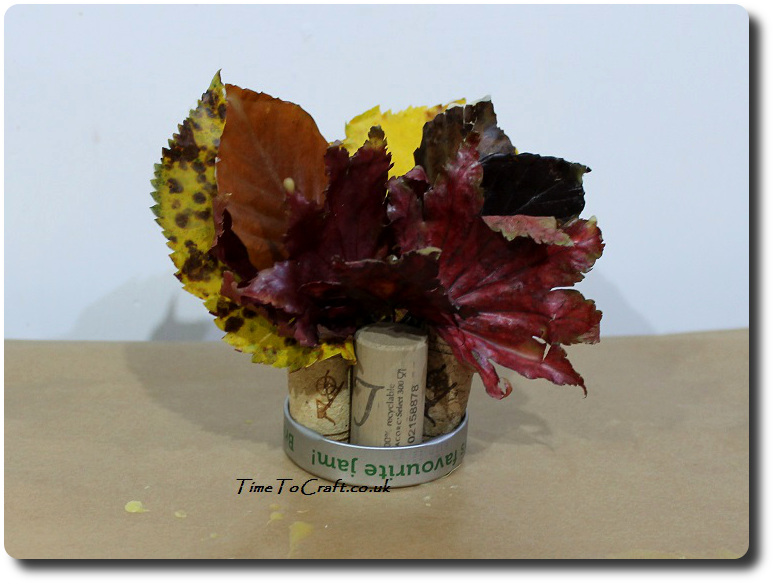 If you are the sort of person who likes to collect the dripped candle wax and scrap off the candle drips from the table, you'll love this craft. If you are careful, any cooled pools of wax on the leaves can be eased off. Any wax on the greaseproof can be peeled off and put back in the container, for remelting. Nothing is wasted.
Treated carefully, I have kept waxed leaves for a few years. They are delicate, but if you store them in a cool place, in a rigid container, they can be brought out every autumn. Alternatively, they can be added to firestarters when they grow too tatty. Nothing is wasted.
This is not a craft for every age. I've heard about people letting toddlers take part, but I kept this craft to myself until my children were older. If they can fry onions, then they are ready to wax leaves, in my book!
Now, collecting leaves is good for any age.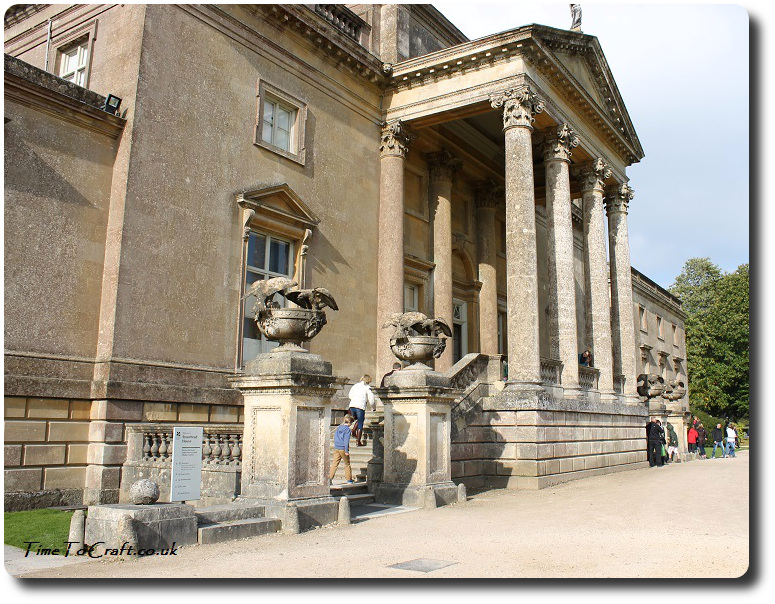 Yesterday, we went to Stourhead and collected our leaves. We're making good use of our National Trust membership this year. The children loved the paintings in the house and were really struck by how friendly everyone was in the house. They spotted lots of mini pumpkins dotted around the house as part of the autumn trail.
The sun shining and the turning leaves had brought everyone out to visit. It was incredibly busy.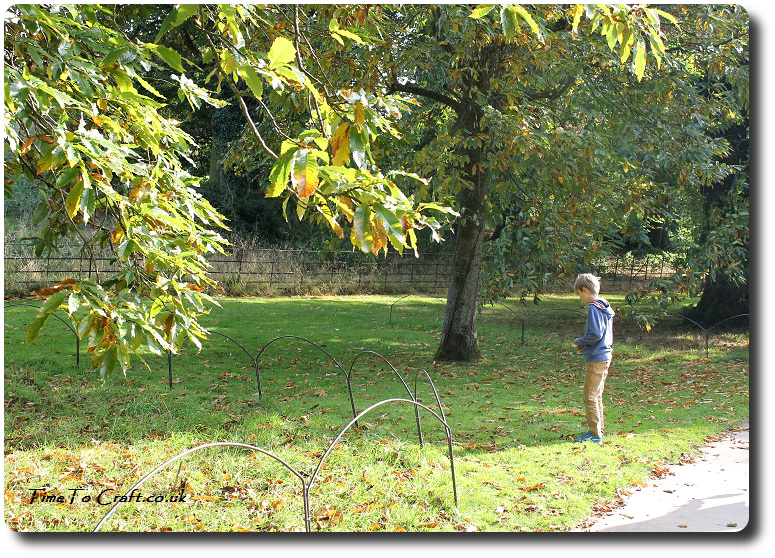 There were still quieter areas, where we collected leaves and a handful of sweet chestnuts. Generally admired all the different, beautiful colours that leaves can turn.
The greenhouse was a great place to warm up. How I wish I had a greenhouse like this one.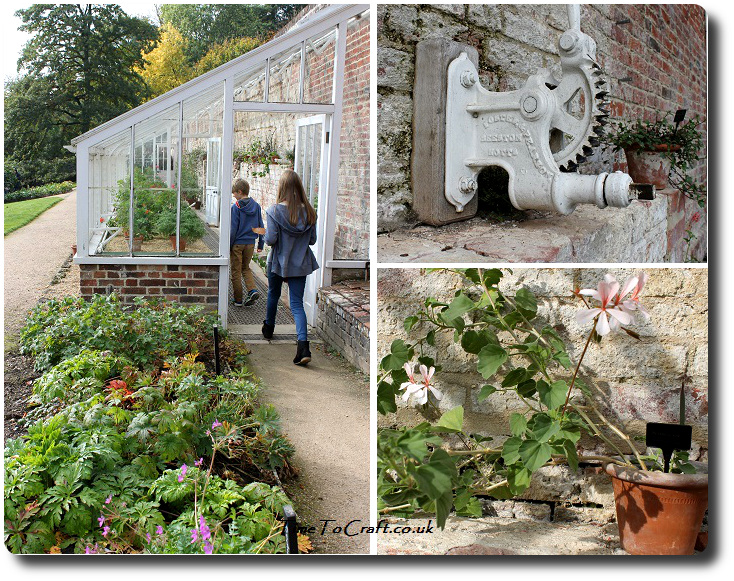 Today it is raining. Waxing our leaves seems a fun inside craft. I left the leaves in the kitchen over night. I should have left them somewhere cooler, as they started to dry out and curl up at the edges. I do quite like the effect now they are waxed.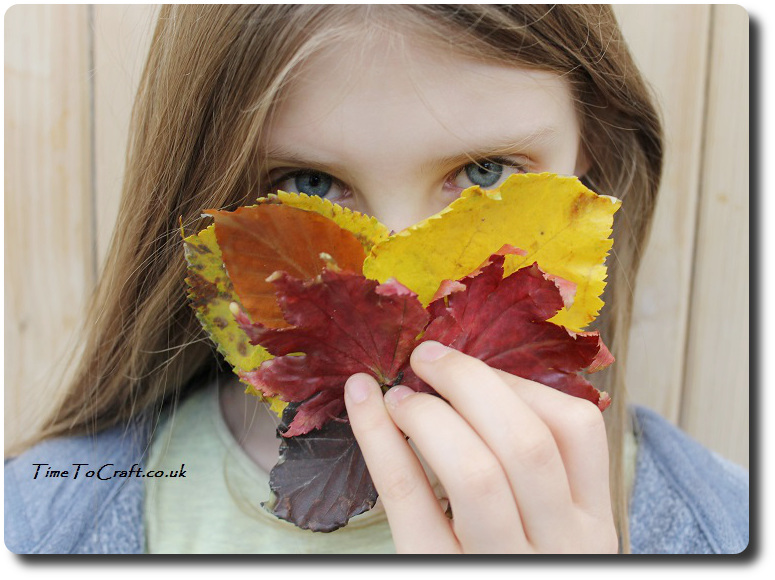 It was good to spend time crafting with my daughter. We have plans to add this to an autumn wreath for the door. Hopefully I'll post up the result of that project later in the week.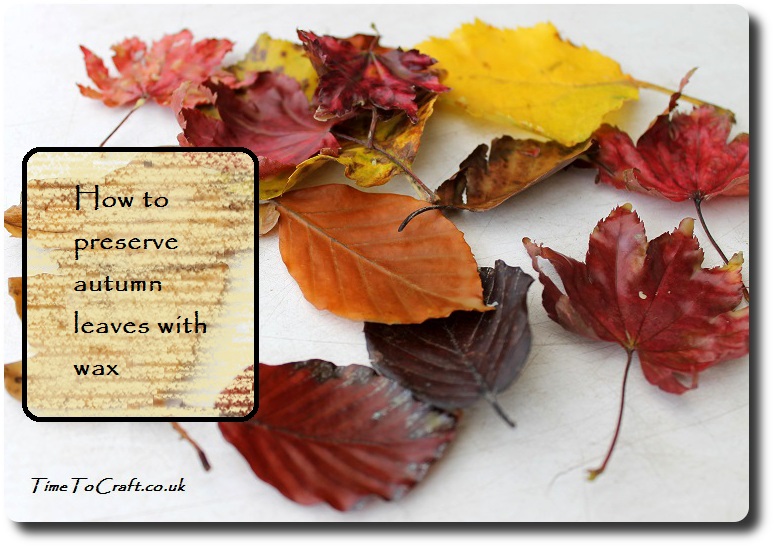 (edited: I've added another waxed leaf project here.)