So you have a pocket full of shells.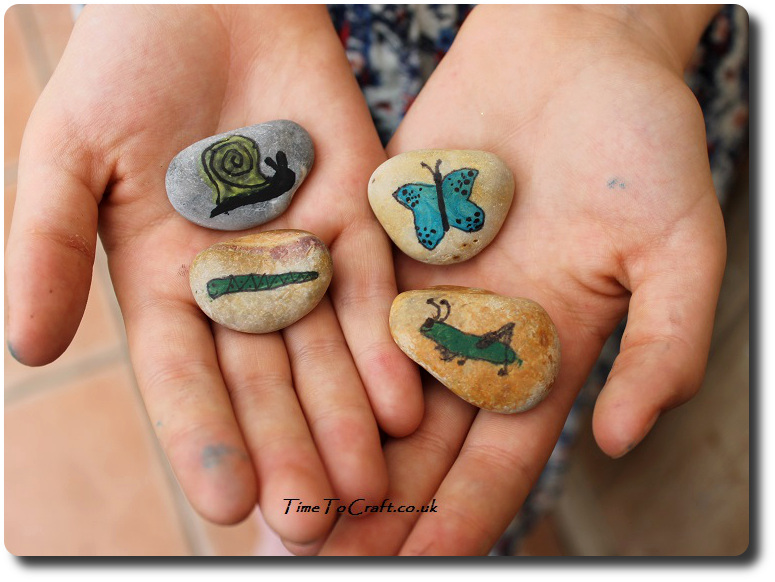 Imagine the scene. You take a family walk along the beach. Everyone has had fun exploring and making new discoveries. Tiny crabs have been picked up and examined. Seaweed has been waved around like mini, festive streamers.
Pockets are filled with sea shells and interesting stones. Tired, but happy, you call it a day.  Before you climb in the car, with half the beach in your sandals, the day is finished off with ice creams and ice lollies from the local van positioned perfectly in the car park. At least one child has chosen the ice lolly that turns their tongue blue, and then spends the next five minutes making sure everyone has seen it.
Sigh. It is the kind of day that lives on in the collective memory of all the family.
Hours, days or even months later, you reach into your pocket and find a few shells still nestled in your pocket. Along with a generous sprinkling of sand that instantly squeezes under your nails. The memories flood back.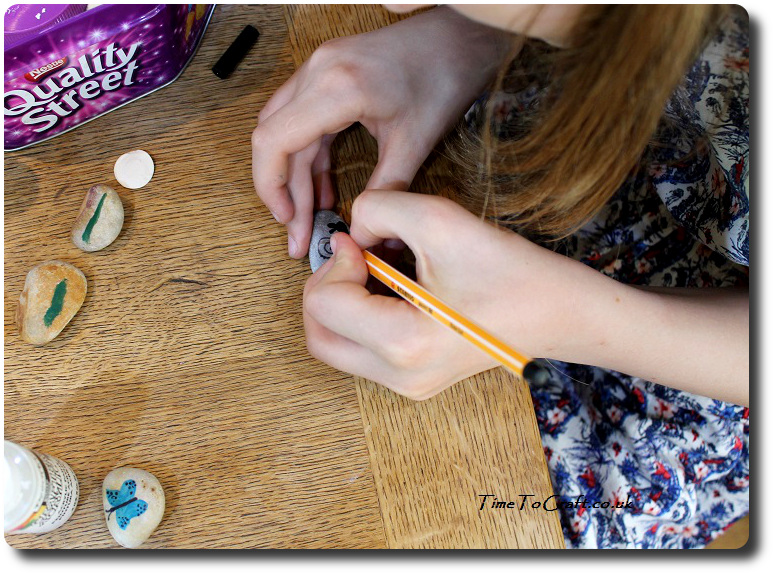 I cannot deny it. I love beachcombing. Each year, our collection of seaside finds seem to grow.  I have jam jars on the windowsills, filled with shells, pebbles and fossils. Not forgetting my favourite sea glass. It really is time I started crafting with them. (edited: I used the sea glass here).
Today, Middle daughter and I came up with a plan. We made a game that we'd read about in one of our maths books. Four seaside pebbles were painted with a snail, a butterfly, a grasshopper and a snake. All creatures we find in our garden.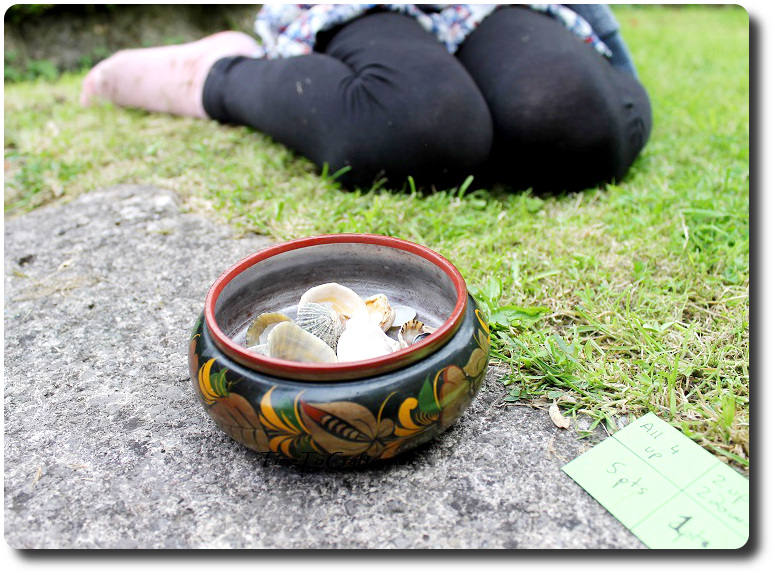 Fifty seaside shells were counted out into a bowl.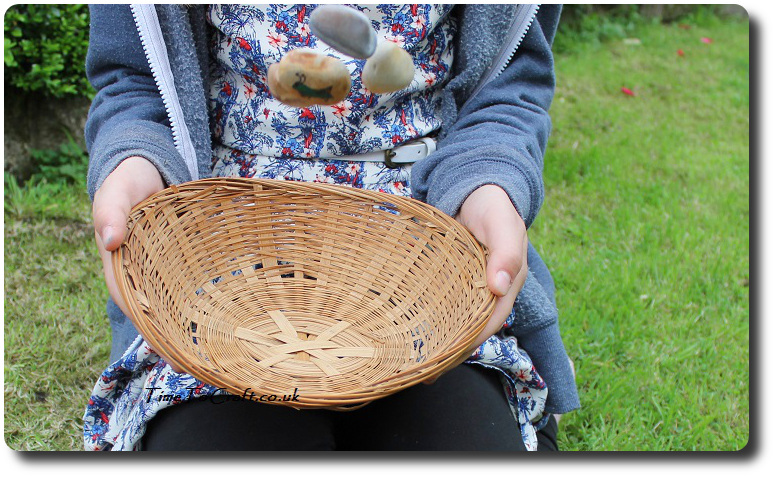 (makes me smile that I managed to capture the grasshopper hopping out of the basket.)
The idea is to flip the stones up in the basket and catch them in the basket.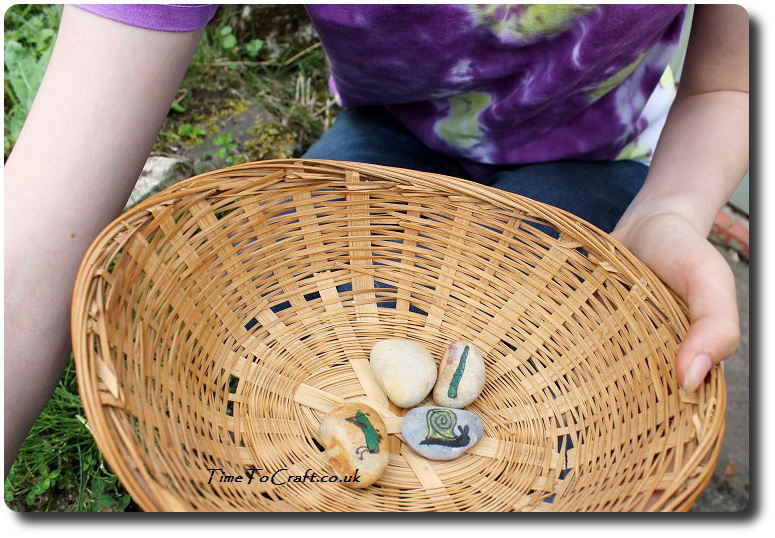 Each stone will either land facing up or down. The scoring is based on how many of each lands face up or not. We went with the suggested scoring system. 5 points if all four stones land face up or face down. 1 point if two up and two down. Anything else is 2 points.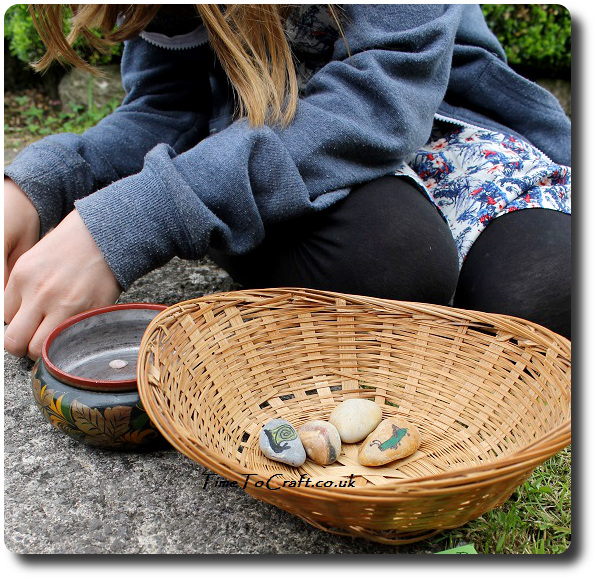 To keep track of the score, each time the player would take the same number of shells from the pot, as the points they had won. A score of two would give them two shells for their collection.
We kept going until the pile of sea shells were almost exhausted and everyone had had the same number of goes.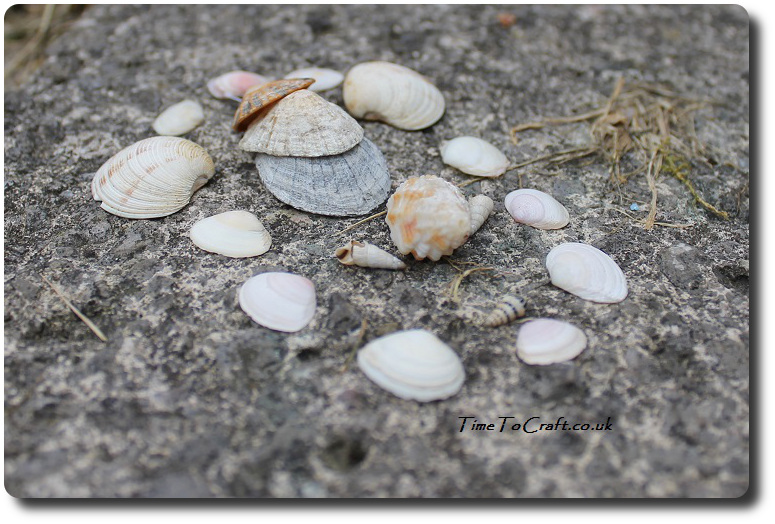 In between turns, I noticed that the children were having fun arranging their shells. It was fun seeing some of the shells again, and remembering which beach we picked them up from.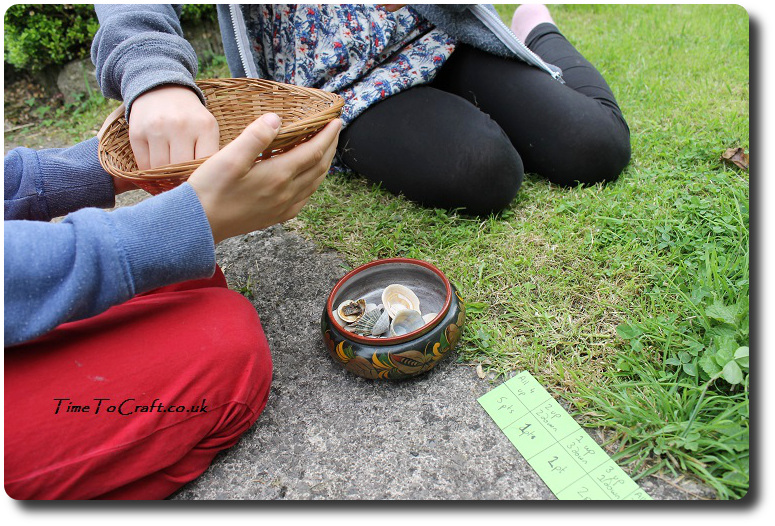 They worked well as a team, teaching each other how to play the game. We talked about the probabilities and what could be effecting it. How we could make it fairer. How we could test it. I don't think they were even aware that we were working on their maths. They were having fun.
They suggested it would make a great camping game. I secretly thought that it would be fun to leave them dotted along our next beach walk for others to find.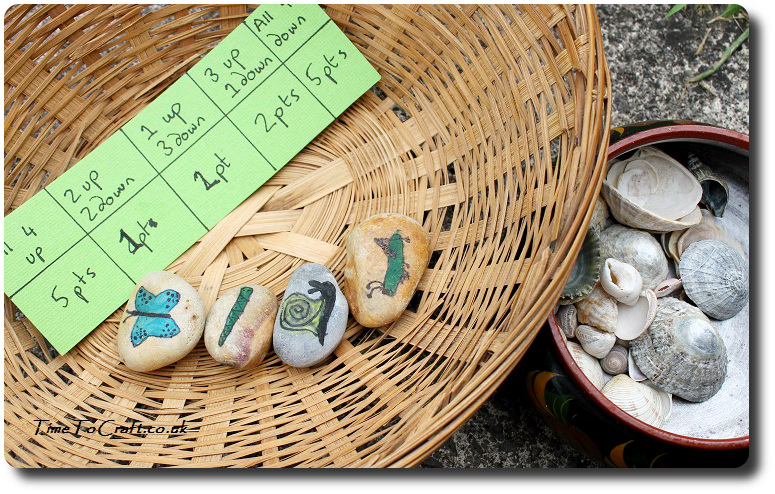 Seeing the pebbles and shells again brought back so many happy memories of family seaside walks. They really are the best souvenirs. I think we all loved having our beach finds out of the jars and in our hands again.
I have a few more crafting and educational ideas for our pebble and shell collection, which I will share soon.
Linking up with Fiona's #Trash2Treasure linky