Maps and sea glass. A recycling project.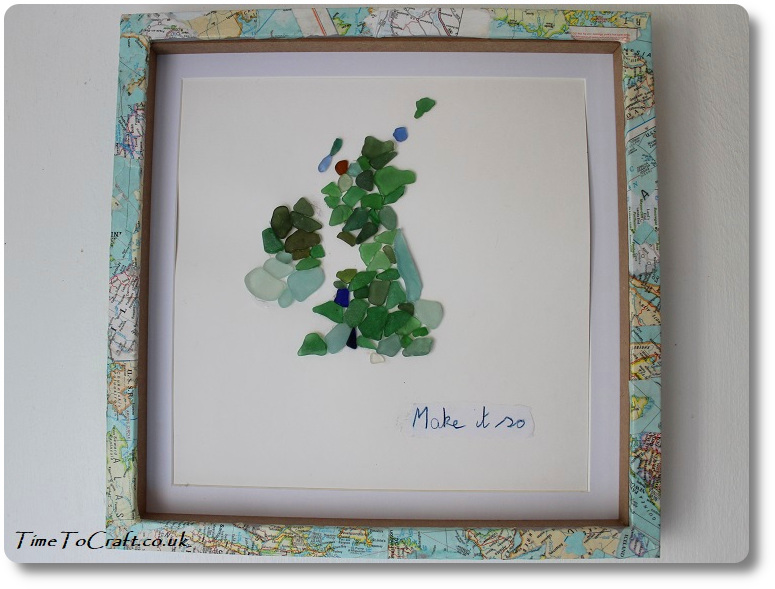 Two of my favourite things. Maps and sea glass. I mainly craft with textiles, but I could give it all up for this kind of crafting. This project was such fun and there was an unexpected twist to it too, but I'm jumping ahead as usual.
At the beginning of the holiday, I took the children down to Hobby Craft and bought a few projects to do over the holiday. It was so much fun shopping with them. OK. A few ideas I vetoed, but on the whole they chose well. Then the inevitable happened, I spotted something not on my list. I'd been so good up to that point. Anyway, there it was. A grey shadow box in the half price bin. Perfect for covering the frame with sea glass, because grey is major boring. I could add an inspirational quote in the middle.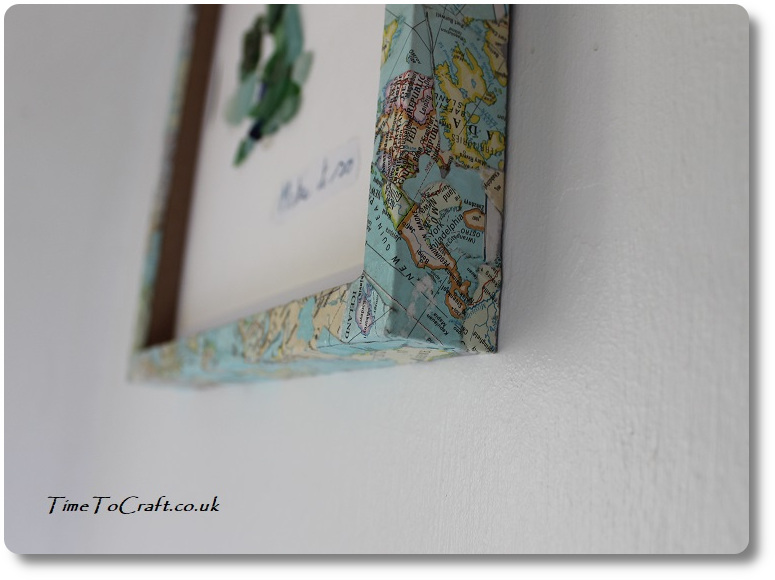 Once I got home, I realised the sea glass did not work, but world maps were the way to go. Still inspired by the map man we saw in Hay-on-Wye. Fortunately, on my list had been a large bottle of decoupage glue. I spent a happy afternoon gluing. Rather regret not wearing gloves, as I was peeling glue off  my fingers for ever. Youngest had his own sticky project (more about that another time), so we worked happily together. I love crafting with the children when they really get their teeth into a project. They chatter happily away, making them excellent company.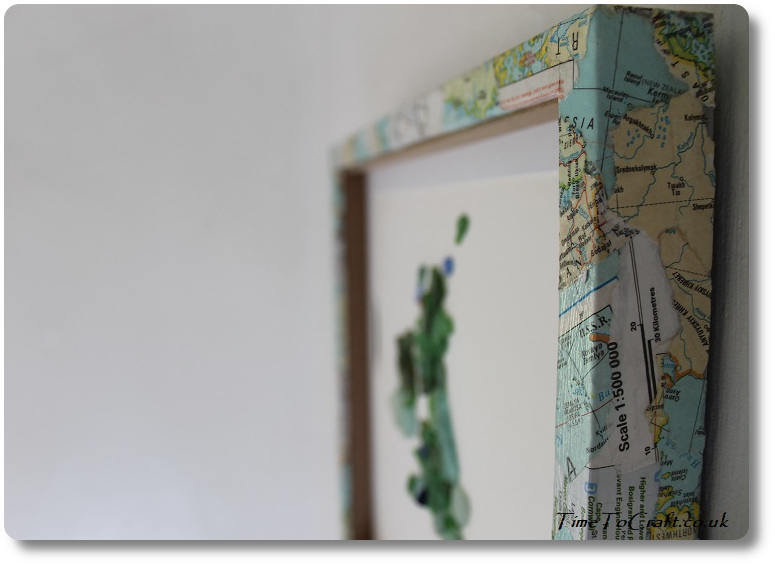 The old map was perfect. I went for the tear and stick method. A mish mash of images. Reworking the world atlas in an afternoon. Imagining how world politics would change if Syria was positioned next to Brazil, or Mexico was overlapping Canada and Germany, and so on.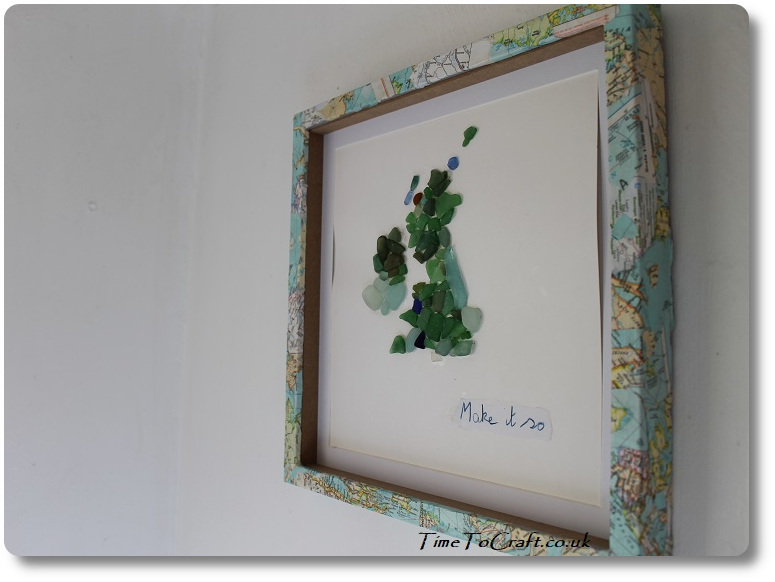 Next up, the picture. Seems a tad back to front way to do it, I'll admit. The frame before the picture, but that's how it goes. I popped the empty frame up on the wall for a few days, hoping that inspiration would hit me. I contemplated different quotes, single bird feathers and even a lone ticket. The family were beginning to wonder if I would ever put something in it. Then one breakfast, I was playing with a jar of sea glass when it hit me. A picture of the UK. Yes! Well that was it. I couldn't stop once the idea took hold. I traced the outline of Britain and Ireland (because Northern Ireland looks lonely without Southern Ireland there) and started arranging the sea glass. It was irresistible sitting on the table, so I  kept coming back to it and moving pieces around.
Using PVA glue, I stuck the sea glass on the card stock. Even then, I removed some of the then sticky glass and swapped them around.
Once dry, I added the frame and hung it up in the downstairs loo. I added a note "Make it so", which is a reference to Star Trek and hopefully will inspire the children. Although, they don't know the connection to the Sci-fi series/film, unless they are reading this. (In which case, surprise!) My aim is to make them think.
I've finished it. No more fiddling with the position of green sea glass. Final act is to stick the picture to the backing, to eliminate the slight bulging edges of the card stock.
Now for the twist. As I prepared the photos to add to this blog post, I spotted something unexpected. Had to check it out with the real picture, to make sure it wasn't just a trick of the lens, and it isn't. Not sure why I hadn't noticed before. In fact, I seem to have positioned the glass bits as if I had done it on purpose. Apparently, my subconscious was working on a whole different project.
Take another look. Can you see it?
It's a dragon. Puffing smoke rings up into the sky. (Apologies to those who are not familiar with places in the UK, but I hope you get the gist of it.) The top of Scotland is the snout, with Skye and Inverness/Aviemore making the eyes. Ireland is the wings and Wales are the spikes along the back. Cornwall and Devon are the tail. I could not have positioned the long thin light blue glass, to make a dragon's belly, better. Can you see it? It's a dragon, but the UK at the same time. I may never be able to look at the map again, without seeing the dragon too.
Double reason to be happy with my picture. Maybe I should try another country and see what my subconscious makes of it. Sea glass is so much fun to work with. Fun to collect too. A good excuse to head for the coast, me thinks.
What do you think? Dragon or the UK?
Hope you are having a good weekend. Till next time.