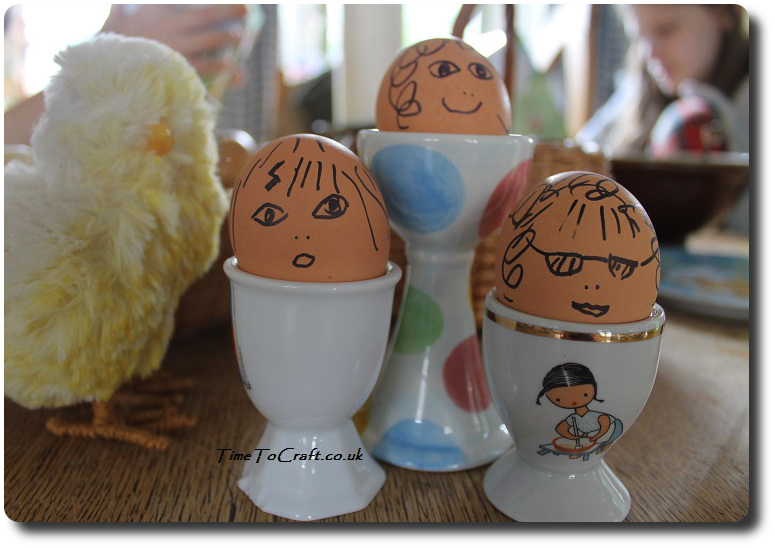 Easter holidays are almost over in this neck of the wood. Uniform is ready, homework is up to date and we're all gearing ourselves up for the return to routine. Two weeks have flown past, but at the same time we've sunk indulgently into a different rhythm which feels so very comfortable and how it has always been. I'm loathe to give it up. Tomorrow will be a shock.
As holidays go, it has been relatively quiet. Which is good. With exams on the horizon for eldest, I didn't want to be haring around the place. As it was, we lost three days of the holiday to study camp.
It's also the time of year I like to dabble in spring cleaning and decluttering wardrobes and chests of drawers, causing chaos to reign for a while in certain rooms, until order can be returned. (not complete yet) I am so grateful for the good drying days we've had. I even washed and dried the flokati rugs outside. Serious win, as far as I'm concerned.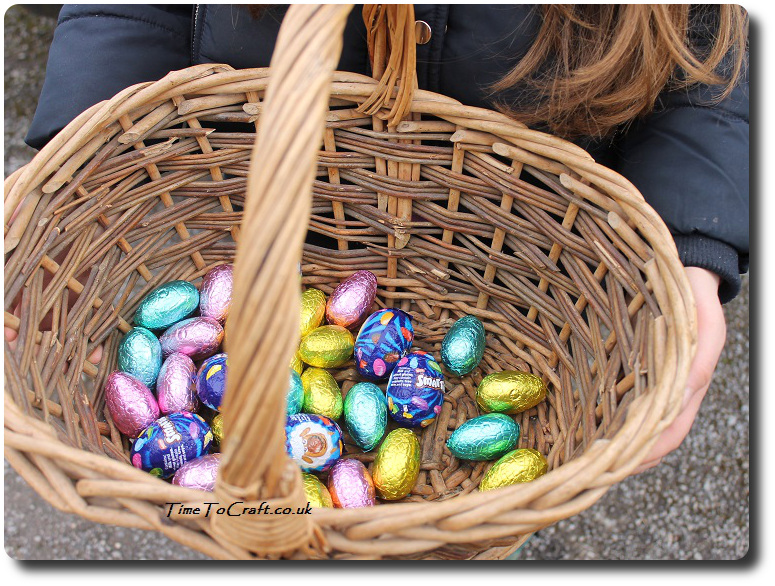 We still managed to fit in our usual Easter fun. The chickens laid chocolate eggs. Only happens on Easter Sunday. It wouldn't seem right to miss such an event. There are only two hens, at the moment, in our chicken ark, but miraculously they were able to produce three eggs for each nest hidden around the garden. Handy when there are three children to join in. The weather was kind too and the hunt was completed in phenomenal time as usual.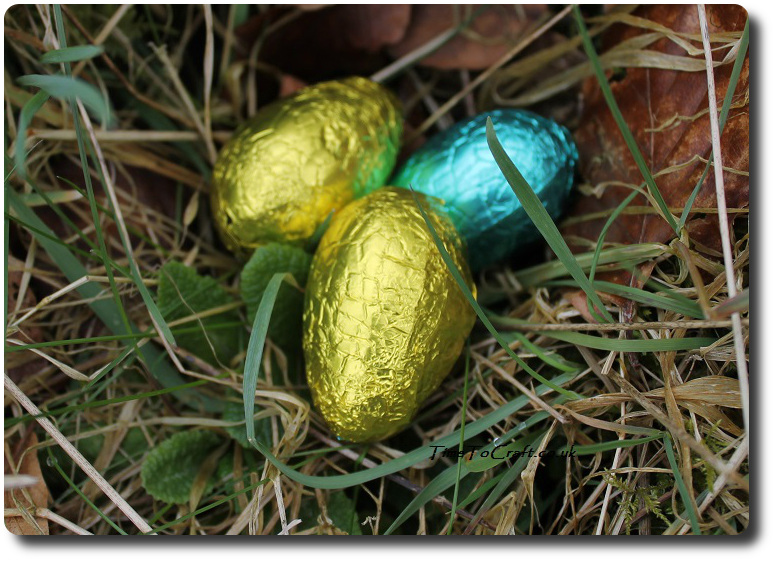 Fortunately, the hens laid their first proper egg, of the year, the day before. To start with the chocolate variety might have set a difficult precedent to sort out over the following weeks.
No holiday would be complete without something new being made. The teens used the hand-cranked Singer machine to recycle old jeans. I find it so difficult to throw old jeans, which came in useful, at last.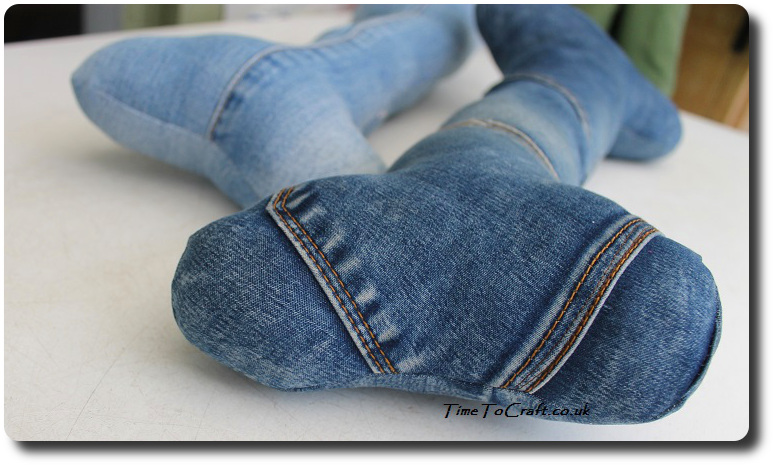 They've made two, so far, with another one marked out. I gave them old bed pillows to use for the stuffing. If the bones don't survive, then nothing much is lost. My hope is that they survive longer than it took to make them. A good rule of thumb. Not much worse than taking months to knit a jumper only for the child to grow out of it in weeks.
Same goes for denim bones.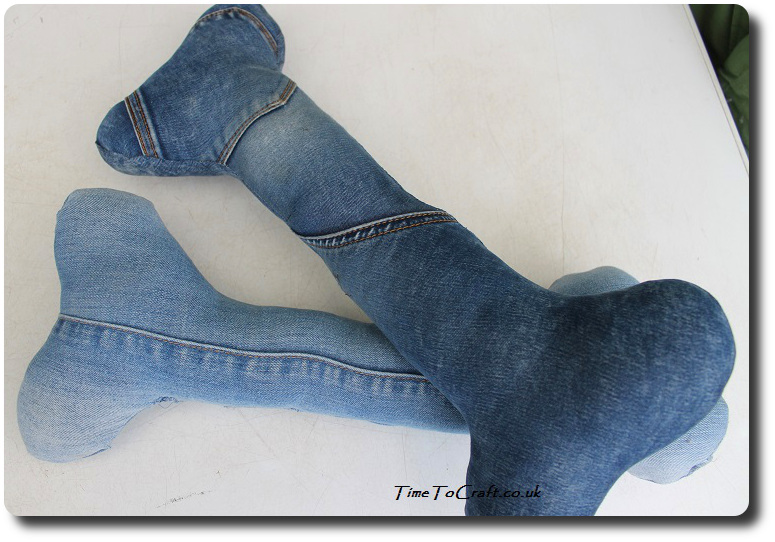 We found the denim bone idea over at Pillar Box Blue. Rather than using the template, we drew out our own, as we needed a slightly bigger version. We found it less tiring on the hand to use a rotary cutter rather than a pair of scissors, when cutting out the denim.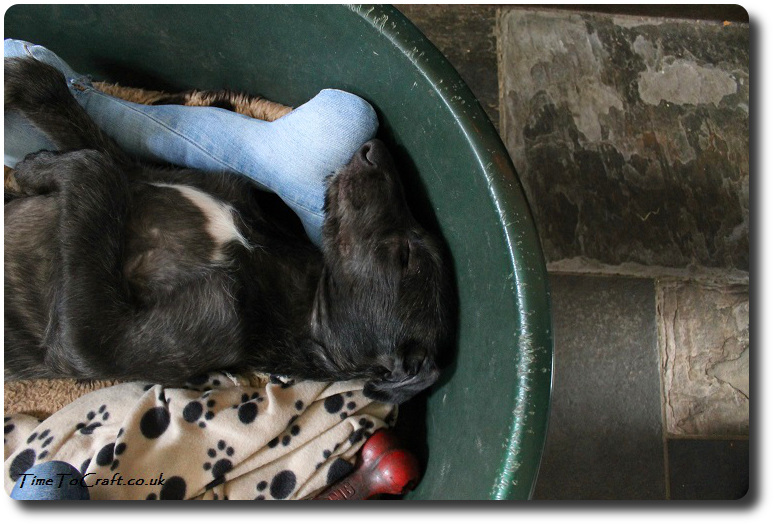 So far the bones have survived. They have been used for biting and throwing around, but also as pillows to snuggle up to.  Perfect for a tired pup after a busy day. He does look cute trying to carry the overlarge bones around.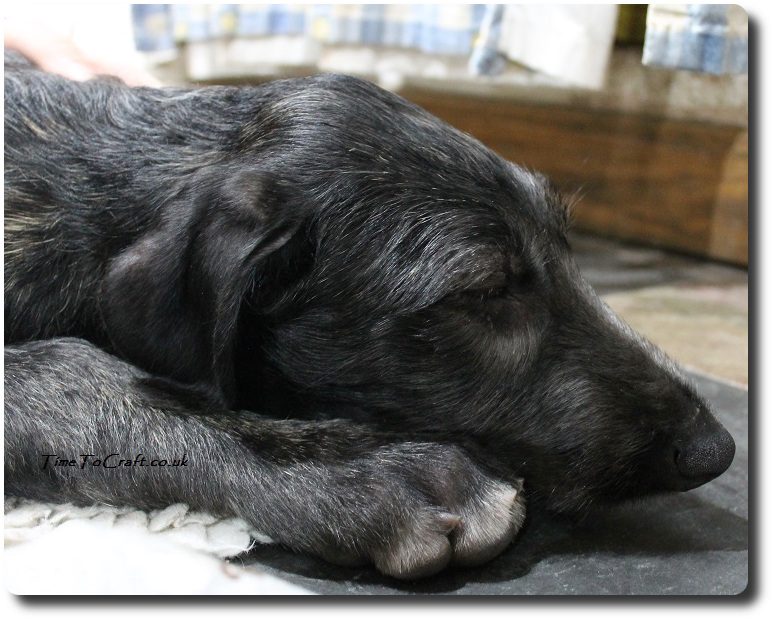 As you should be able to see from his large paws, this will come easier as he grows. The bones are picked up at night, along with his other toys. Just in case.
I really should introduce our new addition.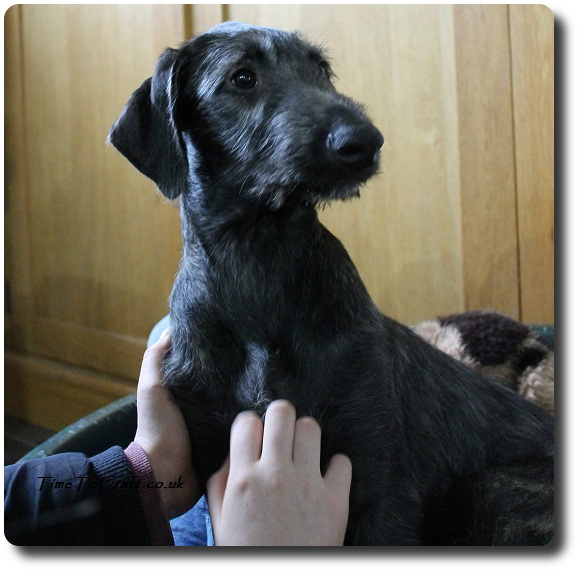 This is Hero. He was meant to fill our second-dog vacancy this spring. He's currently doing a grand job of rearranging our house and keeping us all on our toes. Every story needs a hero, as they say. Something tells me there will be plenty of tales to follow. You could say, I can feel it in my bones.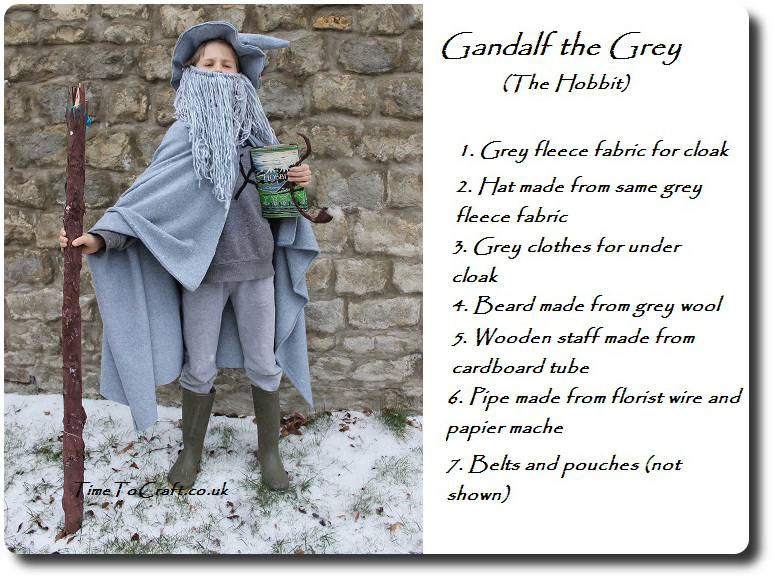 I know, I know, I've already shared the photos on this one, but I just can't resist a few more. It needs its very own post, with the added bonus of how I made it too. So forgive me. Here is the Gandalf costume again. For just one more time.
It will be of no surprise to regular readers that I love making costumes. Given the choice, I'd far rather throw together a dressing up day outfit, for one of the children, than anything else. I think it's the props that do it for me. Not much call for a papier mache smoking pipe when sewing an ordinary, everyday blouse. Well, not for me at least.
I am the parent that happily dances around the kitchen when presented with a note from school about their upcoming dressing up day.  Then spends the rest of the day googling images of characters, diving head first into my craft supplies and ignoring all household chores. Bliss.
World Book Day was last Thursday. Youngest was decisive and instantly declared he wanted to be The Hobbit's Gandalf. He liked the idea of Bilbo Baggins, but his friend had already called that one, so he'd ruled it out before even getting home. I did suggest Smaug the Dragon. Alas, it fell on deaf ears. I slid my design for impressive flapping wings under my pile of notes. They will have to wait for another day.
Instead, without further ado, this is how we made a Gandalf costume:
The Cloak
The cloak and hat are made out of grey, fleece fabric, after I discovered the blanket I was going to use, just fell to pieces as I cut it. Into tiny, little particles, which, with hindsight, I should have spotted as a possibility. There was a good chance of a health risk, so the blanket was abandoned. I couldn't find a suitable grey curtain in any of the second hand shops and ended up buying 2 metres of fabric.
I left the cloak as a rectangle, to be held together with a clip. The hat is made up of a cone and a ring doughnut cut out of the rest of the fabric. I lined it with stiff woven fabric and a second layer of fleece. This allowed it to be shaped and wrinkled, as I liked, rather than just flopping down as fleece has a tendancy to do. It was a bit of a rush job and has since been reshaped.
The Beard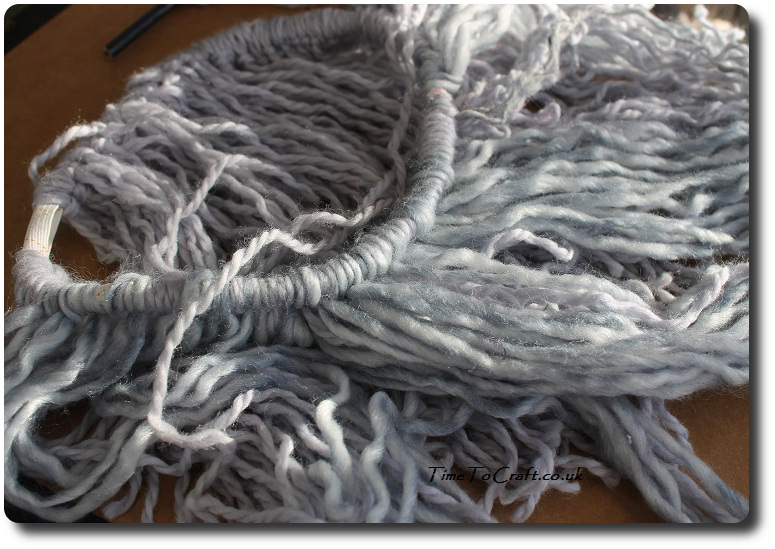 The foundation of the beard is a loop of medium thick elastic that goes under his bottom lip and up to the top of his head. We cut lengths of grey, non-itchy chunky wool, about 70-80cm long. I lost count of how many, but probably equivalent to a 75g-100g ball. Each strand was knotted on to the elastic, using the knot below.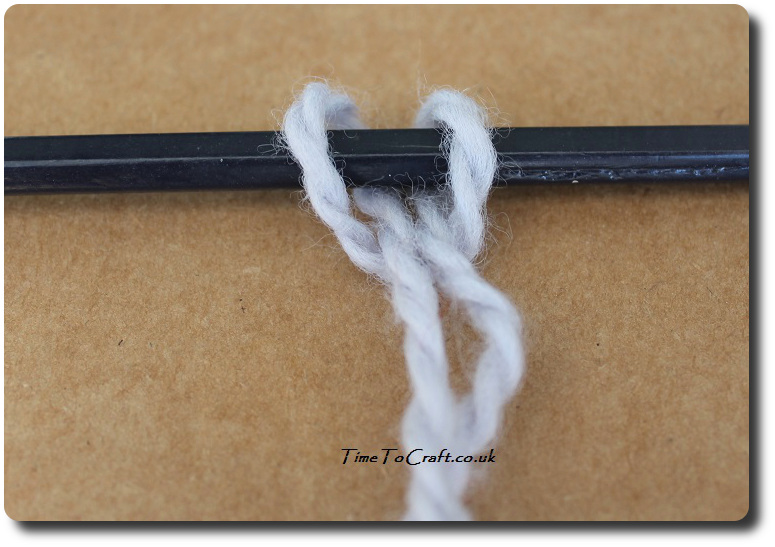 The pipe
No costume would be complete without a prop or two. It is often the defining feature. The way to rule out other possible characters and identify the intended one. Gandalf's pipe seemed a good one to add. This would make it clear that you were encountering Gandalf and not Dumbledore. I hoped. There is, of course, always one person….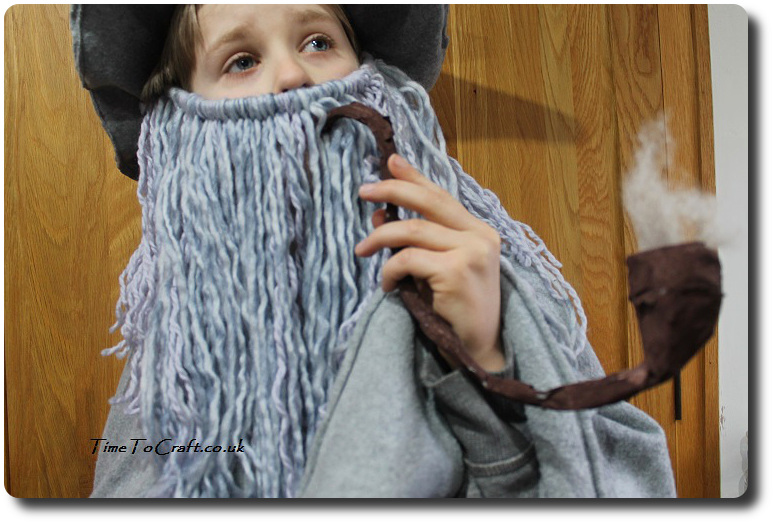 The pipe is made out of malleable aluminium floristry wire, covered in papier mache and painted brown. As a finishing touch, I added a bit of sheep's fleece from my spinning wool, to look like smoke. Cotton wool would be just as good.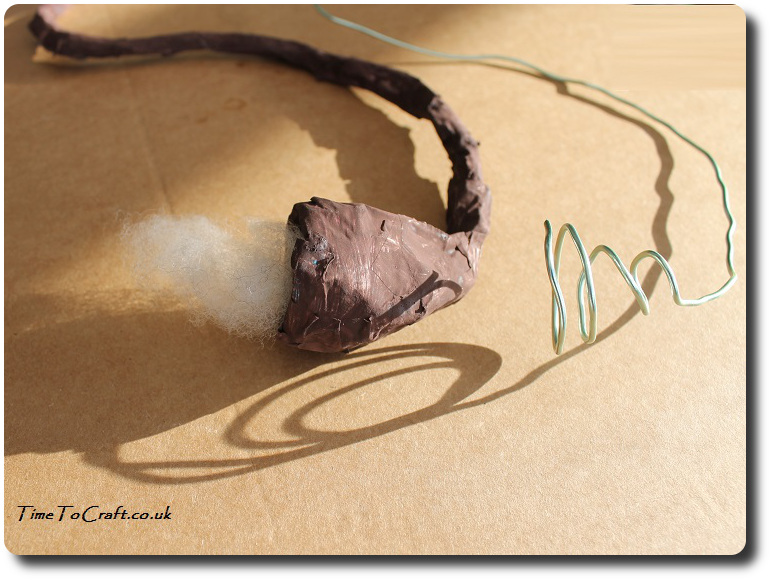 The floristry wire is easy to shape, providing a good frame to work with. Once the papier mache is added, the pipe keeps its shape, which is perfect for its day at school.
The staff
To seal the identity deal, we went for a second prop too. Gandalf's staff.  The one he uses to mark magical symbols on Bilbo's door, so the dwarves know which Hobbit hole door to knock on.
I'll admit, I wasn't keen to send a long, wooden stick, to school, as a staff. Images of it being used as a martial art weapon came to mind. Phone calls home. Difficult conversations. Months of avoiding irate parents in the playground. It would only have taken one other child, dressed as the goblin king or an orc, and battle would commence.
So instead, I found two long cardboard tubes. The sort that's found in the middle of a tube of wrapping paper. One fitted inside the other, and the overall length could be altered. We lengthened the tubes to the young Gandalf's height and sellotaped them in place.
Next the tube was pasted in glue and roughly covered with white tissue paper. Wrinkling it up to give texture to the staff. Once covered, it was painted brown. Long slits were cut in the top and a crumpled ball of blue tissue added.
Staff complete and chances of anyone being knocked out by it, reduced. Mission accomplished.
I ummed and ahhed about the gown underneath. Seeing as the cloak would cover it most of the time. In the end, we opted for grey tracksuit bottoms and a top, due to the weather. Also settled for welly boots, for the same reason. March is usually rainy. Except, this time, it turned out to be snowy.
We added a brown belt, and a drawstring pouch to hang from it.
The outfit
At this point you might be wondering how his day went. The twist to this particular tale is that it didn't. School was cancelled due to a snow day. Not something that would have stopped the real Bilbo Baggins and Gandalf, I'm sure. The good news is that they have rescheduled the dressing up day for another time. Gandalf will have his day.
This is our last World Book Day. (sob, sob) Next year, he'll move up to the next school where they don't dress up. He's our youngest. There are no more children waiting in the wings to be dressed up. So, this is it. I'm not sure what I will do next year. Maybe find fabric themed around a favourite book, and make a top for myself. What do you reckon? It might work.
(whispers:
and maybe a papier mache prop
to go with it……)
Costumes from previous years: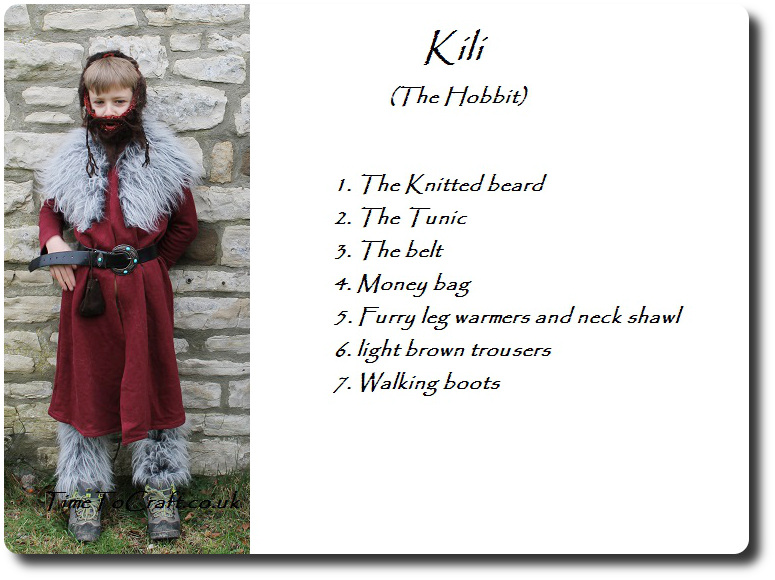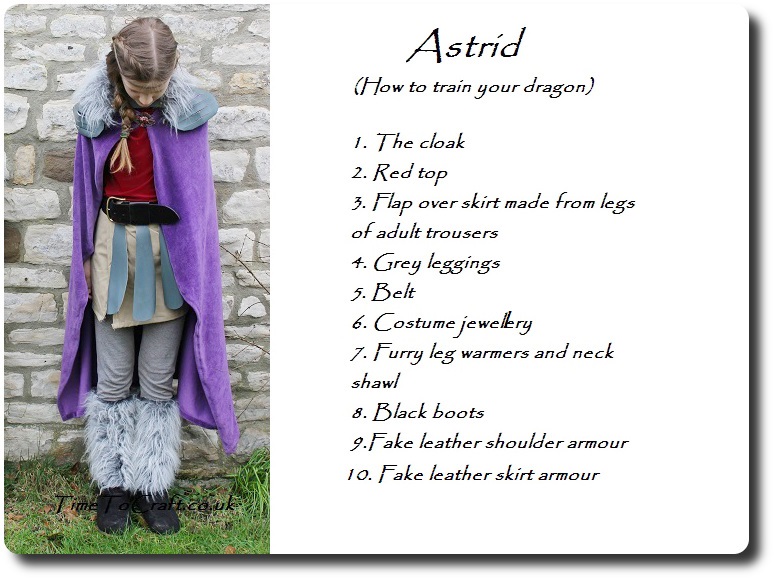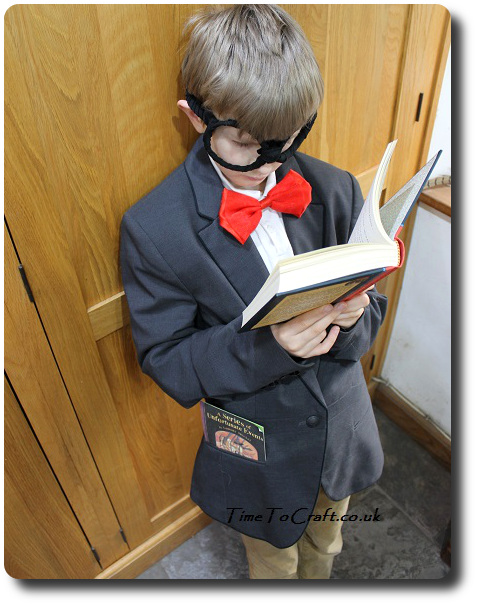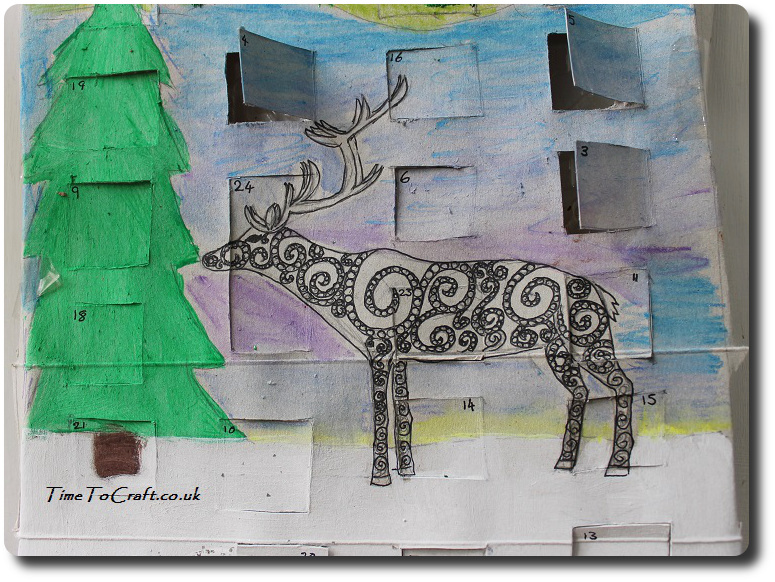 Now I admit, I probably didn't approach the issue in the best way. I should have known. It's not as if I'm particularly new to this parenting lark. I know the rules. Parenting Rule number 537 states that a short sharp, direct approach, out of the blue, will not seamlessly shift offspring on to the next stage of development. Too quick. Too sudden.
No. It requires carefully placed, crafted hints being casually dropped for weeks beforehand. Like a trail of breadcrumbs leading them to their own discovery of the need to move up a level. Preparing the ground. I knew that. I'm not a rookie.
Not that that stopped me. When I look back, I made the classic mistake and I was doomed to fail from the moment I drew breath to speak.
All three offspring were in the kitchen. I seized the moment. I announced, in a nonchalent manner, that everyone was too old for chocolate advent calendars this year. My follow up argument about single use plastic would have won them over, but I played it too late. I felt some of them sway. Alas, by then, the battle had already been lost. Apparently, and this is the moment I knew I was defeated, I was on route to ruining their childhoods forever. (again)
I wonder which page of the childhood manual that gem is printed on.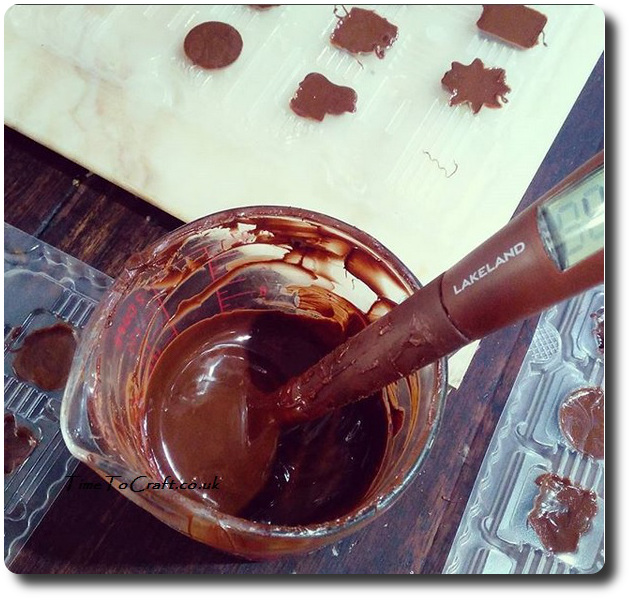 Anyway, this partly explains why I ended up in the kitchen with my 13 year old, one evening, making chocolate.
I compromised. Yes, they could have a chocolate advent calendar, if and only if they helped make it, and as little new plastic as possible should be involved.
Fortunately, I am part womble. I have a habit of keeping useful things that other sane people would throw away. "Surely this will be useful one day", is my motto. I had three plastic inset trays from a previous year's chocolate advent calendars, squirrelled away in a cupboard. Empty and clean, of course, and ready to use. They had the cutest, Christmas shaped indents, which is why I kept them in the first place.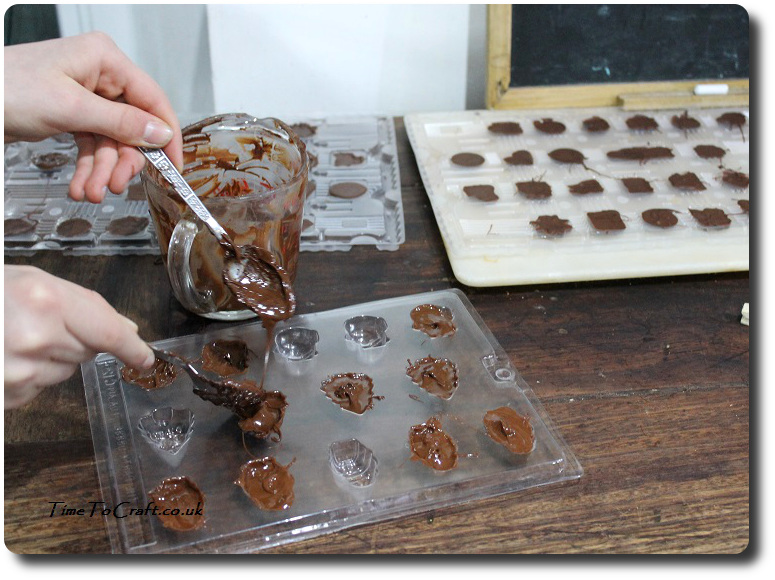 Before you think that this was a smart move on my part and how it must have saved me a packet by not buying new, it did not. True, the chocolate cost less than buying all three of children a calendar each, with the added bonus of being really nice chocolate. A definite win.
I then threw cost effective out of the window and hiked up the cost by buying a chocolate thermometer. I was now even. I was making for more, or less, the same price as buying three new, deluxe chocolate calendars.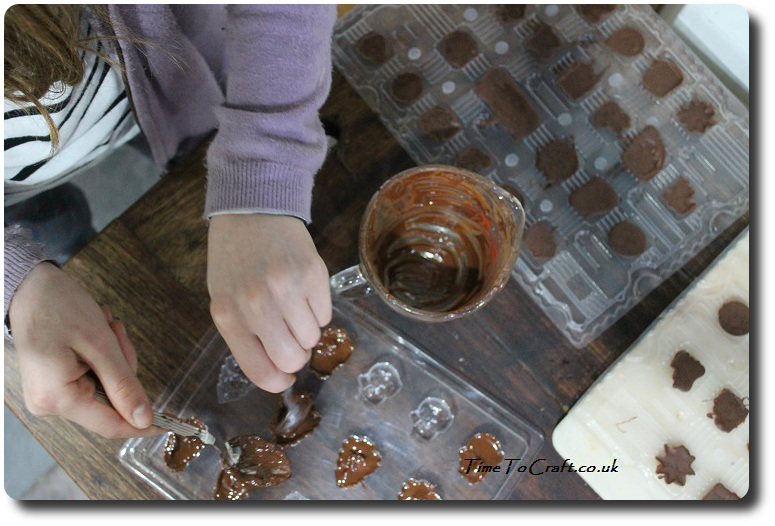 My theory is that I can use the thermometer again. It also ensures that the chocolate will, not only shine and snap correctly, but can be kept at room temperature without a melting issue. No need to make room in my overcrowded fridge for three glitter covered calendars, between the milk and the brandy butter, while showering the uncooked turkey with seasonal cheer.
(I'll just pause there for a moment so you can imagine the complications of doing this in the run up to Christmas)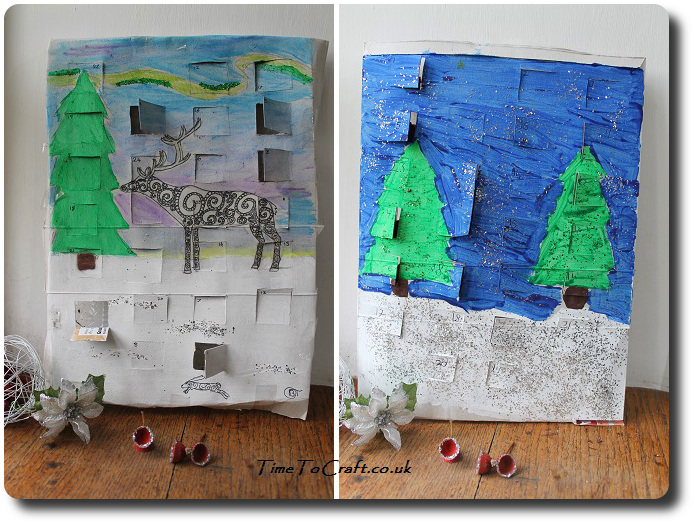 The next part the children did pretty much between themselves, as work and the lurgy kept me otherwise occupied. They flattened cereal boxes and marked out holes for the window, which lined up with the chocolates in the trays. Fortunately, the 13 year old is a dab hand at using a craft knife to cut out the windows.
Next they painted and decorated the cardboard, which, once dry, was sticky-taped to the plastic tray.
I'm told that the chocolates easily pop out of the old inset tray, each morning, and are delicious. Success. This craft project is worth doing again.
So just three questions left:
Will the insets survive for another year? I think so. They are thin, but there are no cracks, so they should be good.
Next question. Did I cut down on single-use plastic? Hmm. The chocolate came in a smallish plastic bag and I should have given them thread or string instead of the sticky-tape.
The thermometer was packaged in a moulded plastic case, which went out in the recycling bin and hopefully can be made into something else. Not wonderful, but over time, I should cut down on more plastic by using my thermometer to make treats rather than buying little bags filled with sugar yummies.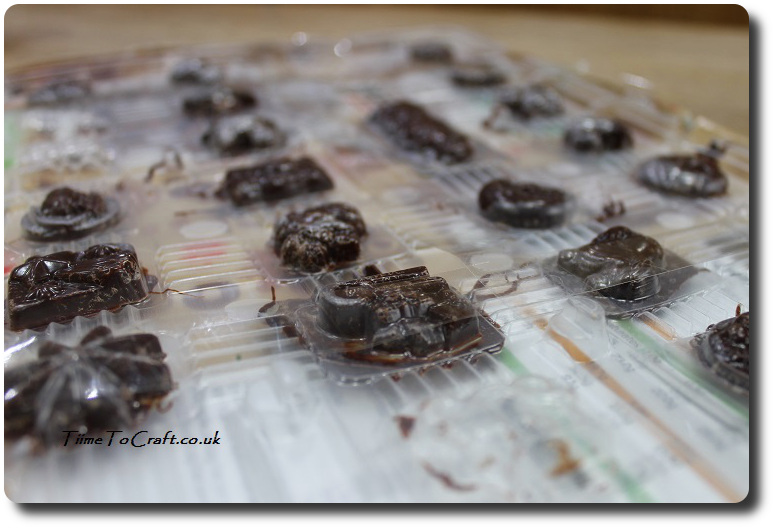 Final question. Why are there only two calendars? Darn you spotted that. Simple answer. Eldest teen is in the throws of her exam mocks, at the moment. I agreed to finish her one. Hmm. Yes. I'm getting there. I really am.
Project complete and a success. Finding a craft activity to do with older children is always more challenging, but this one worked. I had a great time making the chocolate with my daughter. Decorating the calendar fronts was a fun craft activity in its own right. Will we do it again? Yes. Although, I know with a heavy heart, that there is always a chance that they may be just too old for chocolate calendars next year.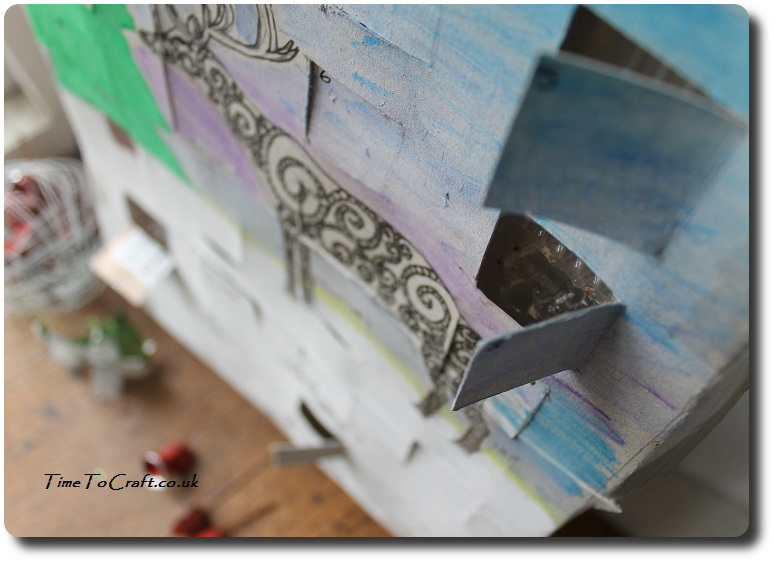 Photos
There have been cases when people lifted my photos and words, and used them without credit to me or asking permission first. Using them for their own commercial gain. I have now added a level of security to deter people from doing this. Apologies to people who do play nicely. If you would like to use any of my photos, please contact me.
Copyright notice:
All my words and photos are copyrighted to me. They cannot be used for commercial benefit by anyone else. If you would like to use any of them, then please ask me first and don't just take. Written permission only. Don't pass my words, photos or ideas off as your own. It's not nice.
Cookie Policy
Our web pages do not use cookies however this website uses Google Analytics, a web analytics service provided by Google, Inc. Google Analytics uses cookies to help us analyse how people use our site. The use of cookies by Google Analytics is subject to change.