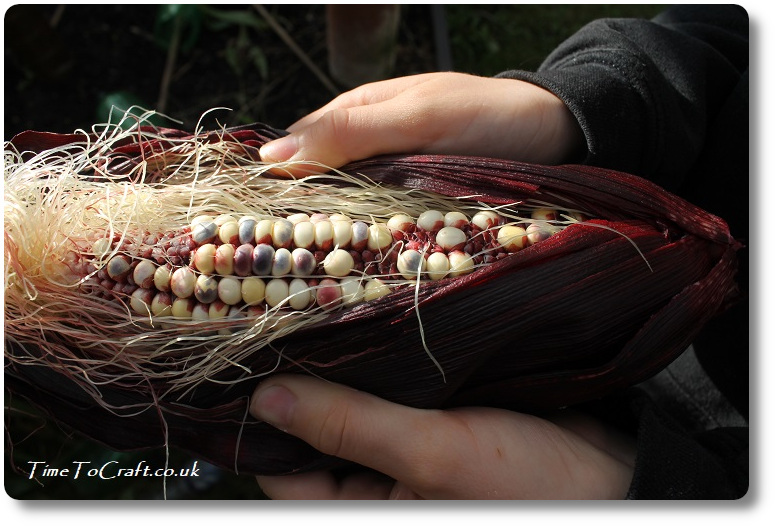 I'm sure in five years time, I'll be a dab hand at this growing popcorn malarky. I'll be able to tell you the ins and outs of growing it. One things for sure, it's not the same as sweetcorn, despite appearances. This year is our first year, with popcorn. I'm still learning the best way to grow and, most relevant now, when to harvest them.
The plants have been quite a sight. Taller than my sweetcorn. Every time I pass them, I feel like I'm on the edge of a great field full of popcorn. Stretching as far as the eye can see. I'm not, but my 16 plants are still impressive.
The strong winds last night, toppled a few, as it rudely pushed its determined way through my popcorn plants. They look like giants that have toppled. As part of my learning curve, I chose one medium cob to see how it was doing.
It needs to dry more. I'd like to leave the plants in the ground, just a little while longer. Pollination has been a little bit hit and miss, by the looks of it. Still not bad for a first try. If nothing else, I can use these as autumn decorations.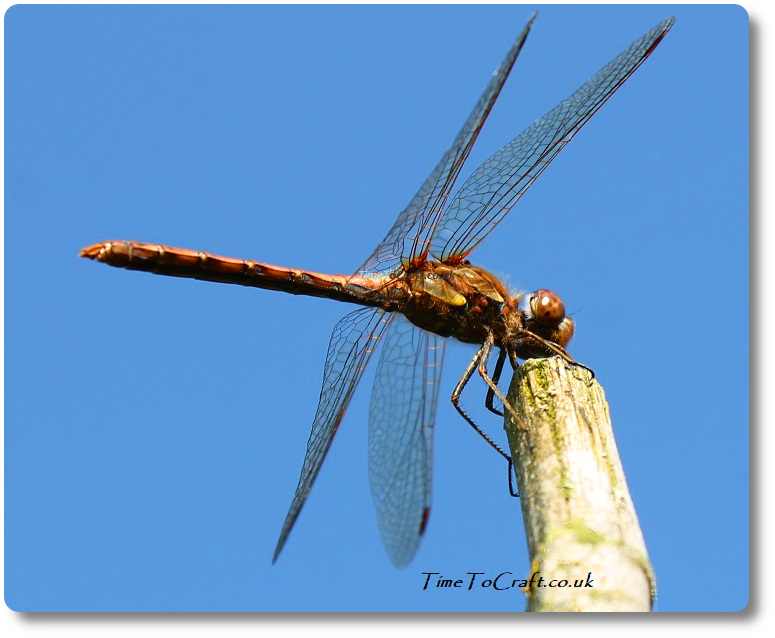 Picked a big basketful of runner beans and French beans yesterday, ready to process on our forecasted wet Sunday. Plan to make runner bean relish today. Also brought in the outdoor cherry tomatoes. Some need a bit more time to ripen, then a copious amounts of pasta sauce, seems to be on the cards, for the winter.
While I wove through the bean plants yesterday, lifting leaves to find clusters of pods, four dragonflies played musical chairs on the surrounding bean poles. Ignoring me, unless I stepped too close. They'd lean their heads and rotate their eyes to fix me in a glare. I was being summed up. I must have been picking beans for a good hour. The four dragonflies continued their game. Occasionally quartering the grass area in search of a tasty bite, but always returning. To the bean poles, to carry on the game.
I hang the last sock on the line to dry and take a moment to check the kitchen garden. It's coming along nicely. I need to take the hoe out at lunchtime to sort out the weed seedlings which are beginning to appear among the sweetcorn. Let the heat of midday dry them out on the surface.
The summer raspberries are doing well. I've left three thistles to grow among them. The purple mop head flowers are in full bloom, attracting the soldier beetles. That's one diving into the purple petals. I lose count of how many beetles are among the spiky leaves and blossom. Both the larvae and adults will eat aphids. I never need to spray the garden.
I've used the three sister method of growing as usual. Sweetcorn, squash and beans. All working together. It also tickles me, as I'm one of four and the youngest of the three sisters. I wonder which plant I would be? I'd go for the sweetcorn. I love to walk among them, as they grow almost to my height.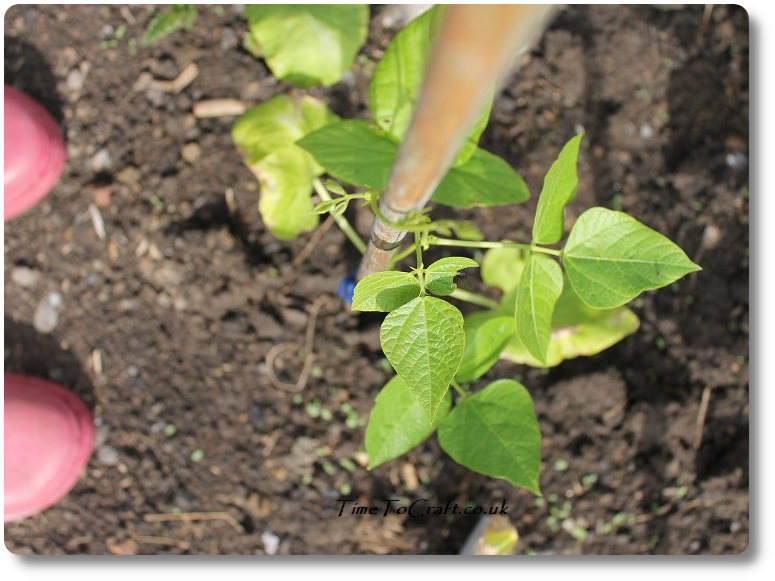 The garden is slightly behind. I was slow to plant out, but it will be what it will be.
Picking up my laundry basket, I take the long route back to the house, via the greenhouse. Passing the hazelnut trees, I can see the nuts are almost ready. Not that I'll see any, as the squirrels are faster off the mark than me, every year.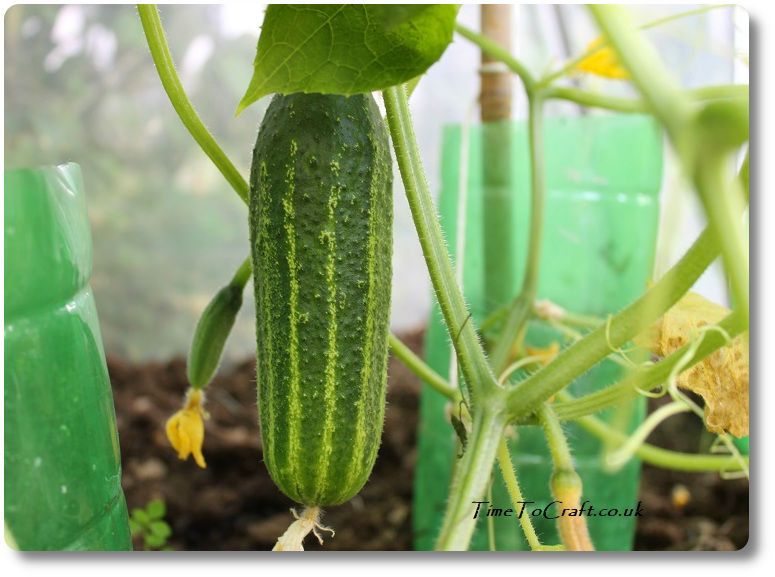 I'm pleased with the greenhouse. I've planted it well. Everything is planted in the borders. Not too many weeds, as I'm using my collection of cut off plastic bottles to water the roots and below the surface. Run off is minimalized. I grow small cucumbers. Half sized. The first one is ready to eat.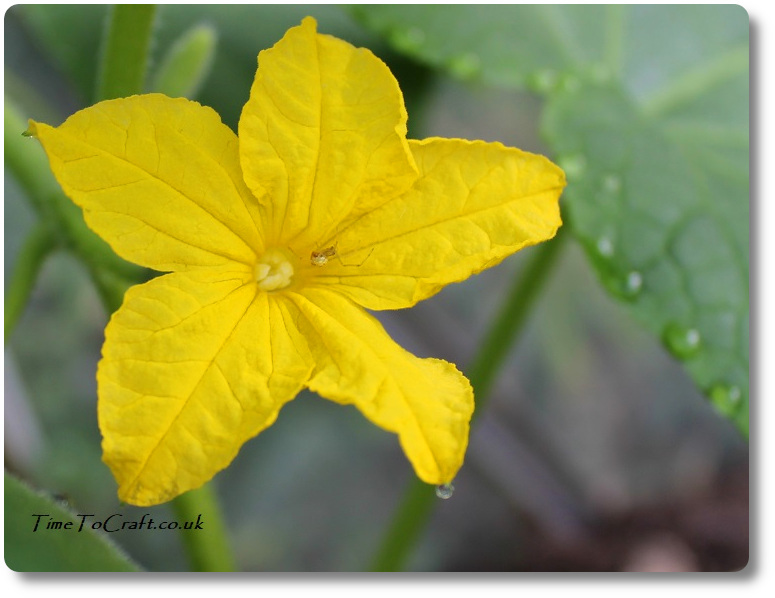 No spraying in the greenhouse either. I encourage my friendly mini beasts to visit with nasturtiums, and the cucumbers do their bit too. A spider almost hidden in a cucumber flower.
Bit of a mystery. Last time I was in the greenhouse, I noticed a dead hornet being dragged by an ant. It was fascinating. Such a small creature moving another many times its size. Like a caveman pulling a hairy mammoth, as I told my husband that night. Today I notice the hornet is in an empty seed tray, I left on the greenhouse path. Did the ant drag the hornet up and over into the tray, and if so why? Was it removing it from near the ant's nest to stop other hornets turning up?
I like to work with nature. It doesn't mean I always understand it.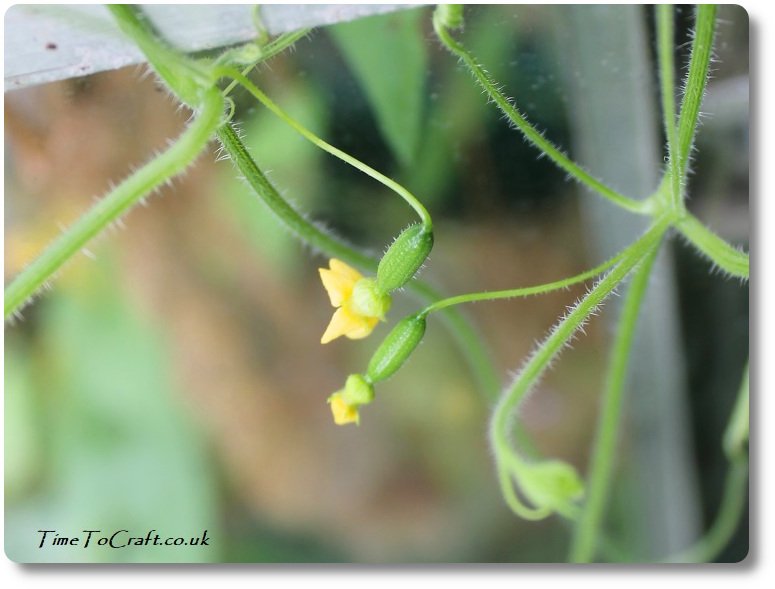 Also in the greenhouse, is one of my cucamelon plants. A new one for me. The fruit tastes of a cross between melon and cucumbers, just as the name suggests. Its vines are beginning to find their way up the wall of the greenhouse. I spot the beginnings of the fruiting bodies. The length of my little finger's nail. Maybe a week or more till we can try them.
Peppers are swelling too. The tomatoes and basil plants are bushing up.
I leave the greenhouse door open, but block it with a tray to stop the rabbits getting in.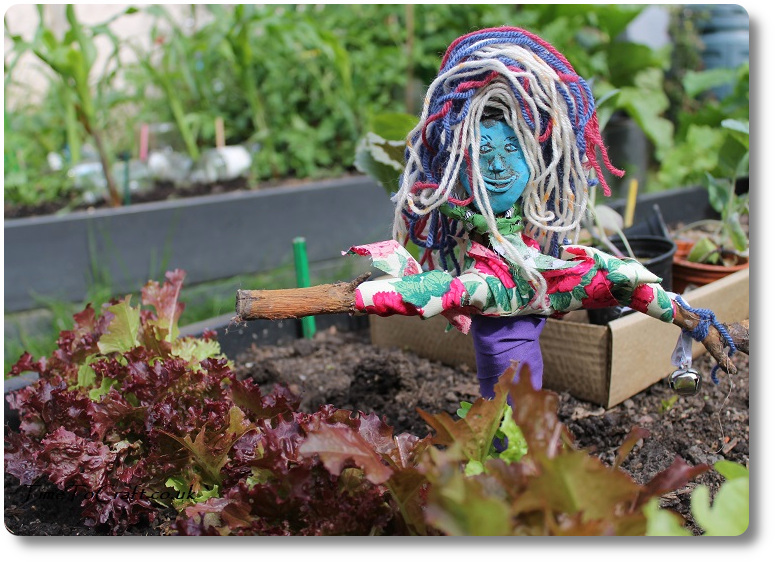 Final stop, before I go in. The raised salad beds. Guarded by two fences which keep the rabbits and their nibbling tendency away from my salad. One bed is full of lettuce, turnips and tomatoes. The other popcorn, courgette and tomatoes. Some rows have failed, but the rest is thriving.
My double fence doesn't keep the sparrows off. Oh my goodness, we have so many sparrows and they like to nibble my lettuce. No problem with slugs or snails this year, but the marauding sparrows make up for it. Brought out our last surviving garden goddess at the weekend and gave her a new outfit. She now scowls at the sparrows and shakes a bell. Go find something else to eat.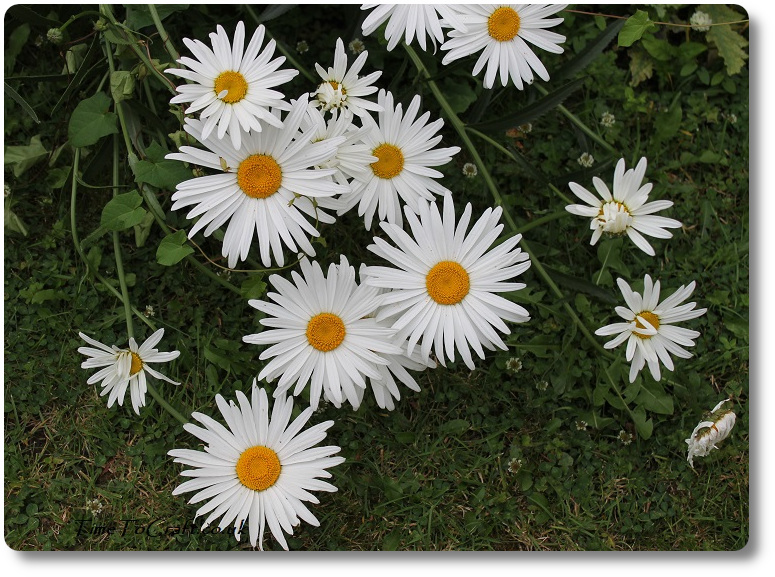 Finally back in the house. Next load of washing is ready for the line. Time to go out again. Might take the shorter route back to the house this time. It seems I'm so easily distracted. Although I didn't check the blackcurrants. I could just pick a few. Maybe take a few kitchen scraps to the hen house, while I'm there.
Photos
There have been cases when people lifted my photos and words, and used them without credit to me or asking permission first. Using them for their own commercial gain. I have now added a level of security to deter people from doing this. Apologies to people who do play nicely. If you would like to use any of my photos, please contact me.
Copyright notice:
All my words and photos are copyrighted to me. They cannot be used for commercial benefit by anyone else. If you would like to use any of them, then please ask me first and don't just take. Written permission only. Don't pass my words, photos or ideas off as your own. It's not nice.
Cookie Policy
Our web pages do not use cookies however this website uses Google Analytics, a web analytics service provided by Google, Inc. Google Analytics uses cookies to help us analyse how people use our site. The use of cookies by Google Analytics is subject to change.