I finished knitting my purple cardigan. I love it. It could very well be the best thing I've ever knitted. I'm really happy with the fit and love wearing it. From my notes, I reckon it's taken me eight weeks to knit, which is impressive for me.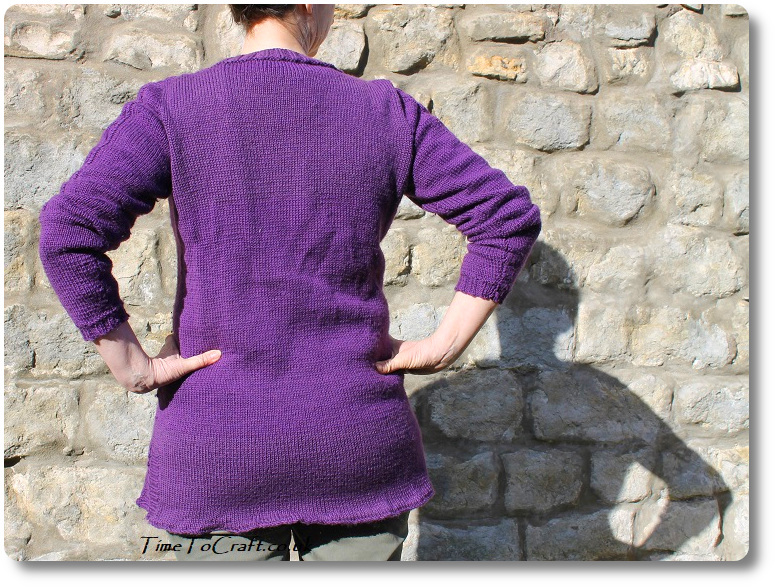 The only part I need to work on is the curling hem. I have blocked it, but not enough, it seems. If anyone has got a tried and tested method to make the hem behave, please let me know.
I used King Cole Merino blend dk. 100% wool. It is now my favourite yarn to use. A real pleasure to knit with. I've made hats with it before as it's anti-tickle, and have often thought it would be good for something bigger. I bought the yarn in the sales, which reduced the cost down to a do-able price. I've found it priced at anything between £3 to £3.79 per ball. Back in January, I bought it for £1.79 per ball making the cardigan work out at just over £25 to make, instead of the usual £42. Perfect!
The cardigan pattern is King Cole 4076. There is a choice of a cardigan or jumper. Both are long line with side vents. I found the pattern straightforward. The cable panel is easy once you get into the swing of it. After a while, I stopped referring to the instructions, as the it's obvious what to do from the previous row, if you see what I mean. Total joy to knit.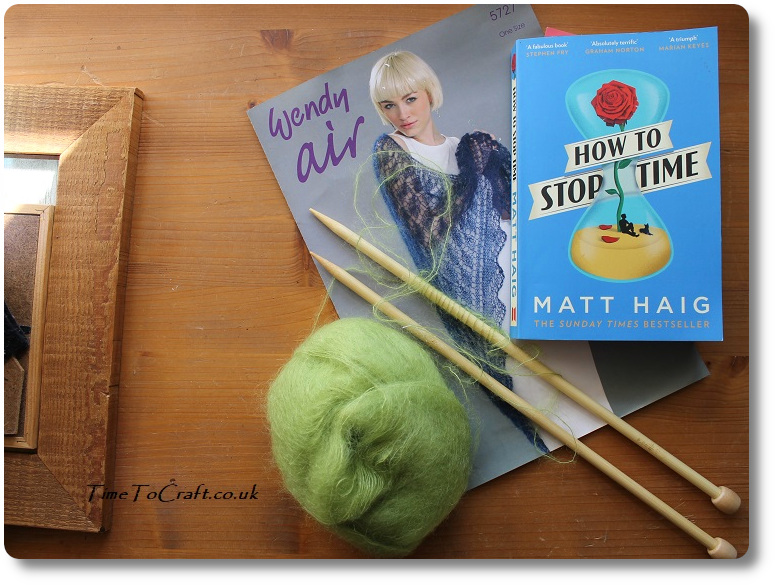 So on to the next knit. Yes, I've cast on, but the photo really doesn't give a fair representation of the amount of time it has taken. I'm using Wendy air yarn. It is wispy thin. Never underestimate how long it can take to find the start of the yarn in a ball like this. Lots. I've tried the first row a few times, but undone it. I'm not charging ahead with this one. I'm sure I'll find my way with it. Eventually. It is such a contrast from my last project.
As it's Yarn Along time again, I'm including my book, which I am loving. Matt Haig's How to Stop Time. I've nearly finished it and am dragging out the end, because I don't want to finish it yet. Savouring every last page. It is difficult to put down. It's so good, I find myself reading and preparing the evening meal at the same time. The book in one hand and a spoon in the other. Children mumbling that I'm ignoring them.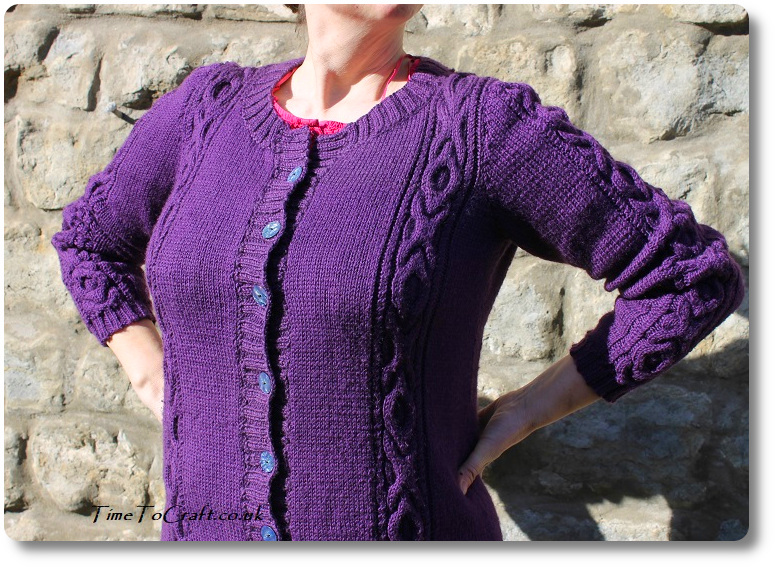 Last photo of my cardigan. I've ordered some more wool to make the jumper version next. I've found it again at the same price, so hopefully they have enough of the same dye lot, which caught me out last time. I had to change colours. Fingers crossed. It is such a good pattern.
Joining in with Ginny's Yarn Along. What have you got on the needles at the moment? Are you reading a good book? Oh, and any advise on my curling hem, would be much appreciated.
With two teen daughters in the house, it was only a matter of time before skincare and makeup products would become the major occupants of our bathroom cupboard. Heck. It got so bad, I even contemplated a second cupboard to cope with the invasion. Could I squeeze one in without making it feel too crowded? Maybe two?
Fortunately, as so often happens, it sorted itself out. Makeup was eventually herded into bedrooms to prevent one sister using the other one's collection. Peace was restored. Skincare tubs and bottles were still in residence, but there was room. Plans for future cupboards were abandoned.
It feels like a long, long time ago that I wrote a letter to my 11 year old daughter about the use of makeup. I'm pleased to say, neither of them are over the top in their use. They go for the natural look. This is a good time to experiment, as far as makeup is concerned.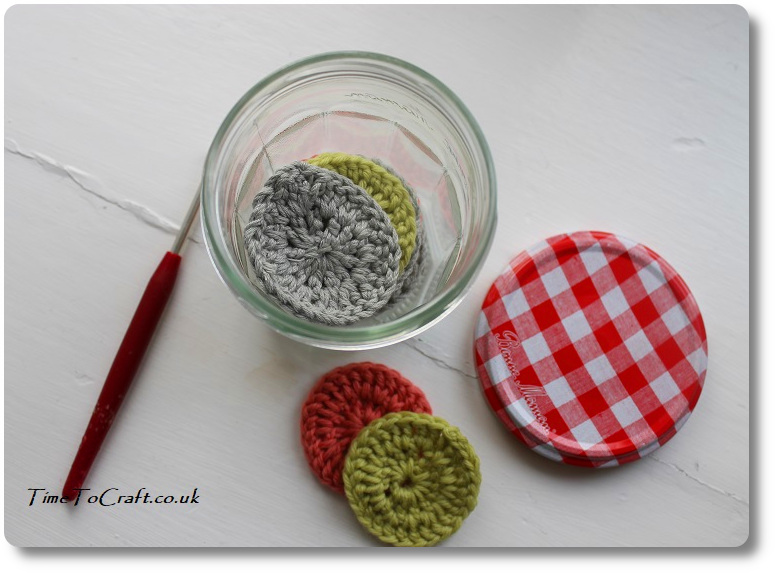 Anyway, the next looming issue was tied up with the removal of said makeup. What goes on, has to come off.  I eliminated single-use wet wipes and cotton wool pads from the house, by a ready supply of flannels. I made a clutch of bamboo flannels. These have been a bit of a success, I'm mighty glad to say.
Just one niggly problem. Teeny tiny one, at that. They found the flannels too absorbent. The makeup remover glugged away into the fluffy fibre, never to be seen again. Same with toner. As good as gone. They were resorting to using tissues instead with the remover and toner.
Neither solution was good. Apart from the waste of the remover with the flannel, the tissue wasn't a good alternative to a cotton wool pad either and it was adding to our waste. We only have a tiny bin in the bathroom and I was emptying it far more frequently. All heading for the landfill.
I've had reusable cotton pads on my radar for a while. Crochet in cotton. There are so many different designs but most boil down to a small circle. Usually 12 half crochet stitches in a circle. Then 24 on the next round. Digging through my stash, I had a few odd balls of cotton yarn. I wanted three different colours, so each of us skin care/make up users could have our own colour.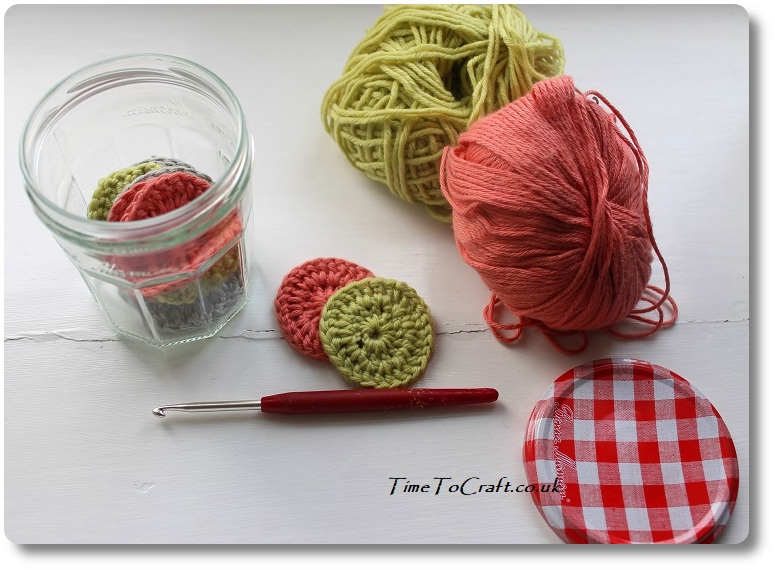 I made three trial sets. Three of each colour. If they work out, I'll make more. They take no time to crochet up. The plan is to store them clean in one jar and put the used ones in another jar. Once there are enough to wash, I'll put them in a small, drawstring mesh bag I have in the cupboard. Then into the washing machine they will go.
I've tried one with toner and it is so much better than a tissue or fluffy flannel. Thick enough to hold the liquid, but thin enough not to hide it. Fingers crossed. It looks hopeful.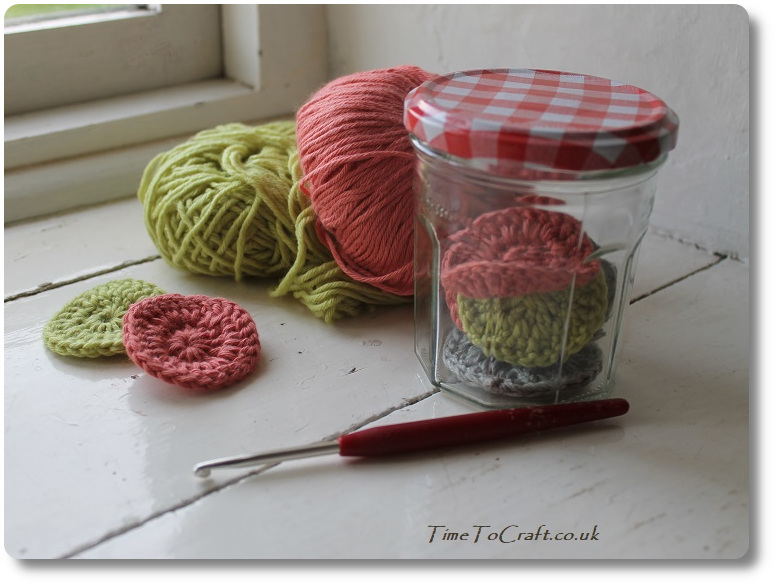 If nothing else they are so darn pretty. I did look at buying a ball of recycled cotton yarn, but hard to justify when I already have cotton in my cupboard. Another time.
First make of 2019.  So simple and satisfying. Thrifty and frugal. Also a warm, fuzzy feeling that it is an eco friendly solution to boot. Cutting waste. Cutting water and chemical use in the production of single use cotton wool. Happy dance.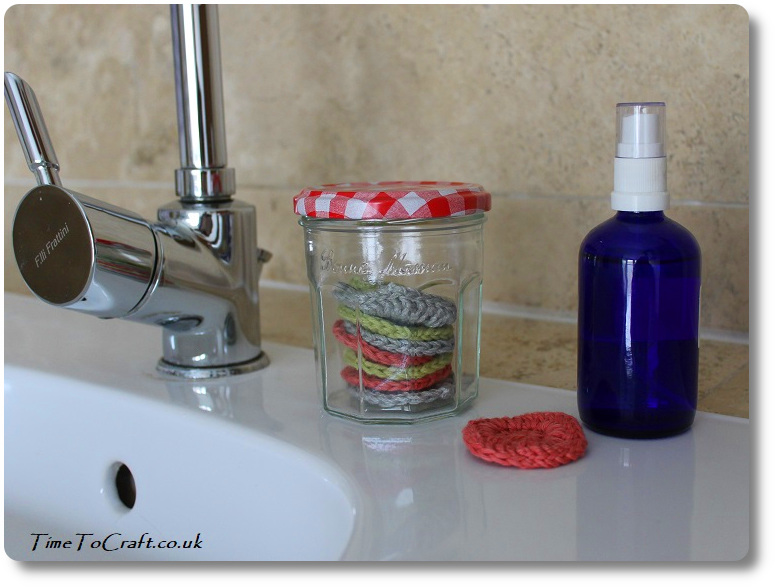 And, even though I say it myself, I think they look rather good in their jar by the sink. Like little rounds of candy. Irresistible. Encouraging all to give them a go. Some projects are win-win, I'd say.
Linking up with #GoingGreen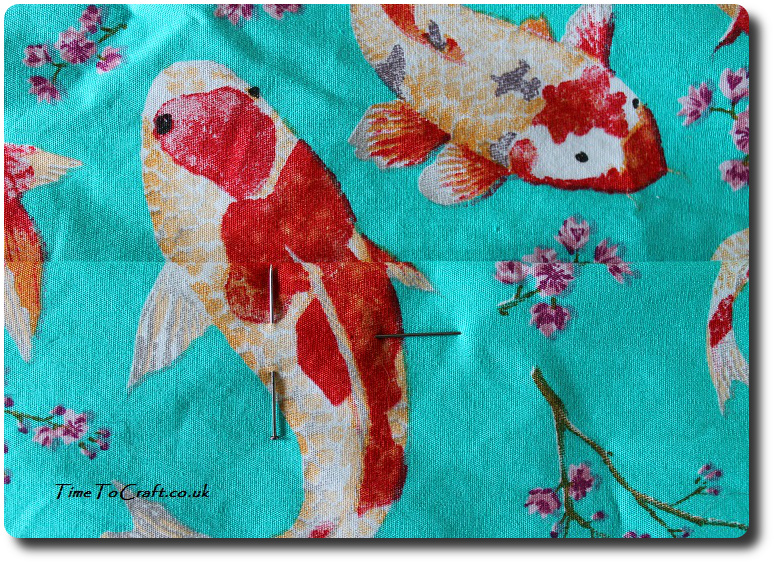 I've cut out a new dress today. I fell for the colours. They remind me of summer days in my teens. The turquoise/cyan in particular. I remember my sister making a skirt and top in the same colour, one year.
I bought the fabric with a different dress in mind, but when the moment came to prepare the fabric for cutting, I knew it wouldn't work. Plan B. A different dress pattern.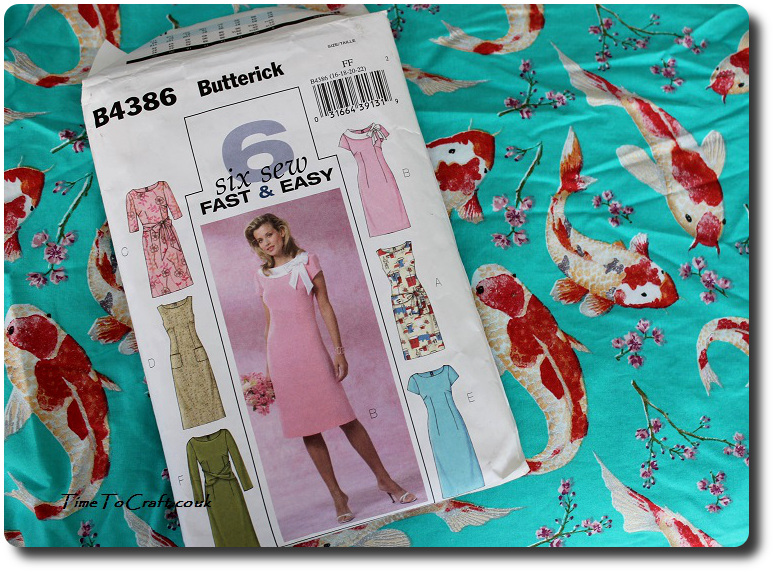 This often happens to me. I buy fabric for one project and then have second thoughts once I get home. Realisation hits that it would work better in a different style. Then starts the challenge. Is there enough fabric for the alternative dress pattern?
This time it needed less fabric. Me being me, still rolled up my sleeves to make something out of very little. I had the chance to eek out enough for a second sewing project. Two for the price of one. My kind of bargain.
So how do I squeeze more out of my fabrics? No. It's not a question of persuading the children to play tug of war with it, although I'm pretty sure that it wouldn't take much persuading for them to give it a go. Nor do I go on a crash diet, or breathe in the whole time I'm wearing the outfit.
Want to know how I do it? These are dressmaking tips you won't find in the pattern instructions.
Steps to saving fabric
Step 1: Don't follow the cutting plan.
Every dressmaking pattern comes with diagrams, showing you how to position the paper patterns on your fabric. Ignore it.
To be honest, I seldom cut fabric out as the instructions suggest. As long as I line up the grainline (that big double headed arrow, in case you're wondering) and respect the direction of the print (I need the fishes swimming in the same direction, right?), anything else is up for interpretation.
For instance, in this latest fabric cutting, I changed the foldline of the fabric when I cut out the front of the dress. It left me with a big rectangle of fabric that I could cut the sleeves from. Feels like free fabric.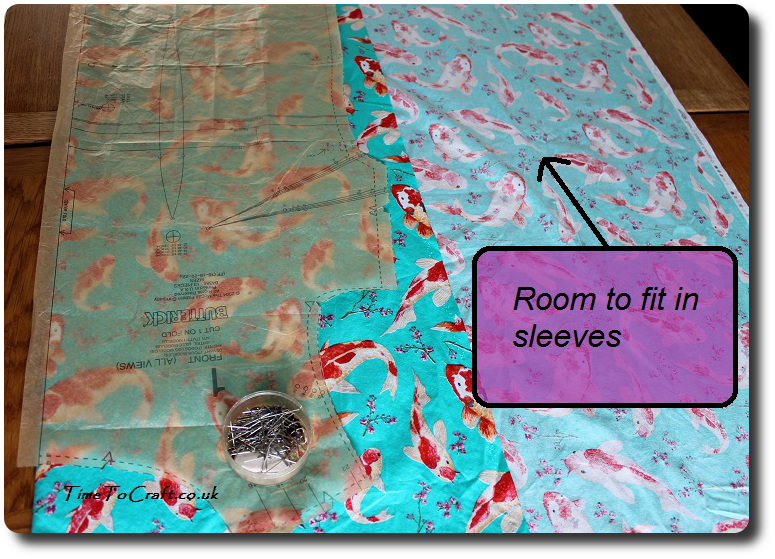 If I'd followed the instructions and lined up the selvedges, as suggested, the front of the dress would have been cut out of the middle of the fabric, leaving two thin rectangles of fabric on each side. No use to man or beast. On the printed plan this was mostly left as waste fabric. Madness when you stop to think about it.
Be creative. Find a way to free up large areas of the fabric, rather than being left with lots of small pieces.
Warning: Don't cut anything out until all the pattern pieces have been positioned on the fabric.
Step 2: Use contrasting fabrics for yokes, hems, etc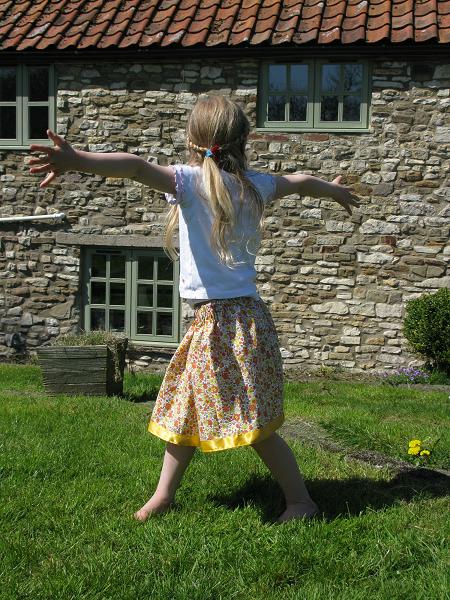 Most patterns assume you are going to use the same fabric throughout the project. Some allow a contrast for one part, like the collar, but not all. There is nothing to say you have to stick to one fabric for all the other parts. Yokes, sleeves, pockets, hems – they can be different.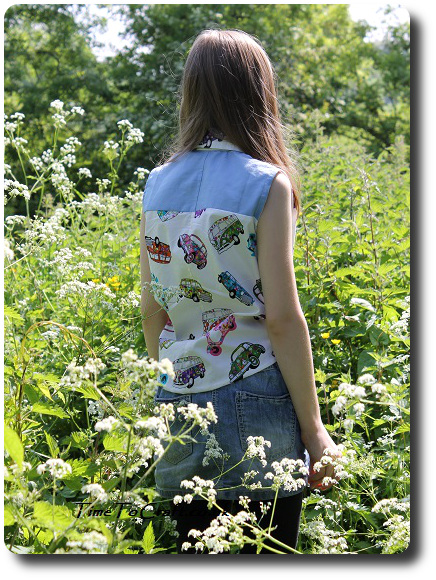 A confession story best illustrates this one. Last year I bought fabric to make a blouse for my daughter. Such cute fabric she had selected. In my excitement, I completely forgot that I needed more fabric to match up the cars at the front of the blouse. My bad. It looked like I couldn't avoid slicing cars in half at the button-up front, if I wanted to make the blouse out of this fabric.
Humph!
If I'm going to spend time hand making a garment, I want it to look good at the end. No half cars, please.
I put my thinking cap on. After pattern matching the front of the blouse, there was no fabric left for the back yoke, so I used a coordinating blue fabric for it, that I found in my scrap bag.
Result: a fun blouse that looked better than I had originally imagined. I still used the fabulous fabric to good effect, but the blue made it pop out even more.
Step 3: Patchwork fabric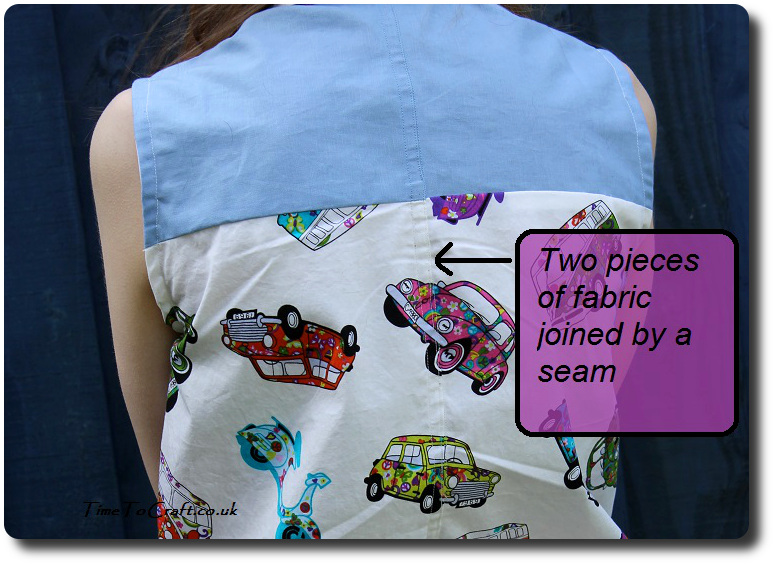 Carrying on with the same blouse, I didn't have enough fabric for the back either. Crazy, I know. Anyone wondering why I didn't give up on this project? I am.
So, what did I do? I got creative with my cutting. I sliced the back paper piece in two and positioned the halves on the fabric, allowing for a small seam allowance, so that the car patterns would match. Once it was sewn up, from a distance, it looks like one piece of fabric. Mission accomplished.
There is nothing in the rule book to say fabric cannot be patched together. In fact, I've read of haute couture houses cutting up stripes to make the perfect zigzag fabric, when needed.
Step 4: Use different fabric for facings that don't show.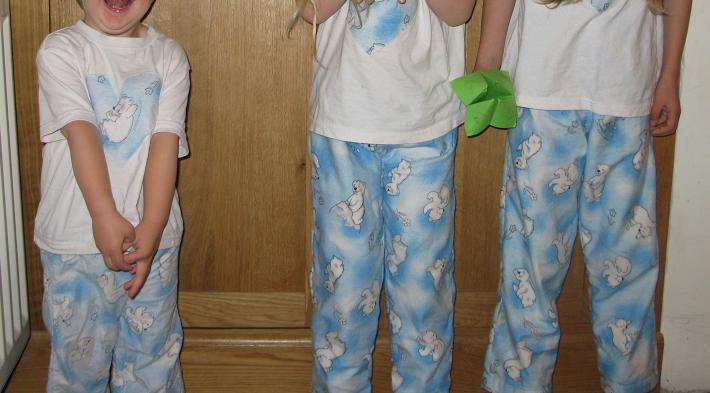 If the fabric isn't going to show, then use a different one. Pockets tucked in the seams will not show. Save fabric by using a similar fabric. I made four polar bear pyjamas. Each pair has pockets made from different brushed cotton fabric from previous projects.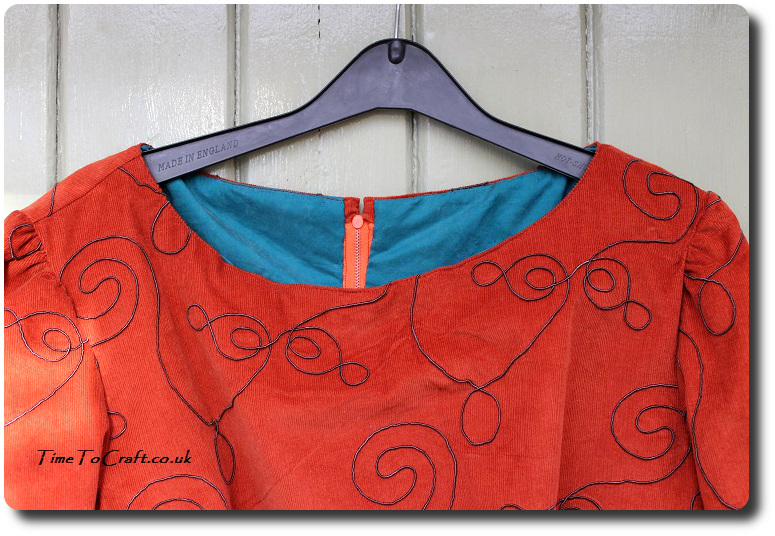 This is my brown, cord dress. (Eek! I still haven't shared photos of this dress here.) In the instructions, it listed the neck facing to be cut from the same fabric as the rest of the dress. I had lots of fabric, but I'm always looking to save it. Also I didn't much fancy the black cord rubbing against my neck.
So I dived into my recycling pile and pulled out a silk shirt of my husband. I loved that shirt, but he didn't. I cut it up and used it as the neck facing. It gave the structure required, but with the added silky, softness, and I have enough brown fabric left for a skirt.
Step 5: Change lengths or shape
My rose dress used a lot of fabric. It is a fit and flare. I didn't really have quite enough fabric. I overlapped the pattern slightly on seams and hem allowance.  I shortened the sleeve length slightly. These little tweaks made all the difference.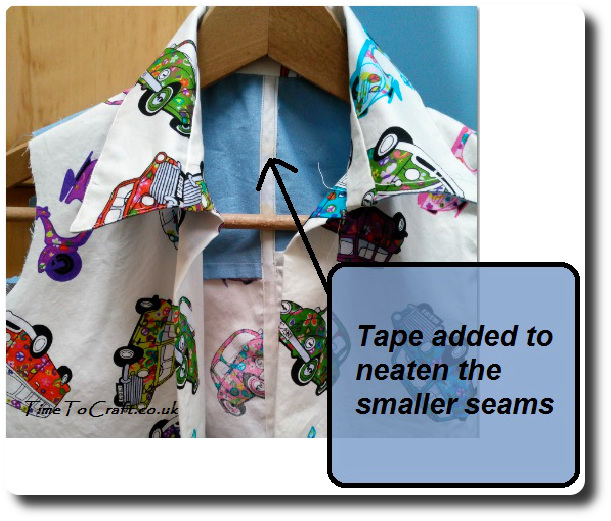 On one or two garments, I've reduced the seam allowance. I always neaten seams. I want my garments to look good on the inside too. Using fabric tape, I can still ensure the fabric won't fray and unravel when there's less fabric.
Break the rules
I'm using the term "rules" in a very loose way. There are no design police who turn up and put you straight if you ignore the instructions.
I know the handmade projects that have caused the most problems, have turned out to be my favourites, because I've not been able to follow the rules. My daughter's blouse certainly gave me a few head scratching moments, and I love the touch of green in my brown dress.
I've not used any indie design patterns. I have no idea how prescriptive their instructions tend to be or how easy they can be modified. I do love using sewing patterns from the so-called Big Four (Simplicity, Vogue, McCalls, Butterick) but I like to make them my own. Using the instructions as suggestions rather than anything else.
By mixing and matching, I think it makes a handmade garment that little bit more special. More of a designed feel. Saving fabric at the same time. Not something to be sniffed at.
Have you any tips to make your fabric go that little bit further?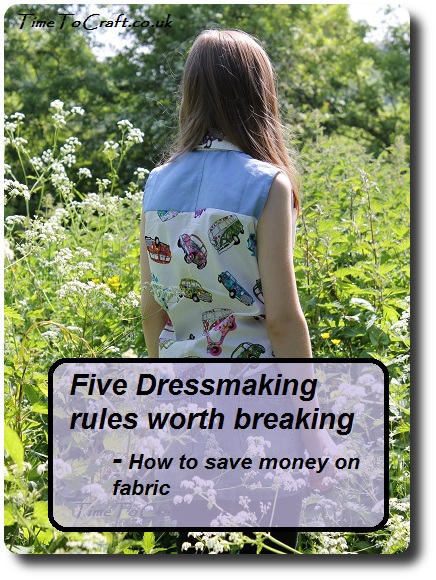 Other frugal dressmaking tips:
Photos
There have been cases when people lifted my photos and words, and used them without credit to me or asking permission first. Using them for their own commercial gain. I have now added a level of security to deter people from doing this. Apologies to people who do play nicely. If you would like to use any of my photos, please contact me.
Copyright notice:
All my words and photos are copyrighted to me. They cannot be used for commercial benefit by anyone else. If you would like to use any of them, then please ask me first and don't just take. Written permission only. Don't pass my words, photos or ideas off as your own. It's not nice.
Cookie Policy
Our web pages do not use cookies however this website uses Google Analytics, a web analytics service provided by Google, Inc. Google Analytics uses cookies to help us analyse how people use our site. The use of cookies by Google Analytics is subject to change.