It's finished. Middle Teen has finished her first quilt. I'm so pleased with how it has turned out, but far more importantly, she loves it. It's her quilt. Apart from the odd pointer from me, she's just got on and made it all by herself. Transferring the skills she learnt while making her patchwork tote and cushion.
I love her choice of fabric. This is a girl who dreams of flying. I don't just mean that she wants to fly, but she also wakes up, on a regular basis, from dreams where she is flying. A quilt made of images of hot air balloons and space seems even more of a perfect choice to snuggle under, while dreaming her dreams.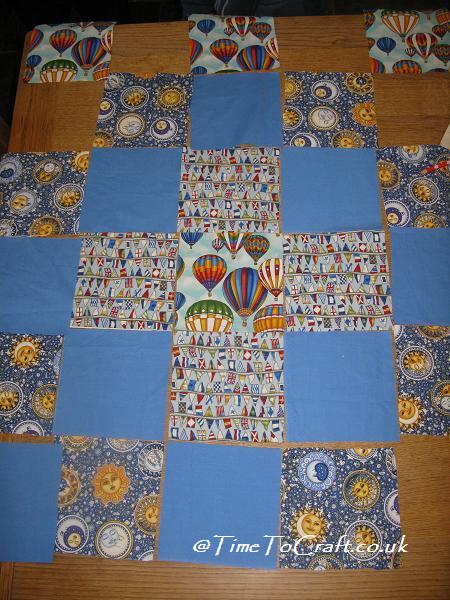 (photo from 2012)
The project
Selection of the fabric and cutting out happened back in 2012. She was eight. I took her to a local fabric shop and gave her full rein. She chose hot air balloons, cosmic images and flags fluttering in the sky, along with a blue to break it up.
After cutting out the squares, she spent ages playing with the arrangement.
Then the project was put aside to gather dust.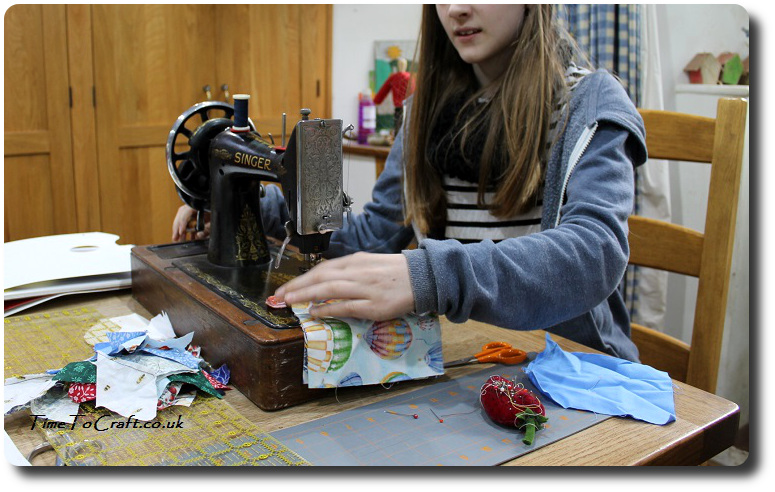 Move on to 2017 and she dug out my old hand-cranked Singer sewing machine, to sew the patches together. She was pleased with the arrangement and enjoyed stitching them. The slow rhythm of the manual sewing machine is something every person, who sews or not, should experience at least once. Good sewing therapy.
Anyway, then the project was put aside again to gather dust. (Not literally. She did store it in a box)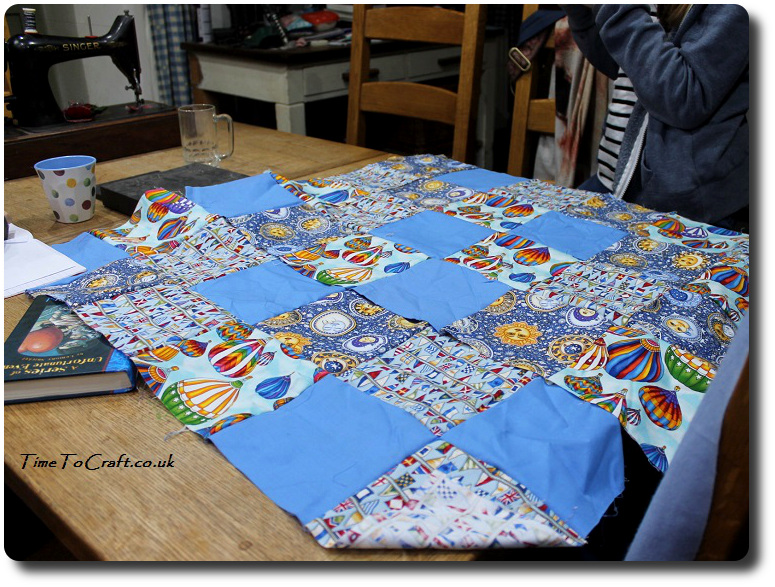 Time shift to early 2019. She's 15. I gave her a piece of wadding and an old duvet cover for a backing fabric, which she duly sandwiched together.
Slight pause. Dust bunnies formed and multiplied….
This holiday, I encouraged her to finish it. Partly because I needed my curved safety pins back which she'd used to pin it all together. Out came the old Singer sewing machine, once more. It really is a good machine for quilting. She sewed in the ditch, which basically means where two squares meet.
She was on a roll now. Using the backing fabric, folded over to the front, she made the binding. She even figured out how to do mitred edges for the corners, which I was hugely impressed by.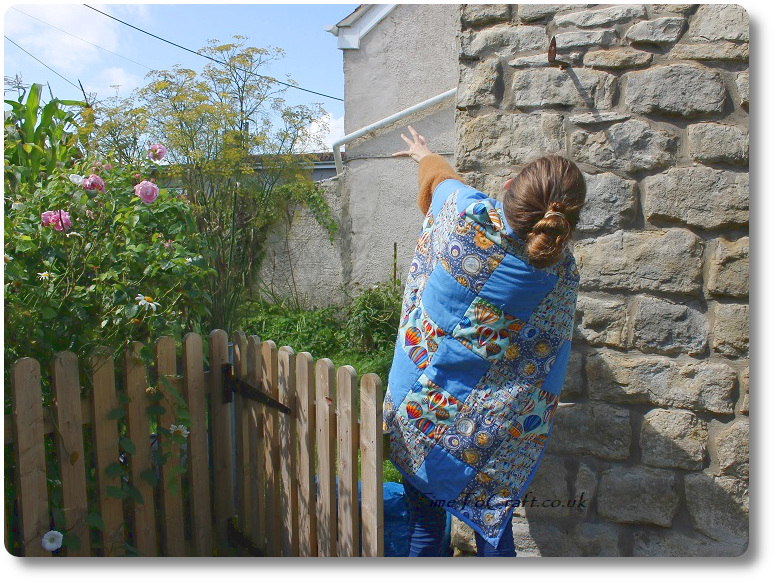 Quick, light press of the fabric and it was done. My funny, gorgeous girl had finished her quilt. Several years may have elapsed, but I really do believe she tackled each stage, when she was ready for it.
She's starting her Textiles GCSE course this September. I hope finishing this quilt will give her just that little bit more confidence to take on any project. I want her to fly. I want her to believe that she is capable of anything, because she is. Oh, yes. My girl can do it. There is no doubt.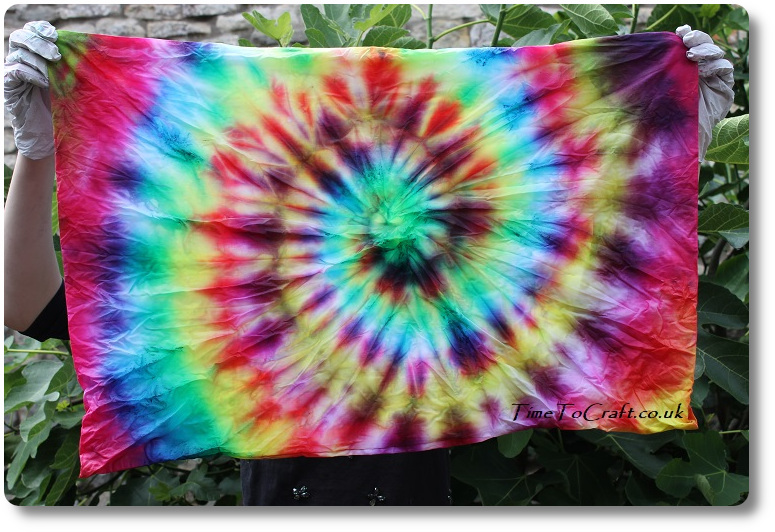 There comes a stage, when children can do a craft without help. They've been taught how to handle craft material. They know the techniques. They've probably lost count of projects completed, or half completed. Now, it's their turn.
Up to this point, they've learnt to copy the example provided. Be it a painting or a model, they've attempted to emulate it.  A carbon copy. The focus has been on following the leader, which is great as they gain confidence in their abilities, but at some point it changes. They take a leap.
No longer do they need to copy. They can take the skills, and be creative in their own right. The image they are copying may only be visible to their own mind's eye. They can fly. Anything is possible.
Also, everything can go wrong. Darn. Why does every coin have to have two sides?
If it doesn't work, then the hiccup can put them off. Confidence in themselves lost. It's easy to see why sitting in front of a screen becomes more attractive, whilst declaring that they are useless at making anything.
They are not.
As a parent of two teens and an almost teen, I don't want them to give up. It is a time to pick themselves up and dust themselves down. Find another route, maybe, but do try again. Resilience doesn't always come naturally.
What do I do? First up, my mantra is that there is no right or wrong way when craft projects are concerned. I start every project saying it. So it may not end up as you first imagined, but you have gained. Maybe it is better. Maybe a new way has been found. Maybe a personal style is growing. There is no such thing as a mistake.
The summer holiday is a great time to set up craft materials and let them flex their creative muscle. Away from the time restrictions of school, the judgement of peers and the fear of their grades being dented.
Here are my five favourite crafts for teens to do outside, because they can make as much mess as they like. I supply the materials and act as the support team.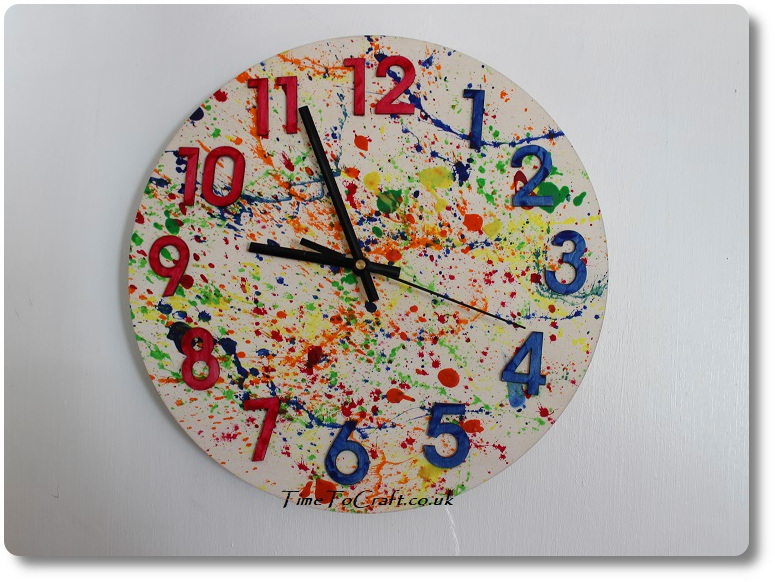 1 Object to decorate.
One year, I bought a blank wooden clock. Anything goes. Splatter paint was perfect. No two splatter clocks are ever going to look the same. No right or wrong. This project was perfect for building a wilting confidence. There is a skill in knowing when to stop. It still proudly hangs in his bedroom.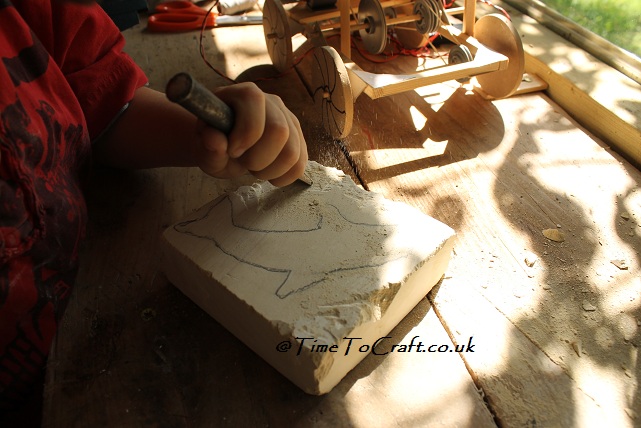 2 Carving.
We went to a country fair, where they learnt the basic skills of carving. Ended up lugging three stone blanks home, which if you know our home, is really quite hilarious, but that's not the point. The stones were theirs. That summer, they chiselled away at the stones and produced pictures they were happy with. I loved popping out into the garden and hearing the tap-tap sounds coming from the shed.
The next year. Same fair. Picked up another three stones for them. Over the years since, every now and again, they have taken themselves off to carve a little bit more. There is no hurry in this project. They are doing their own thing.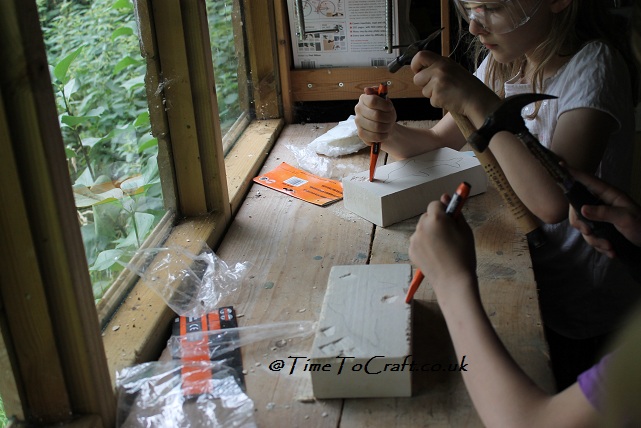 3 Tie dye.
Straight up, I do like crafts that are practical. Something that they make and then use. When they were younger, most of our projects were about making toys they could play with. Now they are older, it's more about something they can use. The tie dyed duvet and pillowcases project, last summer, is a really good example.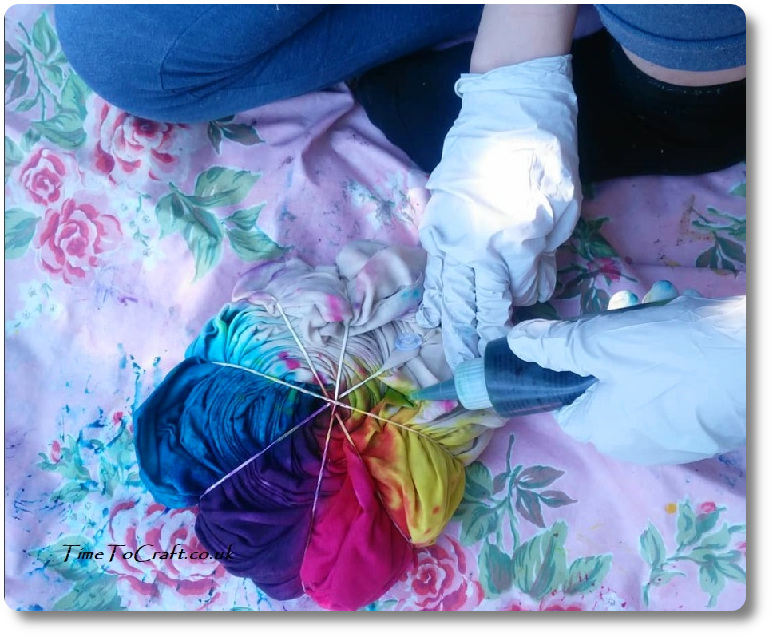 This was a real hit and something they want to do again this summer. It is messy. A project for outside, and with the added bonus of rainbow grass until the next downpour washes it away.
Each piece was different. It's difficult to attempt a carbon copy with this project. Experiment is the key. There was no right or wrong. They went back and added more dye to some of the pieces, until they were happy with it.  The duvet covers and pillowcases are on their beds now and they still love them, which, to me, spells success. We've also dyed t-shirts.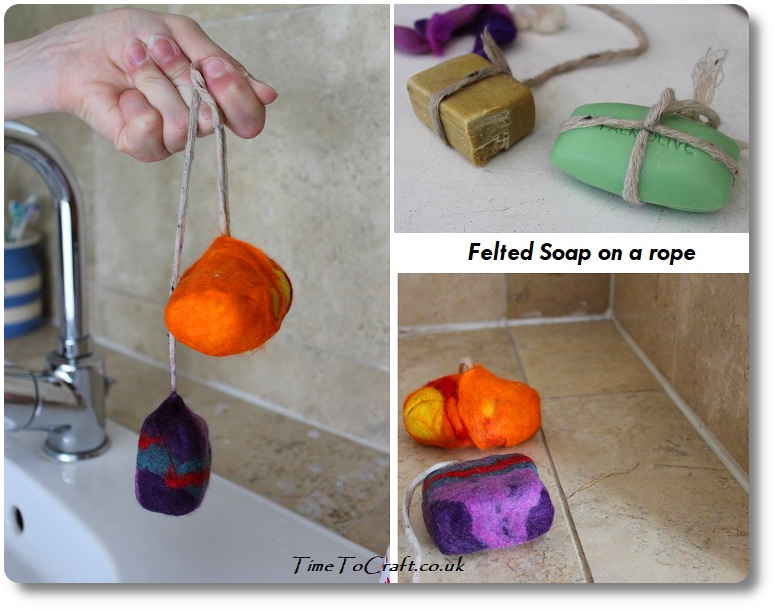 4 This is another practical craft. Felted soap.
We added a rope to hang it up with, but it is good without too. I love wet felting projects. It is very hands on, colourful and they all come out differently. It is a great project for blending colours. There is no standard felted soap, so creativity is wide open.
Here again, the felted soaps are in regular use and, I can assure you, work a dream. Especially on bare feet that have been outside all day.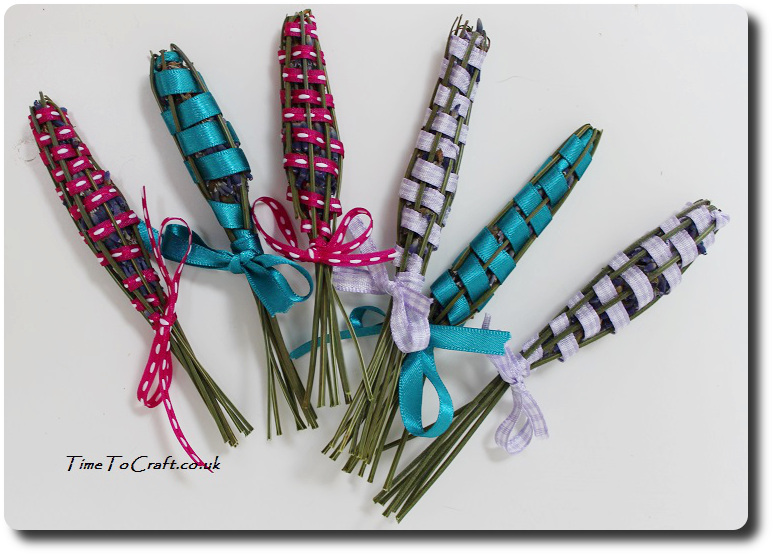 5 Wasn't sure if I should include this one, as there is a set way of doing them, but it does cover another aspect of crafting. Lavender wands.
Nimble fingers and concentration are needed to weave. The satisfaction of containing the lavender, into a natural cage, is worth the time. Working with nature can be unpredictable. No fighting it sometimes, but finding the rhythm helps, and it's a skill everyone should have to help appreciate the natural world.
It is also a wonderful project for a group to sit in the garden and craft together. Surrounded by nature. By the end, they have a sweet scented wand to put in their cupboards.
6. Last one, and an experience this time, although captured forever on film. A night light show.
The children each have their first initial shaped in wood with led lights decorating it. Looks great in their rooms lit up, but even more fun if you add a camera, with a slow setting, and a dark evening into the mix. They created letters, shapes and pictures. They worked together to make bigger more complicated displays. Until they saw the captured image on the camera, they had no idea how it would turn out.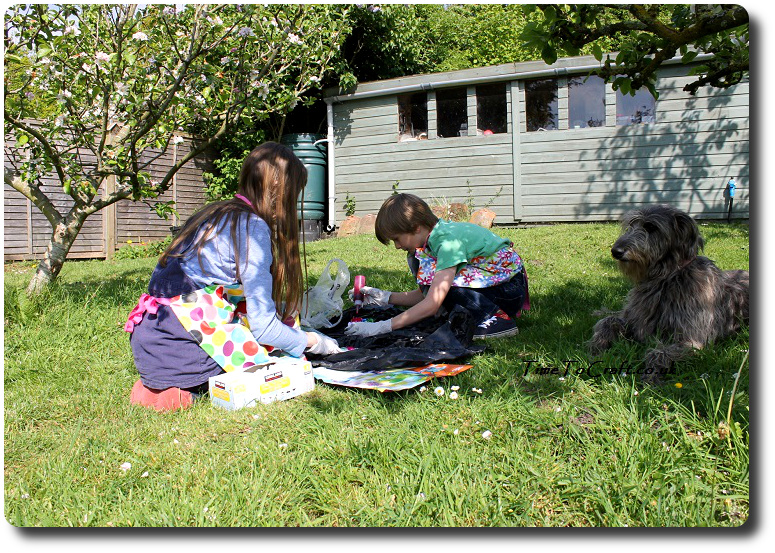 This summer, we have more craft projects lined up. I've already organized the materials, but I'm all ears to ideas as they come up with them. I love seeing where their creativity takes them. With open ended projects, like these, I'm never quite sure what will come next. Another interesting summer, I think. I'll be reminding them that there is no right or wrong way of doing it. They just need to follow their ideas.
Have you got a favourite teen craft?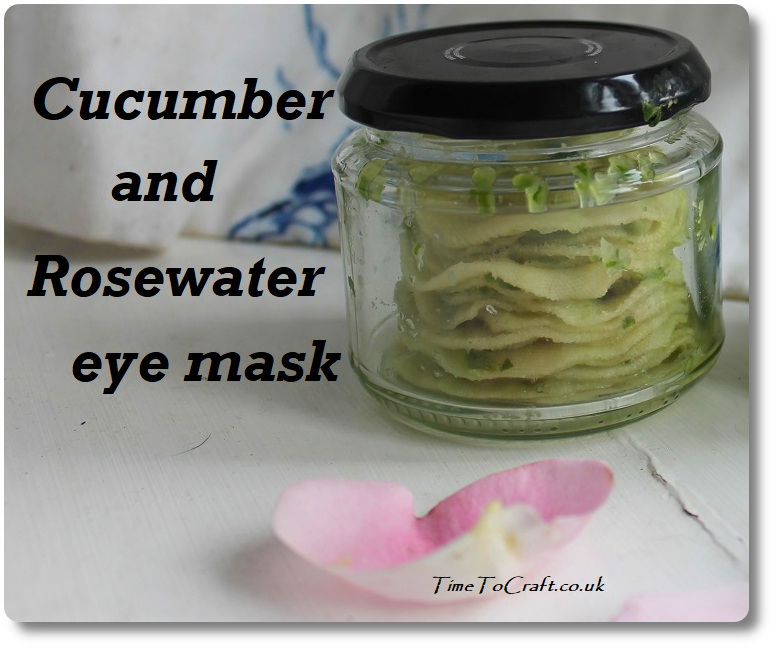 School broke up at lunchtime for the summer holidays, and we've already crossed off a craft from our summer bucket list. Whoop! Whoop! Starting out as we mean to continue. Although, I'm not kidding myself. Enthusiasm will waiver at some point and the children will head out to see their friends, leaving me holding ribbons and jam jars, wondering where everyone has got to.
I'm going to make the most of it while it lasts.
I think the secret to crafting with teenagers is to make something that they can see the point in. For example, potions are a bit more interesting as they get older. No longer the stagnant water with decaying rose petals, left out in the garden, along with the junior venturer's dashed dreams of opening a perfume store on the front drive. Now they want to make something they can use. Something beneficial to them and their skin.
Fits in nicely with my cutting back on single use plastic too. Or single use cotton pads, for that matter, as we used a beautiful, soft, organic, cotton fabric that I've had for a while. The plan is to wash these and use them again when we next do this craft. Absolutely no waste. Eventually, when they are no longer usable, they'll go into the compost bin.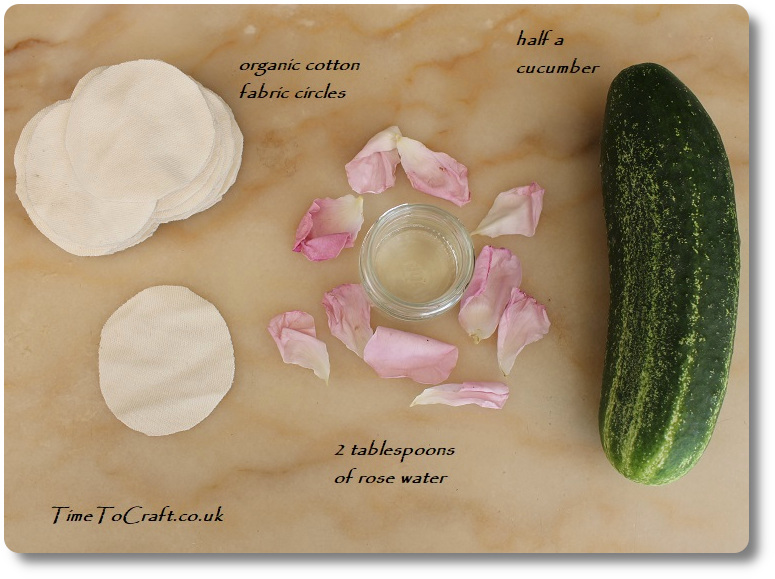 So, today's craft was to make an eye mask. Something to tackle the skin under the eyes, Reducing puffiness and dark shadows. Hopefully. It also smells amazing. Fortunately, it helps to sort out my abundance of half cucumbers that are starting to take over the greenhouse.
(Not sure they would be so excited about setting up a cucumber stall at the end of the drive, but it may come to it!)
With no further ado, this is how we made cucumber and rosewater eye mask.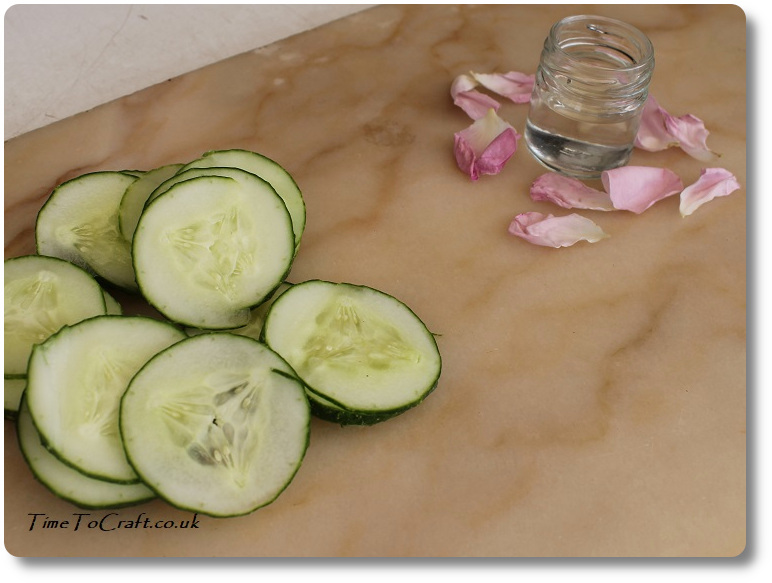 Ingredients
a small cucumber (or half a normal size one)
2 tablespoons of rosewater
soft fabric cut into circles (2″ diameter)
Method
1. Slice up the cucumber and blitz with a blender until it is smooth and watery
2. Mix the cucumber with the rosewater in a bowl
3. Soak the cloth circles in the mixture and squeeze out excess.
4. Pop the circles in a jam jar and allow to cool in the fridge.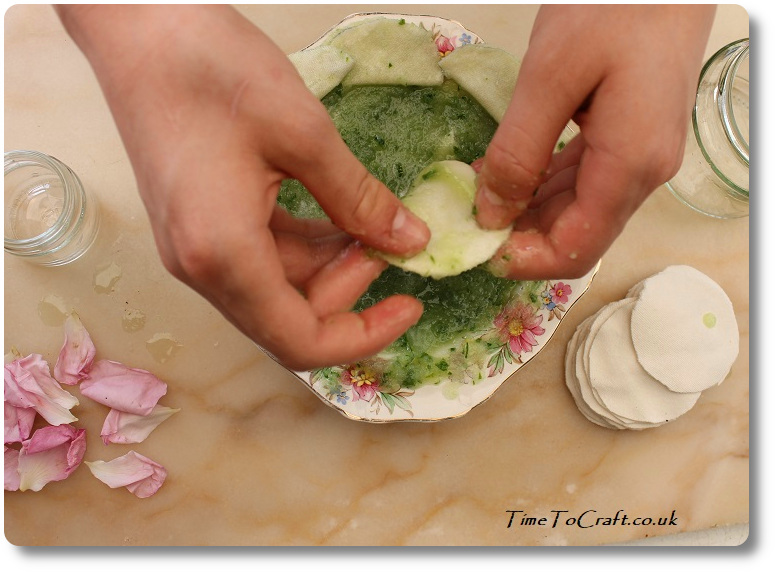 5. Use one circle per eye. Fold each one in half and place under your eye for 15 to 20 minutes
6. Remove the fabric circle and put on one side ready to wash for use again
7. Wash your face with water.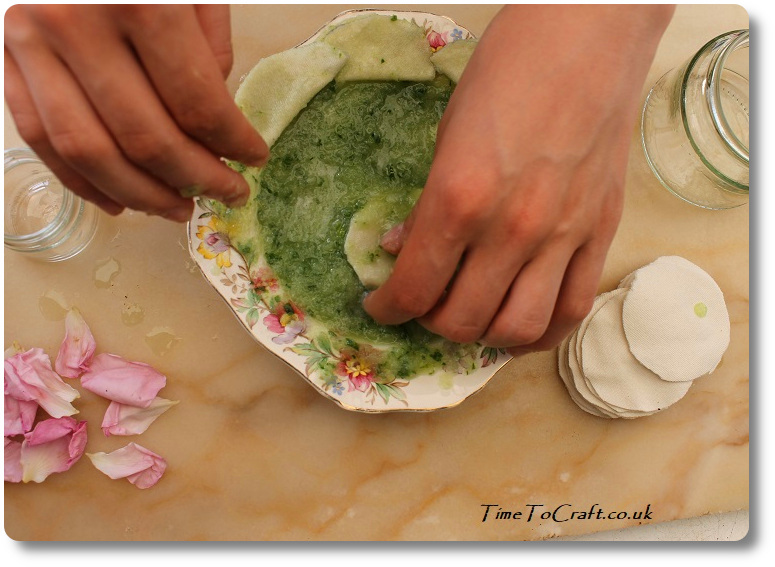 Verdict: Middle teen tried them out. She loved them and said her skin felt amazing. I'm waiting for undisturbed time to relax with my eye mask.
I'm going to flash freeze some of these, so they're easy to separate, and then store them in a jar in the freezer. They'll last longer that way. I kept the remains of the mixture in a jar in the fridge and we're going to use it as a face mask.
I can see this being a popular craft over the summer.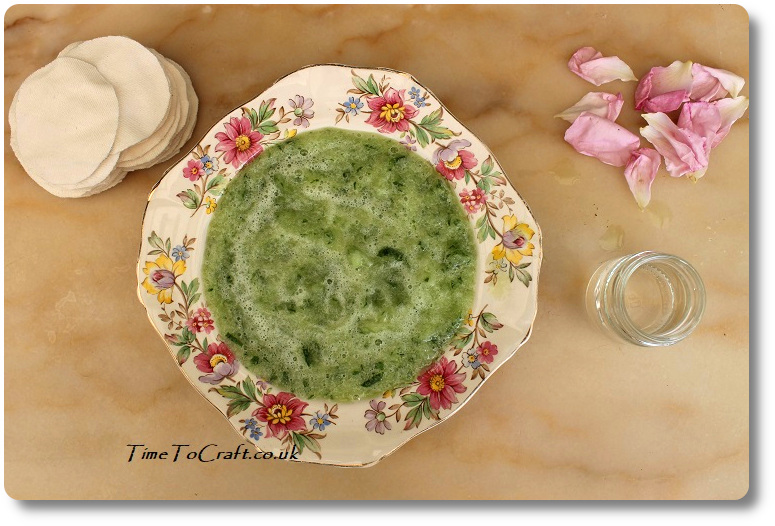 One word of warning (apart from the obvious spot testing new mixtures, before applying). After talking to Youngest tonight, as he went to bed, I think I may need to label my jam jars of the mixture in the fridge. It is made of edible ingredients, but he did point out that it looks like guacamole. I'm not sure what would be the bigger shock. Dipping bread sticks into the cucumber and rosewater or putting chilli laden guacamole under your eyes.
Best not, I think. I'll just go and add some labels.
——–
Joining in with Rosie's Going Green linky.
Photos
There have been cases when people lifted my photos and words, and used them without credit to me or asking permission first. Using them for their own commercial gain. I have now added a level of security to deter people from doing this. Apologies to people who do play nicely. If you would like to use any of my photos, please contact me.
Copyright notice:
All my words and photos are copyrighted to me. They cannot be used for commercial benefit by anyone else. If you would like to use any of them, then please ask me first and don't just take. Written permission only. Don't pass my words, photos or ideas off as your own. It's not nice.
Cookie Policy
Our web pages do not use cookies however this website uses Google Analytics, a web analytics service provided by Google, Inc. Google Analytics uses cookies to help us analyse how people use our site. The use of cookies by Google Analytics is subject to change.