I'm feeling nostalgic. Harking back to when my teens were tiny. Enthusiastic to join in every craft project, I had on the go. Happy voices and determined faces as they worked. Surrounded by mess and chaos, but they were happy people. Not that they're not now. They just have their own projects to take up their time.
I'm blaming putting up the autumn garland over the fireplace this weekend. On my own, this time. Sigh. My little helpers have grown and now only offer useful help such as "it looks nice", when prompted.
Never mind, I enjoyed seeing the handmade decorations we've made over the years. I'd forgotten how soft the knitted pumpkins feel. We used alpaca yarn. I couldn't help putting one against my cheeks. Or the little hedgehogs we made one year. They still look as fresh as the day we made them. Thankfully not as sticky though!
It really was satisfying to see the autumn decorations out. A bit sad to put away the crocheted, summer daisies and knitted hearts, but time moves on. The wheel turns. It got me thinking about crafting these pieces with my children over the years. They feel like time capsules from the past, that explode in my hands as I dig them out of the box.
It got me thinking of all the other autumn nature crafts we've tried and tested over the years. A range of projects that has seen them from toddlerhood to teens. No expensive craft materials. Some are even free. I've pulled out a handful to share.
I'm putting the crafts in age appropriate order. Starting with the toddlers and moving through to the teens.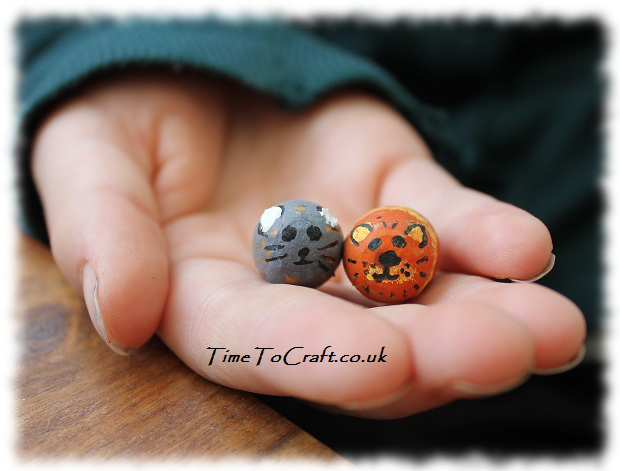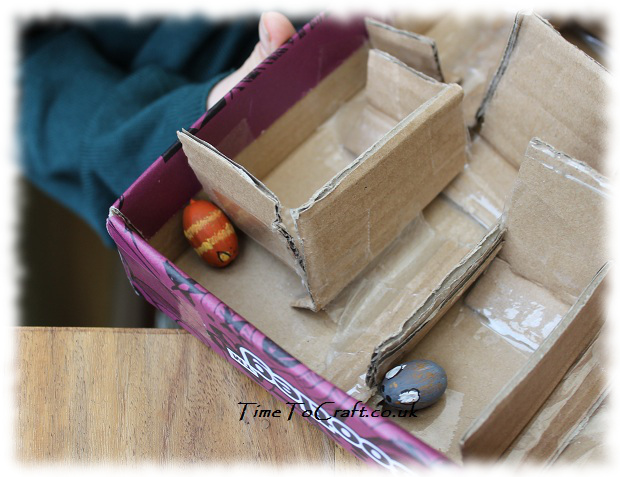 Painted acorns and maze
You need: acorns, paint, cardboard, scissors and sticky tape/glue
More information: here
Painting with acorns
You need: acorns, paint, paper and a tray
More information: here
Painting pumpkins
You need: papier mache pumpkins and paint
More information: here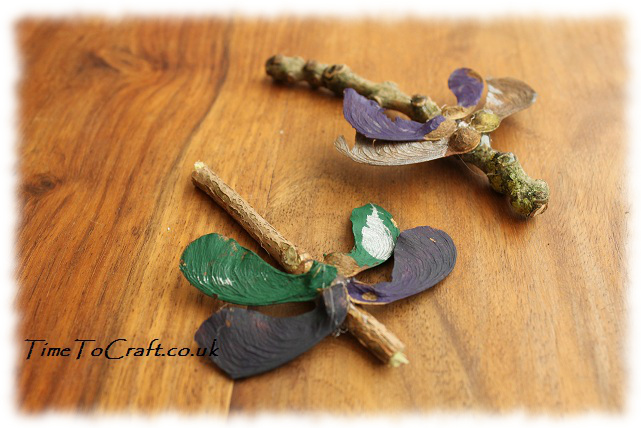 Seed and twig dragonflies
It catches me out each year. We see more dragonflies in our garden and along our lane in September than any other month. Coincides perfectly with the helicopter seeds falling
You need: short twigs, sycamore seeds or similar, paint and glue
More information: here
Printing tissue paper
This could be printed on paper or fabric and used to wrap presents. A great way to reuse the wrapping, especially if you tie it with a ribbon rather than sticky tape.
You need: tissue paper/fabric, potato or sponge and paint
More information: here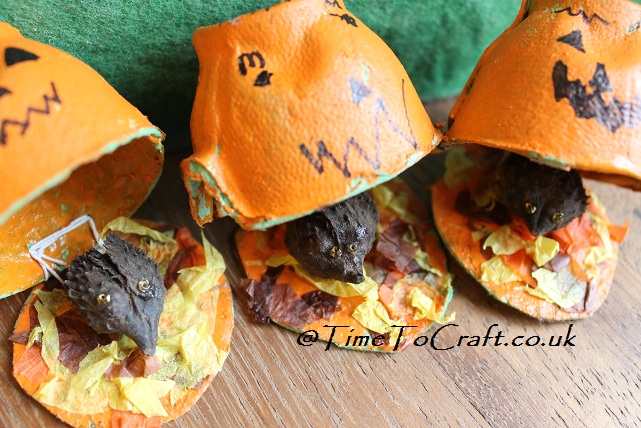 Hedgehogs in pumpkins
There are plenty of beech nuts and their casings around at the moment. They almost seem made to be hedgehogs. We used egg boxes to make pumpkins for their den. The pumpkin flips up to reveal the hedgehog.
You need: beech nut casing, egg box, paint, tissue paper, sticky tape
More information: here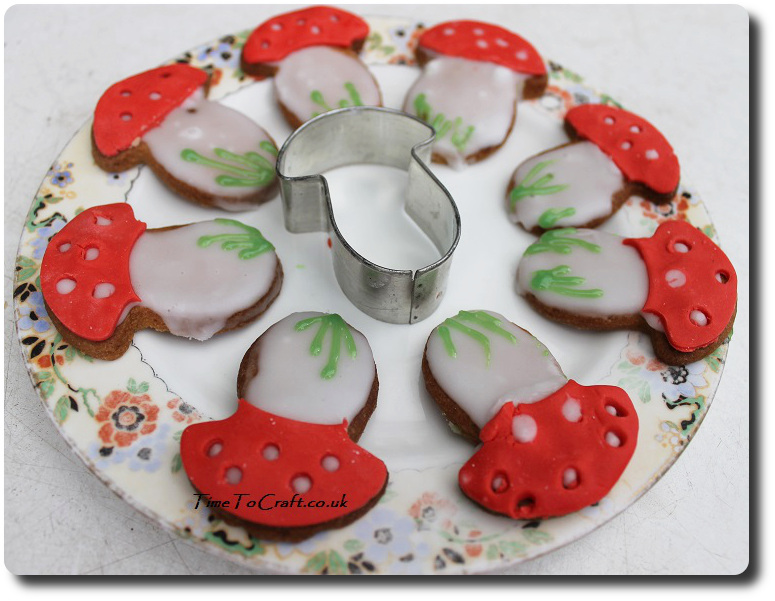 Toadstool cookies
If you are anything like me, you'll probably have a whole clutch of cookie cutters. Most can be flipped upside down to make another shape, such as gingerbread man and a reindeer head or a tulip and a ghost. I've used my toadstool cutter for rockets and fish too.
You need: a cookie cutter, biscuit mix and icing
More information: here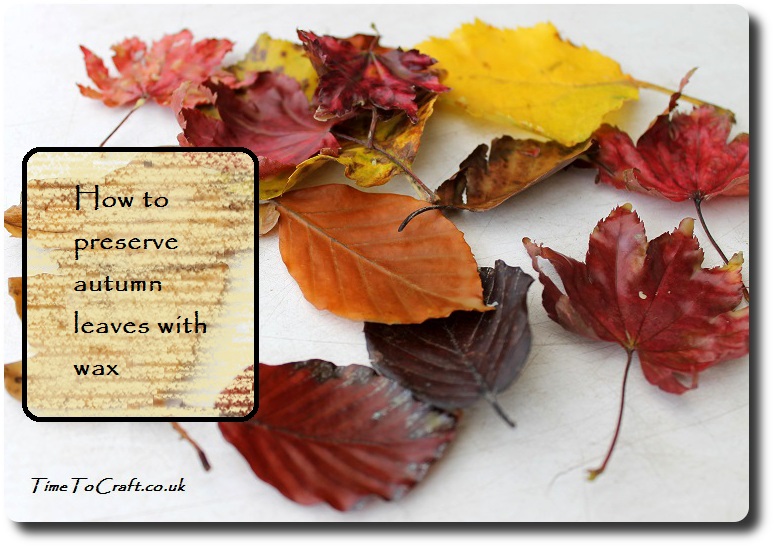 Waxing leaves
This one can get hot, so best for slightly older children. Using a peg and keeping a close eye is definitely on the required list for this craft, but it is fun and the results are brilliant, so I'm including it.
You need: fresh autumn leaves, wax, a tray, peg and tray
More information: here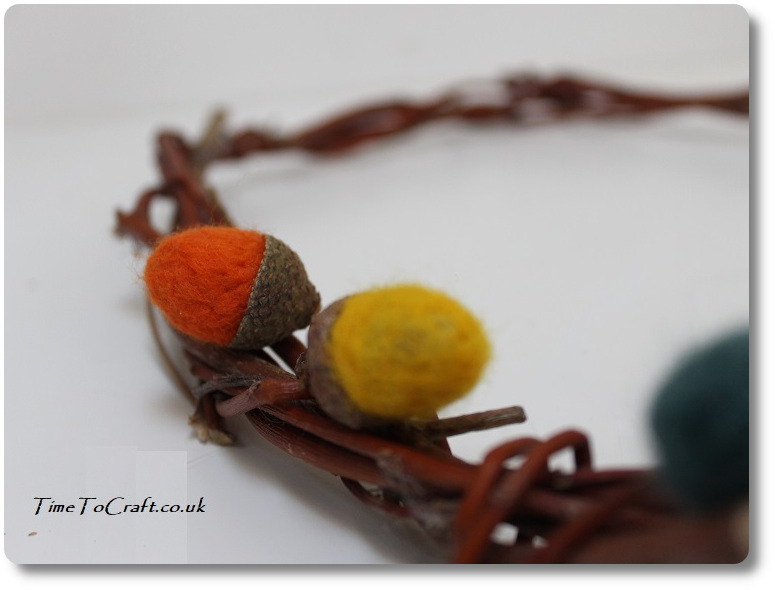 Felted acorns
A recent project.
You need: acorn cups, felting wool and a felting needle
More information: here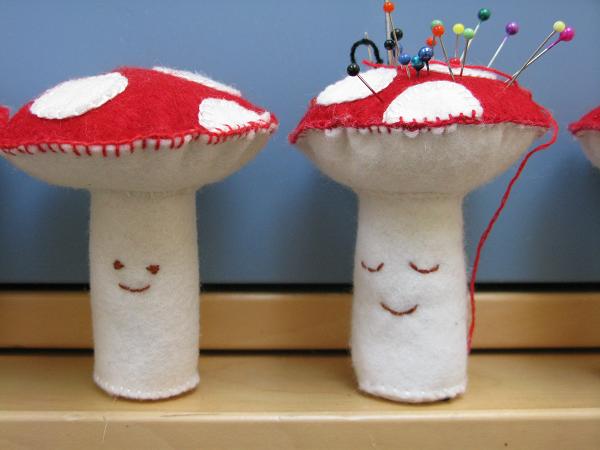 Felt toadstools
You need: red and white felt, needle and thread, stuffing
More information: here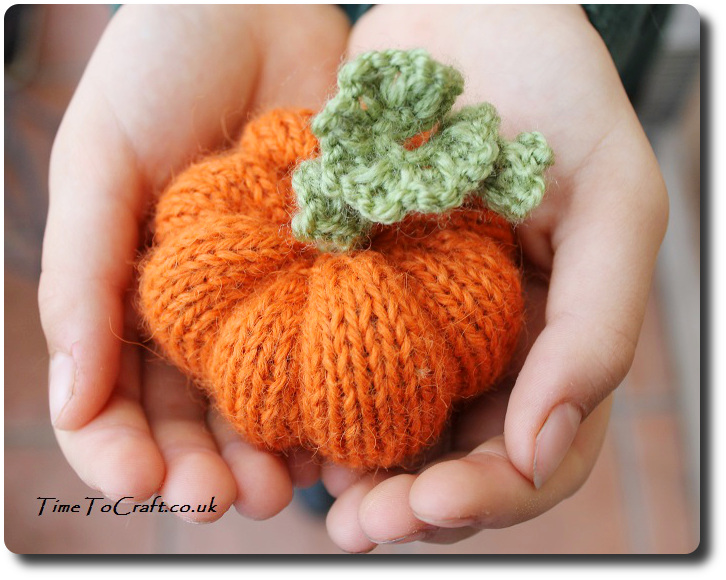 Knitted pumpkin
These are really easy for beginners. The pumpkin is made of a flat rectangle of knitting. The short sides are gathered with a simple running stitch. Once the long sides are sewn together and the pumpkin stuffed, then thread is used to divide it into the characteristic sections.
You need: orange and green yarn, knitting needles, stuffing
More information: here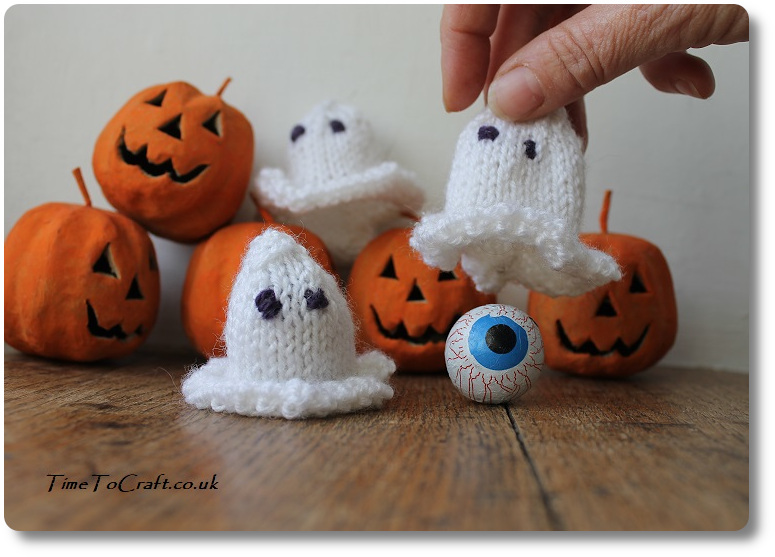 Knitted ghost
Okay. Not officially inspired by nature, but they jumped into this list. What can I say? They are fun. A great way to introduce decreasing in knitting to beginners.
You need: white wool, knitting needle and black yarn or embroidery thread
More information: here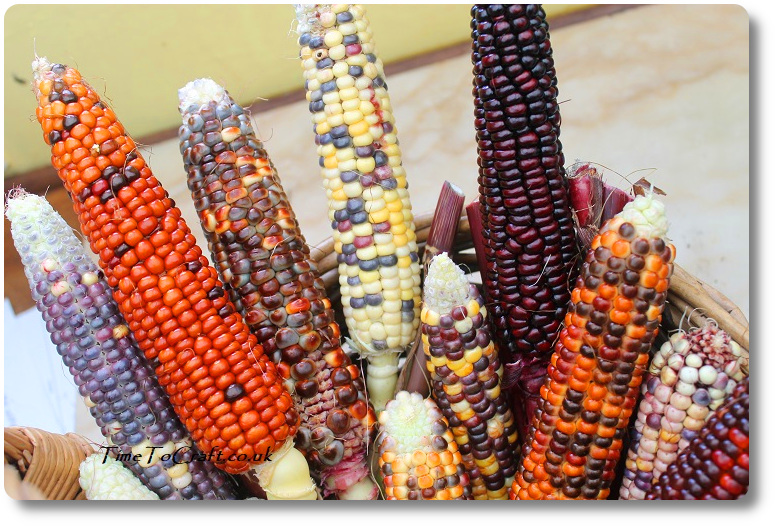 I hope you found something to inspire you. A chance to build a few time capsules of your own, for future years. Nature has so much to offer at this time of year. Most of these projects still come out each year. I'm even crafting with my failed popcorn from last year. This project is just for me.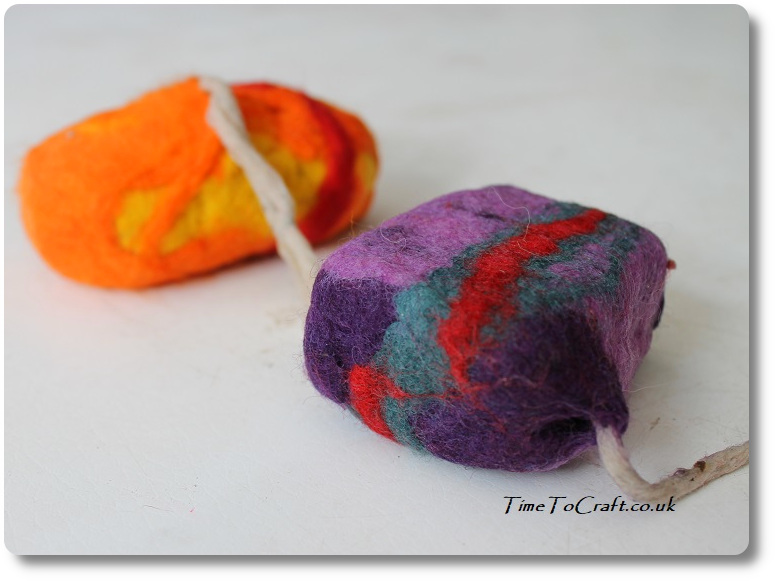 Move over shower gel and hand soap in plastic bottles. You're scrubbed off my shopping list. There's a new kid in town. One that doesn't need a pump mechanism, or leave a trail of packaging. We call it soap.  A bar of soap.
Ok. Maybe not so new. I mean, when I was growing up, a bar of soap, on the side of the sink, was a pretty common sight. That's how you got your hands clean. Public loos might have a soap dispenser on the wall, but not private homes. The humble bar dealt with the dirt.
With the tide turning, soap bars are back in favour. Rising demand as people look to cut their plastic buying habits. People are using special formulated soap bars to shampoo their hair. Removing another plastic bottle from the bathroom
There is one problem with the bars. Arguably more, but I'm thinking about the way it sits in its own wet puddle and disintegrates, if you're not careful. Imagine you're in the shower. You lather up the soap and put it down in a soap dish, or just on the side, and use the soap on your hands to wash with. The soap bar is wet. It sits there, slowly dissolving in its puddle of water, reducing its useful life. Not a good idea and it can be avoided.
(When you are a family of five, sharing one bathroom, ugly, soggy soap ends up being pushed to one side. I'm saving you from a photo of it, at this point!)
Soap needs to dry out in between uses, in order to extend its life. Lots of ingenious ways of achieving this, including special dishes and bottle tops to sit on. I'm going to suggest another way. Felted soap on a rope.
There are lots of reasons that felted soap works well.
Acts as a flannel and gentle exfoliator
Colourful
Natural material
Include scrappy bits of soap, that would otherwise be thrown away.
Allows the soap to dry out
Brilliant crafting activity to do with children of all ages (including teens)
Cleans up your hands as you make it (great after gardening)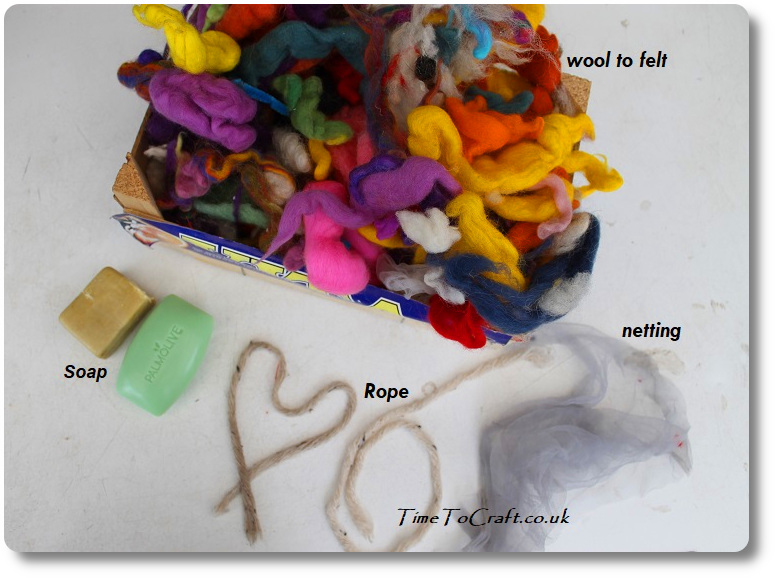 It is really easy to make. All you need is a bar of soap, wool roving, netting or pair of old tights, bit of rope and warm water. Wool roving is the fibre you get in felting kits. Felting wool, if you prefer. It is 100% wool, which felts when it's plunged in hand hot water, soap added and rubbed. Bit like when you put a wool jumper in a hot wash. It shrinks. Making it a tight fit around the soap and sealing it in. Lots of craft shops now stock felting fibre and there are also plenty of online sources too. Alternatively, make friends with a sheep farmer.
Now for the fun part.
How to make a felted soap on the rope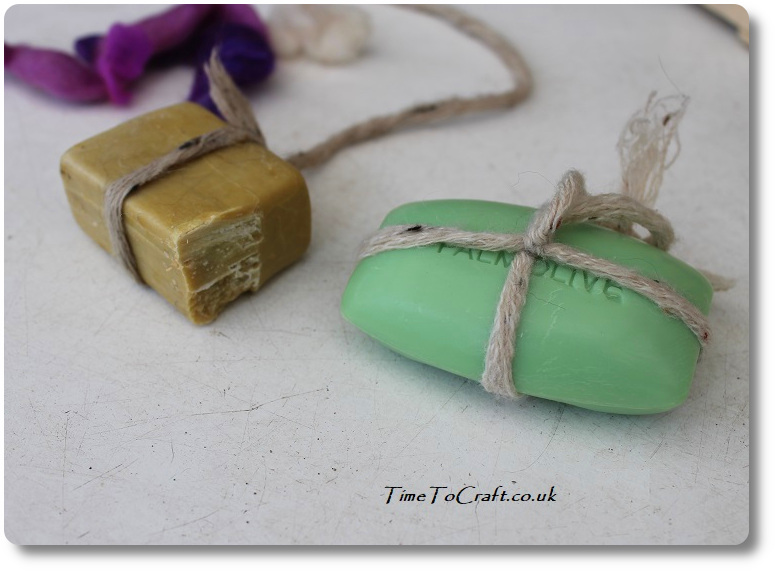 1. Tie the rope around the soap and secure with a knot. Leave a long tail for hanging up the finished soap.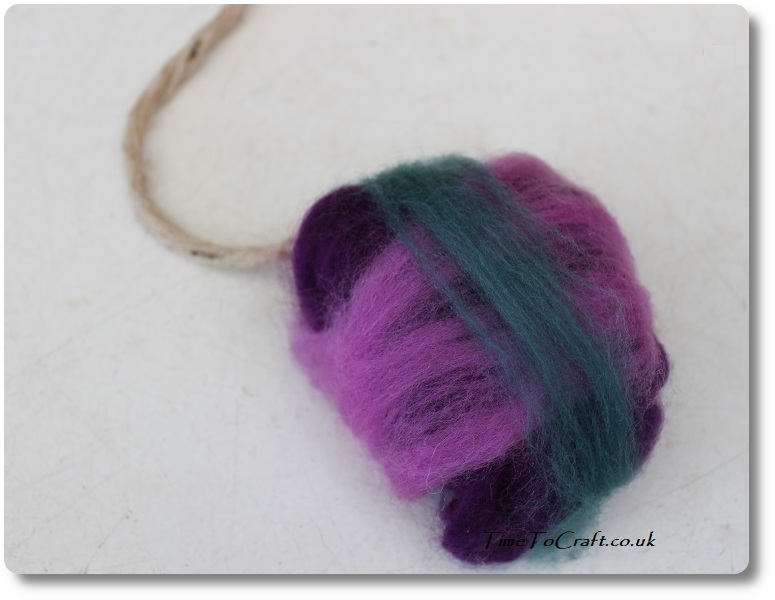 2. Take a length of the wool and tease it out into a long, wide, flat as a pancake strip. It should be wispy, like the teal strip above. The trick is to have lots of thin layers. If the layers are two thick, they will be harder to felt and you'll end up with ridges and gaps. At this stage, wispy is your friend!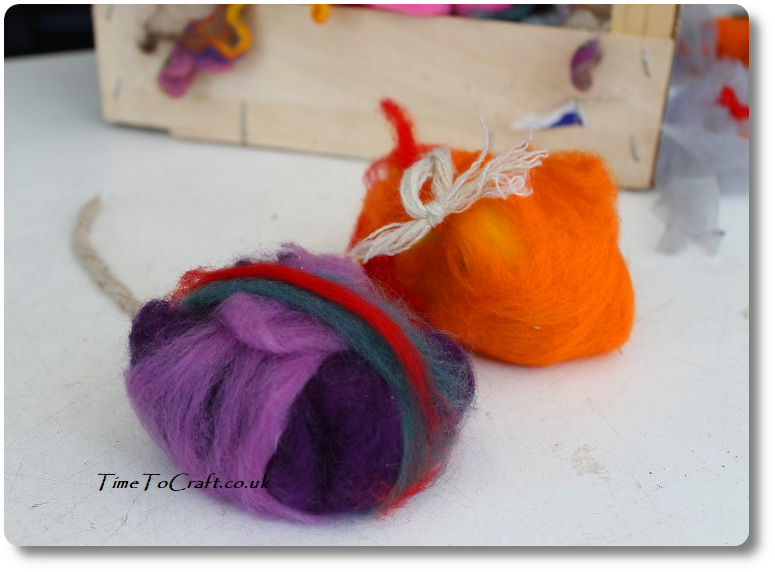 3. Wrap the wool around the soap, making sure the rope tail is not caught up. Keep adding more wool strips, in different directions each time, until the soap is covered and you can see no more soap. Add another two or more layers of wool to build up a thicker wool covering.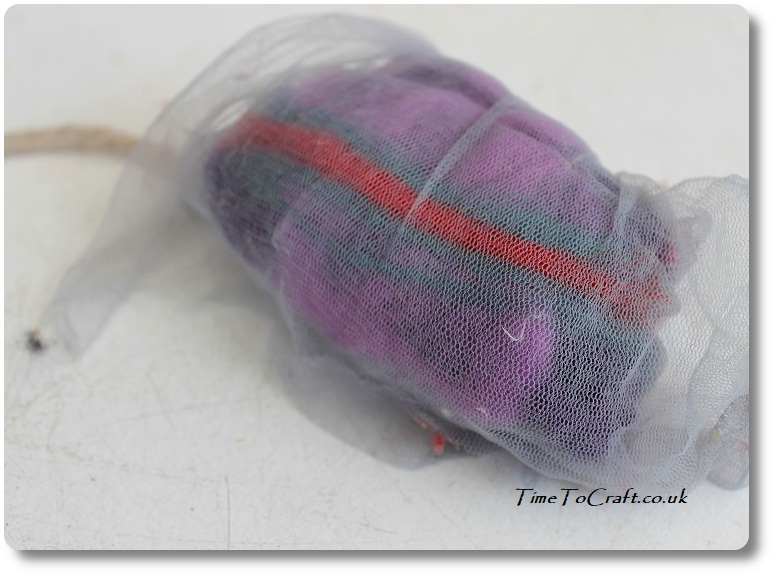 4. Wrap the wool covered soap with the netting. An easier option it to put it in the toe of a pair of old tights.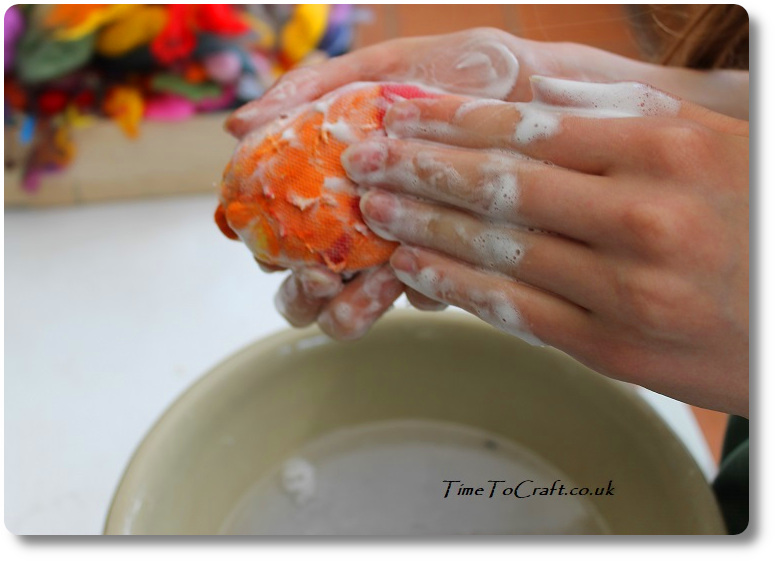 5. Briefly plunge the soap into a bowl of hand hot water and out again. Rub the wool covered soap gently in your hands. The wool will begin to felt, as the soap suds start to appear. Keep going. Allow 5 minutes. (previous child friendly soap felting activity) Test by removing part of the netting and pinching the surface. If the wool pulls away like a cobweb and doesn't look smoothly matted together, wrap the netting around again and rub the surface again.
6. Once it's felted, remove the netting completely and run under cold water to remove the suds on the surface.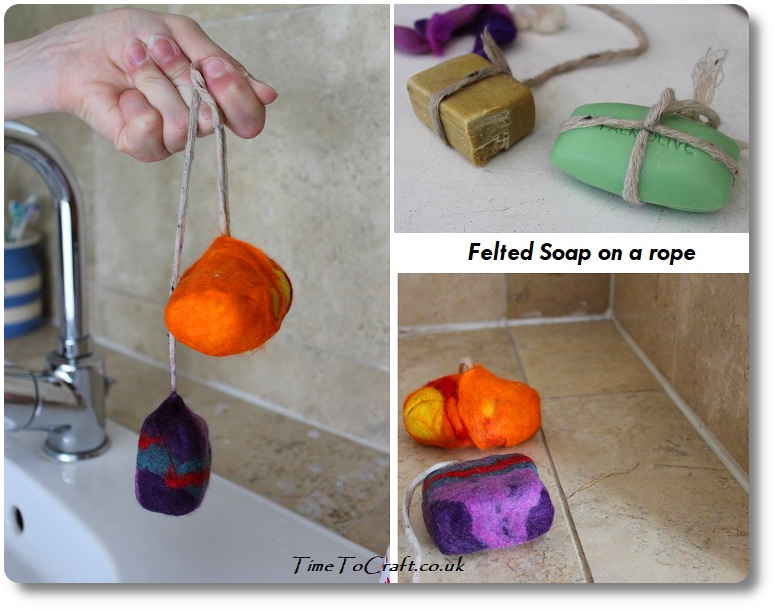 Your felted soap on the rope is ready to be hung up in the bathroom and used. Hanging it up will allow it to dry between uses. I've not tried it, but I'm sure felted soaps can be made using shampoo bars too. Once dry they can be stored away in a cupboard.
I love using felted soap. Every member of the family can have one. It cuts down on the mountain of wet flannels that grows in our bathroom. Once the soap is finished, either slice the felted wool open and add another soap (or ends of soap), or use the wool case for something else. It can be put in the compost heap once it is beyond all conceivable usefulness.
Middle teen and I made these two soaps this afternoon. She's happy to be cutting down on the plastic bottles in the bathroom , as much as I am. Can't wait to put them to use.
——–
Joining in with Rosie's Going Green linky. This month is Plastic Free July. I'd love to know if you are joining in and any tips you have.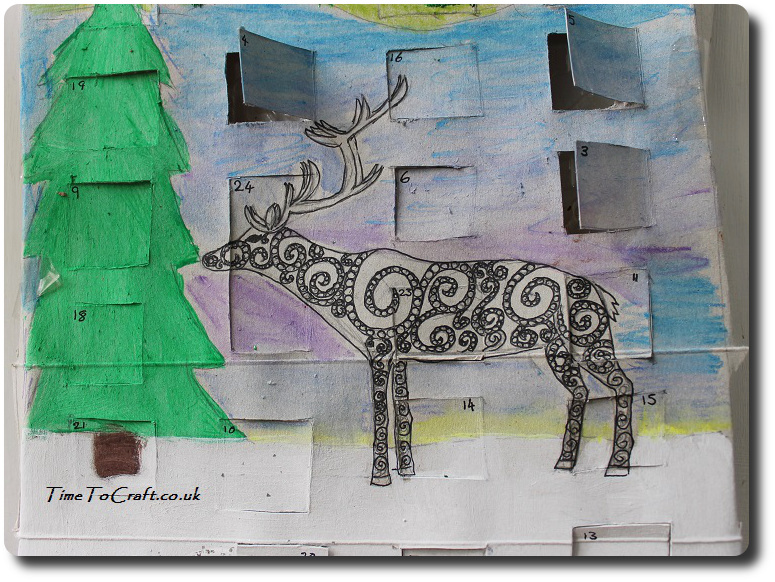 Now I admit, I probably didn't approach the issue in the best way. I should have known. It's not as if I'm particularly new to this parenting lark. I know the rules. Parenting Rule number 537 states that a short sharp, direct approach, out of the blue, will not seamlessly shift offspring on to the next stage of development. Too quick. Too sudden.
No. It requires carefully placed, crafted hints being casually dropped for weeks beforehand. Like a trail of breadcrumbs leading them to their own discovery of the need to move up a level. Preparing the ground. I knew that. I'm not a rookie.
Not that that stopped me. When I look back, I made the classic mistake and I was doomed to fail from the moment I drew breath to speak.
All three offspring were in the kitchen. I seized the moment. I announced, in a nonchalent manner, that everyone was too old for chocolate advent calendars this year. My follow up argument about single use plastic would have won them over, but I played it too late. I felt some of them sway. Alas, by then, the battle had already been lost. Apparently, and this is the moment I knew I was defeated, I was on route to ruining their childhoods forever. (again)
I wonder which page of the childhood manual that gem is printed on.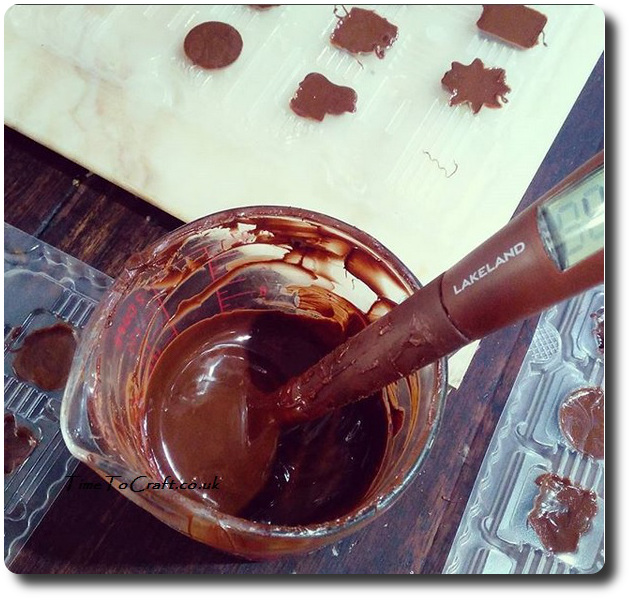 Anyway, this partly explains why I ended up in the kitchen with my 13 year old, one evening, making chocolate.
I compromised. Yes, they could have a chocolate advent calendar, if and only if they helped make it, and as little new plastic as possible should be involved.
Fortunately, I am part womble. I have a habit of keeping useful things that other sane people would throw away. "Surely this will be useful one day", is my motto. I had three plastic inset trays from a previous year's chocolate advent calendars, squirrelled away in a cupboard. Empty and clean, of course, and ready to use. They had the cutest, Christmas shaped indents, which is why I kept them in the first place.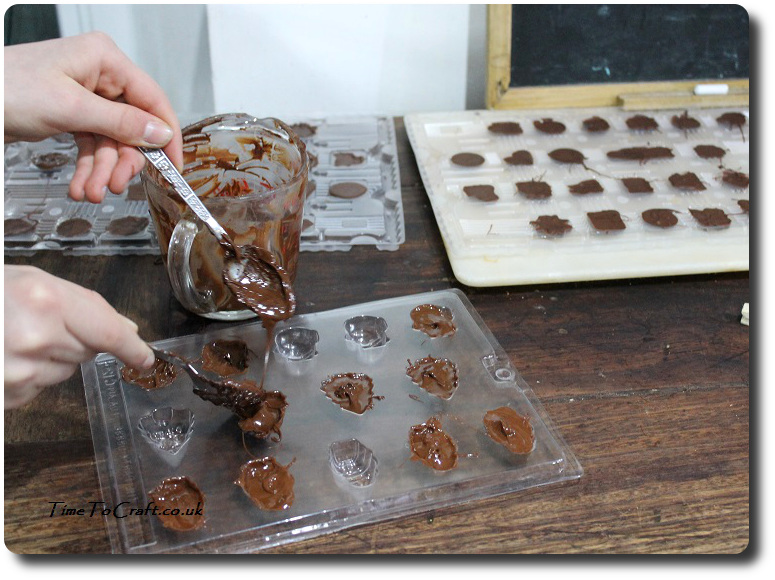 Before you think that this was a smart move on my part and how it must have saved me a packet by not buying new, it did not. True, the chocolate cost less than buying all three of children a calendar each, with the added bonus of being really nice chocolate. A definite win.
I then threw cost effective out of the window and hiked up the cost by buying a chocolate thermometer. I was now even. I was making for more, or less, the same price as buying three new, deluxe chocolate calendars.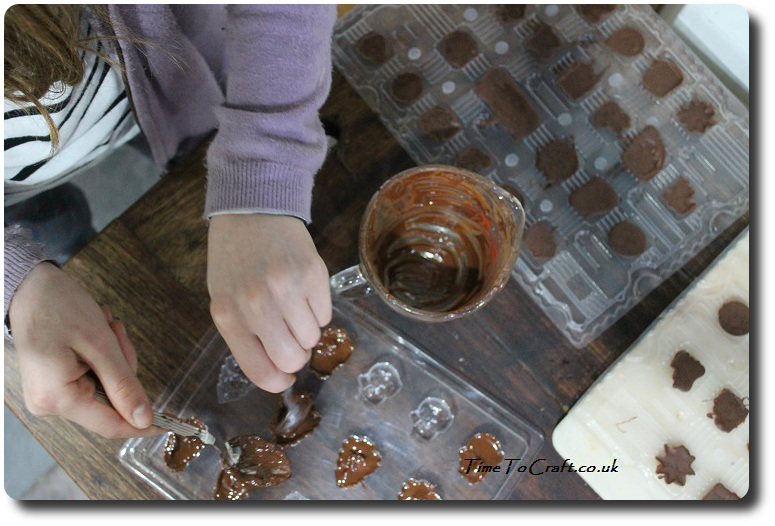 My theory is that I can use the thermometer again. It also ensures that the chocolate will, not only shine and snap correctly, but can be kept at room temperature without a melting issue. No need to make room in my overcrowded fridge for three glitter covered calendars, between the milk and the brandy butter, while showering the uncooked turkey with seasonal cheer.
(I'll just pause there for a moment so you can imagine the complications of doing this in the run up to Christmas)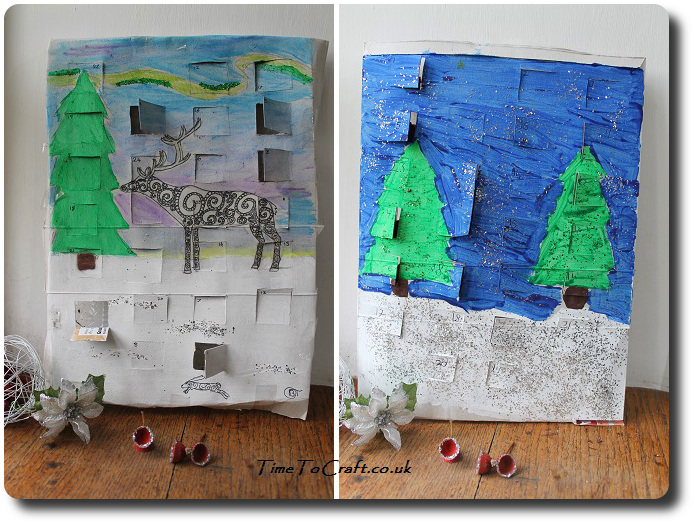 The next part the children did pretty much between themselves, as work and the lurgy kept me otherwise occupied. They flattened cereal boxes and marked out holes for the window, which lined up with the chocolates in the trays. Fortunately, the 13 year old is a dab hand at using a craft knife to cut out the windows.
Next they painted and decorated the cardboard, which, once dry, was sticky-taped to the plastic tray.
I'm told that the chocolates easily pop out of the old inset tray, each morning, and are delicious. Success. This craft project is worth doing again.
So just three questions left:
Will the insets survive for another year? I think so. They are thin, but there are no cracks, so they should be good.
Next question. Did I cut down on single-use plastic? Hmm. The chocolate came in a smallish plastic bag and I should have given them thread or string instead of the sticky-tape.
The thermometer was packaged in a moulded plastic case, which went out in the recycling bin and hopefully can be made into something else. Not wonderful, but over time, I should cut down on more plastic by using my thermometer to make treats rather than buying little bags filled with sugar yummies.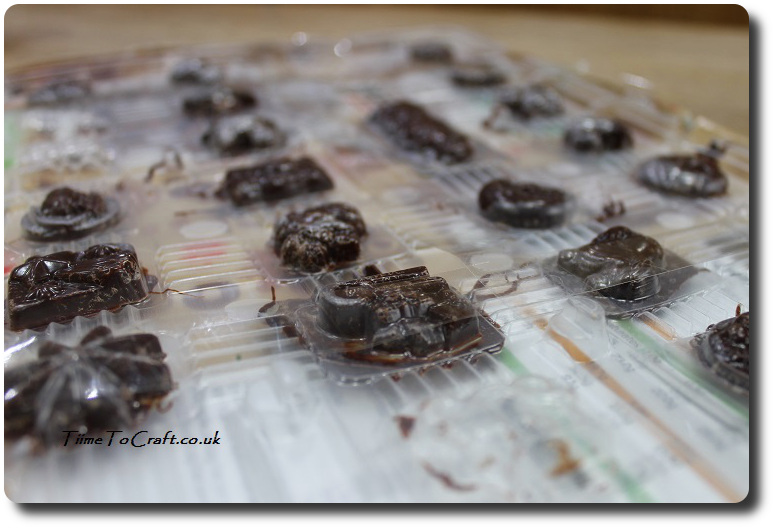 Final question. Why are there only two calendars? Darn you spotted that. Simple answer. Eldest teen is in the throws of her exam mocks, at the moment. I agreed to finish her one. Hmm. Yes. I'm getting there. I really am.
Project complete and a success. Finding a craft activity to do with older children is always more challenging, but this one worked. I had a great time making the chocolate with my daughter. Decorating the calendar fronts was a fun craft activity in its own right. Will we do it again? Yes. Although, I know with a heavy heart, that there is always a chance that they may be just too old for chocolate calendars next year.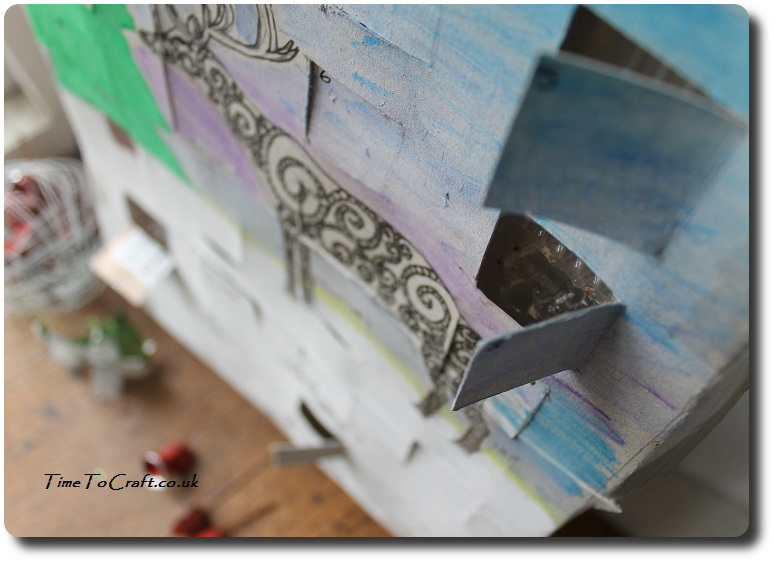 Photos
There have been cases when people lifted my photos and words, and used them without credit to me or asking permission first. Using them for their own commercial gain. I have now added a level of security to deter people from doing this. Apologies to people who do play nicely. If you would like to use any of my photos, please contact me.
Copyright notice:
All my words and photos are copyrighted to me. They cannot be used for commercial benefit by anyone else. If you would like to use any of them, then please ask me first and don't just take. Written permission only. Don't pass my words, photos or ideas off as your own. It's not nice.
Cookie Policy
Our web pages do not use cookies however this website uses Google Analytics, a web analytics service provided by Google, Inc. Google Analytics uses cookies to help us analyse how people use our site. The use of cookies by Google Analytics is subject to change.