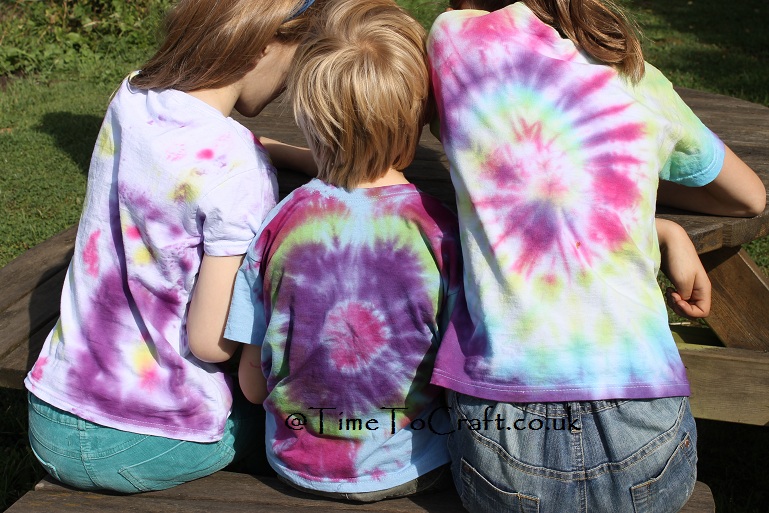 I think within an hour of finishing their tie-dye tshirts, I heard the first "Can I wear my tshirt?"
"No, not yet."
This was repeated at regular intervals for the next 36 hours. I can hardly blame them.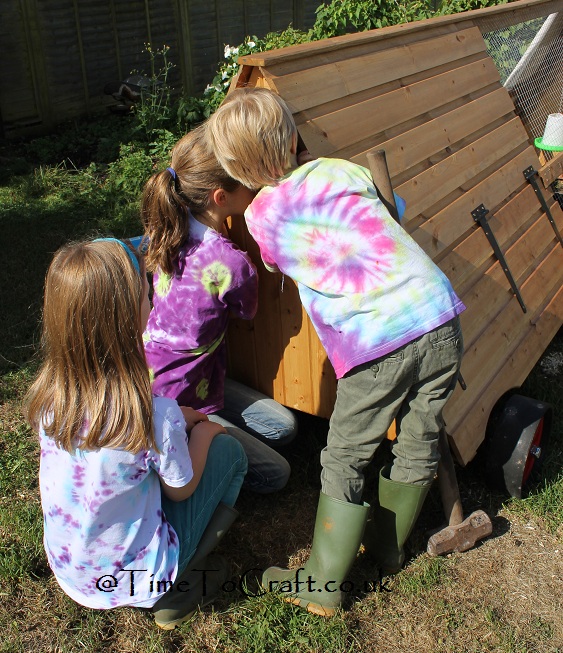 (looking through the heart shaped window in the new chicken ark)
The kit we used, required the tshirts to be wrapped in clingfilm and left at least 6 to 8 hours. The longer it is left, the more vibrant the colours. Then the tshirts needed to be rinsed, washed and dried.
In our case, life delayed the process even more. Rain meant the outdoor theatre outing in the evening was cancelled, so a hastily arranged trip to the cinema was substituted. Leaving the tshirts forgotten and still wet.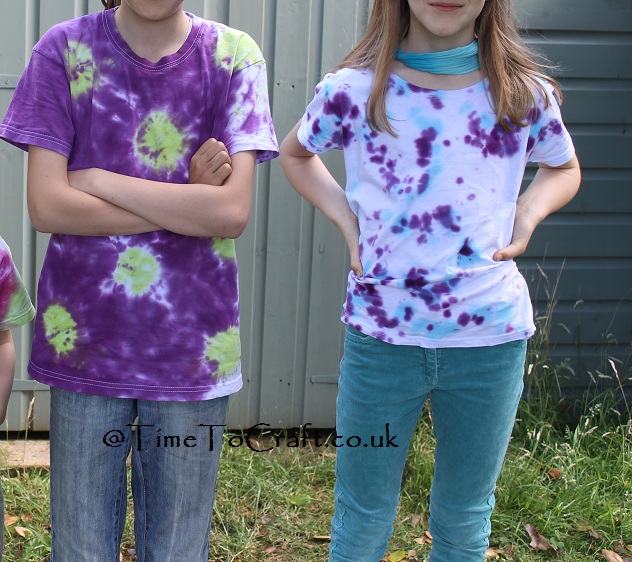 Eventually, all nine tshirts were ready to be worn. Next amazing parenting feat, was catching all three children, as they escaped back into the garden after the torrential rain stopped. Challenging to say the least. I think I captured all nine of  the tshirts.
The rain had brought out the baby toads, which are about three or fours weeks later than usual. There is an annual migration of these tiny toads through the garden. We had to watch where we walk and also catch a few for closer inspection.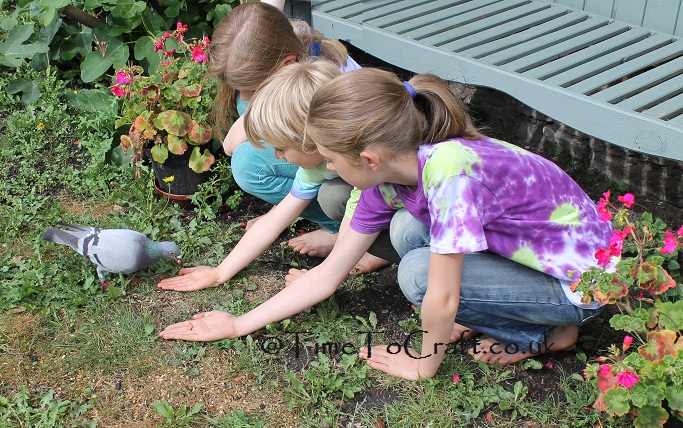 Also an injured racing pigeon has been staying in our garden for the last week. It has become so used to us that we can hand feed it. Soon as the children sat on the bench it flew down and all thoughts of modeling tshirts were forgotten. How can I compete with a pigeon?
The kit we used contained everything we needed, including the instructions to make spiral and sunbursts. We only used half the dye, which means we will be doing this activity again next summer.
I need to remember that the most successful of the tshirts were totally coloured with minimal white space, as it turned greyish instead of white after washing. (Just like putting a coloured sock in with the white load.) I'd also leave the tshirts longer before I rinsed them out, as some of the colours faded more than I'd have liked.
In case like Fiona you are brave enough to consider doing this activity and would  like to know which kit we used …… The kit was a hit with us, except for the cover picture (house rule, no whispering in front of others) and the gloves tore too easily. I would use my own rubber gloves next time.

Those apart, it contained enough dye and elastic bands for my three children to have lots of fun. The instructions are clear and easy for my 6, 8 and 10 year old to follow. Also the bottles used to apply the dye worked well. BUT do not underestimate the mess it will create. I'm still trying to scrub feet, hands and behind the ears of certain children! If you follow me on twitter, you'll have seen the tie-dyed feet already.
(Should just add that this is a personal review and I've not been compensated in any way by the manufactures or suppliers.)