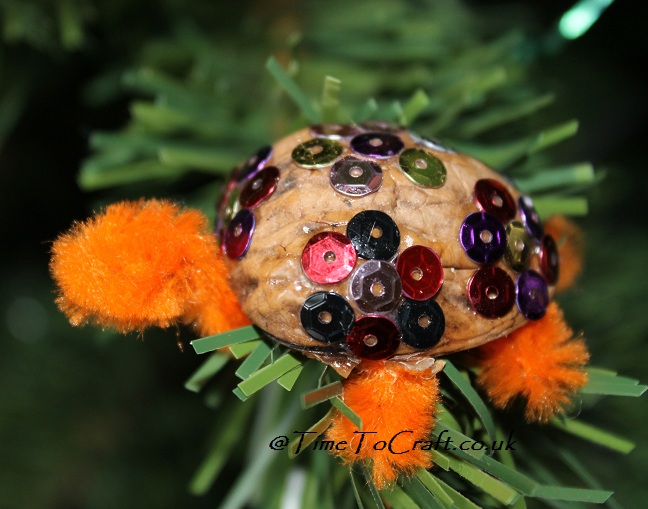 I love when a book sparks a craft. I also love when a book inspires a discussion. I've been dying to do this craft ever since we read the book and this weekend I finally put idea and materials together.
I need to back track slightly. A few months ago, BL, TF and I were waiting in the car while AJ was in her harp lesson. It's too short to do much, so I tend to take a book to read to them. This time I chose The Tortoise's Gift. TF didn't want to wait in the car. He didn't want me to read to him, but as soon as I started reading he settled down and listened. So captivated, I hoped he was remembering to breathe. He was totally distracted from his disgruntled mood. In fact when the music lesson was over, both children pleaded for me to finish the book as the story had grabbed them. Complete turn around.
The book is a Barefoot Books chapter book with enchanting illustrations. It's perfect to read to TF at 5 years, and BL, at 8 years, is captivated by the story enough to read it for herself more than once.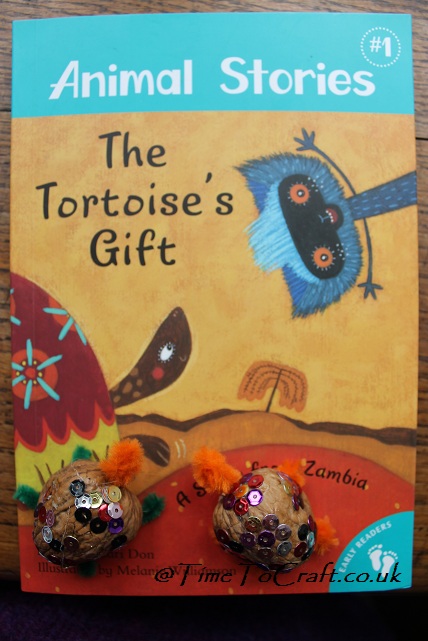 This weekend, I dug out my supply of walnut shells and sequins and began to glue. One child at a time found me. Each sat down to make their own tortoise, until all three had joined me at the table, concentrating on colours and patterns, in absolute silence. You could have heard a sequin drop.
I knew that I wanted to put the shiny tortoises on the Christmas tree, where the fairy lights would make the sequins glisten. My idea for attaching them did not work. It was AJ that came up with the idea to glue the pipe cleaner to the inside of the walnut shell. Perfect!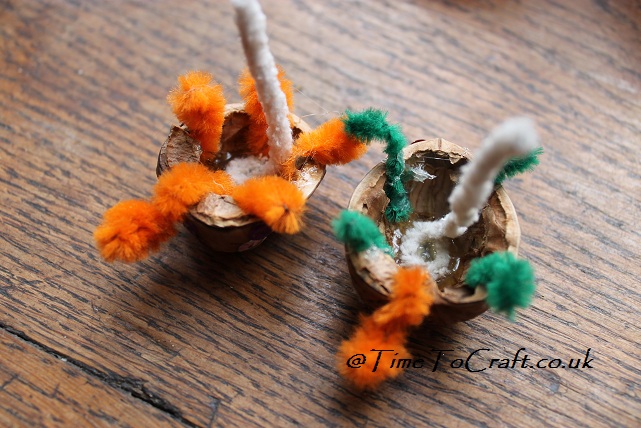 While preparing to glue the tortoises, I put the glue gun on to heat and then popped outside to check that the hens' water hadn't frozen over again. It had. A couple of inches of solid ice. Back outside with a kettle of not-hot water. When I came back in, after chatting with the hens, there was a definite smell of something over hot. I checked the Aga to see if I had left something on it. Or in it. I recognized the smell, but couldn't place it. Until I walked passed the very hot glue gun. Too much multi tasking. The glue came out easily and there was a puff of smoke as I glued. The tortoises survived and the children were safely at school. Phew!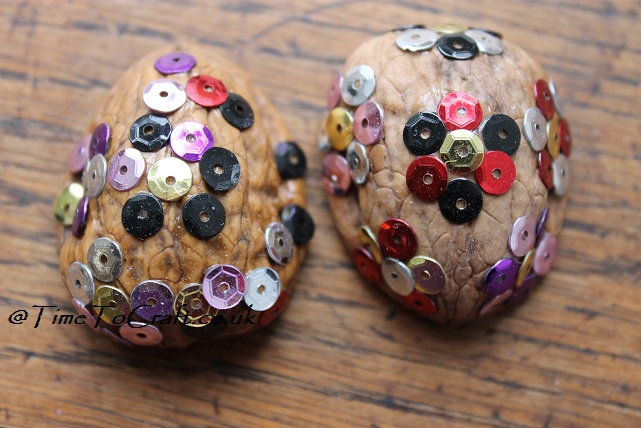 Funny as being distracted was the very discussion that this book and craft have sparked.
This morning, we were discussing the book. I asked the children which character, from the book, they felt that they were most like. The elephant who stopped for a scratch and forgot, the lion who was too busy anticipating glory to remember, the monkeys who were distracted by a game or the tortoise who was single minded in the task and succeeded. Funnily enough the children all chose the tortoise. They felt that they would not get distracted.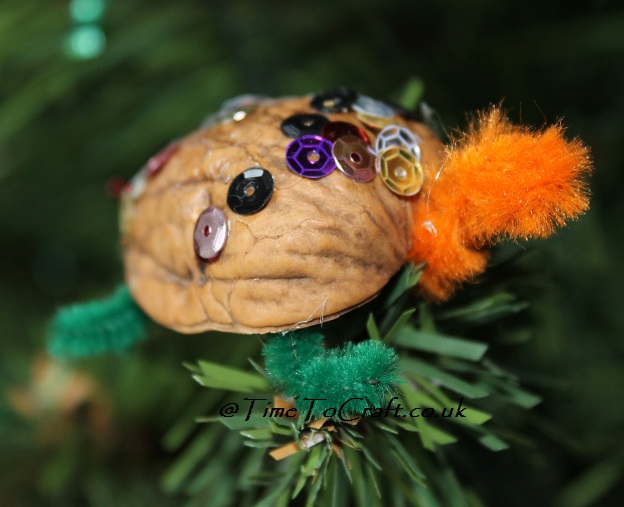 As they got ready for school, the subject changed. Soon there was more messing around than getting ready. To such an extent that we left slightly late (still on time for school). As we walked down our lane to school, I asked them if it was ever good to be distracted and when it was bad. They came up with some lovely ideas. Good to be distracted when you're hurt or upset. Not good if you are doing school work  or walking to school (narrow country lanes do not have pavements).
I might just add that using a glue gun is a bad time to be distracted too! Not sure I can claim to be much like the tortoise either.
(AJ has blogged about another BB book that we got at the same time. Take a look here. It's for a slightly older reader.)