Mini apple and custard pies, plus how to make pastry from scratch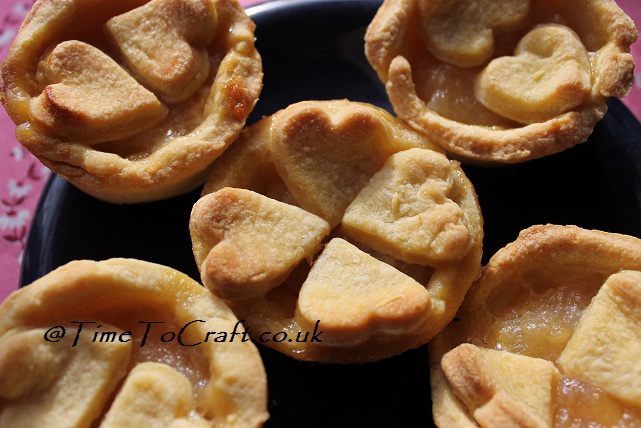 This may seem like a double take for regular readers. Apple pies again so soon. Both Nickie and Carly asked about the recipe, so no time like the present. Oh and my eldest daughter says "Thank you" to them as it meant I made another batch of pies so soon after the first, which means I need to make pastry from scratch again.
I have two recipes that I use to make shortcrust pastry. One is richer and melts in your mouth, but takes more time and care to prepare. The other is my quick pastry, which I use the most. Seeing as time is of the essence when it comes to preparing packed lunches. The quick pastry is also more robust when travelling in the lunch bags.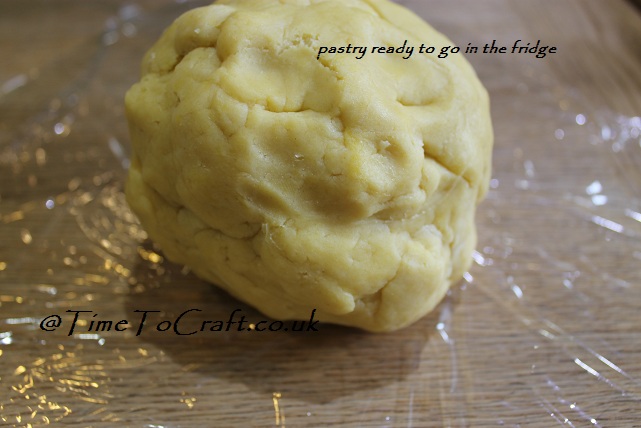 I'm using the quick pastry in the food mixer, this time.
Before I had children, my hands were, on the whole, colder. Perfect for making pastry. Since the children, they always seem to run hot. So I now use my food Kitchen Aid mixer*, which I love, to make the pastry. At one stage I developed a reaction to baby wipes, which left my hands cracked and dry. Not good when making pastry. It took me months to work out what was causing it. Thank goodness for food mixers.
(affiliate link)
How to make pastry from scratch
Anyway here's the recipe for quick pastry, which can be mixed by hand.
This should be more than enough for a 12 hole muffin tray.
Ingredients:
12 oz (350g) plain flour
8 oz (250g) butter at room temperature
4 tsp of caster sugar
2 eggs
1. Put the flour and butter in the mixer bowl and mix until it resembles bread crumbs (by hand, rub the butter into the flour between your fingertips, over the bowl, until you achieve the same effect.)
2. Add the caster sugar and beaten eggs and mix, until it starts to form a ball. You want it to be soft but not too sticky.  Depending on the size of your eggs you may find that it is sticking to your hands and stretching out away from the rest of the dough, making it difficult to handle. If so, add a touch more flour, but not too much as the dough should be soft and a touch sticky, not firm and dry. More like brand new playdough!
3. Rest your dough in the fridge, either wrapped in cling film or an air tight container, for half an hour or so. It can be left longer. If left too long it will become a hard ball, which needs to be taken out of the fridge and left on a surface before it's soft enough to roll out.
Pastry ready! Of course, you could buy pastry from the shops. Whichever is quickest and easiest for you, but I'm on team homemade, as I love to make pastry from scratch.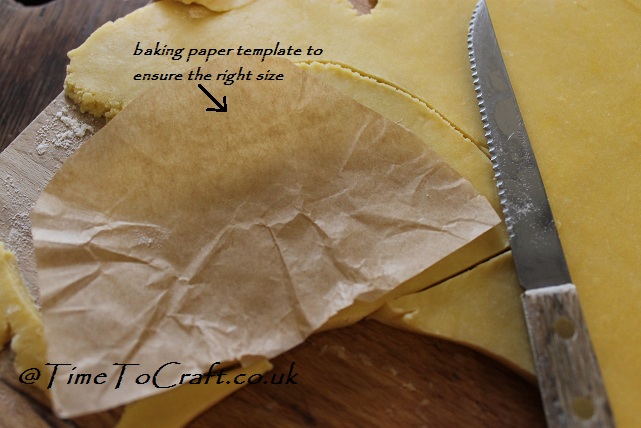 Next roll out the pastry on a lightly floured surface. Keep the flour to the bare minimum. Just enough to stop the pastry sticking, otherwise the pastry will turn out like cardboard. It needs to be about 3mm or quarter of an inch thick. Any thinner and you risk your filling escaping through stretched holes in the pastry. Too much thicker and it will be too much to eat.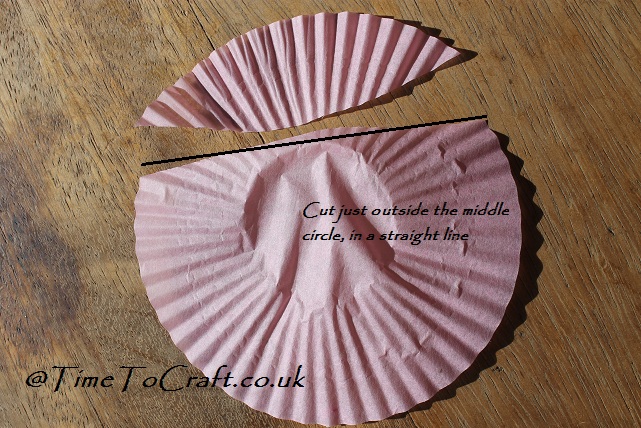 I bake my pies in a muffin tray. I've worked out the best shape and size for my tray and made a template that I know fits the hole. It saves time and trimming if you use a template. Find a muffin or paper case that fits your tray and cut off the top third. (I didn't think I'd be taking a photo of a sliced paper case today, but it is so much easier to show you than describe it!)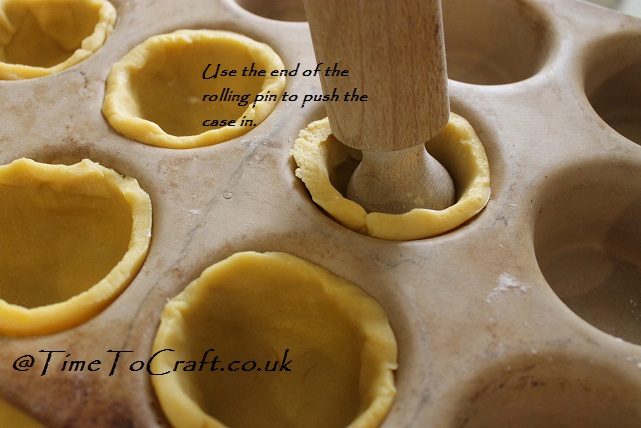 Grease the inside of your tray, or line it with baking paper. Sometimes I just add a circle of baking paper at the bottom of the tray (or a jam making greaseproof circle). If I'm in a real hurry I line it with an over sized square of paper. If makes it easier to pull out of the tray after its baked. Pop the cases in and gently rub the edges together, so its sealed. Push down with the end of the rolling pin, if needed.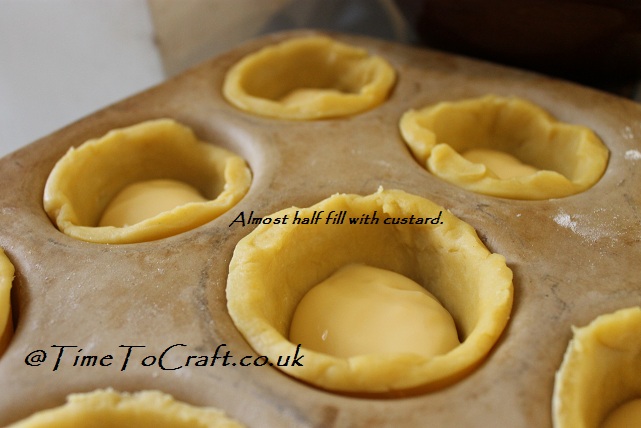 A generous dollop of custard next. Then add the apple. I'm still using last year's frozen apple puree. Defrosted, of course.  Basically Bramley apples with a minimum sugar. Maybe a touch of cinnamon. You could use fresh apples and bake for longer, but you might need to put foil on the crusts half way through to stop them burning. Whichever you use, do not overfill the cases, as they will bubble over.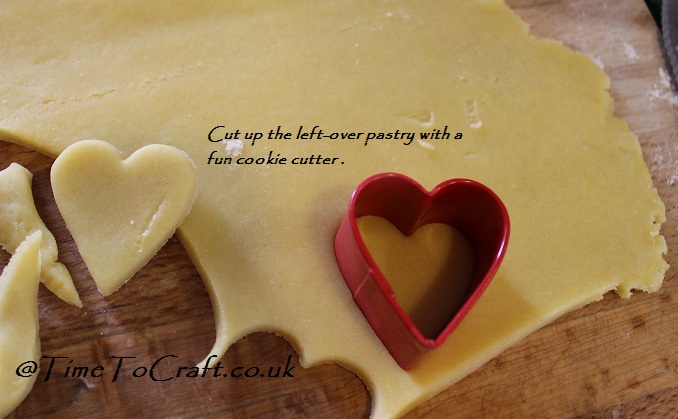 Use the left over pastry to cut out cute hearts or maybe apples. I love Carly's idea of tractors. Next time!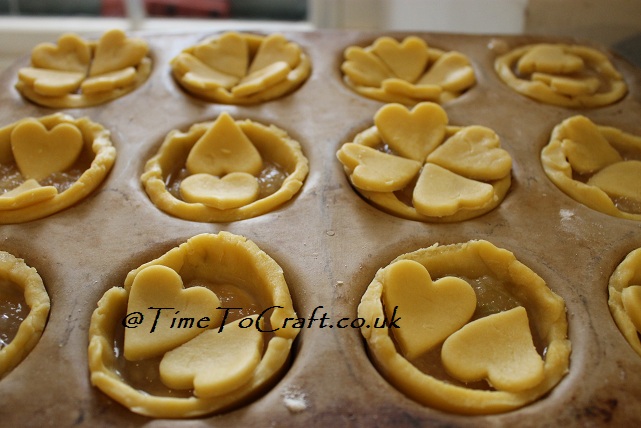 Then arrange on the top. I don't brush egg yolks, milk or sugar on top, but you could. I like the rustic, non-shop bought look, but that's just me!
Bake in the oven for 20 mins. I use a two oven Aga. I put the grid shelf on the floor of the top oven and bake for 20-25 mins, until the pastry in golden brown. Similar recipes in conventional ovens seem to take about the same time at about 175-200c (375-400f), but you would need to check.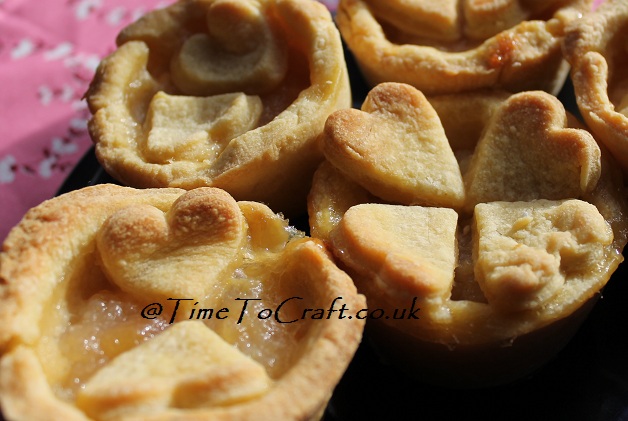 If the pies are difficult to get out of the tray, and you haven't used the over sized paper liners, let them cool, run a knife between the sides of the pie and the muffin tray and put the whole tray in the fridge. After half an hour, they come out no problem.
I added a few more hearts this time. To make a flower. I overheard the girls when they found the pies cooling. Lucky four leaf clover was their take on the pastry trimmings. Sounds good to me!
Hope I haven't forgotten anything. Let me know if I have!! Definitely worth the effort when you  make pastry from scratch.
(Note: I use a stoneware muffin tray, as I don't need to grease it now that it is well seasoned. I've used this so many times now, that I'm sure the extra cost has been more than paid off by the packs of butter or paper cases I've not bought. When I use my metal muffin trays, I either use paper linings or butter to grease. It works just as well.)