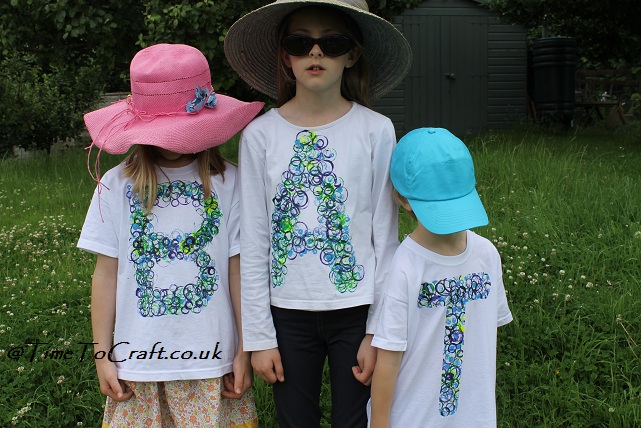 This weekend I was fully prepared for a wet weekend and had a few rainy day craft activities ready for the children. They are pretty good at inventing their own games, but every so often they need something else.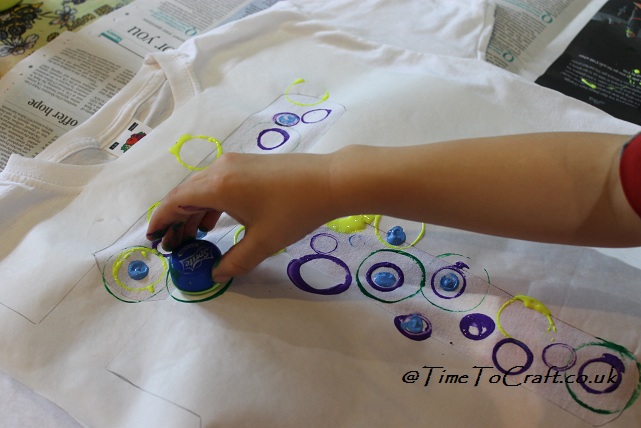 I was inspired by Aesthetic Nest's scribble t-shirts via One Pretty Thing.  Anneliese's children used fabric markers, but as I had lots of fabric paint, I thought we could decorate our initials using a paint brush. Maybe random stripes and wiggles. TF was the first one to need a project and he had other ideas. He wanted a spotty t-shirt.
I cut out a "T" in freezer paper and ironed it onto a plain white t-shirt. We talked about filling all the white area, so that edges of the letter would be defined. To make it more interesting, I suggested that he printed some circles half on the fabric and half on the paper. He used bottle caps, a mini flower pot and the flat part of  a screw to print the circles. (not forgetting to put cardboard inside the tshirt, so the paint did not soak through)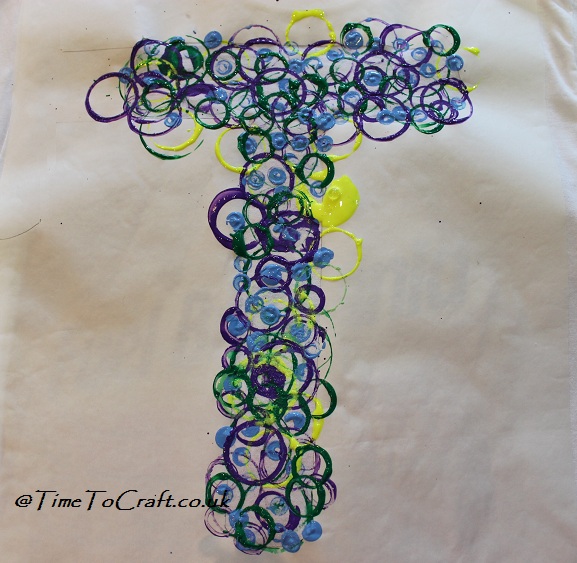 Before the freezer paper was removed.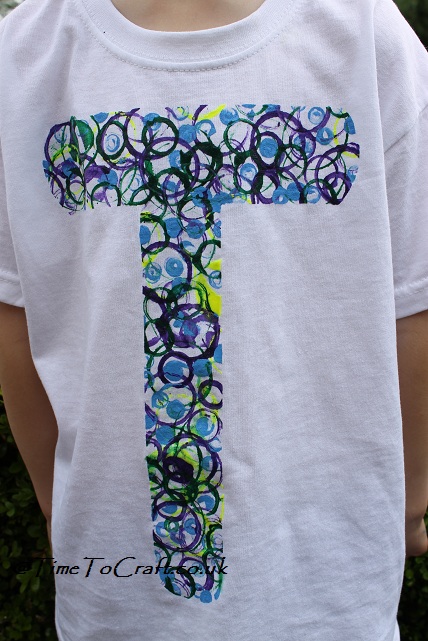 After the paper is removed. I love both versions.
While the paint dried, the girls decided that they didn't want to use freezer paper, as they loved the effect of the circles spilling over the edges of the letter.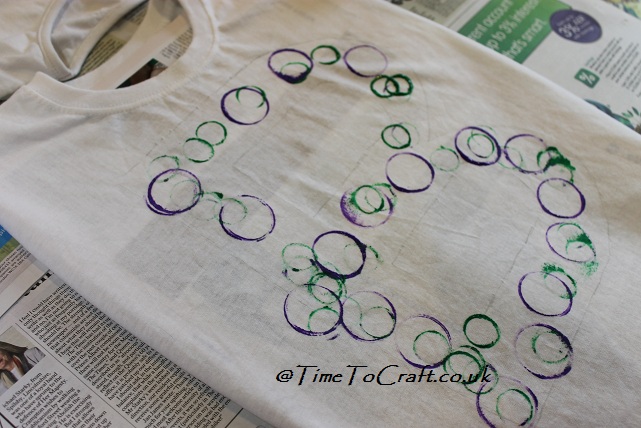 I sketched the outline of each letter on to their t-shirts, using an ordinary sketching pencil.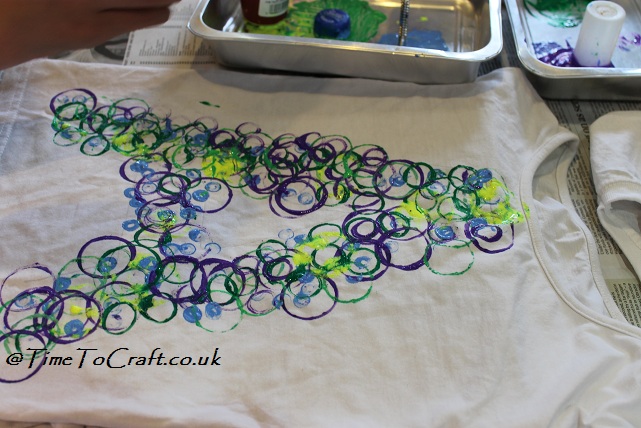 Then they got going printing. Special care to keep the middle of the letters as white space.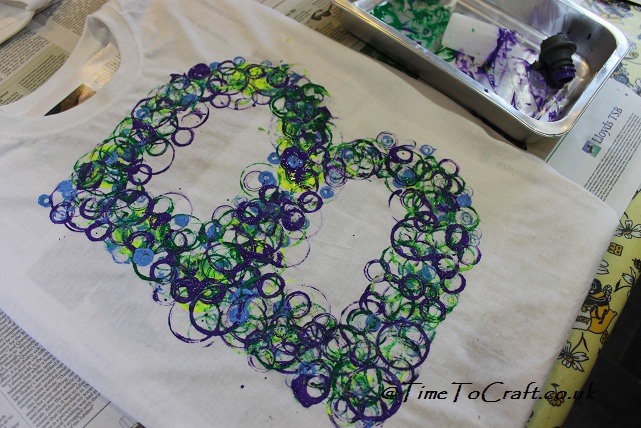 They happily printed and covered the letters. The effect is organic looking, as if it is growing. I limited all three of them to three colours and a glow in the dark paint.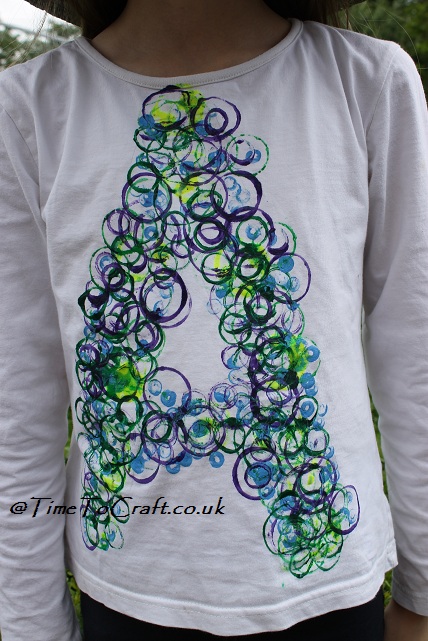 Once dried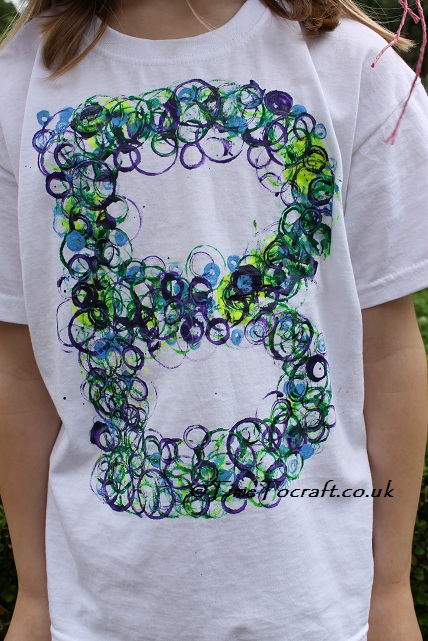 and ironed, they couldn't wait to wear them.
It didn't take long for them to work out that three letters could spell a few words, especially with some adaptions. Along with the top photo showing BAT, here are some of my favourites.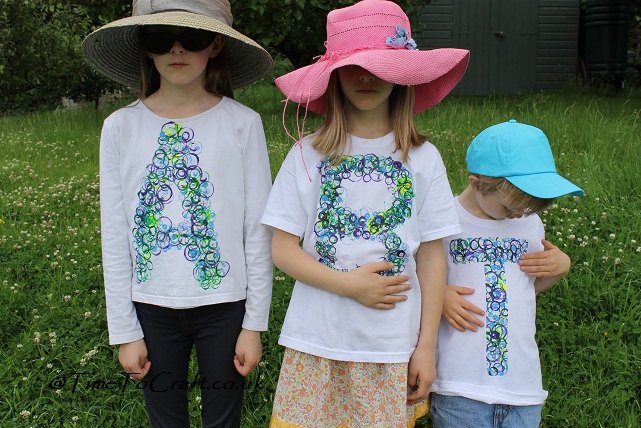 ART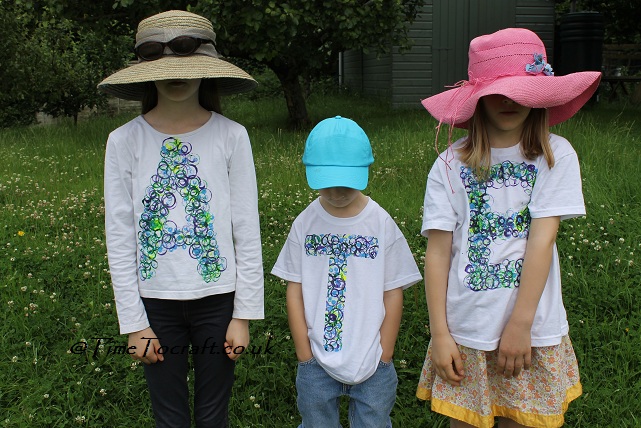 ATE
TAB
Not bad for a wet afternoon.
Linking up with the wonderful Craft School Sunday
and the lovely KCCO