String-Along Week 1 and the garden waking up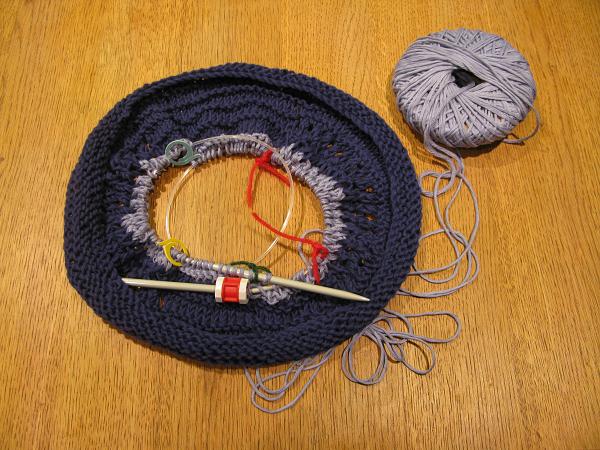 Mousy Brown's House and Rattling On… are hosting a String-Along during March. The idea is to knit or crochet a shopping bag…. or more. I couldn't resist joining in as I still have a fair amount of cotton yarn left over from the Washcloth-craft-along and I am always up for a challenge. I have sewn bags, but this is the first time I've knitted one, so I am intrigued to see how it turns out.
To use up my left over cotton, I decided on a rainbow bag using the 1Bag pattern. Its knitted on a circular needle, which is brilliant for me to pick up and put down when the children are around. The stitches are repetitive, so easy to remember as I wander around the house.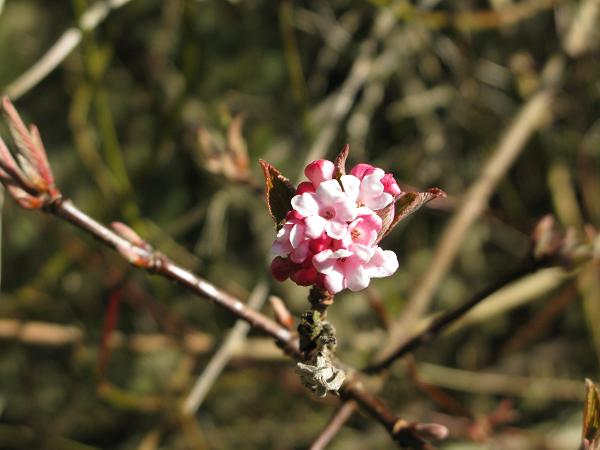 Its another cold, sunny day today. More bushes and trees are budding up around the garden. So far it has just been the snowdrops flowering, but as I wandered around the garden this morning, coffee in hand, I spotted this bush had started to flower.  I think it is a verbena. I should know as I planted it years ago, but I am feeling a bit vague about it. Does anyone else know?
I also spotted the blackcurrant bushes are budding up. They already smell fantastic when you brush passed them. I'm imagining blackcurrant leaf tea, blackcurrant jelly, blackcurrant syrup, puddings galore…..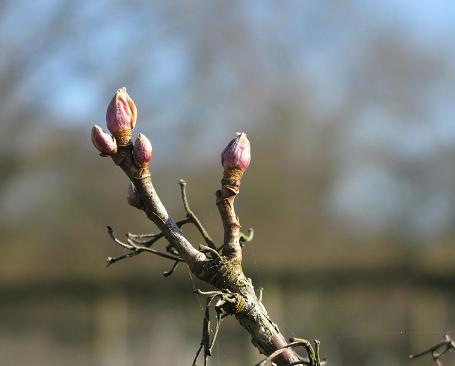 The bushes came from a cutting my parents took from our french friend's garden over twenty years ago.  When I moved to this house, I took several cuttings from my parents' bush and now have a good collection of 11 plants, that provide us with pounds of beautiful blackcurrants every year. I love summer evenings picking the crop. Hugely therapeutic.
A few years ago, my french friend visited and it was with great pleasure that I was able to send her back with blackcurrant cuttings from my plants for her new garden in France. Cuttings which can be traced back to her childhood family home.
Circles are so satisfying.