Yarn Along -Fliptop mittens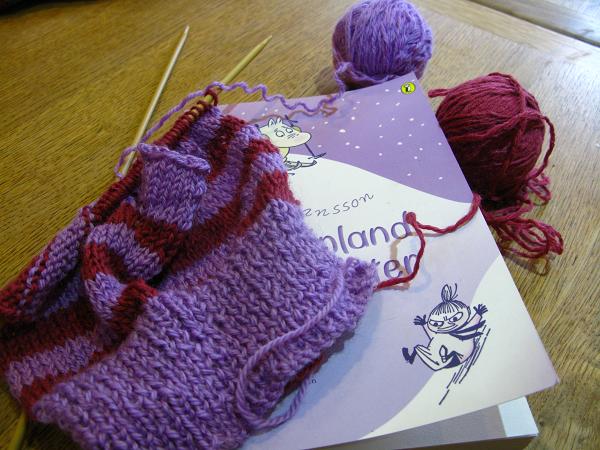 I loved Val's comment, yesterday,about these mittens being fliptop mittens. It is just so apt and the best description for them! I've finished two pairs of fliptop mittens now and I've started the third. Fortunately, the children sorted out, fairly amicably, who was getting which pair. TF was determined that the blue and orange ones rightfully belonged to him, as orange is his favourite colour. News to me, but hey, why not! He knows his own mind and gets his point across.
BL loved the red pair from the first and had been quietly dropping her sincere hints. I love her quieter form of persuasion. Such a contrast to her brother's. Steady and heartfelt. AJ was happy to pick out all the purple coloured wool from my bits and bobs stash for the final pair.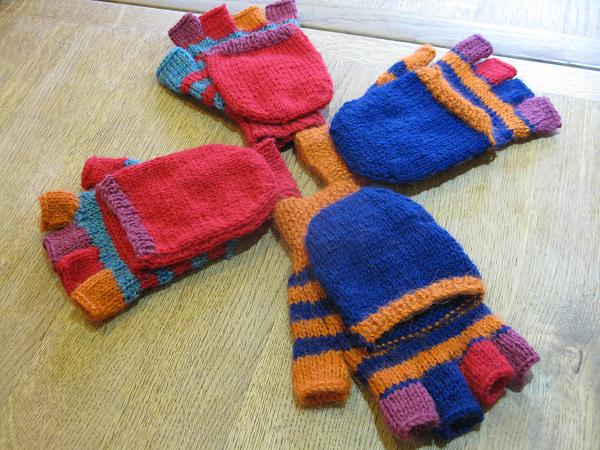 The mittens are knitted flat on two needles. The fingers are knitted rectangles, as part of the mitten, so only the side seams of each finger and mitten have to be stitched. (I've used dpns to do fingers for a pair of gloves. Just the one pair, which I hope says it all!) The fingerless gloves are knitted first and could be left at that. The flap is attached by picking up knitted stitches across the back of the glove. It really is a straightforward pattern and great for using up some of my half balls of wool. Any pattern that I can follow with the children buzzing around me, has to be a winner!
I may need to make more of these. I do have rather a large stash of ends of wool, that wait to tangle up in an almighty mess, as soon as my back is turned.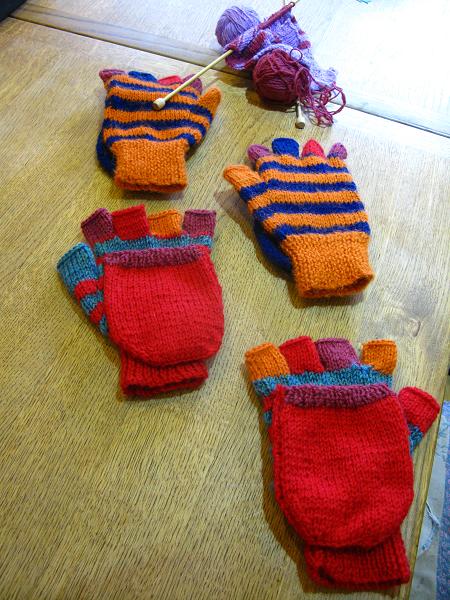 Once they are all finished, I'll have to bribe the children to wear them for a photo shoot.
Still reading Moomintroll. Not a long book, just not a lot of reading time. Love the way this book is written. Dare I say that I think that it almost rivals Winnie the Pooh. It has been cold around here, so perfect to read at the moment. Appreciating parts like:
"Without Moomintroll knowing a thing about it, at that moment his velvet skin decided to start growing woollier. It decided to become, by and by, a coat for winter use. That would take some time, but at least the decision was made. And that's a good thing."
That last sentence could so easily become my catch phrase. It sure would be a good thing if a group of invisible shrews moved into the house to help me out. I bet they would sort out the tangled wool mess in my stash. The book has also inspired me to use snow balls, the next time I make a snow lantern.
For more grown-up inspiration of good reads, pop over to Ginny's for her Wednesday Yarn-Along. Might find just the right inspirational knitting pattern for your project.
Edited: the mitten pattern comes from Just for Fun: 20 Handmade Projects to Stitch, Knit and Craft (Make Me I'm Yours…).